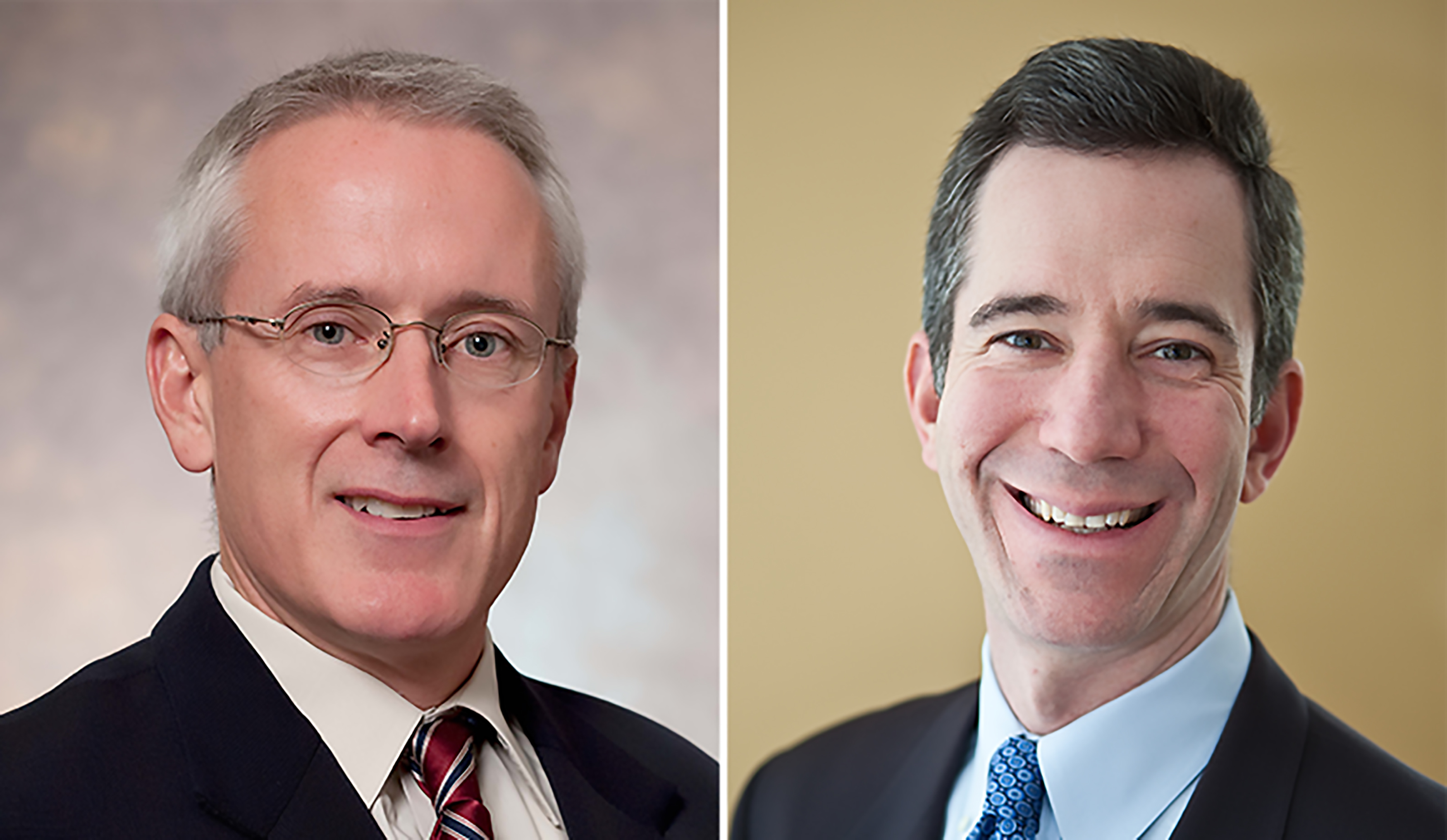 Samuel Ball, PhD, and Jonathan Grauer, MD '97, have been appointed associate deans of faculty affairs, representing non-surgical and surgical departments respectively, effective January 1, 2020. They will work with Linda Bockenstedt, MD, deputy dean for faculty affairs and Harold W. Jockers Professor of Medicine, and the Office for Faculty Affairs to help carry out the vision of incoming dean Nancy J. Brown, MD, for faculty development and leadership, with input from the committees formed by Dean Robert J. Alpern, MD, on leadership, clinician well-being, and faculty engagement.
Ball is a professor of psychiatry and assistant chair for education and career development for the Department of Psychiatry. He obtained his PhD in clinical psychology from the University of Delaware and completed a fellowship in clinical psychology at Yale School of Medicine, joining the faculty in 1990. Interested in faculty leadership and development throughout his career, for the past 10 years he has provided senior leadership for faculty appointment and promotion processes in the Department of Psychiatry, stewarding scores of faculty through the multi-stage academic review process. He also chairs the departmental committee responsible for overseeing a large voluntary (clinical) faculty and helped develop one of the earliest mentoring programs for junior faculty at YSM.

Grauer, is a professor of orthopaedics and rehabilitation, and of pediatrics, vice chair of clinical affairs, director of the spine service for the Department of Orthopaedics & Rehabilitation; and co-medical director of the Spine Center at Yale New Haven Hospital. He obtained his medical degree from Yale School of Medicine and did his orthopedic residency at Yale New Haven Hospital. After a spine fellowship at Thomas Jefferson University, in 2003 he joined the Yale faculty, where he has been active with the school's clinical, research, and educational missions. He served as interim chair for the Department of Orthopaedics & Rehabilitation from 2017 to 2019. In that role, he focused on faculty in tracks ranging from traditional to clinical, as well as the appointment and promotion process as a whole, including advocating for faculty at different points in their careers, incorporating evolving options such as the clinical track, and most recently addressing the department's voluntary ranks.

In their new roles, Ball and Grauer will oversee faculty development and mentoring initiatives across the school, using best practices for faculty development along differing career paths and working with departments to develop and streamline their mentoring programs. They will serve as liaisons between the Office for Faculty Affairs, the Teaching and Learning Center, Yale Medicine, and the Yale Center for Clinical Investigation, and as resources for faculty, departments, and deputy deans across the school.

Submitted by Robert Forman on December 09, 2019