"Teaching yourself, patients, and others is what the profession of medicine entails." Assistant Professor Oluwatosin Adeyemo, MD, MPH, shared this idea with the 104 first-year Yale School of Medicine (YSM) MD students during their two-week Introduction to the Profession (iPro) course. Professor Barry J. Wu, MD, echoed Adeyemo, noting that the Latin word for doctor—docēre —means to teach, and describing how "as doctors, you are teachers, that is your profession." Wu emphasized that teaching is not hierarchical, but a two-way street, telling the students they will teach him during their time in medical school.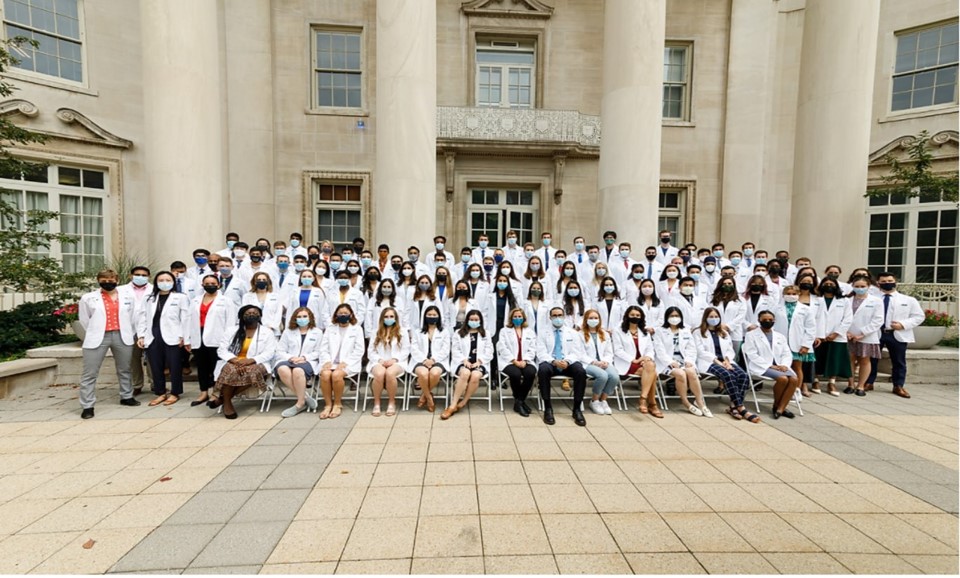 The goal of iPro, the first course in the YSM MD curriculum, is to introduce first-year medical students to their professional identity in medicine. Rather than starting medical school with the hard sciences, iPro focuses on issues including professionalism, bias, health equity, identity, power, and privilege. Students are not just in the classroom, but spend time at Yale New Haven Hospital (YNHH) and engaging with local nonprofits and members of the New Haven community. Wu served as director of iPro, while Adeyemo was associate director.
The discussion about doctors as teachers occurred during an iPro session reflecting on the first week of the course, including time spent with medical teams at YNHH in Pediatrics, Medicine, Radiology, and the OR. Students processed their experiences by sharing their reactions to four prompts with their classmates, Adeyemo, and Wu: What was surprising? What was concerning? What example of humanity in medicine did you see? What skill did you learn that will help you be a better physician?
Several students' remarks about what was surprising centered on teaching and learning. One was pleasantly surprised that a resident was teaching them in the operating room on what was just their third day of medical school. Another was surprised that a surgeon was learning right before a procedure, because he was using a new type of catheter. This was just one example of how the practice of medicine involves continuous learning. A student shared that he was able to teach something to an attending; after learning, during iPro, about Columbus House—a non-profit that addresses the housing needs of individuals who are homeless in New Haven—he was able to share that information with the attending, who referred people to Columbus House, but had limited knowledge of its operations.
Teaching also was central to the discussion of how to bridge the gap between what a patient and the patient's family may want and a doctor's professional knowledge. Wu discussed how through communication, doctors align their goals with a patient's and family's goals.
Associate Dean for Student Affairs Nancy Angoff, MD '90, MPH '81, MEd, created the Hospital Immersion Program in 2010, a pilot for iPro, and ran it until iPro launched as a course in 2015. Angoff then led iPro until this year. Wu said it was "an honor to inherit the course from Nancy Angoff," who was an intern when Wu was a resident at YNHH. Wu and Adeyemo say that fourth-year MD/PhD student SiSi Zheng, the student director of the course, was invaluable to its success. Zheng led 12 other upper-level MD and MD/PhD student cohort leaders, who not only shared tips about being a medical school student, but helped in numerous other ways including serving as patients when students practiced taking blood pressures. Wu and Adeyemo also are grateful to the significant number of YSM faculty and New Haven community members who contributed to the course. Additionally, they say the hard work, commitment, and dedication of Medical Education staff members Marion Miller and Deanna Calvert were key to the success of iPro.
This year, iPro was particularly complex to organize because COVID-19 required schedule changes mid-course, with a number of in-person sessions being converted to virtual sessions. Wu commented that for students entering the medical profession, the need to adjust the schedule was a useful reminder of how important it is to be flexible, and he was impressed with how readily everyone adapted.
Arielle Richey Levine, a first-year student who volunteered to serve on the iPro advisory committee, was surprised by how much iPro made her feel like she belonged in the medical profession—for example, she now had the privilege of special access to the hospital. Yet at the same time, she explained, the course infused her with a "sense of humility and the responsibility to patients, the community, and the rest of my health care team, which is so important to being a good doctor."
Additionally, Richey Levine said that after participating in iPro, "I felt confident that I had picked the right place, and that the school's values and priorities aligned with mine." She added that it was a "fantastic experience" working with and getting to know her classmates.
Feedback from another student complements Richey Levine's remarks. "Overall, I thought it was an incredible course that served as a strong introduction to the Yale System and New Haven, and most notably got me excited for medicine. I couldn't imagine or would ever have wanted to start medical school in a different format. I am incredibly grateful to all the lecturers, course directors, faculty and students that collaborated to enable us to have that experience—it had an impact upon me and is exactly why I chose Yale."
Submitted by Abigail Roth on September 24, 2021