The Janeway Society is an honor society consisting of 165 junior faculty from Yale's School of Medicine, School of Nursing, School of Public Health, and School of Engineering and Applied Science who are supported by individual career development awards from the NIH, institutional K programs, and VA career awards, as well as junior faculty from basic science departments. Scholars participate in a mentorship and advising program, a grant writing program with emphasis on K-to-R transition, and a professional development seminar series.
The society was formed in 2021 by Keith Choate, MD, PhD, associate dean for physician-scientist development to create infrastructure and oversight for career development and to shorten the time to independence at Yale.
The American Society for Clinical Investigation recognized six Janeway Society members with Young Physician-Scientist Awards this year. The awards honor physician-scientists who are early in their first faculty appointment and have made notable achievements in their research. Awards went to Whitney Besse, MD, assistant professor of medicine (nephrology); William Damsky, MD, PhD, assistant professor of dermatology; Lauren Ferrante, MD, MHS, assistant professor of medicine (pulmonary); Ian Odell, MD, PhD, assistant professor of dermatology; Albert Powers, MD, PhD, assistant professor of psychiatry; and Silvia Vilarinho, MD, PhD, assistant professor of medicine (digestive diseases).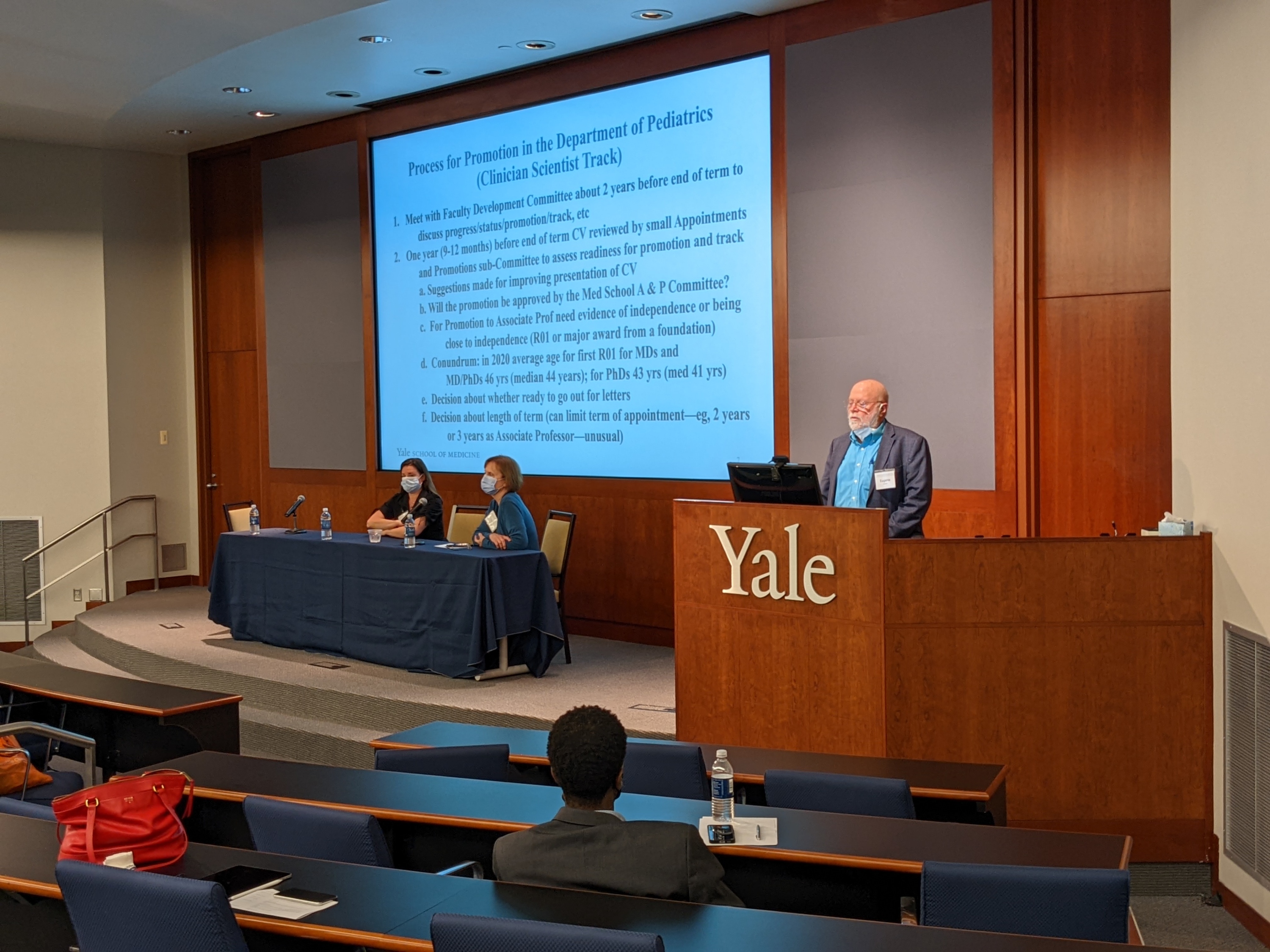 On May 12, the members of the Janeway Society came together for their inaugural retreat at Yale's West Campus. The highlight of the day was the keynote presentation by E. Dale Abel, MD, PhD, on Unexpected Links Between Mitochondria and CVD and the Joy of Being a Physician-Scientist. Abel is chair of the Department of Medicine at the David Geffen School of Medicine at UCLA and executive medical director of the UCLA Health System's Department of Medicine. Attendees enjoyed learning about Abel's research as well as the path that ultimately took him to UCLA and the how important his mentors were throughout his career.
The Janeway Society retreat provided society members an opportunity to present their research to each other as well as to senior School of Medicine leadership during short oral research presentations and poster presentations. There were six oral research presentations from faculty from the departments of Internal Medicine and Psychiatry and the School of Public Health and more than 30 poster presentations. Attendees provided positive feedback about the new opportunity to network in person with their colleagues, especially since many retreats and national meetings have been virtual over the last two years.
To support junior faculty career development the retreat featured three panel presentations from medical school faculty, Developing an Independent Research Program as You Transition to an R01, How to Get Promoted, and Juggling Work-Life Balance in Academia. Each panel was composed of a diverse set of faculty who spoke about their work and personal choices they have made. Looking back at the retreat, Choate said, "After a year of holding all of our monthly seminars via Zoom it was wonderful to have the opportunity to have the Janeway Society Retreat in person. I enjoyed having the opportunity to meet all of our members and it was wonderful to see all of them interacting and networking with each other."
For more information, please contact the Office of Physician-Scientist and Scientist Development at OPSSD@yale.edu.
Submitted by Robert Forman on June 09, 2022