Cardiovascular care is rapidly evolving. We asked six faculty members to discuss emerging trends that could radically transform healthcare.
1. Adult Congenital Heart Disease
There are now more adults living with congenital heart disease than children. In the U.S., it is estimated that there are over 1.5 million adults living with congenital heart disease, and the number continues to grow by 5% every year. Congenital heart disease is the number one birth defect, and about 50 times more common than childhood cancer. As this population of survivors age and arrive to adulthood, it is important that they see a specialist who understands the subtleties of congenital heart disease, but only about 10% of these patients are receiving appropriate care. Current ACC/AHA guidelines recommend consultation and management of ACHD patients by an ACHD trained physician. Yale has a growing and robust program for ACHD patients and can offer the latest surgical, trans-catheter and electrophysiology procedures to treat these patients.
Listen to Robert Elder, MD, discuss congenital heart disease on the podcast, For the People.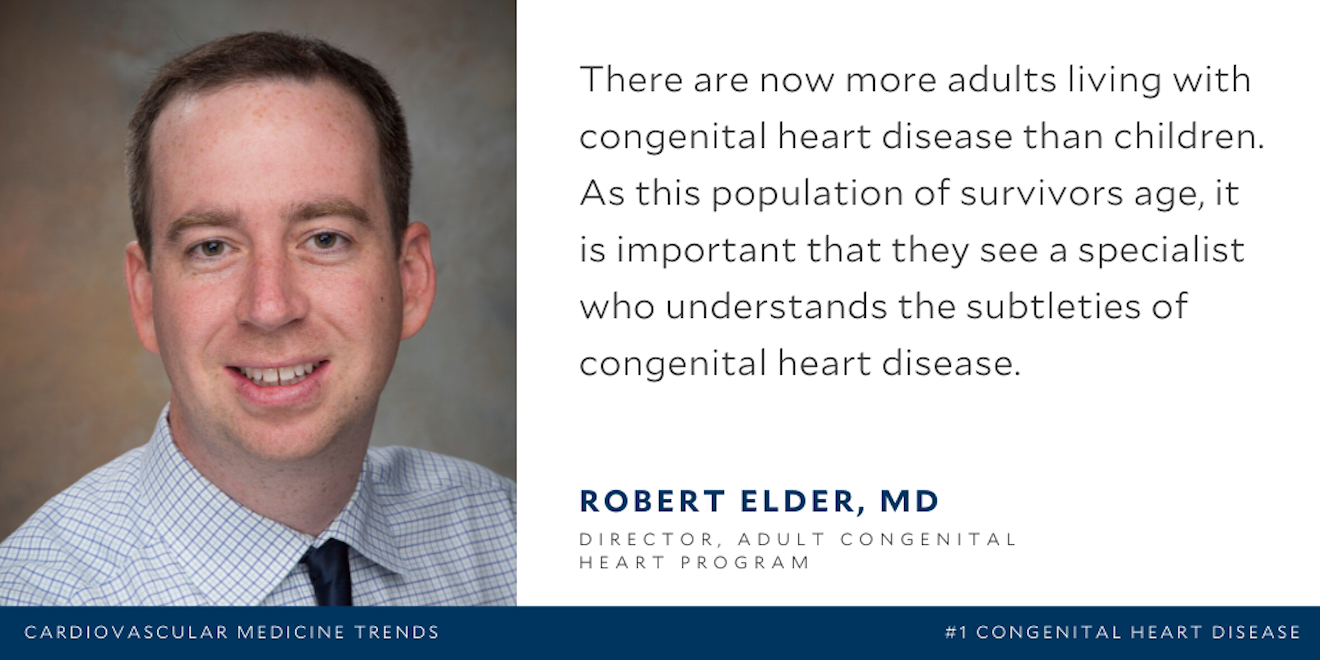 2. Genetics
The powerful tool of human genetics allows for the identification of novel risk factors and potential targets for cardiovascular disease. The recent increase in the prevalence of cardiovascular mortality despite success in treatment of hyperlipidemia suggests the rise of unidentified risk factors that can be discovered with the help of human genetics. We recently identified mutations in a gene that encodes and exocrine pancreatic elastase in patients with early onset atherosclerosis, myocardial infraction, diabetes and metabolic syndrome. We then showed that as this protein is circulating in the blood, its levels rise after food intake, it induces secretion of insulin, and enhances organ response to insulin. This protein, we believe, is a novel target for drug development against atherosclerosis. The greater implication is that our discovery has pinpointed the exocrine pancreas and its secreted enzyme as novel regulators of blood glucose and lipids and their impaired function as novel risk for atherosclerosis and type 2 diabetes. More investigations are needed to explore the role of pancreas in disease development and identification of new targets for the prevention and treatment of atherosclerosis and diabetes.
Read about the role of the gene CELA2A.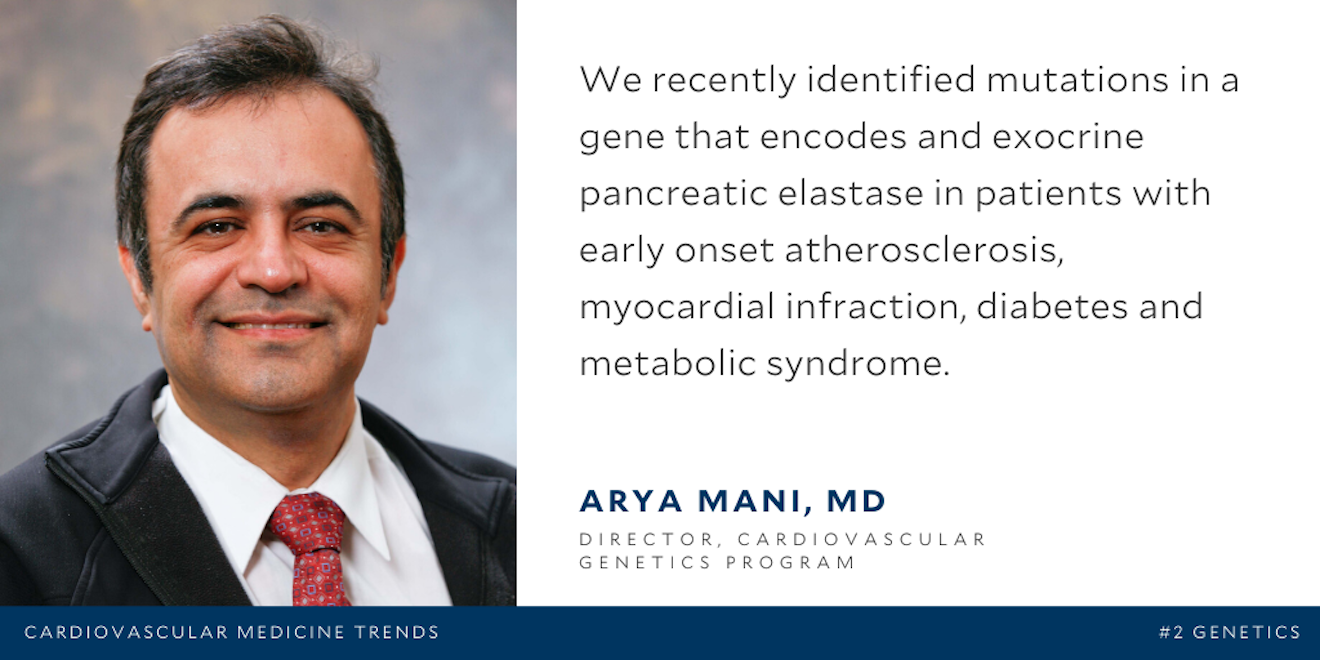 3. Outcomes Research
The digital transformation is turbocharging the possibilities in outcomes research to promote a health care system that is more effective, efficient, equitable, patient-centered, timely and safe – and to better inform and empower patients – and better support the performance of health care professionals. The research is ever more focused on achieving a learning health system in which we get smarter with every patient and ensure that all lessons or insights are leveraged to help the next person.
Watch Harlan Krumholz, MD, present during the first Yale Digital Medicine Symposium.
4. Behavioral Interventions
While depression remains an issue that cardiovascular medicine must find a way to address in patients after acute coronary syndrome and in those with heart failure, another issue that is just coming to our attention is lifetime trauma and related social determinants of health. 1 in 3 women and 1 in 6 men experience contact sexual violence, and systematic reviews find a consistent positive relationship between violence experienced during childhood and cardiovascular outcomes in adulthood. According to the REGARDS Study (n=22,658), screening for depression and stress in low-income persons may help identify risk of incident CVD & mortality. Furthermore, in a scientific statement, the AHA stated that childhood adversity constitutes the greatest public health burden in the US, including CVD. Yet, the routine assessment of these factors – depression, stress, trauma – in our patients remains to be incorporated into our standard of care. This represents a set of issues that we will need to tackle.
Learn about stroke risk associated with posttraumatic stress disorder in Forbes.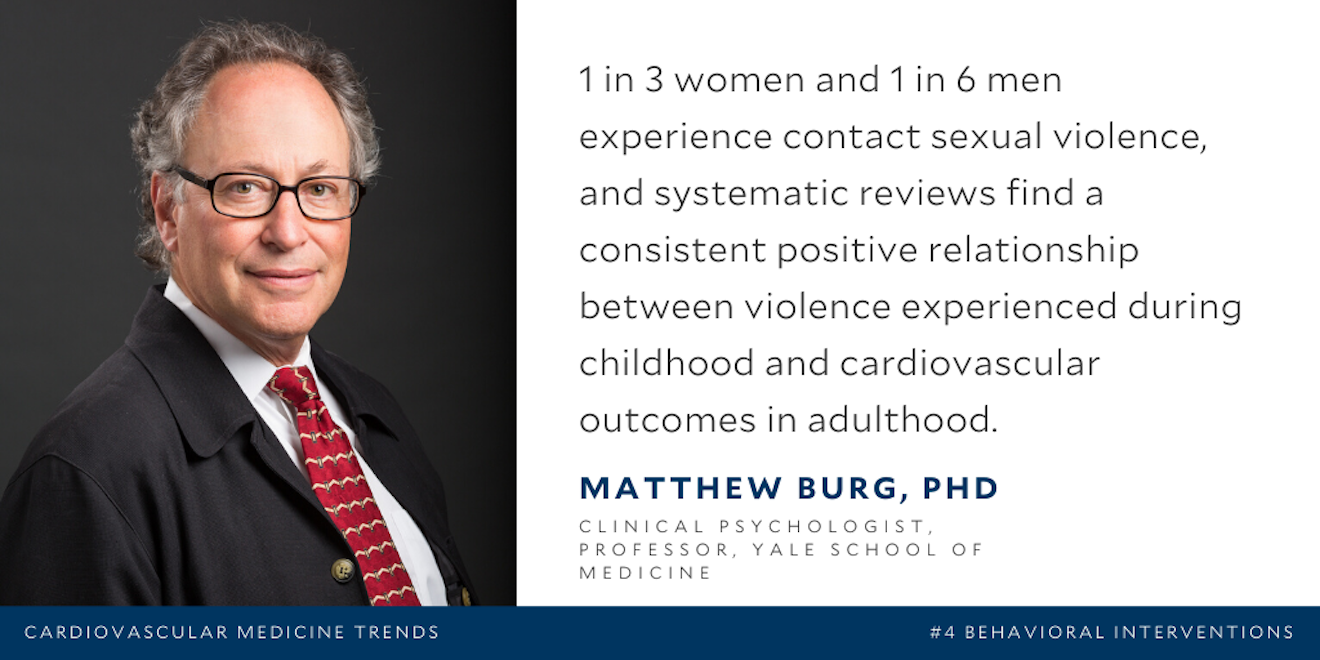 5. Coronary Intensive Care Unit
The patient population housed in CICUs has drastically evolved. CICU hospitalizations complicated by multiorgan failure are frequent, while patient admissions with isolated primary cardiac dysfunction (e.g., acute coronary syndrome, arrhythmias) are becoming less common. The CICU at Yale New Haven Hospital (YNHH) continues to expand in both patient volume and acuity because of several factors including the recent increase in Cardiac Transplantation at YNHH, the increase in complex electrophysiologic ablative procedures, as well as the ever expanding structural heart program as well as expansion by the Interventional Cardiology group of Complete Higher Risk Indicated Percutaneous Coronary Intervention, or PCI, procedures (CHIP) and the expanded use of mechanical support for high risk coronary procedures. Our hope is to develop a cadre of cardiologists trained in Critical Care Medicine to care for this diverse, critically ill ICU population. Training options for such cardiac interventionists has been outlined by one of our senior cardiology fellows, Elliot Miller, MD, in Cardiac Critical Care: Training Pathways and Transition to Early Career.
Listen to this podcast episode of the Moonlighers with Joseph Brennan, MD.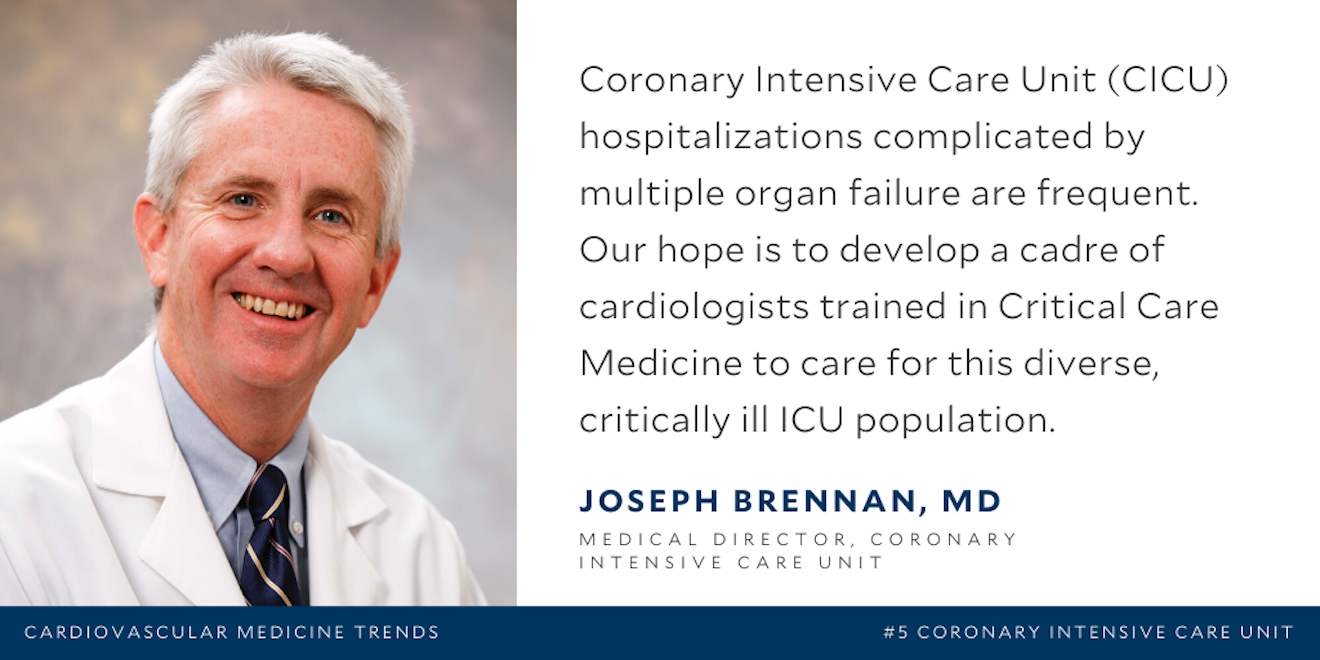 6. Interventional Cardiology
The Interventional Cardiology program continues to expand in both volume as well as involvement in complex procedures. The Complete Higher Risk Indicated Percutaneous Coronary Intervention (CHIP) program has grown significantly of late. Coronary brachytherapy (localized radiation) for restenosis of previously placed intra-coronary stents has been reintroduced under the direction of Steven Pfau, MD, as well as Kenneth Roberts, MD, in the Department of Therapeutic Radiology. The interventional team continues to be extremely active in clinical trials with new devices to treat Coronary Artery Disease (CAD), Peripheral Vascular Disease (PVD) under Carlos Mena, MD, and Structural Heart disease as outlined by John Forrest, MD.
Structural Heart Disease
At the American College of Cardiology this year, data will be presented and simultaneously published on TAVR in Low Risk Patients with Bicuspid Aortic Valve Stenosis. Yale was a leading enroller in this study, and John Forrest, MD, was the National PI for the study.
Yale is the only site in Connecticut to be participating in an ongoing study of complete transcatheter mitral valve replacement for patients with severe mitral regurgitation. Last year Yale became the first institution in New England to perform this Transcatheter Mitral Valve Replacement (TMVR) procedure using the Intrepid Valve.
The Structural Heart Disease program is evaluating the benefit of doing TAVR in patients with severe aortic stenosis before they develop symptoms as part of the EARLY TAVR study.
Read more about transcatheter therapies within the Structural Heart Disease program.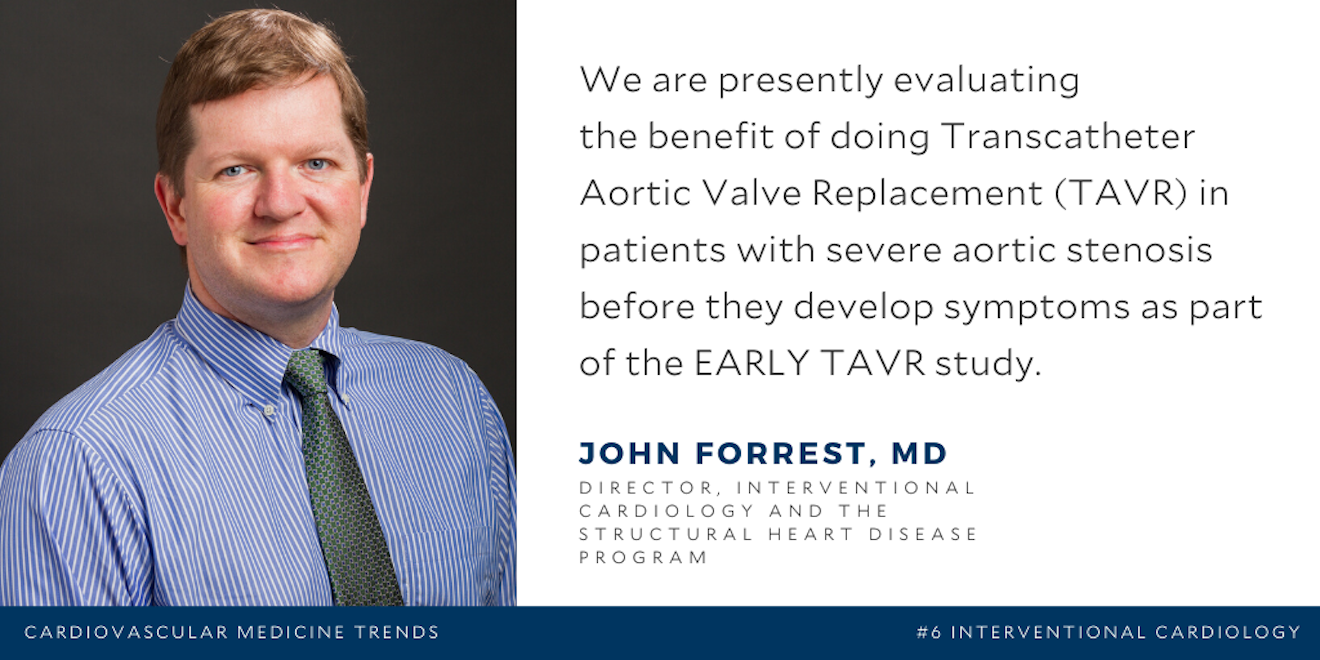 Submitted by Elisabeth Reitman on February 03, 2020