Cardiovascular disease is among the leading causes of death worldwide. Over 75 percent of those deaths occur in low- and middle-income countries, where suboptimal education and resources make it difficult to provide ideal medical care.
A Shift from Short-term Medical Missions Toward Local Medical Training
Health care providers have tried to address this issue through short-term medical missions. Traditionally, the volunteer arrives in the host country and stays for a brief period of time, often one week. Once the group departs, follow-up care provided by trained personnel and access to necessary supplies and medications are often limited. Even during these missions, being from abroad, the physicians might not provide care that is culturally sensitive.
Now, there's a growing recognition that better medical training is the key to strengthening health care systems. Teaching local health care providers results in more patients getting access to care over time than with short-term medical missions. In addition, patients prefer to meet with doctors and nurses who speak their language and understand their culture.
Addressing Challenges of Medical Education Internationally
Although the number of medical schools in developing countries has grown significantly, the learning environment is not always optimal. At times, students may feel disappointed by the quality of clinical performance or frustrated by the lack of technical support, equipment, and other resources.
As a medical student in Colombia, Camila Trejo, MD, experienced many of these challenges. She decided to pursue advanced cardiovascular training with the aim of sharing what she learned with her colleagues. Two years ago, Trejo became a research fellow in Yale Cardiovascular Medicine, where she found a team of physicians who shared her passion for improving health outcomes. She then joined ITEACH.
The International Team of Educators to Advance Cardiovascular Health (ITEACH) is a nonprofit organization created by a team of Yale Cardiovascular Medicine physicians to improve the quality of cardiovascular care in underserved communities. Under the leadership of Bernardo Lombo, MD, Robert McNamara, MD, MHS, Michael Dewar, MD, Lissa Sugeng, MD, and Jorge Otero, MD, ITEACH collaborates with international partners to improve knowledge base, clinical skills, and systems organization skills. ITEACH focuses on the medical needs that are the priority of the community—rather than a short-term fix.
"ITEACH uses a team-based approach, incorporating local and international educators, to enhance evidence-based medicine to meet local needs. The science of medicine may be global, but the art and practice of medicine needs to be local," says McNamara.
In 2019, Pilar Patino, Cesia Gallegos Kattan, MD, Trejo, and Priyanka Bisarya, applied to the competitive Yale Tsai CITY (Center for Innovative Thinking at Yale) Spring Accelerator Program, which is an eight-week program where teams receive tailored startup mentorship and a $1,000 grant. ITEACH was one of the teams selected to participate in CITY's Accelerator. The program supports early-stage ventures through workshops and activities designed to improve skills in organizational development, team management, financial sustainability, and human-centered design.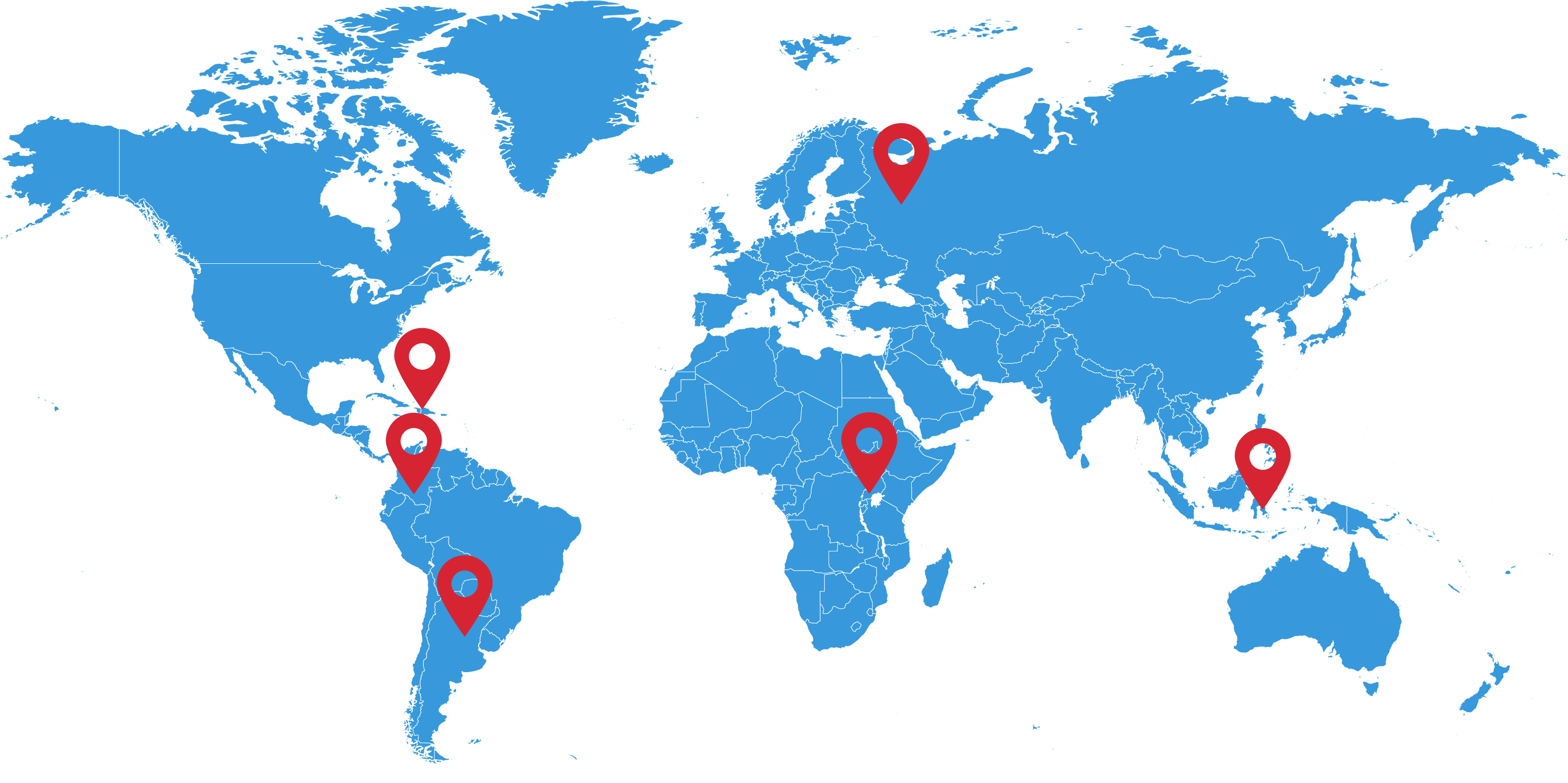 ITEACH has partnerships in multiple countries, including Colombia, Dominican Republic, Russia, Argentina, Indonesia, Honduras, and Rwanda. In each country, the team organized a symposium to share best practices and discuss the latest advances in cardiovascular research.

Managing Hypertension and Cardiovascular Disease in Bogotá, Colombia
According to the Colombian Ministry of Health, cardiac ischemic disease (also called coronary artery disease) is the leading cause of death in Colombia, and many hospitals are overwhelmed by the number of emergency admissions due to heart failure.
In July 2015, ITEACH visited a primary care clinic near Bogotá. The clinicians identified cardiovascular conditions as prevalent diseases. In collaboration with the Fundación Santa Fe de Bogotá (FSFB), the team helped establish a cardiology consult service. ITEACH also trained health care personnel to manage patients with hypertension and other cardiovascular conditions. Also, members of ITEACH provided educational workshops for patients and family members in the local community. This collaboration has evolved into cardiovascular conferences in Bogotá and training in advanced cardiovascular techniques of Colombian cardiovascular fellows at the School of Medicine's section of Cardiovascular Medicine.
Strategies for Hypertension Care in the Dominican Republic
Hypertension is a leading cause of death in the Dominican Republic. To combat this issue, the Ministry of Public Health adopted a National Chronic Non-communicable Disease Control and Prevention Program, aimed at the prevention and management of noncommunicable diseases, including hypertension. In collaboration with colleagues at the Instituto Tecnológico de Santo Domingo (INTEC) and the Ministry of Health, the ITEACH team traveled to Bani, Dominican Republic in May 2019 to gather pilot data on the management of hypertension in primary care clinics. This collaboration is now conducting a cluster randomized control trial to evaluate strategies to improve hypertension care in these primary care clinics. The Dominican Ministry of Health and the Dominican Society of Cardiology have expressed interest in extending any proven strategies across their health system.
Treating Coronary Artery Disease in Russia
Northwest Russia has one of the highest incidences of coronary artery disease in the world, but underfunding during the late Soviet Union era led to treatment that was at a much lower standard than seen in other developed countries. Since 1995, Dewar has been teaching and performing surgeries in Northwest Russia, predominantly St. Petersburg. Together with Maria Prokudina MD, PhD, a Russian cardiologist, Dewar established a formal educational collaboration of bidirectional exchanges of physicians in 2005.
Since that time, U.S. surgeons, cardiologists, cardiothoracic anesthesiologists, and trainees have traveled to northwest Russia more than a dozen times to assist in complex cardiac surgeries and consultations. In addition, numerous young Russian physicians have spent one to two months at Yale New Haven Hospital (YNHH), learning advanced techniques and concepts in their field of cardiology, surgery, or anesthesiology. Unlike most short-term visits to the U.S., these international physicians obtained medical liability insurance and credentialing at YNHH to not only observe but perform procedures and consultations. This collaboration has been so successful that YNHH will expand the model to include oncology.
Evaluating the Prevalence of Chagas Disease in Central Argentina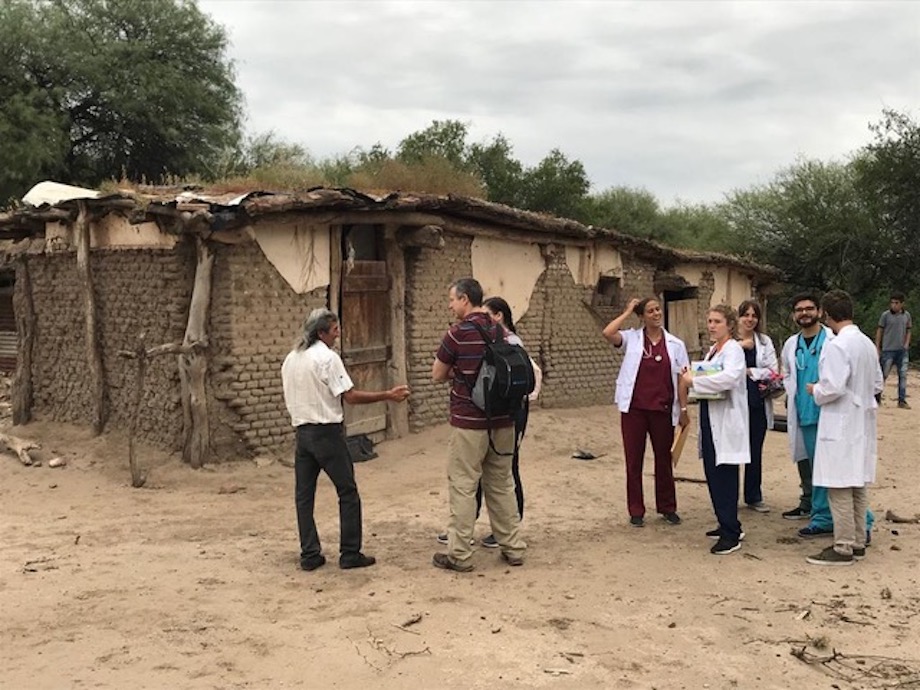 The World Health Organization estimates that seven million people may be infected with Chagas, a vector-borne illness transmitted by the parasite Trypanosoma cruzi. Infection with this parasite can lead to fatal gastrointestinal and cardiovascular complications. However, if detected early enough, the disease is treatable.
In March 2019, a team of health care professionals from Yale and Argentina worked together to investigate the prevalence and complications of Chagas disease in El Brete, Cordoba, a rural town in central Argentina. The group screened 147 people with questionnaires, physical exam, blood work, electrocardiograms, and echocardiograms over a two-day period. One of the main goals was to evaluate a new polymerase chain reaction (PCR) technique that some of the Argentinian investigators developed for early detection of Trypanosoma cruzi in the blood.
In addition, members of the team conducted a one-day symposium about Chagas disease and global cardiovascular health for other faculty, trainees, and medical students back at the Hospital Privado Universitario de Córdoba. This venture was the inauguration of an education and research collaboration between Yale Cardiovascular Medicine, Yale New Haven Health and the Instituto Universitario de Ciencias Biomédicas de Córdoba (IUCBC) and Hospital Privado. The symposium was an extraordinary opportunity to share knowledge and ideas with colleagues in Argentina and gain insights about the potential impact a PCR technique would have on patients.
After the symposium, ITEACH was formally recognized by the government of Argentina and received a commemorative plaque from local authorities and the IUBC.
Understanding Prevalence of Rheumatic Heart Disease in Indonesia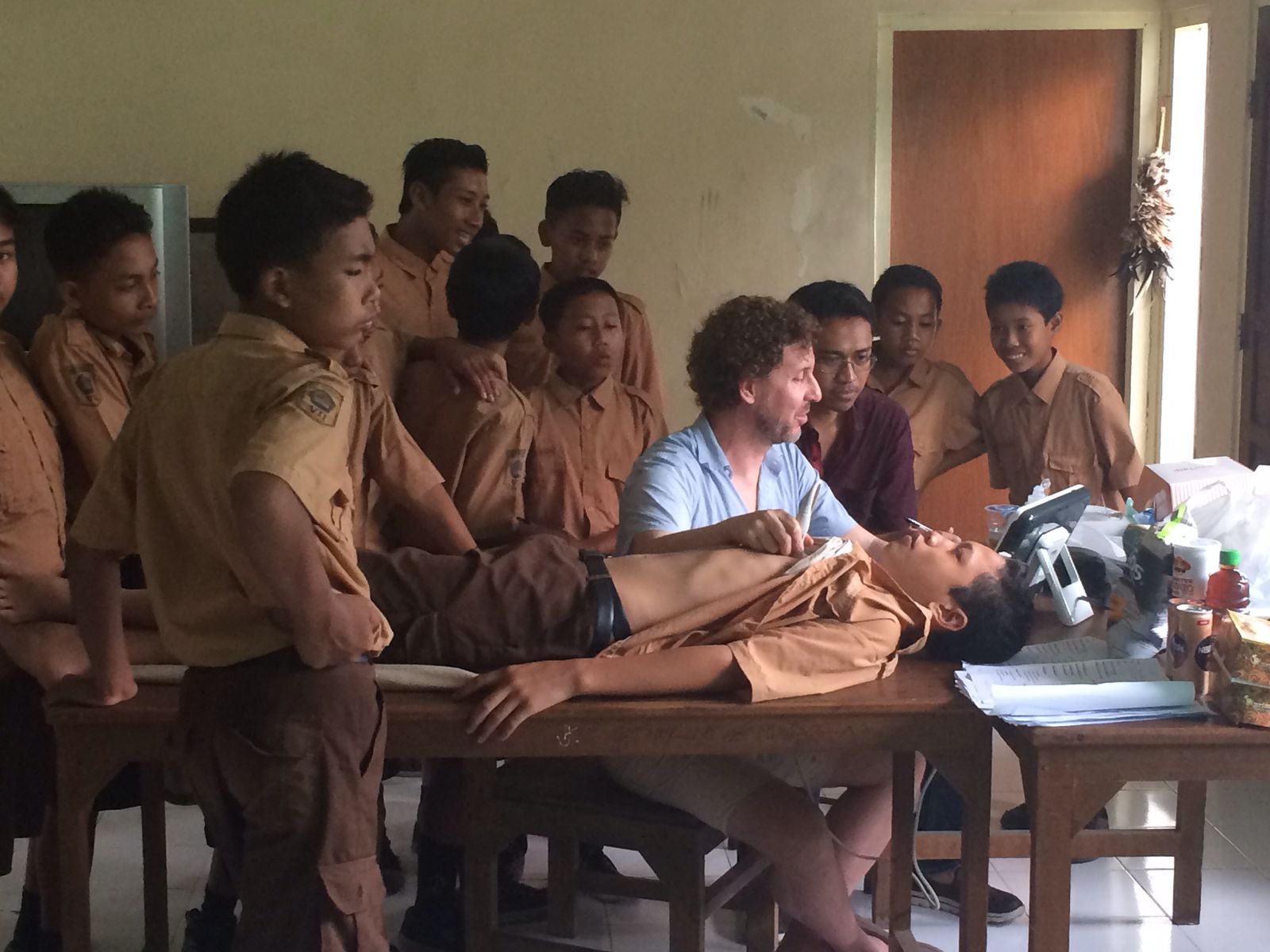 Rheumatic heart disease (RHD), caused by an autoimmune inflammatory response to a Streptococcal infection, often leads to disabling valvular heart disease and is a serious health concern in Indonesia. Early intervention is the key to preventing premature death. The World Health Organization has recommended the use of a device for echocardiographic screening since 2004. Cardiac ultrasound devices are a cost-effective method for early detection.
In March 2017, ITEACH faculty teamed up with local physicians from Udayana University to conduct a research study to assess the prevalence of RHD using portable echocardiography devices in Kubu, Karangasem. During a two-day field activity, the group screened more than 300 children under age 18, making it the first tablet echo screening of RHD in a rural area of Indonesia.
The team provided lectures during a one-day symposium to residents, fellows, and physicians from Udayana University on how to evaluate and analyze the diastolic function, and analysis of the cardiac function through Speckle Tracking.
Two cardiologists from Indonesia did a rotation at the Echocardiography Lab at Yale New Haven Hospital Heart and Vascular Center. They went back to their country, became faculty members of the local university, and are now recognized as the leaders in new echocardiographic techniques. They introduced echo stress at their local hospital, improved their cardiac imaging protocol, and helped create a new rheumatic heart disease clinic.
Evidence-based Cardiovascular Care in Honduras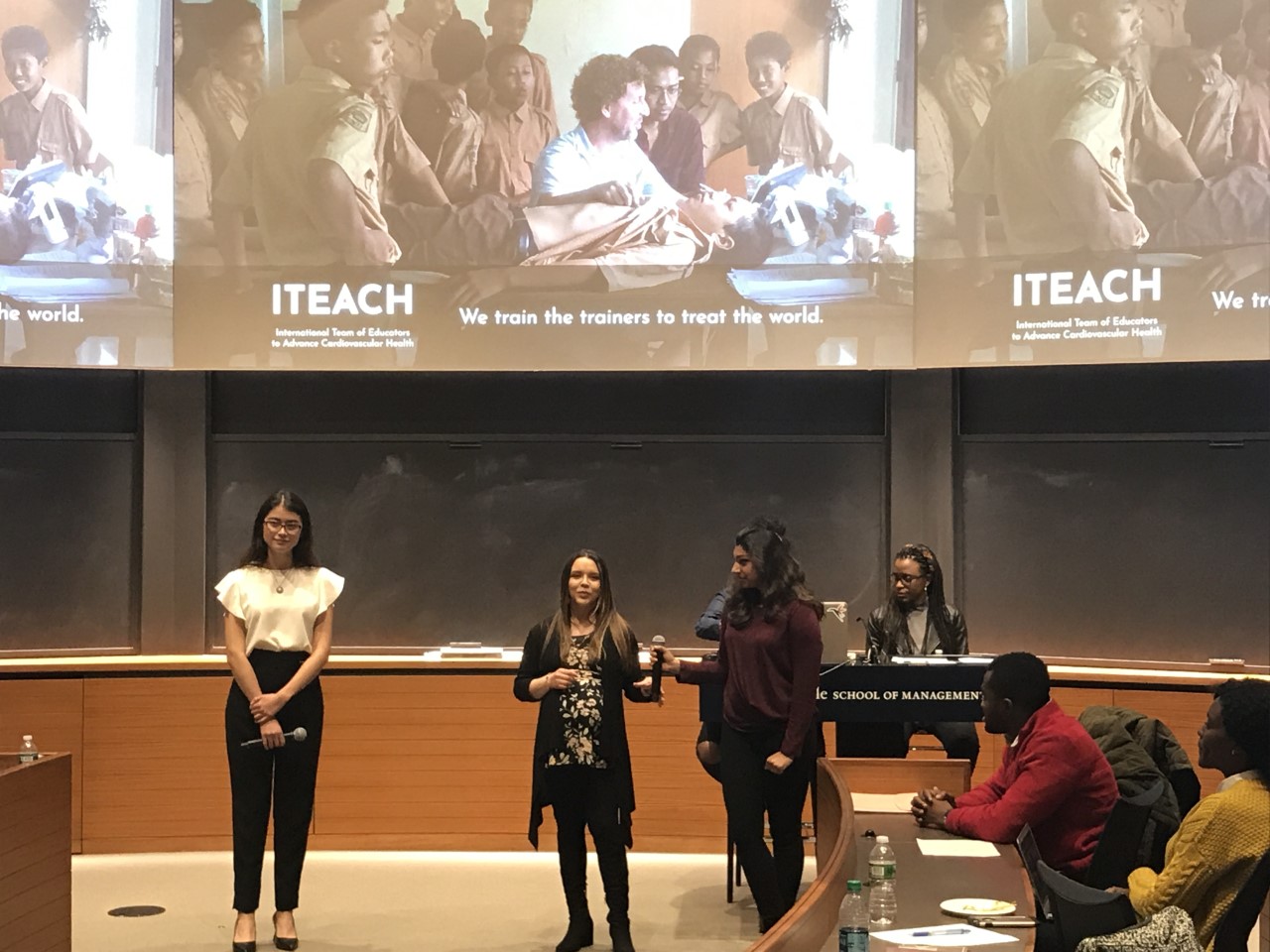 Despite an increasing incidence and prevalence of cardiovascular disease and its manifestations in Honduras, the capacity to educate the needed physicians is lacking across Honduras. In June 2019, McNamara and Kattan traveled to San Pedro Sula, Honduras with members of the ITEACH team. In collaboration with faculty from the Universidad Nacional Autónoma de Honduras en el Valle de Sula, ITEACH faculty taught internal medicine residents and medical students on evidence-based care of cardiovascular patients and the use of point-of-care echocardiography
Cardiovascular Training in Rwanda
In 2013, McNamara, as part of the Human Resources for Health initiative, spent 12 weeks in Rwanda, teaching medical students, internal medicine postgraduates, and young physicians different aspects of cardiovascular care relevant to local needs. In collaboration with the Department of Internal Medicine's Office of Global Health, multiple Rwandan trainees have had the opportunity to experience rotations at Yale New Haven Hospital. The program also includes research collaborations to teach rigorous clinical investigational techniques.
An Online Archive of Cardiac Case Studies
In recent years, medical imaging technology has rapidly developed. This progress has led to more accurate diagnoses. However, not all medical students have access to cardiovascular imaging case studies captured during patient examinations. Students find it challenging to improve interpretation and diagnostic skills without digital videos and images, but online training programs in cardiovascular imaging are expensive.
In partnership with the Fundacion Santa Fe de Bogota (FSFB) and Yale CIDER (Center for Interactive Digital Education in Radiology), ITEACH provides free access to a world-class medical education for non-invasive cardiology. Cardiac Imaging Learning is an online archive of case studies and an image gallery where medical students can review prevalent medical conditions, including mitral stenosis, aortic insufficiency, and pleural effusion, among others. The website was created by Yale Cardiovascular Medicine faculty, including Sugeng, McNamara, and Lombo, in collaboration with the Fundacion Santa Fe de Bogota (FSFB) and Yale CIDER.
For more information on ITEACH, watch this video.
Originally published April 22, 2020; updated October 25, 2022.
Submitted by Elisabeth Reitman on April 22, 2020