Nancy J. Brown, MD, Jean and David W. Wallace Dean of Yale School of Medicine, hosted a reception on February 21 at the school's Medical Historical Library to welcome Eric P. Winer, MD, the new director of Yale Cancer Center and physician-in-chief of Smilow Cancer Hospital. Winer, who is also Alfred Gilman Professor of Medicine and Pharmacology, had arrived at Yale on February 1. "One of the striking things about Eric [Winer] is how beloved he is by his patients," she said, adding, "At the same time, he built a world-renowned breast cancer program and led the Dana-Farber SPORE [Specialized Program of Research Excellence] in breast cancer for a decade. He has already started recruiting and making a difference here."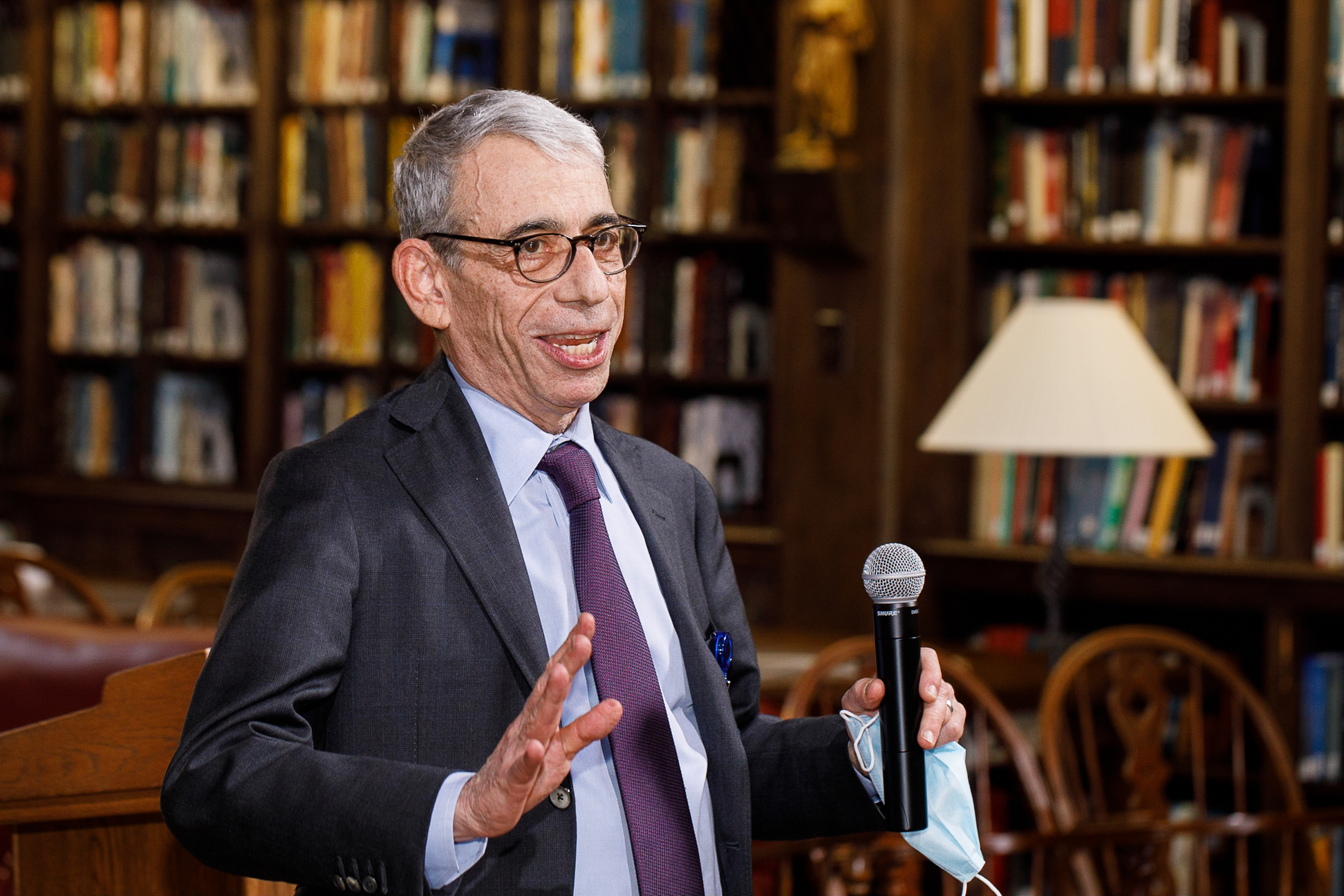 Winer came to Yale from Boston, where he served as the Thompson Chair in Breast Cancer Research, chief clinical development officer, senior vice president for medical affairs at Dana-Farber Cancer Institute, and professor of medicine at Harvard Medical School. Now, he looks forward to his new roles at Yale School of Medicine and Yale New Haven Health. "The science [here] is incredible, the clinical care is outstanding, the team spirit is really great, but at the same time, there's still work to be done," he said. "With [the Yale community], I'm prepared to do that."
We spoke with Winer to learn more about his journey to breast cancer research and his plans for his new role:
You are an internationally renowned expert in breast cancer research. When and how did you become inspired to pursue this field of study?
I was interested in breast cancer from early on in my training. I actually did my medical school thesis at Yale on breast cancer. And when I was a resident rotating through oncology, my interest in breast cancer grew and followed me through my fellowship. Then, it turned out there was a job for me to do work in breast cancer at Duke, and I took it.

The truth is, focusing on breast cancer has been a really great fit because as a clinician, I have been able to make a difference for many patients and their families. But just as important, I have had the opportunity to conduct research that has changed the standard of care. Breast cancer care has evolved dramatically in the past three decades. We cure more people. For those who are not cured—and this number is getting smaller—individuals with breast cancer are living longer and better. It's an area that has changed so much. And we can see a time 10 or 15 years from now that we'll be able to say that no woman who can access medical care should have to lose her life from breast cancer
This month, you became the new director of the Yale Cancer Center and physician-in-chief of Smilow Cancer Hospital. Why did you decide to pursue the next chapter of your career as a member of the Yale team?
I view my new role as an incredible opportunity. There are amazing scientists here as well as outstanding clinicians and clinical researchers. We also have a network of sites across Connecticut where we provide care. Yale can truly have a world-renowned cancer center. For me, what's most exciting is that we can make a difference in the lives of people who are getting care today, and we can conduct research to make sure cancer care is better in the future. It is also a good time for me to take a small step back from my total focus on breast cancer. I am deeply committed to breast cancer care and research, but I want to build a broad cancer program.

Of course, returning to Yale has special meaning for me. I spent 13 years here between the ages of 17 and 30 [from college through medical school and postdoctoral training]. I met my wife in New Haven and two of our children were born here. In many ways, it was an easy place to come back to.
What are you most excited about with regard to your new role?
I am really excited about building teams of clinicians and scientists, bringing them together to do translational research that will lead to meaningful changes in the way we treat patients with cancer. I'm also excited about the possibility of integrating our network across the state of Connecticut and making it possible for patients with cancer to get treatment closer to home that is every bit the same treatment that we would deliver here in New Haven.
You are an alumnus of both Yale College and Yale School of Medicine. What are you looking forward to the most about returning?
Here, I feel like I'm part of the university again. I'm part of a medical school where I can readily interact with medical students, and spending time with young people in training is both energizing and incredibly rewarding. Just being part of the vibrant Yale culture is exciting. It's a joy to walk around the New Haven streets and see how much is the same and how much has truly changed.

My connections to Yale are pretty deep. Not only was I here, but my wife completed an MPH here, my son was a medical student and resident at Yale, and my son-in-law graduated from the divinity school. Among us all, we have quite a Yale history and it adds to the fondness I have for the institution and the community. I am very motivated to make the cancer program even stronger than it has ever been. I believe that through working with everyone here, I can help Yale grow and blossom. I look forward to a cancer program that is going to look very different five years from now. With patients at the center of our clinical and research strategies, and with the talent that exists at the cancer center, we are going to be hugely successful.
Submitted by Robert Forman on February 24, 2022