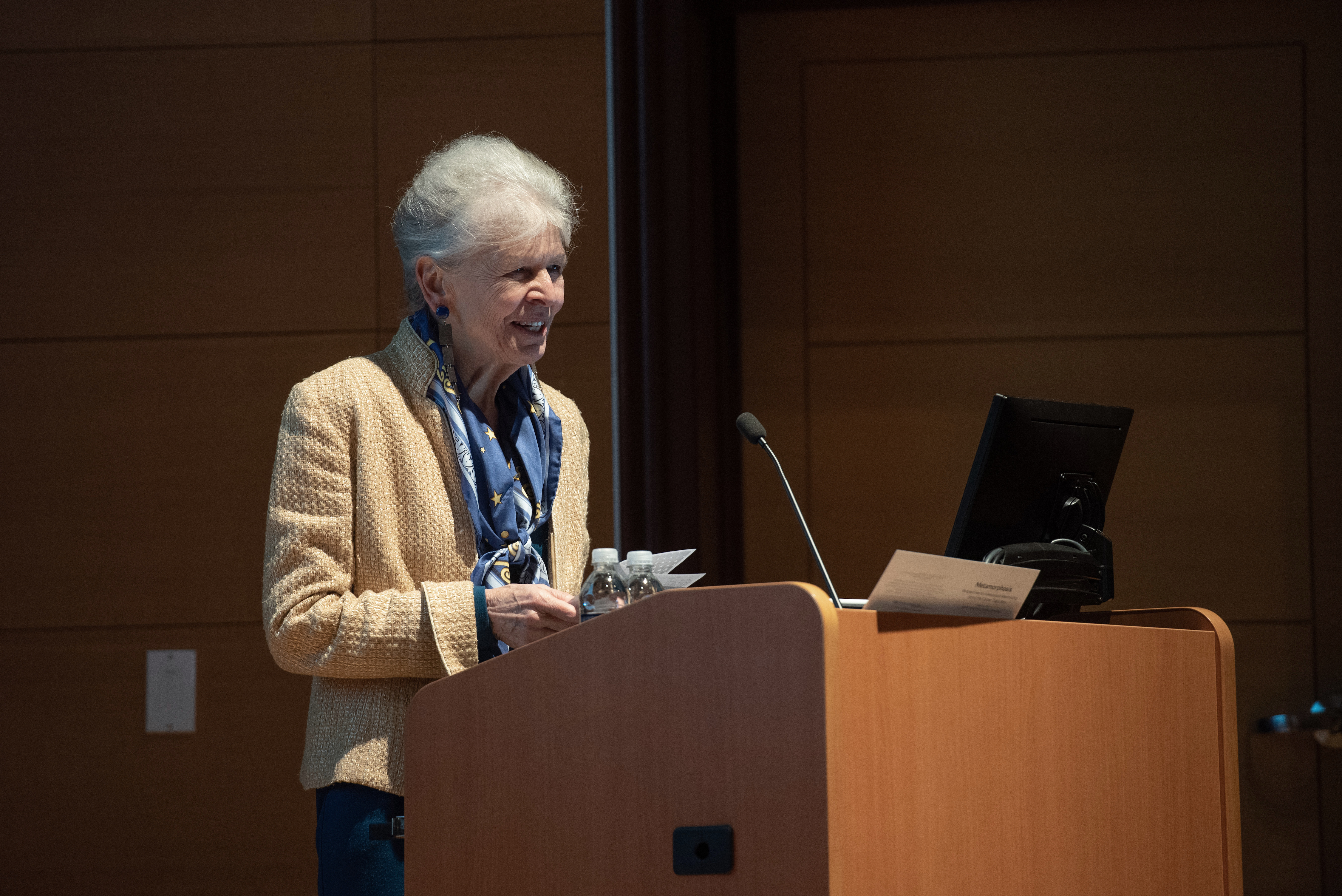 The career—both as research pioneer and as mentor—of Joan A. Steitz, PhD, Sterling Professor of Molecular Biophysics and Biochemistry, was celebrated at a symposium on March 6 that illustrated the span of her storied life in science with tributes from people whose careers she has guided.
From junior faculty who have just begun their own labs, to established investigators with long pedigrees of their own, each speaker offered insights into the influence of "The Queen of RNA," as well as the importance of mentorship, the path of women in science, and the past, present, and future of RNA research. The symposium, titled "Metamorphosis: Perspectives on Science and Mentorship along the Career Trajectory," culminated in the Second Annual Perspectives on Women in Science Lecture, which Steitz delivered to a large, appreciative audience in Harkness Auditorium.
Steitz is internationally known for her groundbreaking contributions to understanding the interaction of the ribosome and messenger RNA via complementary base pairing, and for the discovery of small nuclear ribonuclearproteins, or snRNPs (pronounced "snurps"), whose function is essential to RNA transcription. She won the 2018 Lasker~Koshland Special Achievement in Science Award in Medical Science not only for her leadership in RNA biology, but also her dedication to scientific mentorship. Having trained almost 200 scientists either as postdoctoral fellows or PhD students, Steitz is "as committed to her role as a mentor as her role as a scientist," said Robert J. Alpern, MD, dean and Ensign Professor of Medicine, as he introduced Steitz.
Steitz arrived at Yale in 1970, and the story of her path to New Haven and the extraordinary career that followed reflects the experience of many women seeking independent careers in research during that time. At Harvard in the 1960s, she was one of the first PhD candidates in the newly-formed department of Molecular Biology and Biochemistry, and was turned down by a professor she asked to be her advisor. "He looked at me and said, 'but you are a woman, and you'll get married, and you'll have kids, and what good will a PhD have done?'" Steitz recalled. "I made it out of his office before I burst into tears." She then moved on to her second choice of advisor, James Watson, who co-authored the first paper, along with Francis Crick, about the double-helix structure of DNA. Steitz was the first female graduate student Watson ever accepted to work in his lab.
Steitz followed her husband, the late Thomas A. Steitz, PhD, Sterling Professor of Molecular Biophysics and Biochemistry and winner of the 2009 Nobel Prize in Chemistry, "to the mecca of protein crystallography, Cambridge, England, because that was Tom's field, and that is what women did," she said. "Luckily, it turned out not to be a bad place in molecular biology either." Steitz took a position in the storied MRC Laboratory of Molecular Biology, headed at the time by Crick and Nobel Laureate Sydney Brenner.
When the University of California at Berkeley offered a faculty position to Thomas Steitz but not his wife, expecting her instead to, as was common for women at the time, work as a research associate in someone else's lab, they declined the move. The Steitzes came instead to Yale, where Joan was offered an assistant professor position in the new department of Molecular Biophysics and Biochemistry.
A panel of Steitz's former trainees gathered on stage to discuss the issues facing women as they pursue careers in science. They pointed out that the issues of access to faculty positions faced by Steitz are now joined by issues of pay and workload inequity. Said Susan Baserga, MD, PhD, professor of molecular biophysics and biochemistry, of genetics, and of therapeutic radiology, "My solution is to be the squeaky wheel, and not just for myself but for other people in my department."
Gia Voeltz, PhD, professor of molecular, cellular, and developmental biology at the University of Colorado Boulder, pointed out that women often participate in more faculty committees than they are required to or that men do, because of the need for women in these positions. "You need to decide to just say no, that it is not fair. And it's hard for all of us to say that. Because you can have more of an impact," she said. "You have to stand up for yourself, but you are going to help people after you by standing up for yourself too."
Steitz's approach to mentorship has gone far to help women overcome the challenges they face. One tenet she stands by is that every person in the lab, even undergraduates, should have their own project. "Particularly in the case of women," she said. With independent work, mentors give their trainees "room to fail," said Heidi Cook-Andersen, MD, PhD, assistant professor of reproductive medicine at the University of California, San Diego. "I didn't realize until recently what an important part of mentoring this was. The freedom to make mistakes and learn from those mistakes is critical in becoming an independent scientist." Also participating in the panel were Mingyi Xie, PhD, assistant professor of biochemistry and molecular biology at the University of Florida, and Nancy Andrews, MD, PhD, former dean of the Duke University School of Medicine.
At the end of the lecture, Steitz aimed to distill her vast knowledge gained from a long career into a bulleted list of advice for mentees. She highlighted the importance of diverse viewpoints, and the need to take on the most challenging questions. But first on the list? "If making discoveries in science brings you joy, go for it!"
Submitted by Robert Forman on March 18, 2019