Leon Rosenberg, MD, former dean of Yale School of Medicine and inaugural chair of the Department of Genetics, passed away on July 22, 2022.
A pioneer physician-scientist in the discovery, understanding, and treatment of human metabolic disorders, Rosenberg will be remembered for his groundbreaking vision in founding the department, for his discoveries in human genetics, and for his exceptional service to Yale as dean of the School of Medicine from 1984 to 1991. Later he became president of the Pharmaceutical Research Institute at Bristol-Myers Squibb and senior molecular biologist and professor at Princeton University.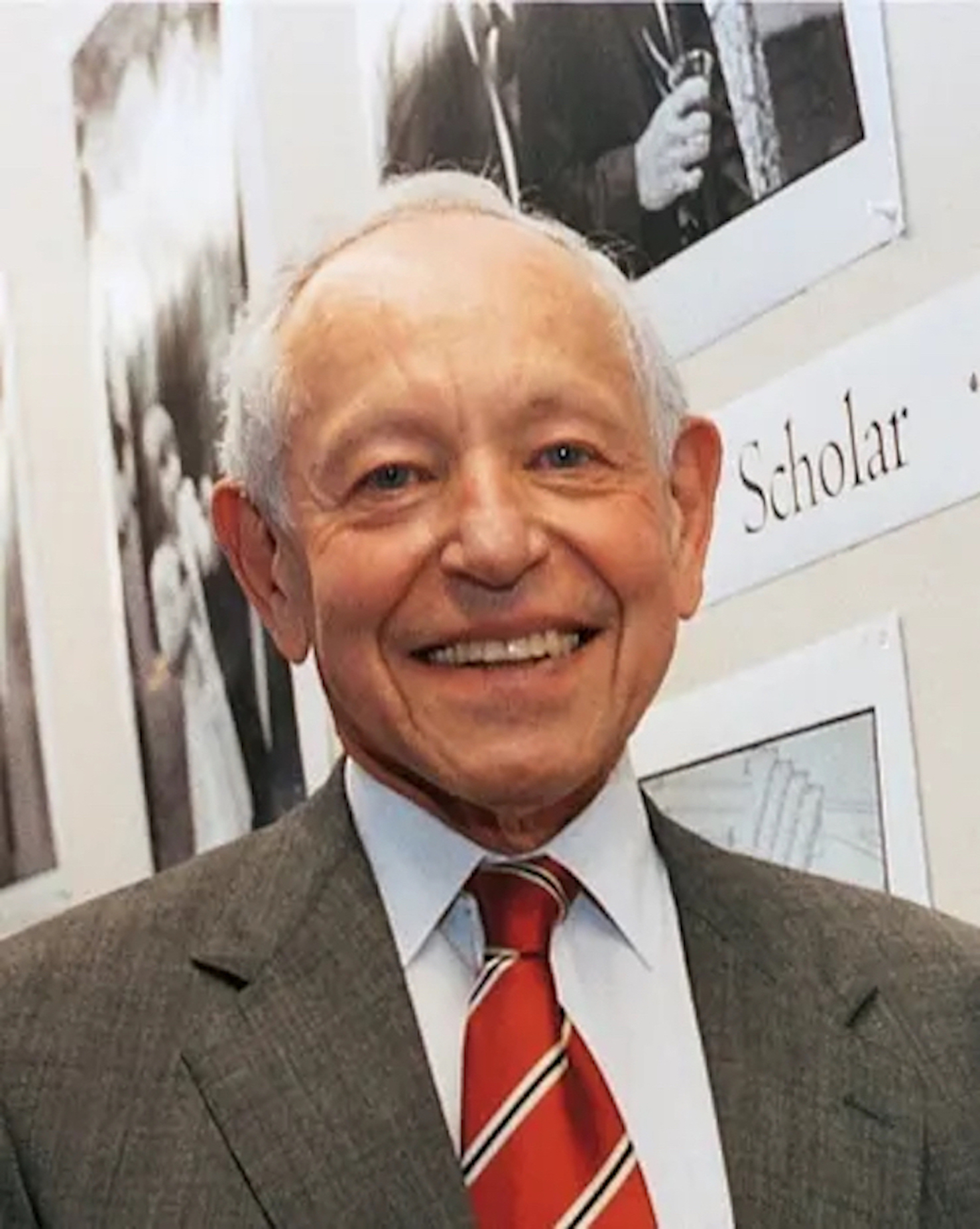 Rosenberg came to Yale as the inaugural chief of a joint Division of Medical Genetics in the Departments of Pediatrics and Internal Medicine. In 1963, two years before he arrived to lead research in genetic defects in amino acid and organic acid metabolism, he told a prominent Yale nephrologist that he planned to specialize in medical genetics. "Don't be silly," the nephrologist replied. "There is no such thing." Time, and Rosenberg, would prove that prediction wrong.

Rosenberg earned his BA and MD degrees from the University of Wisconsin and completed his internship and first year of an internal medicine residency at Columbia-Presbyterian Medical Center in New York. His interest in genetics and metabolic diseases began during his six years at the National Cancer Institute (NCI), where he treated an eight-year-old boy who ultimately died of a wasting disorder of his skeletal muscles. Two siblings with nearly identical cases had died before him.
In 1965, he came to Yale, and by 1972 had become the founding chair of the Department of Human Genetics, the first of its kind in the US. He also led the first clinical genetics division in Yale New Haven Hospital. Rosenberg became Yale School of Medicine's 13th dean in 1984 and served for seven years. During his tenure, a four-year capital campaign raised $155 million and the Magnetic Resonance Center was completed. The Yale Physicians Building, the Boyer Center, and the Yale Psychiatric Institute opened their doors and work began on an addition to the medical library.
In an effort to enrich the school's academic life, he named a task force that recommended a greater emphasis on teaching and increasing the number of women in senior faculty positions. He was committed to improving the health of those who are medically underserved and socioeconomically disadvantaged and encouraged students, faculty, and staff to join in community service. He created the Office of Minority Affairs as part of a plan to address the issues expressed to him by minority students. His goals included increasing the number of minority students and faculty at the School of Medicine; having medical and public health students volunteer in New Haven public schools; and adopting a code of conduct "decrying racism and insensitivity in all forms."
After stepping down as dean in 1991 to lead Bristol-Myers Squibb's Pharmaceutical Research Institute, he returned to academia in 1998 as professor in the Department of Molecular Biology and the Woodrow Wilson School of Public and International Affairs at Princeton (now the Princeton School of Public and International Affairs). In 2002, the room where generations of medical students have attended basic science lectures, Hope 110, was named in his honor.
Rosenberg was a visionary physician-scientist and leader who took deep inspiration from his patients to inform his scientific pursuits with the goal of discovering the biochemical and genetic basis of human disease to inform the development of novel therapies. He believed that the work in the laboratory was as consequential as that in the clinic. He took revelations from the family histories of his patients to lead a multidisciplinary team that gained fundamental insights in pediatric metabolic disorders and led to the development of gender-dependent treatments of these disorders.
His work uncovered the biochemical and genetic basis of life-threatening metabolic disorders causing ketoacidosis or hyperammonemia and created the basis for the therapeutic treatments by modifying the diet or supplementing the enzymatic deficiencies. For example, his work with Dr. Margretta Seashore identified the biochemical basis of homocystinuria and showed how supplementing these patients with the co-factor Vitamin B6 could reverse the disease, introducing the therapeutic potential of vitamins in metabolic disorders and personalized medicine.
His discoveries in academic medicine were recognized by the Borden Award from the American Academy of Pediatrics; the McKusick Leadership Award from the American Society for Human Genetics; and his election to both the Institute of Medicine and the National Academy of Sciences.
The multidisciplinary team led by Dr. Rosenberg at Yale not only made fundamental discoveries in pediatrics and genetics, but also formed a cohort of outstanding physicians and scientists who include Anne Lilljeqvist, Roy Gravel, Ted Hsia, Wayne Fenton, Maurice Mahoney, Arthur Horwich, Gretta Seashore, Ira Mellman, Hunt Willard, and Pamela Youngdahl-Turner, among others. Their discoveries not only informed basic science and patient treatment, but also led to the development of some of the first prenatal diagnosis methods through biochemical analysis of metabolites in the amniotic fluid.

Rosenberg's life was guided by the principle that physician-scientists are imprinted by their clinical experiences, and their sick patients inform their quest for discovery. The real prize is finding out something scientifically that can be translated into understanding, comforting, and occasionally curing a human being who is unique, genetically and clinically.

At Yale, his vision integrated clinical discovery and basic research with the goal to advance our knowledge of human biology, diagnosis, and the development of novel therapies. This served as the model of genetic discovery across the country. His vision is very much present today both in the Department of Genetics at Yale and across other genetics departments that subsequently followed this model.
A memorial service will be held at 11:00 a.m. on Wednesday, July 27, at the Mather-Hodge Funeral Home, 40 Vandeventer Avenue, Princeton, N.J. 08542, followed by burial in the Princeton Cemetery.
Submitted by Robert Forman on July 25, 2022