Admiral Rachel Levine, MD, assistant secretary for health in the Department of Health and Human Services (HHS), visited Yale Law School on February 6 to hear from leading experts about their ongoing efforts and listen to patients' stories on Long COVID. We spoke with Admiral Levine about addressing the numerous challenges presented by the post-viral syndrome and her thoughts on Yale's work toward finding answers.
First of all, do you believe that Long COVID is a public health crisis?
Yes, Long COVID is a very significant public health issue that we are working to address through the federal government in collaboration with the states and local health departments, as well as with academic medicine and researchers.
Why are multidisciplinary Long COVID clinics such as Yale's Post-COVID-19 Recovery Program important in addressing the needs of long haulers?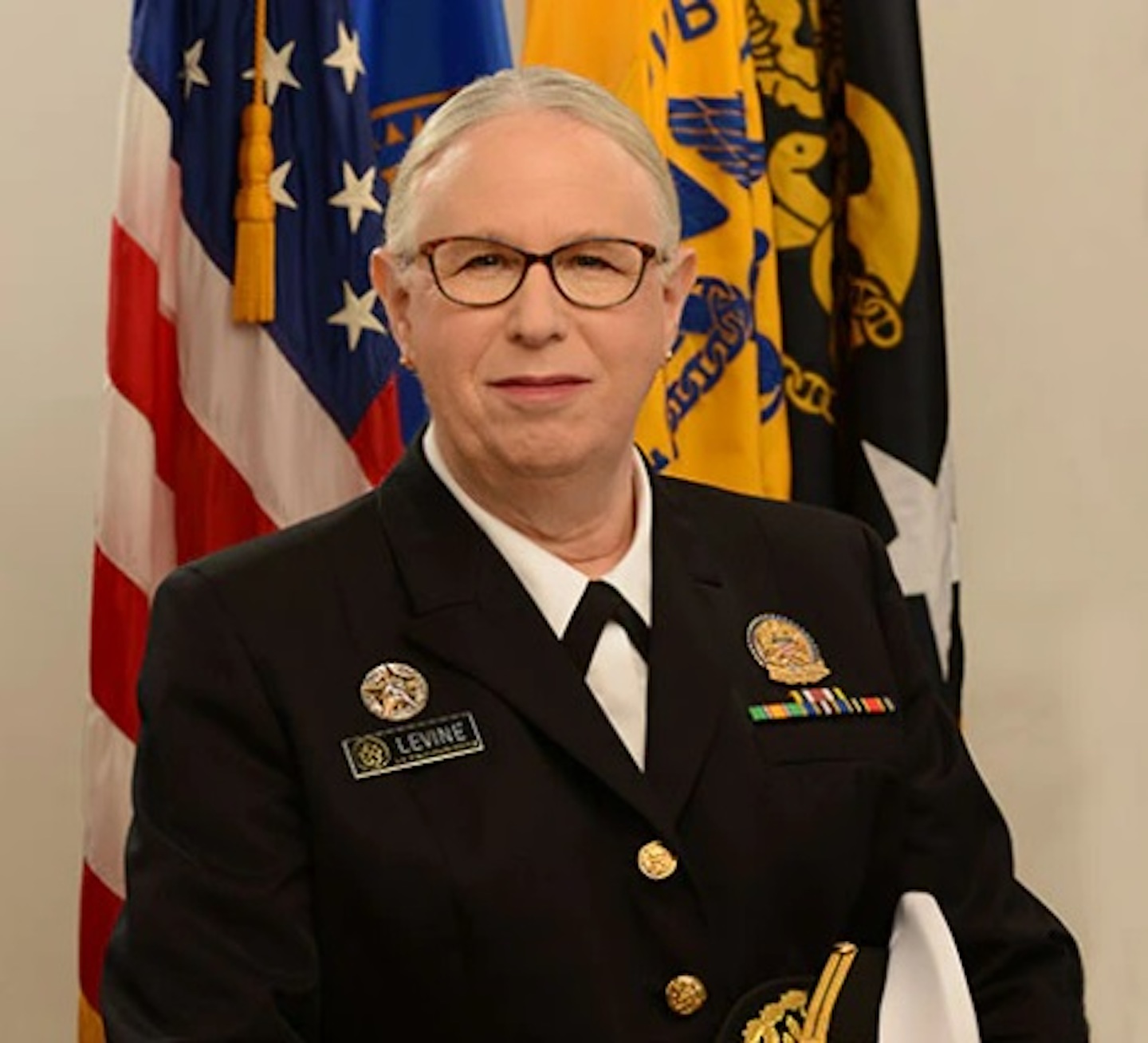 They're important for several reasons. First, they serve as a nidus for research. As providers see more patients in an academic environment such as Yale, this allows more research to be done. This could be research in terms of the prevalence and epidemiology of Long COVID, or also research into the science and pathophysiology behind it. It may also lead to different evaluation and treatment options. Academic medical centers are also critical for serving as an educational hub for primary care providers. At Yale's multi-disciplinary clinic, patients can get evaluated by neurology, by pulmonology, by cardiology, and get all the necessary tests for their individualized needs. But this clinic also serves an educational mission through educating outside physicians as well as physician extenders.
Patient populations need coordination of care so they can receive treatment quickly, with little burden to them and hopefully to the health care system. They also need doctors to believe them when they say they have Long COVID signs, symptoms, or associated conditions, which is a matter of provider education.
What makes Yale a leader in tackling challenges presented by Long COVID?
It's the multi-disciplinary coordination among nationwide and worldwide leaders in cardiology, in pulmonology, in neurology, and in epidemiology. For instance, the inspiration and a lot of the technical work for the CDC's INSPIRE came from Yale. The expertise of the providers and fantastic quality of the medical center make it unique in terms of the services that Yale can provide, as well as the educational and research components.
What areas of research at Yale are you most enthusiastic about sharing with your colleagues in Washington?
We need treatments now—more like yesterday—because of the patients who are suffering. Some of this research could lead to rehabilitation treatments—our session included a Yale rehabilitation specialist and a physical therapist talking about this issue. Or maybe mental health treatments, antiviral medications, monoclonal antibodies—I think there will be a lots of different types of treatments that will be absolutely necessary. And then research into how to form these hub-and-spoke referral networks. So all of that research being done at Yale was very exciting.
I am also excited about the basic research that's being done through NIH's RECOVER involving Serena Spudich [Gilbert H. Glaser Professor of Neurology], who is on the steering committee for the initiative. The research into the pathophysiology, the genetics, the basic lab science, and the infectious disease components is going to be critical. The clinical research into the different signs and symptoms of Long COVID. The research in terms of the epidemiology of Long COVID and INSPIRE through the CDC—Arjun Venkatesh [incoming chair of Yale's Department of Emergency Medicine] plays a large role in that. And then research into different evaluations and treatments for Long COVID.
What can researchers, clinicians, and patients do to further spread awareness around Long COVID?
It's important to make sure that we get the word out to the public, but also the professional community. We need to share what we heard from patients about their lived experience with Long COVID, in terms of the signs, the symptoms, and its impact upon themselves, their work, and their family. But also, we need to share their experiences of what they've encountered in the medical system so that we can do better. Many of the patients talked about medical providers that didn't believe them or told them it wasn't real. So, we absolutely need to get the word out that Long COVID is real, both to the public, so they can learn about its evaluation and treatment if they're having symptoms, and to medical providers so that they can take patients seriously and understand how to do basic evaluation and treatment before referring more complicated patients to academic medical centers like Yale.
What health inequities exist in access to accessing care for Long COVID? How can these disparities be addressed?
Under Secretary Xavier Becerra's leadership, health equity issues are foundational to everything that we do at HHS, including Long COVID. There are health disparities in terms of who has Long COVID. It is more likely for patients in the African American community, for example, to have it. But then there are also disparities in care. Most of the care is being provided at academic medical centers. And so, we need to make sure that care gets pushed out to primary care providers in urban and rural areas. This is one of the things that we're trying to do—we want to make sure that everyone has access to the support and services that they need and deserve for Long COVID.
What steps need to be taken to overcome barriers to treatment such as long wait times for clinics and receiving insurance approval?
We need more providers experienced in evaluating and treating patients for Long COVID. There are specific ways we can achieve this. One is Project ECHO, developed by the University of New Mexico, which is a teaching model where academic hubs can have a learning collaborative with primary care providers far flung away. We can also develop hub-and-spoke models, where you have an academic hub such as Yale, but then there are spokes that might go out throughout Connecticut and the Northeast. That way, much of the care is being provided by primary care providers that could include pediatricians, family physicians, internal medicine physicians, and then other physician extenders such as nurse practitioners and physician assistants. Yale has a great opportunity to do that with its primary care network, but also with other providers throughout Connecticut. The goal is for more primary care providers to do the initial evaluation and treatment, and then they can refer the most challenging cases to academic medical centers such as Yale.
There is some federal funding coming on this front, and I would like to highlight the Feb. 14 announcement by the HHS Agency for Healthcare Research and Quality that it will start accepting applications for $9 million in awards in April or May for projects to expand access to comprehensive, coordinated, and person-centered care for people with Long COVID, particularly underserved, rural, vulnerable, or minority populations that are disproportionately impacted by the effects of Long COVID. Anyone reading this interview should prepare an application if they work at an eligible entity.
In what ways is HHS working to address Long COVID?
Our office, the Office of the Assistant Secretary for Health (OASH), has the honor of being lead for Long COVID across HHS, as well as across the federal government. We were the lead in writing three reports: the National Research Action Plan on Long COVID that was released in August, the Services and Supports for Longer-term Impacts of COVID-19 report, and the Health+ Long COVID report. The latter was a study involving talking to health care providers and especially patients about their experiences with Long COVID.
We are also working to form an office of Long COVID research and practice and to coordinate across the federal government, both in terms of the research as well as the support and services.
Is there anything I didn't ask that you would like to add?
I want to emphasize again the importance of speaking with patients about their lived experiences. I had the opportunity to go with Virginia Sen. Tim Kaine to Richmond with several of my colleagues at HHS to hear stories from patients, advocates, and providers of people struggling to recover their lives after Long COVID and to learn about their experiences with their physicians so we can learn and do better.
I'd also like emphasize that a lot of what we heard extends beyond the clinical setting. People are going to need help getting economic benefits. Beyond care providers, people also need help with their employers understanding their situation. They need help with government agencies like the Social Security Administration. I think that work is going to be a major focus, or at least one major focus, in the future.
Submitted by Robert Forman on February 16, 2023