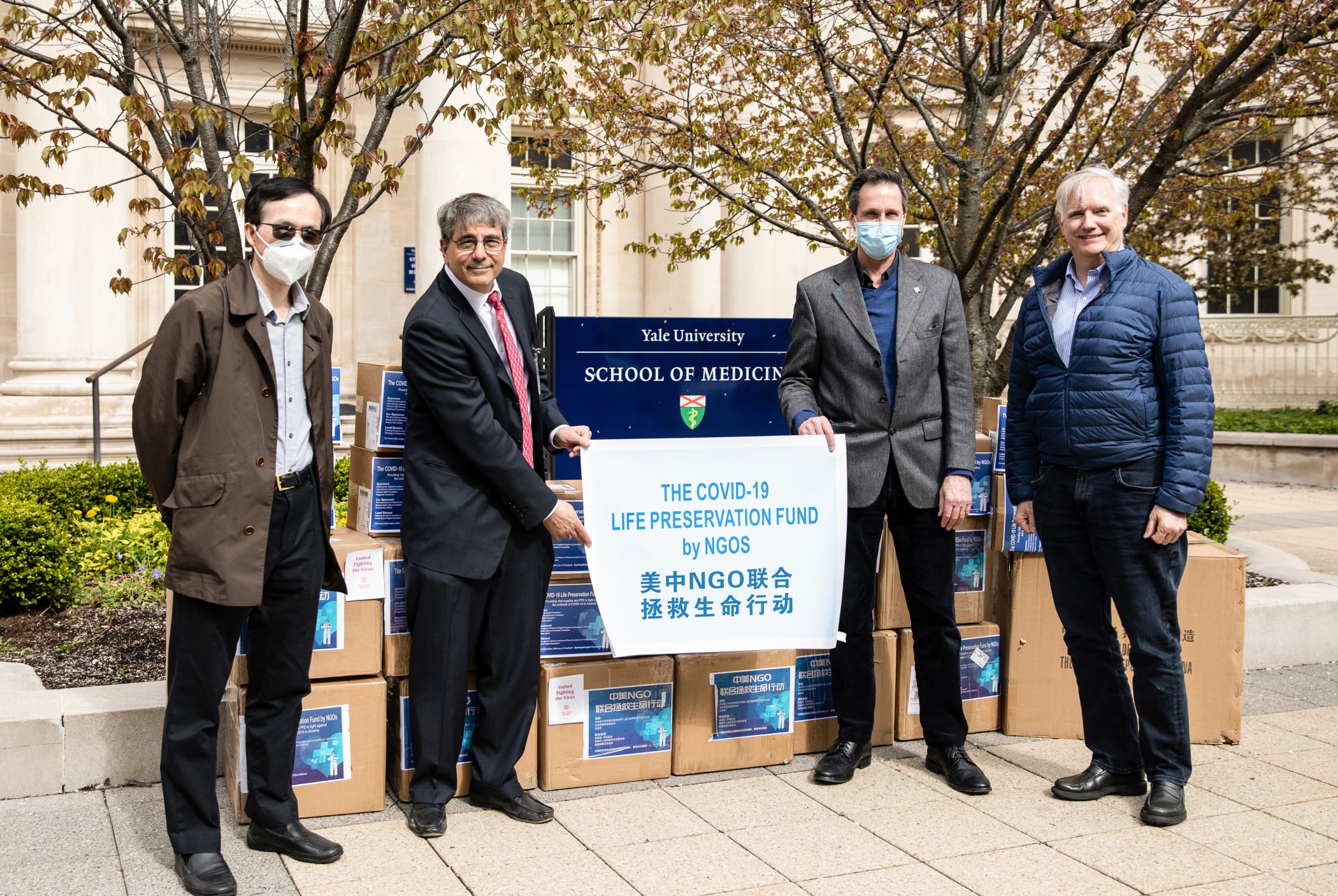 A coalition of non-governmental organizations (NGOs) in China and the United States has donated more than 23,000 N95 masks to Yale School of Medicine to support care of patients during the current COVID-19 pandemic.
The New Haven-based Yale-China Association assisted in the logistics of sending the masks to New Haven, which were received Tuesday by Dr. Paul Taheri, CEO of Yale Medicine and deputy dean of clinical affairs for Yale School of Medicine.
The coalition, COVID-19 Life Preservation Fund by NGOs, was established by Daofeng He, a leader in philanthropy in China. It aims to help protect frontline medical workers in the New York City, Washington, D.C., and surrounding regions through donations of vital personal protective equipment (PPE).
The Chinese foundations that were instrumental in the donation of the N95 masks include the Daofeng and Angela Foundation, International Leadership Foundation, the Association of Intensive English Programs of Georgetown University, Chinese NGO Foundation, and the Beijing Health Alliance Charitable Foundation.
"There has been an extraordinary outpouring of generosity from friends and institutions in China. This includes the group of NGOs making this donation today, as well as physicians and nurses from Xiangya Hospital and Medical School — the institutions founded by Yale graduates more than 100 years ago in Hunan. The success of these efforts is due to the strong century-old ties (especially medical and nursing relationships) between Yale and Hunan Province, and to the 2018 establishment of Sister City ties between New Haven and Changsha, the capital of Hunan Province, China," said David Youtz, president of the Yale-China Association.
The outpouring of goodwill shipments has been amazing, noted Youtz, adding that these efforts are complex and include many steps and hurdles — including fundraising for and then purchasing the items in China; ensuring that the PPEs are CDC- and FDA-approved and are of the high medical grade that a hospital can use; getting these through the customs requirements of both China and the United States; and shipping these in an efficient manner to Yale.
"Many of the goodwill efforts have gotten bogged down in these complexities — even while the needs here in Connecticut skyrocket," added Youtz.
Dr. Gary Zhou, assistant professor at Yale School of Medicine, and a graduate of Hunan Medical University, has been a central figure coordinating the PPE airlifts. Staff of the Yale-China Association's New Haven and Hong Kong offices have shared information and solutions between philanthropists in China and staff at Yale.
For more information about the Yale-China Association, email David Youtz at david.youtz@yale.edu or visit the website.
Submitted by Christopher Gardner on April 15, 2020