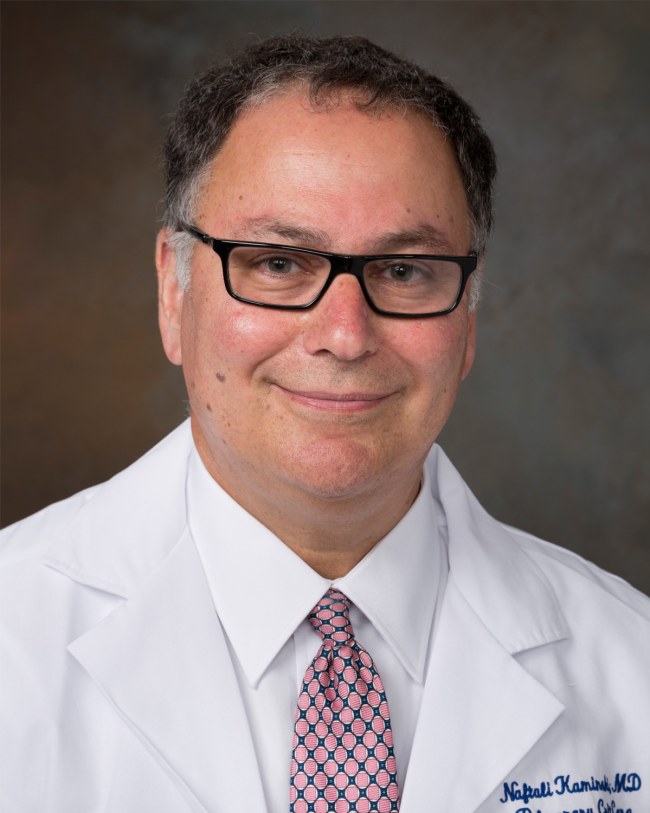 Naftali Kaminski, MD
Boehringer Ingelheim Pharmaceuticals, Inc. Professor of Medicine (Pulmonary); Section Chief, Pulmonary, Critical Care & Sleep Medicine
Biography

Research & Publications

Patient Care

News

Locations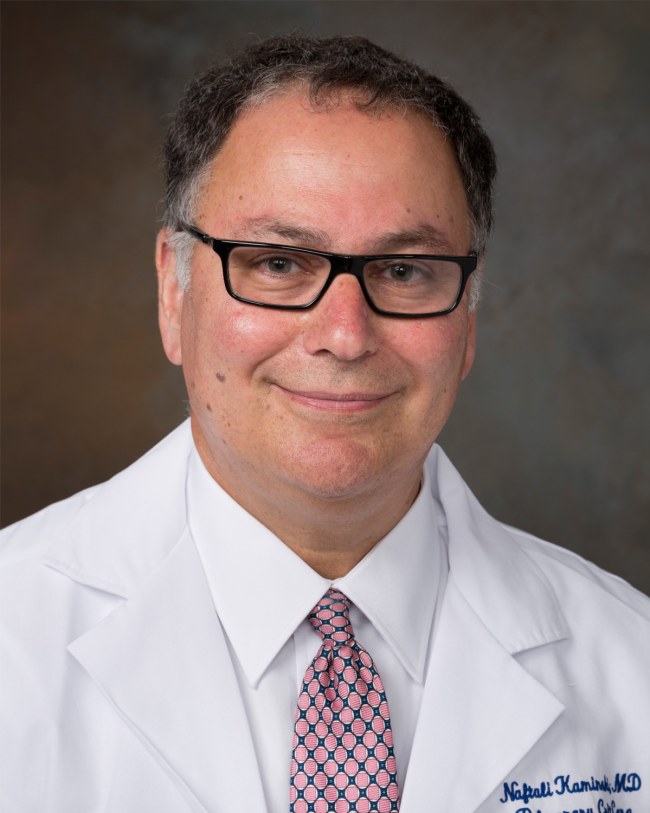 Biography
Dr. Naftali Kaminski is, as of July 1st, 2013, the Boehringer-Ingelheim Endowed Professor of Internal Medicine and Chief of Pulmonary, Critical Care and Sleep Medicine, at Yale School of Medicine. Before that he was a tenured professor of Medicine, Pathology, Computational Biology and Human Genetics, and the Dorothy P. and Richard P. Simmons Endowed Chair for Pulmonary Research at the University of Pittsburgh. Dr. Kaminski was the director of the Dorothy P. and Richard P. Simmons Center for Interstitial Lung Disease and the Lung, Blood and Vascular Center for Genomic Medicine at the division of Pulmonary, Allergy and Critical Care Medicine in University of Pittsburgh. Dr Kaminski received his medical degree from the Hebrew University - Hadassah Medical School in Jerusalem, Israel, and completed a residency in Internal Medicine at Hadassah Mount-Scopus University Hospital in Jerusalem, and a fellowship in pulmonary medicine at Sheba Medical Center in Tel-Hashomer, Israel. Dr Kaminski received his basic science training in Dean Sheppard's laboratory at the Lung Biology Center at UCSF and in functional genomics and microarray technology at the Functional Genomics laboratory at Roche Bioscience, Palo-Alto. After his fellowship in 2000, Dr. Kaminski was appointed head of Functional Genomics at Sheba Medical Center in Israel, before being recruited to head the Simmons Center at the University of Pittsburgh in 2002.
Dr. Kaminski's main research interests involve applying genomic approaches to elucidate basic mechanisms and improve diagnosis and treatment of Idiopathic Pulmonary Fibrosis (IPF), a chronic mostly lethal and currently untreatable scarring lung disease and other chronic lung diseases such Chronic Obstructive Pulmonary Disease (COPD), severe asthma and sarcoidosis. His group pioneered the application of high throughput genome scale transcript profiling in advanced lung disease. Among his key discoveries are: The discovery that matrix metalloproteases such as MMP7 and MMP19 have significant active roles in determining the lung phenotype in patients with IPF, demonstrating that microRNAs, a family of small non-coding RNAs, are differentially expressed in IPF, and that some of them such are mechanistically involved in lung fibrosis, and the discovery that the outcome of patients with IPF can be predicted based on the expression of peripheral blood proteins and genes, a finding with practical implication because of the need for risk stratification and transplant prioritization. More recently Dr. Kaminski's team identified a potential antifibrotic role for thyroid hormone signaling, a novel discovery with significant therapeutic implications. Dr. Kaminski has a strong interest in integrating high throughput 'omics' data, such as genome scale DNA variants, coding and non-coding RNAs, microbiome and metabolome information with clinical information to generate tools for personalized medicine of lung diseases that are significantly more precise, predictive and patient centered than anything that is currently available.
Since completing his clinical training, Dr. Kaminski authored more than 260 research papers, review articles and book chapters and has given numerous invited talks at national and International conferences. Since he finished his fellowship in 2000, Dr. Kaminski has been consistently funded by NIH and is the PI of multiple NIH grants. Dr. Kaminski was a recipient of the Marvin I. Schwarz Award for contributions to patient care and research in pulmonary fibrosis from the Coalition for Pulmonary Fibrosis in 2010 and the University of Pittsburgh Innovator Award in 2012. In 2013, Dr. Kaminski received the American Thoracic Society Recognition of Scientific Achievements award, as well the Helmholtz Institute International Fellow. In 2015 he was elected to the Association of American Physicians. In 2016 he was elected as Fellow of the European Respiratory Society (ERS) , and won the the European Respiratory Society Gold medal for Interstitial Lung Disease. In 2018, Dr. Kaminski received the Andy Tager Excellence in Mentorship Award from the Respiratory Cell and Molecular Biology Assembly of the American Thoracic Society and was elected fellow  of the American Thoracic Society. Dr. Kaminski is active on the ATS and was the editor of "Gene Express", a column on genomics in the initial days of the ATS Website, a member and chair of the Program Committee of the Assembly on Respiratory Cell and Molecular Biology of the ATS, and member of the ATS Research Advocacy Committee, and Chair of the Assembly on Respiratory, Cell, and Molecular Biology at the American Thoracic Society. He was an associate editor of the American Journal of Respiratory and Critical care Medicine, a member of multiple editorial boards and currently is the Deputy Editor of Thorax, BMJ. Dr. Kaminski is the current President of the Association of Pulmonary, Critical Care and Sleep Division Directors.

Dr. Kaminski is passionate about training physician scientists for the challenges of 21st century medicine, and especially in the vocabulary, skills and technology of the new fields of genomics, bioinformatics, computational and system biology and their application to understanding the basic mechanisms that govern lung health and disease as well as to designed personalized medicine approaches and has mentored multiple MD and PhD scientists, of them many have productive and well funded independent career. He has most recently recognized for his commitment to mentoring with the American Thoracic Society Andy Tager excellence in mentoring award.

Education & Training
MD

Hebrew University (1989)

BM

Hebrew University (1985)

Board Certification

Israel Boards of Pulmonary Medicine, Pulmonary Disease

Board Certification

Israel Boards of Internal Medicine, Internal Medicine
Activities
Blood Biomarkers in IPF

London, United Kingdom; Nottingham, United Kingdom; Pittsburgh, United States; Boston, United States; Ann Arbor, United States; Chicago, United States 2015

Genomic and Miocrobiome analysis of Sarocidosis and A1AT

Denver, United States; Memphis, United States; Charleston, United States 2015

Molecular Mechanisms of Lung Fibrosis

Athens, Greece; Charleston, United States; Vancouver, Canada; Leuven, Belgium; Munich, Germany 2014

Novel Biomarkers in Bornchoalveolar Lavage of Patients with IPF

Siena, Italy; Hanover, Germany; Leuven, Belgium 2013
Honors & Recognition
| Award | Awarding Organization | Date |
| --- | --- | --- |
| Andy Tager Excellence in Mentorship Award | The American Thoracic Society Respiratory Cell and Molecular Biology Assembly | 2018 |
| Fellow | American Thoracic Society | 2018 |
| Fellow | European Respiratory Soeciety | 2016 |
| Gold Medal for Interstitial Lung Disease | European Respiratory Society | 2016 |
| Member of the Association of American Physicians | | 2015 |
| Helmholtz International Fellow Award | Helmholtz Institute | 2013 |
| Recognition for Scientific Achievement | American Thoracic Society | 2013 |
| Innovator Award | University Of Pittsburgh | 2012 |
| Marvin I. Schwarz Research Award | Coalition for Pulmonary Fibrosis | 2010 |
Professional Service
| Organization | Role | Date |
| --- | --- | --- |
| Association of Pulmonary, Critical Care and Sleep Division Directors | President Elect | 2016 - Present |
| Thorax - BMJ | Deputy Editor | 2015 - Present |
| American Throacic Society | Chair of Respiratory Cell and Molecular Biology Assembly | 2014 - 2016 |
Departments & Organizations