Irena Tocino, MD, is fascinated by architecture, not just the sight of a beautiful building or bridge, but by an architect's focus on design, purpose and reliability.
In 2018, Tocino oversaw the selection and implementation of a new Picture Archiving and Communication System (PACS) for the department of Radiology & Biomedical Imaging at Yale School of Medicine (YSM), working through a process that reminded her of how an architect works.
"Those were very intense months, working with a team of radiologist champions, information technology experts, technologists, and representatives from our vendors, discussing every detail, closing every loop, and ultimately coming to the realization that the bridge opens July 29th and all the cars are going over it," said Tocino, vice chair of Imaging Informatics and professor of Radiology & Biomedical Imaging at YSM.
After eight months of planning, the new PACS went live on time and on budget on July 29, 2018 at Yale New Haven and Bridgeport hospitals before being implemented at other clinical sites. The new system has allowed radiologists to work more efficiently and to collaborate more effectively with each other, referring physicians, and technologists.
The new PACS architecture features an efficient workflow engine, and a fast image viewer that together provide advanced image analysis and convenient access to medical images including X-rays, ultrasounds, CT scans, and MRIs. Once a digital image is produced, it can be shared electronically, together with the radiologist's report, with doctors and patients to facilitate timely care.


Providing Expertise
The new PACS offers many enhancements, including built-in 3-D imaging. Previously, separate software was needed to view an image in 3-D, said Hamid Mojibian, MD, associate professor of Radiology & Biomedical Imaging at YSM.
Because the new system is more efficient, productivity has increased. "At one point, we might have had 500 images to review. Now we can look at 1,500 images, including 3-D and color imaging in equal amount of time," Mojibian said.
Mojibian's workstation in diagnostic radiology includes a large center monitor that displays 3-D images, and another monitor for viewing patient information. This patient workflow can be filtered according to daily assignments throughout a number of locations and responsibilities. Communication with technologists and requests for consultations from ordering providers is streamlined through live chats, cutting down on reading room interruptions and increasing productivity. A third monitor displays color-coded voice recognition reports.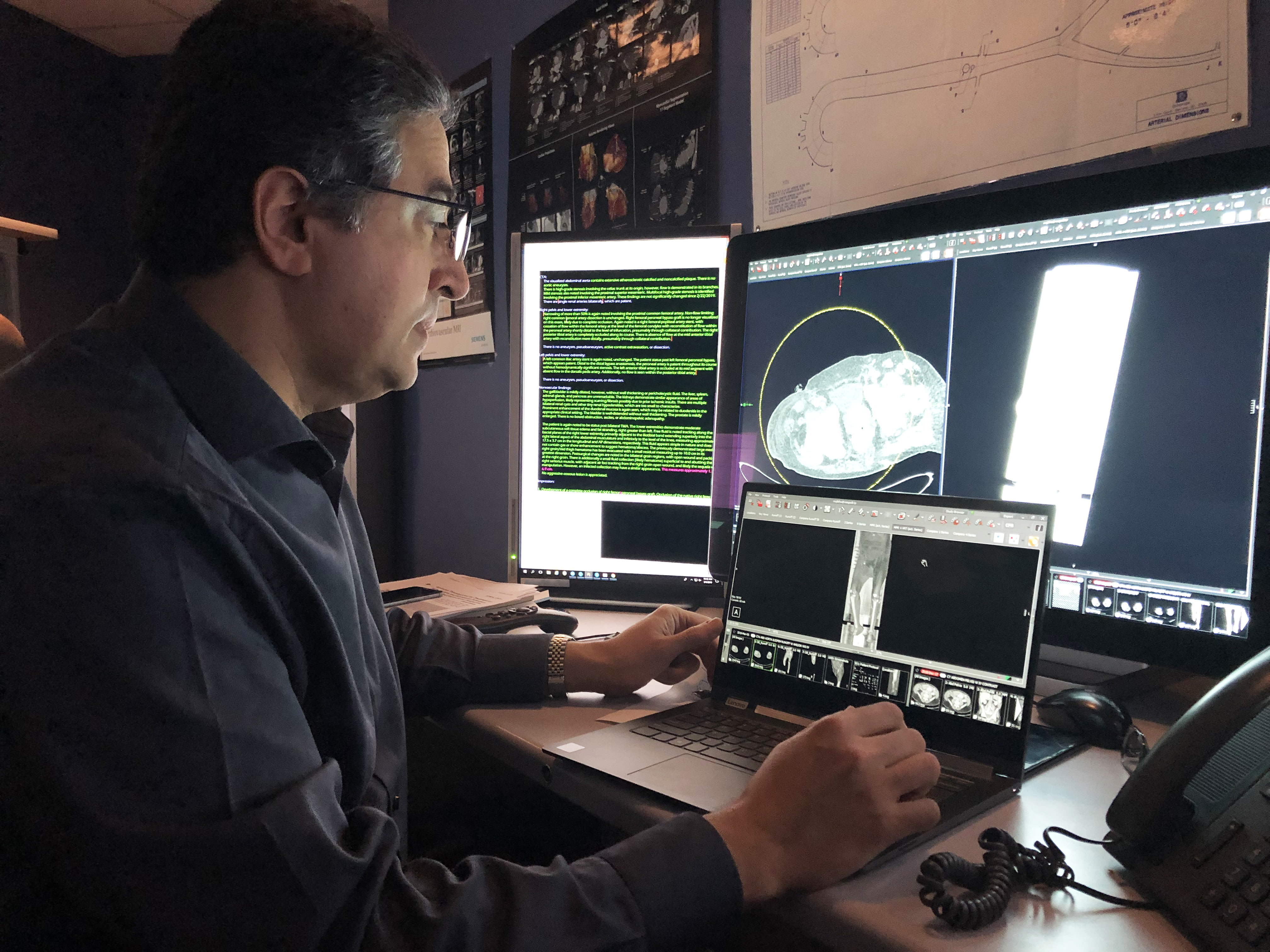 The new system can be accessed remotely, so that Mojibian can sign into a laptop or IPad to review images. "If I'm home and am asked for a consult, I can do that," Mojibian said.
Other clinical departments also have access to the system. "A vascular surgeon can send me a 3-D image to consult on," Mojibian said. "The knowledge and collaboration around radiology is growing," he said. "We provide the expertise."
Improving Collaboration
Yale radiology is a leader in 3-D mammography, also called digital breast tomosynthesis. Breast Imaging requires special monitors, but those monitors didn't interface with the old PACS, said Liane Philpotts, MD, professor of Radiology & Biomedical Imaging at YSM and chief of Breast Imaging.
"The old PACS could not accommodate our high-resolution, high-image volume studies," Philpotts said. This meant that each clinical site had to function as a silo, with images from a location's mammography machine going directly to that location's workstations.
"We were hampered by not being able to see other's cases more easily, and you couldn't help colleagues at other facilities," she said. "Anyone who wanted me to look at images from other sites would have to email or call me, and I would have to fetch the images, which took a lot of time and work," she added.
By connecting clinical sites, the new PACS has improved turnaround time and collaboration.
"At the Park Avenue site, radiologists who were busy with lots of biopsies would have to stay late," Philpotts said. "But now we help each other out. Cases are getting read much faster. The volumes are higher but we read more quickly. And this means that patients can get results right away."


Better Reports for Better Care
Now that the new PACS is up and running, Tocino and her team are working to create radiology reports that best reflect the role of the radiologist as consultant. The multi-media reporting system that Tocino's team envisions would replace text-heavy reports with images and charts, and will take advantage of artificial intelligence to augment the clinical content derived from the patient's chart.
The goal is to improve a patient's awareness and even appreciation of the radiologist's role in their health care by enhancing their understanding of radiology exams and results. "This could empower patients to make better-informed health care decisions, and assist radiologists and referring physicians to better track a patient's follow-up care," Tocino said.
"If we don't deploy tracking systems, if we say the patient should come back in six months and they don't, or if they come back a year later with lung cancer, well that's something we might have prevented by having health systems that clearly communicate with patients and help patients participate actively in their care," Tocino said.
"We must think differently about how we deliver radiology services, and how to engage patients by providing reports that contain clearer information," she said.
As vice chair of Imaging Informatics, Tocino said her main interest is to "leverage our information systems to transform our processes and operations." Fast-changing technology "allows us to be bold," she added.
Submitted by Angel Machon on April 04, 2019