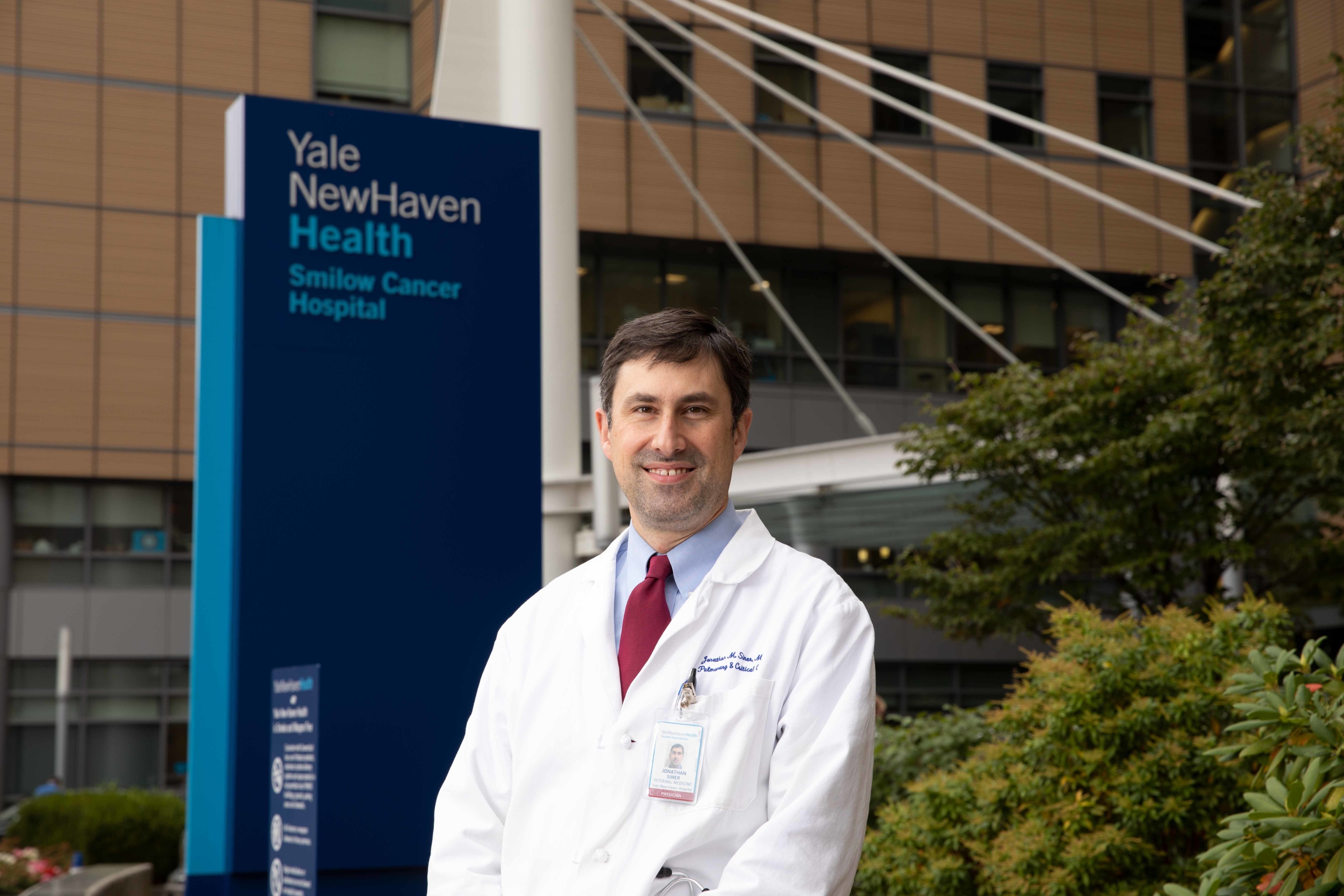 As the COVID-19 virus began to spread across the world, pulmonologist and critical care physician Jonathan Siner, MD, found himself both prepared and not.
The groundwork that Siner had laid along with his personal attributes while juggling his roles as a pulmonologist and critical care physician; clinician educator with a strong clinical and administrative interest and track record in patient safety; clinical section chief, Pulmonary, Critical Care and Sleep Medicine (Yale-PCCSM) at Yale School of Medicine (YSM); director of the medical intensive care unit (MICU) at Yale New Haven Hospital; and chair of the Yale New Haven Health (YNHHS) ICU Committee, proved critical once COVID-19 arrived at YNHH with its first diagnosed case on March 14, 2020.
Through his many distinct roles across YSM, YNHH, and YNHHS, Siner was one of the instrumental figures in New Haven during the numerous waves of the pandemic. As director of the MICU and the chair of the YNHHS ICU Committee, Siner and team knew they needed to outline guidelines for patient care for this new virus. "We had a phone call with one of the leadership folks at University of Washington, location of the first outbreak in the United States. That call was some fact-finding and trying to understand whatever there was to know, and we didn't know very much at that point," explained Siner.

They obtained a draft document from the University of Washington, and the group started to adapt it for their needs.
"I just went through all the basic things that we do. What should rounds look like? What are some basics around mechanical ventilation? What are some basics around the teamwork and all the other things that we do? The ICU is a team, people have lots of tasks that they do and the sum of the parts is the care delivery," he said.
Siner noted the complex processes between nurses, physicians, respiratory therapy, and pharmacists, and that the teams had to revise how each step worked up to that point, changing an automated process, slowing it down, and thinking about every step. While the creation of care processes was a tremendous undertaking, so was ensuring that the MICU had enough beds to care for those patients who may need it. The team started working on increasing bed availability by discharging patients that could leave the hospital and expanding MICU capacity. YNHH leadership had the foresight to stop elective surgery after seeing what was occurring in New York City. Because the top three floors of the North Pavilion (NP) of Smilow Cancer Hospital/Yale Cancer Center (YCC) were all built in such a way that the rooms could be converted to negative pressure rooms when needed, hospital leadership decided to convert these floors into COVID critical care units, which increased the availability number of medical intensive care beds from 60 to 140.
Aydin Pinar, MD, associate medical director, MICU; and assistant professor of medicine (pulmonary, critical care, and sleep medicine) has worked with Siner in the MICU for almost seven years, and noted Siner's ability to see the big picture as the pandemic struck.
"We wanted to make sure as many beds were available as possible. We also needed to convert the beds into isolation rooms. This included putting up new ventilation systems in the rooms. This was lot of team effort because a bunch of things needed to happen at the same time. But Jonathan has been very instrumental and saw the possibilities.... to be able to take care of the escalating number of patients," said Pinar. "Jonathan had a very good sense of what was going to happen. His leadership was essential."
In addition to delivering care at the MICUs in New Haven, the YNHH MICU team provides tele-ICU services nightly for the other four hospitals across YNHHS. In March 2020, only 70 beds had been available for the tele-ICU.
Robin Waddell, APRN, manager of the Tele-ICU, started the program with Siner in 2015, and collaborated with him on the expansion of services. Waddell remembers the call she received from Siner on March 16, 2020, the day that YNHH leaders declared a Code D (disaster) and activated the Hospital Incident Command Structure (HICS). "He called me that morning and said that we were in disaster mode. 'I need you to get every APP (advanced practice provider) that you can and train them because we are going to be rapidly expanding the Tele-ICU.'"
Waddell says that Siner admitted that he wouldn't be able to assist with this effort in a large capacity because of his other roles, but advised her to get to the hospital right away. Waddell onboarded 17 APPs, six new physicians, and trained seven CRNAs to support the ramp up. Information technology services (ITS) was brought in to assist in the addition of 150 new beds across YNHHS. Day coverage was also added.
Chris Gutmann, YNHHS Executive Director of ITS Clinical Engineering, has worked with Siner for many years, and during the first wave, the duo 'rolled up their sleeves' to work on the equipment needs of the MICU and Tele-ICU.
"We were told that we had to double our ICU capacity, and I originally thought, 'That's impossible.' Then you try and figure it out. We were in pandemic mode, we had to stratify acuity and intensity. The more sick somebody is, the more intensive their care is, most likely they have more technology involved in that care. Jonathan knows our world enough and we know his, so we have a good relationship and work together well. He was instrumental," said Gutmann.
"Where I always appreciate working with Jonathan is while he never has enough time, because he's always taking the time to listen to whoever he's talking to. Which is a rare skill, right? It's super simple, but he's interested in what you have to say, he takes the time to listen to you, and he takes the time to try and make a meaningful, intelligent, thoughtful decision based on your input, everyone's input, to then move forward," said Gutmann.
Naftali Kaminski, MD, section chief, Yale-PCCSM, picked Siner to replace Lynn Tanoue, MD, MBA, as clinical chief nearly three years ago. "Replacing a universally admired leader like Lynn is not easy, but I had no doubt Jonathan would be successful, because to some extent they share similar attributes, they are calm and confident leaders who combine a careful attention to details, a strong analytic capacity, and a commitment to doing everything the right way, which earns trust."
During the early stages of the pandemic, Kaminski felt these attributes were the key to the success of Yale-PCCSM and YNHHS during the surge. "He was ahead of the curve, and many of the things he was leading during the early stages of the pandemic were unprecedented, and sometimes really, really difficult. but the trust he has from literally everybody on our teams, made them happen." He then added with a smile, "And yes, it also helped that Jonathan was usually right in his predictions and solutions."
Early in the pandemic, the COVID volume at Greenwich Hospital was higher than the rest of the health system. Michael Franco, MD, Medical Director, ICU and Respiratory Care Services, Greenwich Hospital, partnered with Siner to get additional support from YNHH. He commended his overall foresight and character.
"Jonathan is a very intelligent guy. He's very even-keeled, and he doesn't get really put off by anything. We were in a major crisis and he worked with us to increase support, to increase Tele-ICU support, and to transfer patients to Yale when we hit a critically high census," explained Franco. "He is unflappable and immensely helpful to us."
"Jonathan was always thinking about how a task applies in a larger sense, how other delivery networks could utilize it, how it could fit in with other projects. He's got a broad vision, and that comes from his experience. It's probably just his demeanor, but he thinks above just accomplishing a task. I have a lot of confidence in him," Franco said.
For Thomas Balcezak, MD, chief clinical officer for YNHHS, Siner excelled in numerous roles during the pandemic.
"One of Jonathan's roles was around ICU bed planning, which focused on how we were going to expand the ICUs at Yale New Haven Hospital. Another was workforce planning, and how we were going to tap into individuals who had critical care skills and other necessary skills for the ICU, beyond the pulmonary and critical care staff. That need was huge. Underscoring all of these efforts has been Jonathan's incredible ability to work collaboratively with everyone. His incredible emotional intelligence, and just the credibility and trustworthiness that he had built over the last several years," said Balcezak.
While serving as the Incident Commander of YNHHS, Balcezak saw Siner's work firsthand as the leader of the ICU Leadership Group while rounding at Westerly Hospital.
"The clinical team published the iterations of the care protocol, every single one of the hospitals in the health system immediately implemented it. So, they were proning people in Westerly, just like they were proning people in New Haven. It's because, when we decided what the proning protocol was going to be, it was immediately implemented, because of that pre-existing structure of the ICU Leadership Group that Jonathan led," explained Balcezak. "In Siner, you have a leader who's both physically delivering care, keeping the structure in New Haven up and running, advising how we can expand our ICU physical capacity and human resource capacity and driving the care protocol. And then along the way he was also assisting people like Elaine Fajardo [MD] who's trying to put together a new way of sharing one ventilator for two patients. He was really everywhere all the time doing everything."
While Siner was working around the clock implementing these changes and preparations, his parents contracted COVID-19. Siner realized that he had to get the hospital to the point where he was "replaceable" so if he needed to leave Connecticut to care for his parents, he could. Many of his colleagues stepped up to assist in his absence. While his mother recovered, his father did not, dying in May at age 92.
Balcezak was devastated to hear the news. "It was just so heart-wrenching to have that happen, and so poignant that it touched him so close to home while he was so busy and committed to saving so many other lives," he said.
Alison Pinney, RN, YNHH MICU Patient Services Manager, has worked with Siner for almost a decade. She commended his transparency and approachability, even before the pandemic. He always made it a point to listen to the nurses in the MICU, she said.
"Probably the most important thing, even prior to COVID, he has always worked to create a real partnership between nursing and providers, and I don't think the last year would have been possible without that culture of collaboration and team work already in place," she explained. "Our culture made all the challenges that we went through over the last year a little more manageable because we already worked so well together as a team, and a lot of that is because of his influence on the provider side; he's always been a big nursing advocate. That made a huge difference during COVID."
While his colleagues are quick to commend Siner for his intelligence, collaboration, and competence, he is fast to reciprocate. "Shyoko [Honiden, MD, MS] was like my right hand in the MICU. She is extremely competent, thoughtful, and organized. She has always been one of the people I depend on for things," said Siner.
"What was really impressive about Jonathan was that fairly early on, he quietly started planning. And that planning-when you are dealing with basically all unknowns really required thinking thoughtfully about all the possible contingencies and exploring tiny operational details that we, as physicians, often overlook., What does proper equipment look like, how do we scale up, where do we find the staffing, and who do we need to have as collaborators? If we expand to one additional floor today, how many monitors do we need and how do we get them? He really thought of everything," said Honiden. In January 2021, Honiden was named the new MICU Director. Honiden steps into the job after Siner's 11 years in the role.
Through all his years at Yale, Siner built a foundation of trust, credibility, and clinical competence, said Balcezak, and those factors allowed him to step into this important role during the pandemic.
"Jonathan was the chief physician for the YNHH ICU. We depended upon him, not just here in New Haven, but the ICU physicians and the other physicians across the health system really depended on him as well. All decisions, all communications, flowed through him. An important part of any incident response is the need for clear communication, and clear lines of authority, and Jonathan really stepped up to be that single person for our ICU's. He brought the credibility and the clinical competence that we all knew with him. Together with the ease of working with him, he's just such a warm, friendly, emotionally intelligent guy. And that just adds to the ability to work with anyone," said Balcezak.
Sarah Kenyon, MS, RRT, Operations Manager, Respiratory, concurs. "He is the most calm individual I have ever met. I've never heard him raise his voice. He remains calm at all times and really listens to everyone and their point of view. And he never seems to get flustered. It is really amazing," said Kenyon.
"No one embodies HRO [high reliability organization] more than Jonathan Siner," said Gutmann. "Yet, he would never use those terms. He takes the time to listen to everyone's input and make the best joint decisions. That, to me, speaks so much about him as a person and his character."
"One testament of superb leaders beyond the actual work they do, is the way their teams function in crisis, when they may be unavailable – it is important to note that much of the current growth of the current MICU, was under Jonathan's tenure and many of the leadership selected by him," explained Kaminski. "When it was obvious that Jonathan's attention and contribution were needed everywhere, our MICU core team faculty, Shyoko Honiden, Aydin Pinar, Astha Chichra, Elaine Fajardo, Mayanka Tickoo, Felipe Lopez, Tatsiana Palvinskaya, and others, simply took over. They continued to report to him but exhibited leadership and independence in their own roles and domains, role modeling professionalisms, maintaining quality of care, and team cohesion – the best testament of his effective leadership. We are lucky to have him!"
The Section of Pulmonary, Critical Care and Sleep Medicine is one of the eleven sections within YSM's Department of Internal Medicine. To learn more about Yale-PCCSM, visit PCCSM's website, or follow them on Facebook and Twitter.
Submitted by Julie Parry on September 16, 2021