Yale vs. Harvard is the one of the oldest rivalries in college football. As the teams prepare to square off on November 18th at Yale Bowl in their 139th meeting, sports medicine personnel are readying their own team of physicians and medical staff to triage potential injuries that take place on the gridiron.
Liz Gardner, MD is an associate professor with the Department of Orthopaedics & Rehabilitation at Yale School of Medicine and serves as the Head Team Physician for Yale Athletics. She is very familiar with both Yale and the University's athletic programs. Gardner completed her undergraduate studies at Yale where she played field hockey and lacrosse, captaining the lacrosse team in 2001. She later returned after medical school to complete her orthopaedic surgery residency at Yale, followed by a fellowship in sports medicine and shoulder surgery at the University of Michigan. She has been working with student-athletes ever since.
While tens of thousands of spectators cheer from the stands during The Game, Gardner will be on the sidelines with her attention fixed on potential injuries that can occur on the field. She will be joined by Samantha Smith, MD, a Yale Orthopaedics primary care sports medicine physician, along with residents and a fellow who is part of the department's ACGME-accredited sports medicine fellowship program.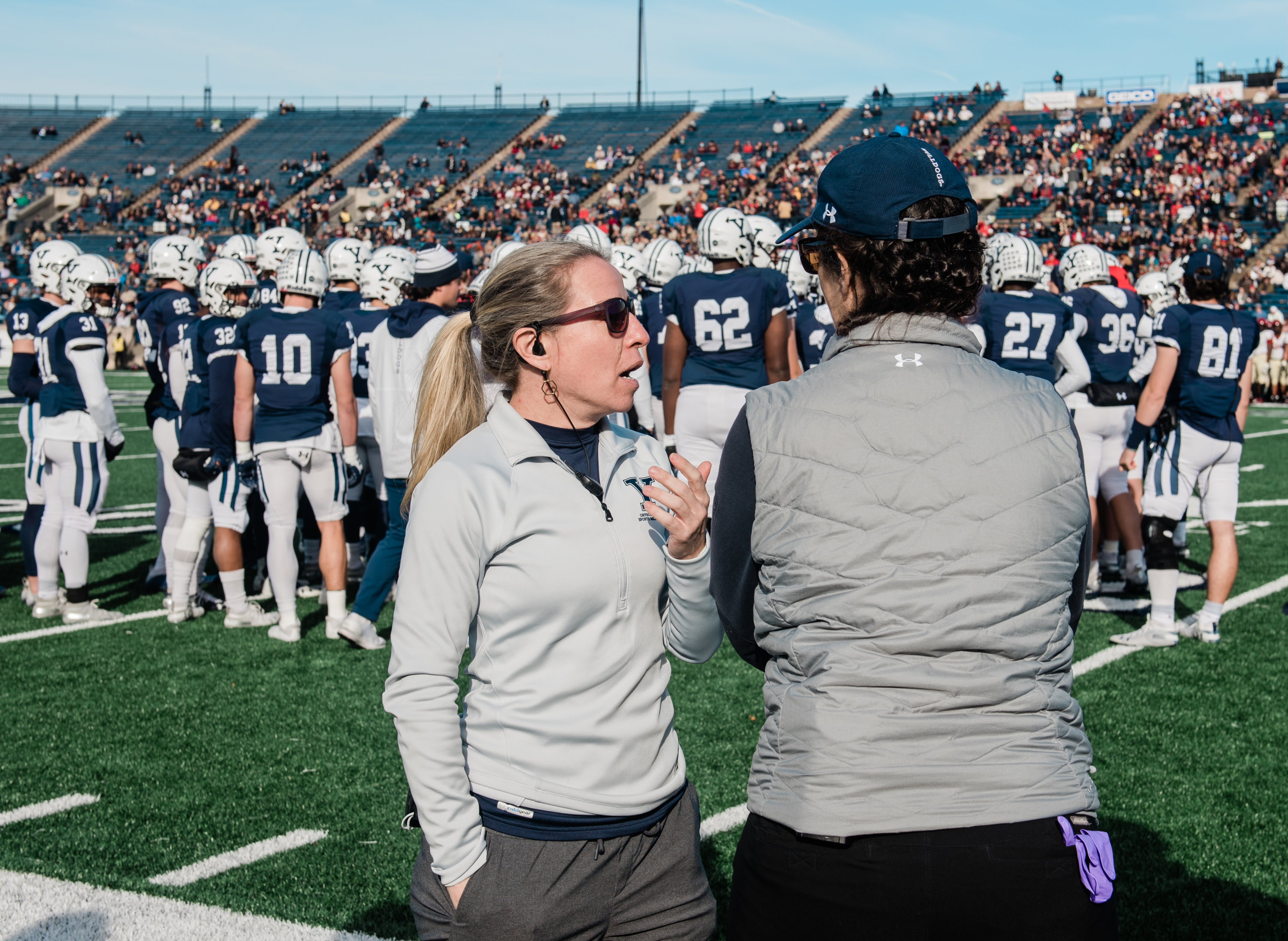 "As the Head Team Physician for Yale Athletics, I am one member of the larger athletic medicine team, which includes athletic trainers, physicians, physical therapists, nurses, and many others who help organize and provide medical care to nearly 1,000 student-athletes at Yale," Gardner said. "It really takes the whole village to provide exceptional and timely care to these athletes."
A higher level of play, like collegiate athletics, typically requires a higher level of care. This can include: pre-season physical exams, ongoing strength and conditioning, medical support, game day coverage, managing concussion protocols, and triaging injuries. Team physicians manage the process of returning to sport after injury or surgery, which can be every bit as a sports psychological mindset as it is a physical recovery. Additionally, Gardner and her team rely on the larger community of Yale Medicine and Yale-New Haven Health for specialist consultations and advanced tests like MRIs and echocardiograms.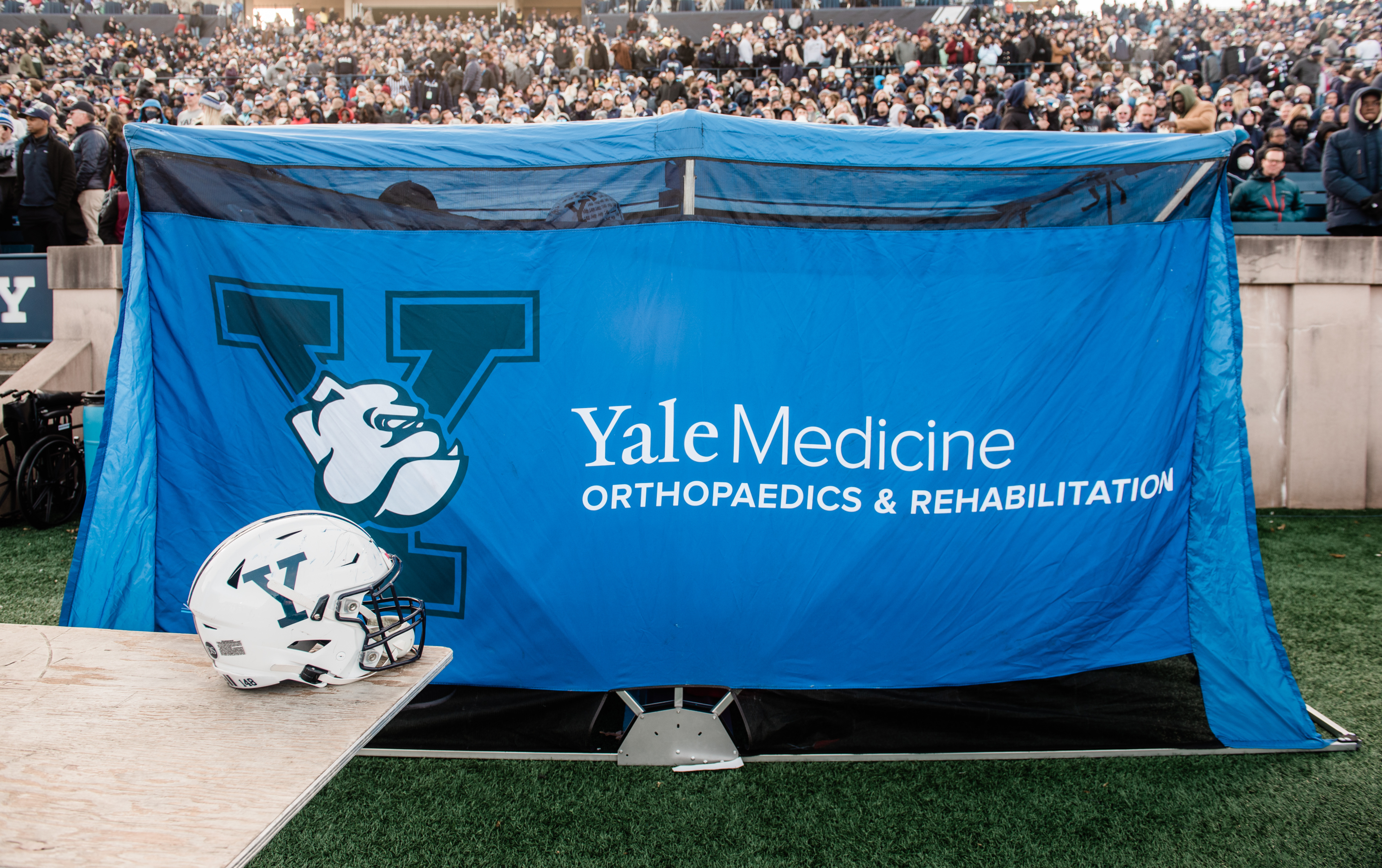 "Yale has 35 varsity teams and coverage responsibilities are divided among Drs. Andrew Jimenez, Christina Allen, Samantha Smith, and me," she added. "This allows us to each form a relationship with the teams we cover and provide more personalized attention. I love the variety of athletes that I get to work with – from football and lacrosse, to squash and gymnastics – it really keeps me on my toes!"
Sports medicine surgeons, like Gardner, provide a variety of care that includes non-surgical, preventative, and interventional treatment options for recreational, collegiate, and professional athletes so they can get back to their prior level of activity.
These orthopaedic specialists who are also team physicians are responsible for the overall medical care for athletes competing in individual, team, and mass participation sporting events. They integrate medical expertise, coordinate with certified athletic trainers and other health care professionals, as well as educate athletes, coaches, and, in the case of youth sports, parents or guardians.
"The best part of this job is the relationships that I get to build, most importantly with the student-athletes and their families, but also with the larger team of coaches, administrators, athletic trainers, and physical therapists who are all united in our efforts to support these players and help keep them on the field or court, doing what they love," Gardner said. "Unfortunately, injuries do happen in sports – but by establishing rapport and trust across the whole team, we can help to make these situations a bit easier for the student-athlete and give them the opportunity to recover and compete."
Gardner's longstanding enthusiasm for sports medicine flourished while she was a two-sport varsity athlete at Yale.
"I am here because of the great care that I received from the sports medicine team when I was a Yale student-athlete," she said. "Unfortunately, I had many injuries and several surgeries but the care that was provided to me, both physically and emotionally, allowed me to live out my dream of competing in two sports at the collegiate level. This led me to spending my college summers working with Peter Jokl, MD, who was the Head Team Physician for Yale Athletics at the time, which is where I learned that I could pay it forward to future athletes by pursuing a career in orthopaedic surgery."
Whether talking about the latest ACL treatments, examining why women have higher rates of ACL injuries than men, or commenting on life-threatening on-the-field occurrences like how Damar Hamlin of the Buffalo Bills suffered from cardiac arrest during a Monday Night Football game, Gardner's passion for those competing in athletics is palpable.
Like many students, alumni, faculty, and staff, Gardner says she is looking forward to The Game, but for her and her team, it will be anything but a relaxing Saturday afternoon.
"During each play, the entire medical team is watching the field to recognize injuries, both noticed and potentially unnoticed by the athletes," she said. "We are also working with the athletic trainers to make decisions about whether an athlete is safe to return to play or needs immediate treatment. It's always a great rivalry game and we are thrilled to be a part of it. Go Bulldogs!"
Submitted by John Ready on November 01, 2023