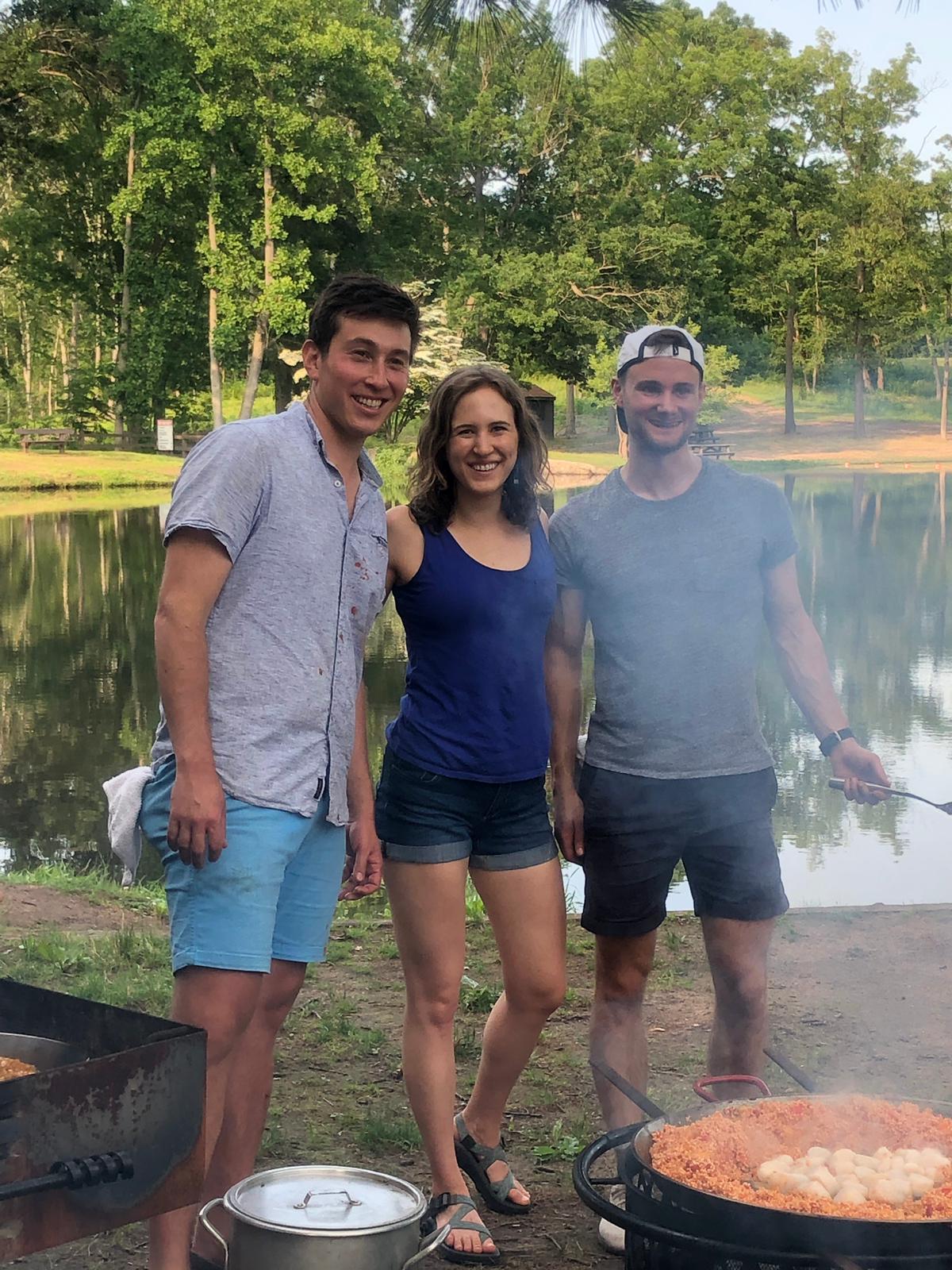 To cook for someone can be one of life's great expressions of care and affection. To cook with someone can be a powerful and gratifying bonding experience. To cook with many people – say, 50 or so on your graduate program's limited budget - can be a test of all 50+ relationships involved. It takes a unique kind of community to pull this off.
On a rain-teasing but blue-skied summer day this past June, we held our first annual MDPhD end-of-year cookout. The menu, like our 8-year, dual degree program, was ambitious. Seafood paella piled high with mussels, shrimp, clams, and squid simmered over cooked-down, smoldering coals. Tangy Vietnamese-style lettuce wraps with thinly sliced and marinated beef short rib or tofu, charred over an open fire and finished with chopped peanuts, fish sauce and Thai basil. And (because why not?) a bright, salted-watermelon, feta, and mint salad.
To call this cookout a grassroots endeavor would be an understatement. We started out a day earlier by crowdsourcing a Costco card, filling a shopping cart with the ocean's bounty, and then moving on to three different Asian markets to check off the last of the ingredients on our list -- sometimes there is truly no substitute for Thai basil. We made quite a group: myself, a buddy from the MD program, and a friend or two from the MD/PhD program who were eager (and naïve enough) to be volunteer sous chefs on this uncharted escapade. The morning of the cookout, we were up early to pack our cars and set out for the campsite.
We reached our plot of land -- a picnic shelter at Wharton Brook State Park with rolling green hills, a pond, and other visitors' frolicking, happy pups – and we immediately began to prep. Breaking down vegetables, portioning ingredients, boiling stock, and coaxing along those flames we needed to make this all happen. As people began to arrive, they looked at the scene, greeted the dogs and, much to my amazement, jumped right in and asked, "What can I do to help?" Like I said, it took a unique kind of community to pull this off.
The fires rolled on as wave after wave of students, faculty, and significant others arrived and the paellas cooked away (did I mention the smaller, 14-inch vegetarian paella we added to the mix for vegan classmates?). Even as the skies briefly darkened and the looming precipitation actualized to a gentle, passing rain, no one batted an eye. People spontaneously carried the picnic tables, coolers, and food into the shelter of the gazebo. Then, when the drizzle subsided minutes later, they carried everything back outside.
As the cookout began to wind down after hours of food, frisbee games, laughs, and libations, a dedicated contingent insisted on staying behind to help clean up. An even smaller and more hardcore crew who somehow were not yet sated – myself included – went from the campsite to Wentworth's for ice cream, each of us determined to stretch the warmth, smiles, and community of the day for a little longer.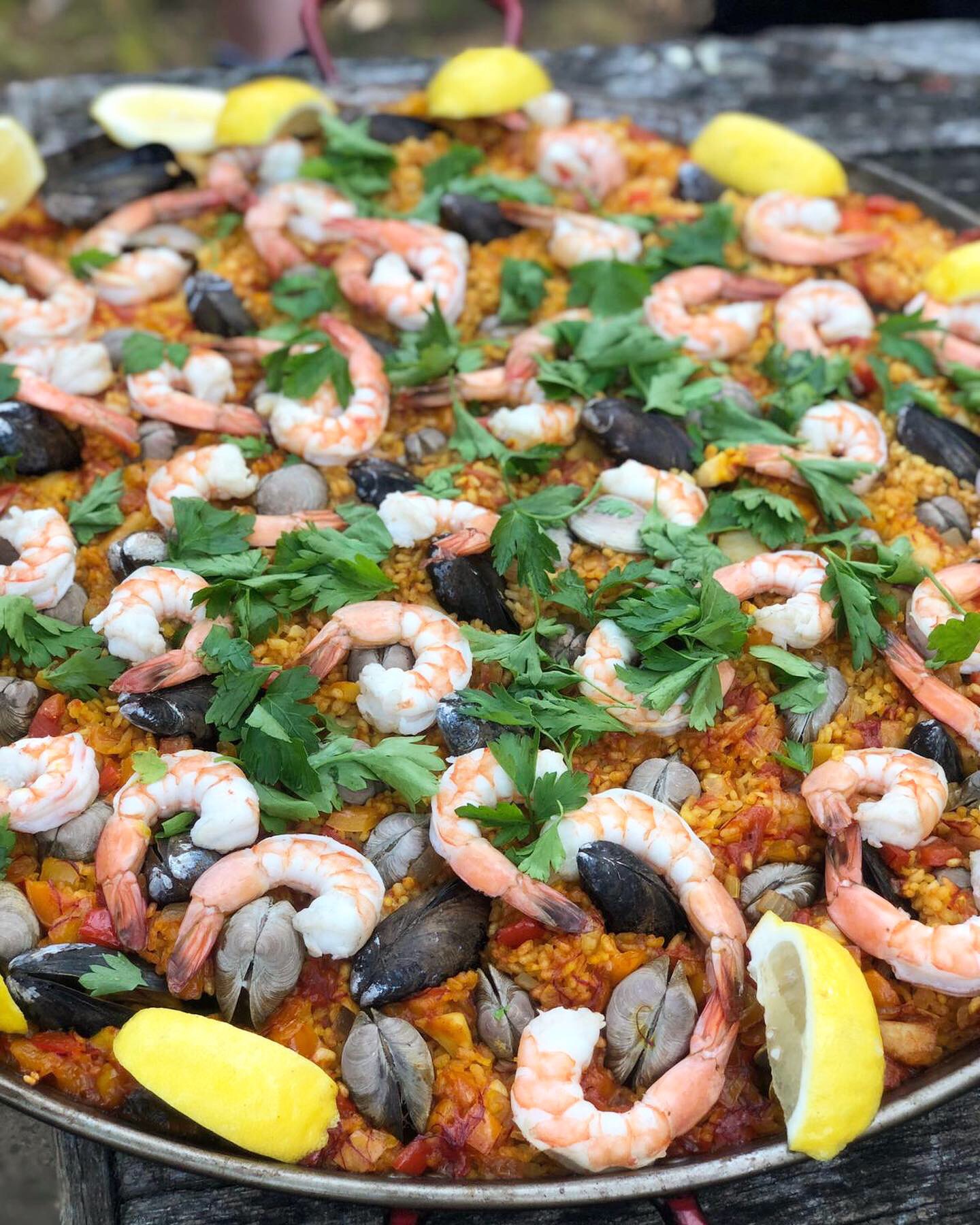 DREW'S SEAFOOD PAELLA RECIPE
(To find the right paella pan size, look online. There are servings-per-pan charts!)
Serves 20, scale accordingly.
Rice cooking liquid: Heat in a stock pot before adding it to the rice. If you're using saffron you can add it here to help the color bloom. Adding the stock to the paella hot also speeds up cooking!
12 cups low sodium stock (recommend chicken or seafood, but can substitute vegetable if needed!)
2 teaspoons saffron threads (optional, but when used in the right amount it really gives an incredibly unique flavor to the rice as well as a stunning color)
Seafoods:
1 lb mussels washed
1 lb unpeeled jumbo shrimp
1 lb Squid cut into 1/4 inch pieces
Heavy duty foil
Sofrito/paella: This is base of the paella. Mixing the onions, tomatoes and spices together and then toasting them in the pan with a bit of oil will impart a toasty, smoky flavor.
3 tbsp olive oil
4 cups finely chopped red onion
6 cloves finely chopped garlic
2 cups canned Muir Glen diced tomatoes with liquid (or other brand...I'm obsessed with these. Not too over the top/expensive but consistently sweet and very tasty)
3 tsp sweet paprika
1 tbsp chili powder
9 cups Bomba rice (or other short grain rice like Arborio)
2 cups frozen peas
1/4 cup lemon juice (juice from 1 lemon)
Garnish: embrace your inner pretentious chef! (and salt bae...)
3 tbsp olive oil
2 lemons cut into wedges (for serving)
1 bunch of flat leaf parsley leaves
Flaky sea salt
Fresh cracked pepper
INSTRUCTIONS:
Preheat oven to 350 degrees (unless cooking outdoors)
Bring 12 cups stock to a simmer with 2 tbsp of saffron added. Don't let boil. Cut the heat, place lid on and set aside.
Devein shrimp if you need to but leave the shell on
Heat paella pan over medium heat, moving pan around every minute or so to evenly heat. This is the most challenging part since these pans conduct heat poorlyMoving them around if you are cooking on a burner indoors is key. Alternatively, this can be avoided if you cook on a weber grill or over coals.
Add in 2 tbsp canola oil, turn heat up to medium-high and wait 2 minutes, continuing to move pan around.
Add shrimp and cook for 1 minute on each side just until the shells turn from gray to pink. Set aside in a bowl.
urn heat down to medium-low (continuing to move around - sorry!). Add 2 tbsp olive oil to the pan. Add in chopped onion and sauté for about 5 minutes, stirring occasionally until the onions turn translucent.
Scrape onion to outside of pan (clearing out the center) and add in garlic to center. Cook just until fragrant but before it turns golden. When you get to this point, stir onions back in from the sides of the pan. Add in tomatoes, paprika, and chili powder. Cook together for 5 minutes, slowly stirring until it thickens. Now you've got your sofrito!
Move sofrito to edges like you did with the onion and add the squid. Use a bit more olive oil if needed and keep stirring and moving for first 3 minutes so it doesn't stick. Cook until they just start to feel plump and combine into sofrito
Add rice and cook 3 minutes over medium-low, stirring constantly and fold into sofrito.
Ladle in hot stock and peas - If not all the stock fits don't worry, add in what you can and add more as it cooks down
Stir constantly until it comes up to a simmer. Make sure oven is at 350 degrees, then wrap in heavy duty foil and place in oven for 20 minutes. If you are cooking outdoors, just continuing simmering for 20 minutes and before checking the rice on the bottom for doneness. If the rice on the bottom is cooked but not the top, cover in tin foil and continue simmering.
If cooking indoors, remove paella after 20 minutes and check the rice for doneness (taste with a spoon - should be soft with a bit of texture when you bite and just starting to stick to the grains around it). If there are spots that are less done than others, add a bit of stock directly there. If it is almost done, add the mussels by burying them hinge side up in the paella. Place back in oven 5-10 mins without foil (save for last step) until mussels open up.
Place shrimps head side down in paella. Cook for 5 minutes in oven uncovered.
Remove from oven, drizzle with 1/4 cup lemon juice cover with heavy duty foil and let sit for 15 minutes.
Garnish paella by drizzling with olive oil in concentric circles and flaky salt if you have some (salt bae it - seasoning from high up means you get a nice even sprinkling over the paella) and a few cracks of black pepper. Drop the parsley leaves also from high up and places the lemon wedges along the sides of the paella. Grab a large spoon and you are ready to serve!
Submitted by Reiko Fitzsimonds on December 06, 2019