This year marks the second virtual graduation ceremony for our general and advanced trainees. Here, eight fellows from five different countries: Natalija Odanovic, MD, Samuel W. Reinhardt, MD, Maen Abou Ziki, MD, Ehimen Aneni MD, MPH, Katherine Clark, MD, Jennifer M. Kwan MD, PhD, and Virginia Singla, MD, recollect the significant and lasting experiences from their training in cardiovascular medicine. A virtual webinar scheduled for June 10, 2021 will be held to celebrate our 26 graduates.
Natalija Odanovic, MD
I was born and raised in Belgrade, Serbia, where I had a carefree and magical childhood. I went to medical school (for free!) at the University of Belgrade Faculty of Medicine. I did my Internal Medicine Residency at Rutgers New Jersey Medical School where I had a wonderful time — befriended many co-residents, learned a lot, and discovered my love for cardiology. Coming to Yale for fellowship was the perfect match for me. I enjoyed everything from clinical work, over research milieu to New Haven itself with its museums and the gorgeous Yale campus. I will be staying at Yale for interventional cardiology training.
My goal is to ultimately go back to Serbia and help my medical school be among the best in Europe. In my future practice I plan to explore atherosclerotic as well as non-atherosclerotic (microvascular, vasospastic, etc.) causes of chest pain, cardiac physiology using pressure-volume loops, and possibly do structural cardiology and TAVR.
You will have the best time of your life during cardiology training at Yale! Cardiology is fascinating, captivating and full of surprises. You will never have a boring day and you will always want to come back for more. Yale is a place where you will find an abundance of supportive mentors, a ton of research opportunities, superior clinical training, and many like-minded co-fellows to spend your days off with.
Samuel W. Reinhardt, MD
I entered fellowship with an interest in outcomes research, thinking I would likely pursue advanced heart failure training. I have had a wonderful fellowship experience at Yale, during which I have seriously considered pursuing each of the subspecialties in turn. I eventually settled on advanced imaging, and am excited to have another year of training at Yale.
A supportive environment and good relationships with peers and attendings are irreplaceable. Many programs will give you excellent teaching of cardiovascular knowledge, but a much smaller number will help you grow as a person and take serious interest in your personal development.
I'm so thankful for the fellowship and division leadership and their support and guidance through the last three years, and am so happy for and proud of my classmates.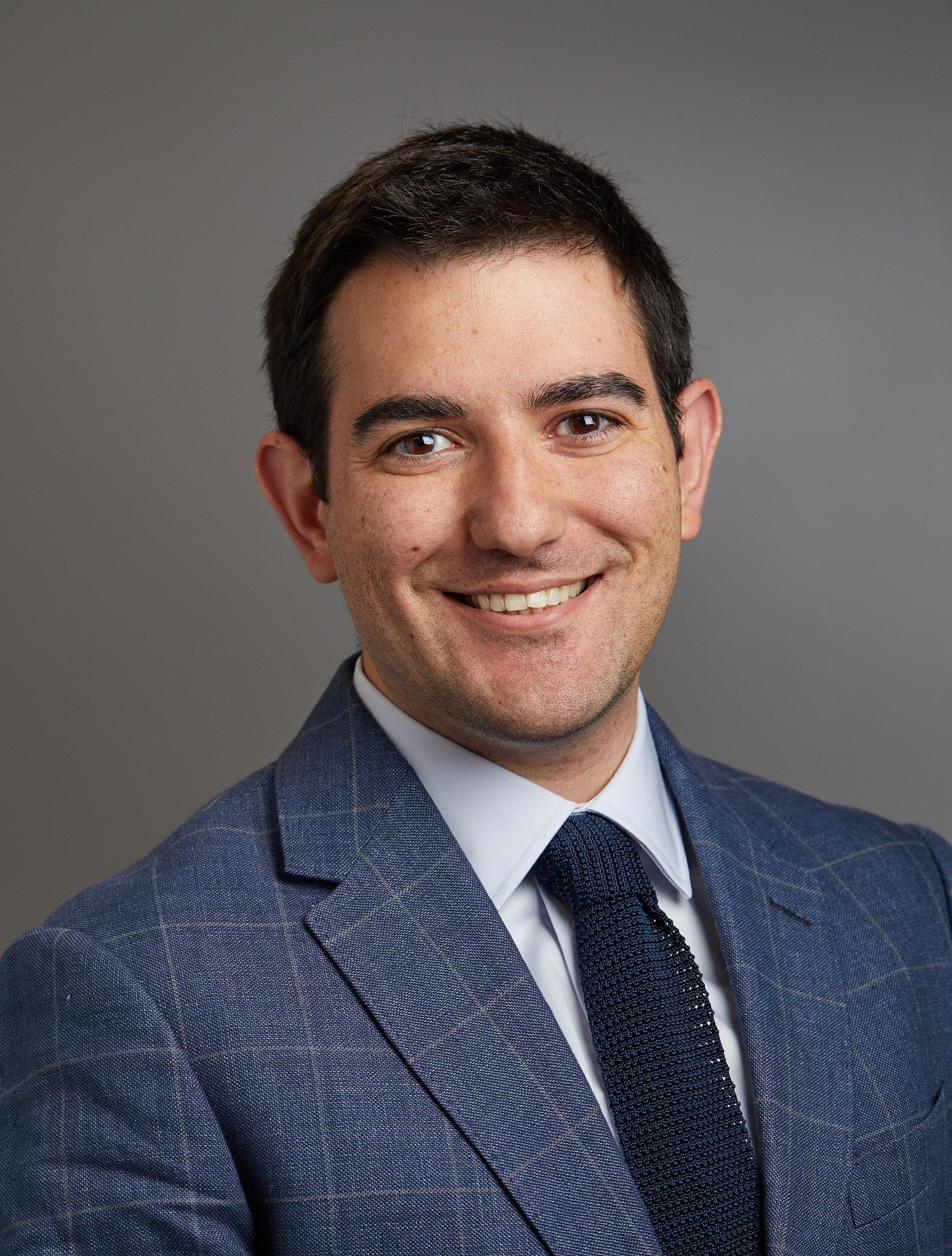 Maen Abou Ziki, MD
I was born and raised in Lebanon, and graduated with honors in research from the Qatar campus of the Weill Cornell Medical College prior to starting my internal medicine residency at the Yale School of Medicine in June 2014. Prior to cardiology fellowship I also spent a year as a chief resident in internal medicine. Since medical school I have been involved in genetic medicine research with projects encompassing genomics and gene therapy. My most recent research projects at Yale focused on genetic modifiers for arrhythmic conditions such as long QT syndrome, sudden cardiac death, and atrial fibrillation. After cardiology fellowship I will be starting my advanced fellowship in cardiac electrophysiology at Yale. My career goal is to be a physician-scientist with expertise in managing patients with heritable arrhythmias.
My advice is to choose a fellowship program with a great track record of supporting their fellows with long term career goals and through fellowship training. This is very true to the cardiology fellowship at Yale, where I have had access to outstanding resources and career development opportunities. Additionally, I have seen the program respond with innovative changes to address the fellows' needs and enhance our training experience. Overall, it has been a very rewarding experience training alongside top-notch clinical mentors while also having access to outstanding research mentors and university resources.
During my fellowship I published three manuscripts and presented abstracts at four international conferences. I also served as a distinguished medical scholar in residence at the Solomon Center for Health Law and Policy at the Yale Law School.
Ehimen Aneni MD, MPH
I have always been intrigued by the contributions of metabolic disorders to cardiovascular disease and this has informed my current trajectory. I am a clinician-investigator with overarching interests in cardiometabolic health and particular focus on the impact of sleep disordered breathing on cardiovascular disease. My current research focuses on the use of multi-modality cardiac imaging to improve our understanding of the pathogenesis of cardiac disorders in sleep disordered breathing and to risk stratify patients with sleep disordered breathing. Clinically, I am interested in building a sleep-cardiovascular disease program in collaboration with our sleep medicine and primary care colleagues to provide optimal cardiovascular care to persons with sleep disorders and concomitant clinical or subclinical cardiovascular disease.
The training here at Yale is rigorous and robust. I have found that there is a fine balance of work and wellness blended into the training programs, not just the cardiovascular medicine fellowship. The faculty here is outstanding and are very helpful. Overall, this is a great place to train.
I would like to thank my wife, Dr. Kammarauche Asuzu, for her love, friendship and unwavering support during this amazing journey. I also want to extend my gratitude to Dr. Khurram Nasir for his mentorship and friendship. My journey into sleep-oriented cardiovascular disease research would not have been possible without Dr. Klar Yaggi whose support and guidance has been invaluable. I am grateful to Dr. Edward Miller, Dr. Albert Sinusas, and Dr. Stephanie Thorn who have been phenomenal mentors over the last 18 months.
Katherine Clark, MD, MBA
I graduated the Perelman School of Medicine at the University of Pennsylvania and completed the dual MD/MBA degree at the Wharton School of Business in Health care Administration. I stayed at Penn for my residency in internal medicine. As I am now about to finish my general fellowship here at Yale, I am very much looking forward to continuing at Yale to begin the advanced heart failure and transplant fellowship in July.
My career goals are to focus on innovation in the care of heart failure patients through evaluating both therapeutics, as well as technologies with advanced imaging techniques, and understand their impact on clinical outcomes, payment models, and healthcare utilization, while collaborating with the various healthcare sectors and stakeholders.
Mentorship is key - you need to build your own "board of directors." I have appreciated the mentorship that I've received during fellowship, both professionally and personally. I am grateful for the guidance I've received from faculty from all stages and numerous subspecialties, as well as fellowship and department leadership. This focus was apparent from day one during my interview - it was clear that Drs. Miller and Gandhi took the time to choose faculty interviewers aligned precisely with my interests - and all are now faculty I work closely with today.
In addition to clinical work and research, I have thoroughly enjoyed taking an active role in professional societies. First, I am part of the ACC Women in Cardiology (WIC) chapters, at the state, regional, and national levels, planning educational webinars and networking events. Additionally, I am working closely with Dr. Lansky, on the "Take Her Health to Heart Coalition," which is a national collaboration whose goal is to promote equitable female enrollment and retention in clinical trials for cardiac medical devices. Its members span all healthcare industry sectors. Some of our initiatives have included: developing educational material for clinical trial site teams, speaking engagements at regional WIC webinars, development of patient infographics on CardioSmart, and partnering with the FDA on a manuscript to promote clinician understanding of their guidance documents. To build upon my experience at Wharton, last May I was elected to the Wharton Healthcare Management Alumni Association Board and served as Chair of the Programs and Events Committee this past year. I was recently also chosen to serve as vice president starting in July.
Fiorella Llanos Chea, MD
I was born in Lima, Peru, where I also attended medical school. Since then, I always felt driven to work with underserved communities, so I made it a priority to find training programs that would allow me to become an excellent physician while still taking care of those vulnerable and underserved patients. As for my career goals in cardiology, I want to treat my patients as I would want my family to be treated: taking the time to know them as a whole (their disease understanding, fears, support system, limitations, etc), involving them in every decision-making process, educating them, and empowering them to successfully treat their diseases.
Look for a fellowship that will support you, listen to you, and truly care for you. I was fortunate to have the support from the leadership of my general cardiology, peripheral vascular, and the interventional cardiology fellowships during my pregnancy and then as a new mom with no family nearby. Everyone at Yale were key for my successful personal and professional development.
I have published six papers in the last two years, including a first author paper in JACC.
Jennifer M. Kwan MD, PhD
I did my undergraduate training at UC Berkeley in molecular cellular biology with a neuroscience emphasis and my MD PhD training in Chicago in biochemistry and molecular genetics elucidating the role of the insulin-Akt pathway in tumorigenesis and adipogenesis. I did a combined internal medicine residency with postdoctoral research in a systems biology lab that evaluated the role of the microbiome in health and disease states as well as using big data to evaluate the role of obesity in cardio-renal syndrome and renal transplant outcomes using a multi-omics approach.
I got interested in cardio-oncology during my residency when I came across two young patients who developed breast cancer, one without a family history and the other with a family history. Both had young children. Both developed heart failure from their chemotherapy and one unfortunately died from heart failure and not her chemotherapy. These patients inspired me to want to pursue cardio-oncology research. I did a visiting scholar position at UCSF mining their database of 2 million patients to evaluate cardiotoxicities of various chemotherapy agents with ongoing efforts underway with the entire University of California dataset of 16 million patients.
At Yale, I have been fortunate to be able to start cardio-oncology and cardiac MRI research from year one with Dr. Baldassarre to evaluate imaging signatures of breast cancer patients and their outcomes as well as evaluate cardiovascular outcomes of those on a novel immunotherapy agent called mogamulizumab with a recently accepted JACC: Case Reports that highlights the first case of mogamulizumab mediated myocarditis.
While studying outcomes of cardio-oncology patients, I became interested in the entity known as clonal hematopoiesis of indeterminate potential (CHIP), which confers a 2-4 fold increased risk of coronary artery disease and worse outcomes in heart failure and oncology patients. Working with Drs. John Hwa and Stephanie Halene, we built a cohort of patients in oncology and with the support of Dr. Jeffrey Testani we were able to evaluate the prevalence of CHIP in cardio-oncology and heart failure patients respectively as well as identify molecular signatures in their blood stream that are correlated with adverse cardiovascular outcomes as well as death. This is a project that I am building toward a career development award with the goal of becoming an independent academic physician scientist.
Dr. Baldassarre has been a great mentor in cardio-oncology and cardiac MRI research, pushing the envelope in terms of imaging biomarkers for cardiotoxicities with oncologic therapies such as checkpoint inhibitors and other targeted therapies. I will be doing the inaugural cardio-oncology/imaging fellowship at Yale this coming year with Dr. Baldassarre, where we will be seeing cardio-oncology patients, recruiting them for imaging studies and evaluating for CHIP in collaboration with the Yale Generations team on a larger scale.
Yale is a like a candy store for research, there is depth and breadth of cutting-edge research and supportive mentors who can help you grow and get you to your next career phase for those interested in a physician scientist career. For those more clinically focused, there are also the same caliber of mentors here who can help you achieve your career goals, whether that be in heart failure or advanced imaging. Reach out to mentors for research and clinical interests.
I am grateful for our program directors Drs. Edward Miller and Parul Gandhi for always being supportive of our career interests. They are advocates and great resources for the fellows.
Physician scientists are crucial for translating biomedical research insights into novel therapies or prevention strategies. However, they have been on the decline of the past several decades and are considered an endangered species. I got involved with physician scientist advocacy with APSA initially as an institutional representative, followed by policy committee vice chair, then policy committee chair and vice president and was the longest serving policy committee chair. Through these roles, I was able to successfully launch two national studies, one of which helped identify gaps in research support for MD PhD trainees and the results were leveraged to convince all funding institutes and centers to join the NIH F30 funding mechanism.
At the institutional level, to increase clinical correlations for first and second year medical students and to provide them with exposure to a full spectrum of subspecialties, I founded a program that paired residents/fellows/junior faculty from 23 different specialties with medical students. Finally, I founded the American Physician Scientists Association (APSA) Resident, Fellow, and Junior Faculty Committee to help address the leakiest part of the physician-scientist pipeline, the early career physician-scientists and have launched several studies to evaluate factors that can help retain them.
I was re-elected to be the APSA Resident, Fellow, and Junior Faculty co-chair and continue to serve on their board of directors.
Virginia Singla, MD
I grew up in a tiny town in Virginia with family scattered through Virginia and West Virginia. I completed residency at University of Virginia where I had a unique exposure to rural outreach medicine before spending my last five years at Yale training in cardiology and electrophysiology. I will be moving to Pittsburgh to practice electrophysiology and I am very excited to assist in building an outreach program to serve communities in rural Western Pennsylvania.
As I make the transition to independent practice, I am especially grateful to have benefited from the mentorship at Yale. I've come to understand that mentorship truly is an art as I've been given both the space to fail and the support to grow. The training pathway for electrophysiology is unique in that our focus shifts to predominantly procedural skills after completing a full cardiology fellowship. We're tested in new ways after cementing our personalities as non-invasive cardiologists, in an environment that demands a new type of perseverance, equanimity, and humility. I would point to my final two years of training (out of eight!) as the height of my personal development as a physician. This is thanks to mentors who are not only great proceduralists and clinicians, but also great doctors. I truly believe we've got the best doctors out there.
I would like to thank my family, especially Dr. Shobhit Singla, whom I'm taking with me when I leave! I would like to thank the entire faculty and staff in the electrophysiology division, and extend a special thanks to Dr. Eric Grubman, Dr. Jude Clancy, and Dr. Eric Bader.
---
Cardiovascular Medicine Educational Programs
Yale Cardiovascular Medicine fellowship training programs are available in a variety of clinical and research areas including general cardiovascular medicine and subspecialty training in adult congenital heart disease, advanced heart failure and transplantation, cardiac imaging, electrophysiology, interventional cardiology, structural heart disease, cardio-oncology, and research fellowships. Each program is tailored to compliment the unique goals of each fellow. To learn more, please visit our website.
Frequently Asked Questions
What is the plan for graduation?
In accordance with the University guidelines, families and guests may not attend in-person but may participate virtually. Please register in advance to attend.
Can families and guests come to campus?
Unfortunately, we cannot welcome any guests to campus, even those who have been fully vaccinated. The in-person ceremony will be limited to program directors. Graduates' families and friends are invited to participate through a live steamed event scheduled for June 10, 2021 at 6:00 p.m. ET. The Zoom webinar will be recorded for those who are unable to attend live.
Submitted by Elisabeth Reitman on May 12, 2021