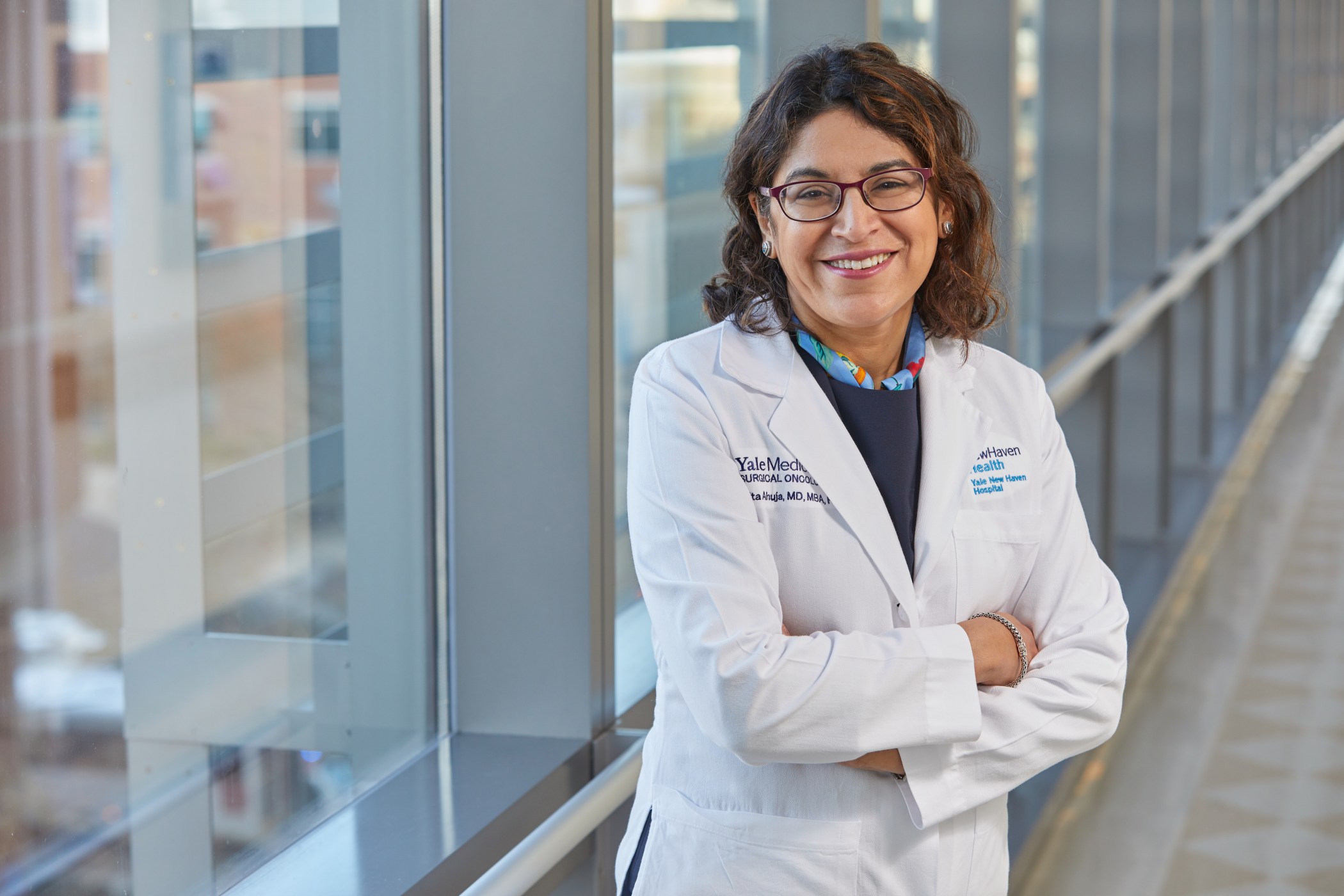 Nita Ahuja, MD, MBA, has been elected to The National Academy of Medicine (NAM) for outstanding contributions to the medical sciences. She is one of six Yale School of Medicine faculty members to be newly elected to the Academy, one of the highest honors in the fields of health and medicine.
"It is a distinct privilege and an honor to join a remarkable class of scholars and leaders; and to represent Yale, together with my colleagues, as we address today's most pressing health challenges, and inform the future of health and medicine," said Dr. Ahuja.
Dr. Ahuja is the fifteenth chair of the Department of Surgery at Yale School of Medicine and chief of surgery at Yale New Haven Hospital. She is the William H. Carmalt Professor of Surgery and the Assistant Cancer Center Director for Surgery at Smilow Cancer Hospital at Yale New Haven.
With their election, NAM members make a commitment to volunteer their service in National Academies activities, working alongside the National Academy of Sciences and National Academy of Engineering to provide objective analysis and advice to the nation and inform public policy decisions.
The election to the Academy recognizes Dr. Ahuja's contributions as a surgeon scientist specializing in gastrointestinal cancers and translational epigenetics. She has developed an international reputation for her expertise in complex sarcomas, and the management of peritoneal cancer metastases with cytoreduction and heated intraperitoneal chemotherapy. Her NIH funded laboratory studies epigenetic dysregulation in cancers and benign diseases for the development of predictive diagnostics and therapeutics in solid tumors. She is widely recognized as a champion of faculty development and multidisciplinary cancer care.
Dr. Ahuja is among 90 new members and 10 foreign associates, announced by the NAM during its annual meeting, held Oct. 21, 2019.
YSM faculty Jorge Galán, PhD; Akiko Iwasaki, PhD; Rafael Pérez-Escamilla, PhD; David G. Schatz, PhD; and Nenad Sestan, PhD, were also elected. They join 39 other YSM faculty members who have been elected to the NAM in the past.
YSM Dean Robert Alpern will host a reception of congratulations on Oct. 22 from 4:00 p.m. to 6:00 p.m. in the History Library.
Submitted by Cecelia Smith on October 21, 2019