The Department of Surgery, Section of Cardiac Surgery at Yale University received the highest Composite Quality Rating by the Society of Thoracic Surgeons (STS) National Database in four of five procedure categories: isolated aortic valve replacement (AVR); combined AVR and coronary artery bypass graft (CABG); mitral valve repair and replacement (MVRR); and combined MVRR and CABG.
"Out of 1,000+ centers in the United States, we received this quality rating along with only a handful of other cardiac surgery programs," said Arnar Geirsson, MD, Chief of Cardiac Surgery at Yale-New Haven Hospital and Associate Professor of Surgery at Yale School of Medicine. "We are proud that the rating is particularly high in the most complex categories such as aortic valve and mitral valve surgery."
"It is a testament to Yale's quality cardiac surgery care and excellent outcomes," says Geirsson. "We have always valued excellent care, but we rededicated the efforts of our surgeons, anesthesiologists, nurses, administrators and support staff to ensure that we provide the right level care at the right time, all of the time."
Yale is the only program in Connecticut to be so highly ranked.
The Society of Thoracic Surgeons is a medical specialty professional society in the field of cardiothoracic surgery. The STS National Database was established in 1989 as an initiative for quality improvement and patient safety among cardiothoracic surgeons. The Database has three components – Adult Cardiac Surgery Database, General Thoracic Surgery Database and Congenital Heart Surgery Database. The STS National Database has grown to be the largest database of its kind in medicine and is one of the pioneers in the analysis and report of risk adjusted outcomes in cardiothoracic surgery.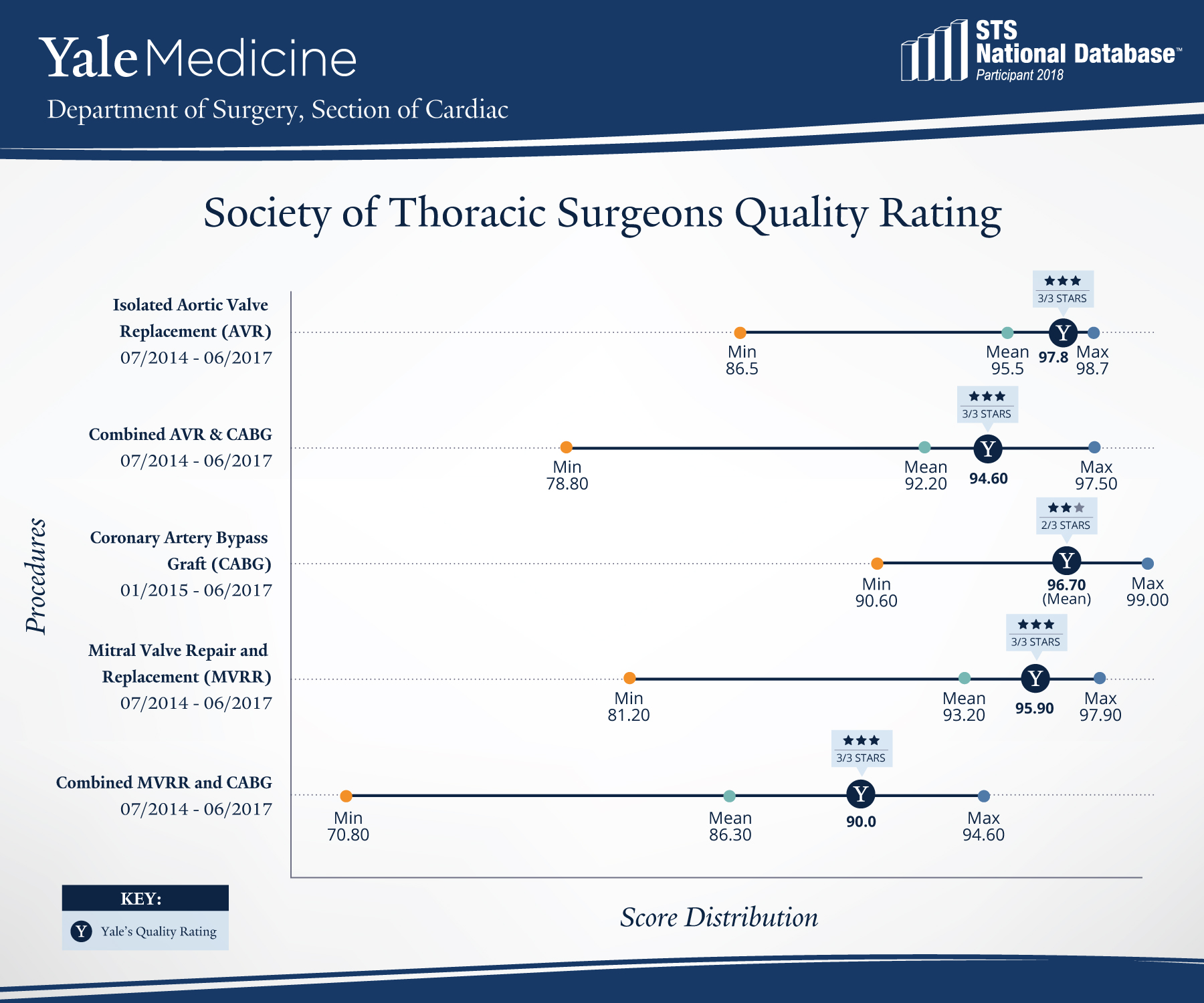 Submitted by Donna Nemeth on May 30, 2018