Grand Rounds: Telling Stories Is Fundamental to Being a Physician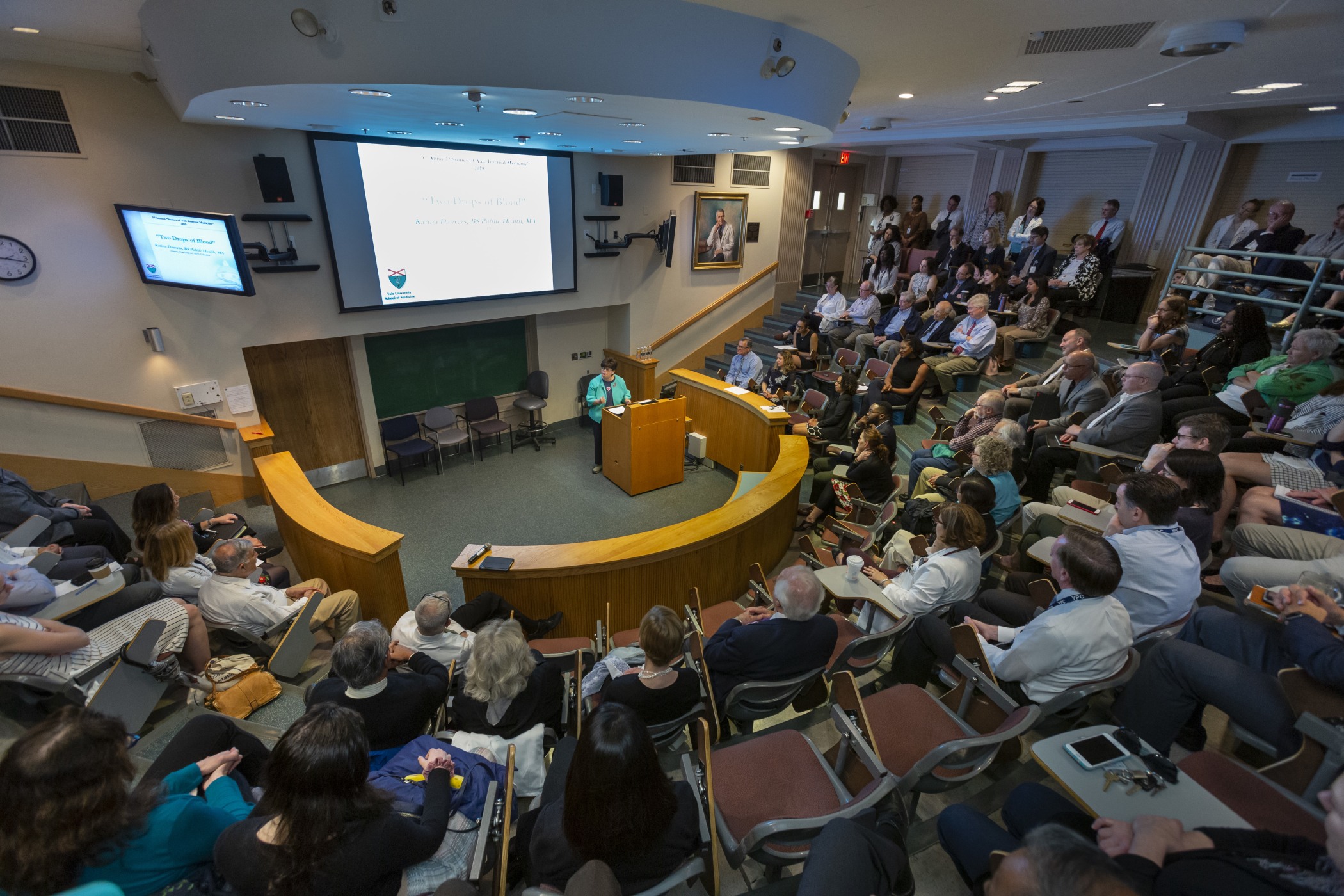 Members of the Department of Internal Medicine gathered on June 13 for a special type of grand rounds, one centered on telling stories—not about patients, but about themselves.

This is the third year that the department has held the event, titled "Stories of Yale Internal Medicine." Storytelling is important because it is "fundamental to being a physician, including writing/presenting a history of present illness, guiding the goals of care of a patient, writing research grants, writing manuscripts, mentoring colleagues," says Vincent Quagliarello, MD, professor of medicine (infectious diseases) and vice chair for education and academic affairs for the Department of Internal Medicine, who introduced the event.
"I believe the narrative form is such a powerful way to influence behavior, educate physicians, and unify a department," he says, "and that physicians accomplish more with the written and spoken word than they might realize." This grand rounds also demonstrated the power of informing others with one's own story.
This year, six individuals from internal medicine were selected to read their story submissions. Quagliarello points out that of the six, five were women, five were underrepresented in medicine, and four were immigrants. "They represent the evolving face and soul of our department," he says.
Emily Pinto Taylor, MD, a graduating fourth-year resident in the Internal Medicine-Pediatrics program and current chief resident in the Primary Care Internal Medicine Residency, began the readings with her story about becoming a foster parent, and the challenges of balancing parenting with residency. The morning after she brought her infant foster son home, she told the audience, she had to go in to work. "It would be the first of many times I choose duty over duty, love over love," she read.
Inginia Genao, MD, associate professor of medicine (general internal medicine), then took the podium to tell her tale of growing up poor in the Dominican Republic, and what becoming a doctor has meant to her and, in particular, to her mother. "I discovered within myself some of my mother's resourcefulness, resilience, and determination," she said. "With each degree, my mother could not have been more proud."
Next up was Max Jordan Ngumeni Tiako, MS, a third-year medical student, who recounted his reaction to a white resident's decision to wear a Black Lives Matter pin, and his appreciation of that individual's choice. "In a quiet and powerful way, because he's senior, he sets an example for the rest of the team," Ngumeni Tiako said. "As a team member, I too felt a positive signal. It goes a very long way."
Afterwards, Nicolette Juliana Rodriguez, MD, MPH, a graduating resident in the Traditional Internal Medicine Residency Program, stood and told the crowd about her experience of going from being a resident providing care to a hospital patient in need of care. "It was overwhelming to have attendings, residents who were my friends, and nurses who I worked with so closely, not only know the intimate details of my medical history, but also bear witness to the scariest moment of my life," she said. "We see people on the worst day of their life," she finished. "Even when it may just be another day in ours."
Uchenna Ikediobi, MD, MPH, assistant professor of medicine (infectious diseases), took the podium next to recount her interaction with an aging patient, and how this experience with old age differed from those of the elders she observed growing up in Nigeria. "I recall how these men—whose ages were never concretely known, but presumed to be near 100—were always revered and surrounded, never alone." Her patient's culture differed from her background. "In the race of life, he now runs alone," she said. "His days are filled with the deafening silence of an extended existence." 
Finally, Karina Danvers, MA, director of the New England AIDS Education and Training Center, shared her story about living as an HIV-positive woman. "I remember when the only thing I wanted was to kill myself, but at the same time, to live," she said. "I remember coming out of the HIV closet and speaking at schools, clinics and hospitals," she continued. "Kids and adults were stunned that AIDS looked like me—a married, working, heterosexual, non-IV-drug-using woman."
The emotional impact of each story was palpable: Applause reverberated throughout the room after every speaker, and more than a few tears were shed over the storytelling hour. When asked if there were any questions, the only thing audience members had to say was "thank you."  It ended with a rare event at a medical grand rounds, a prolonged standing ovation.
The department's weekly medical grand rounds are recorded. Yale affiliates can watch the June 13 event here.
Submitted by Robert Forman on June 17, 2019