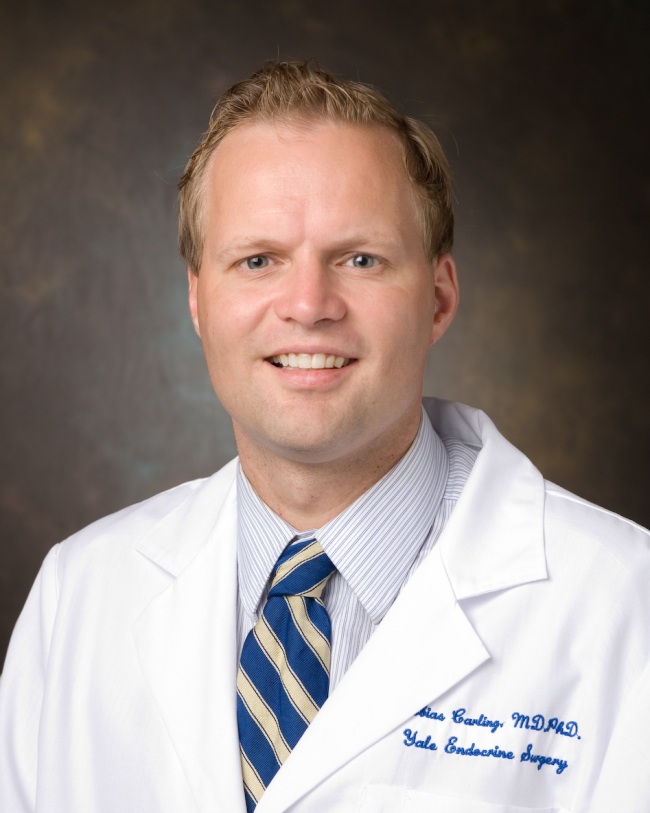 Tobias Carling, MD, PhD
Associate Professor of Surgery (Endocrine Surgery); Section Chief, Endocrine Surgery; Director, Yale Endocrine Neoplasia Laboratory; Director, Endocrine Surgery Fellowship; Clinical Program and Disease Aligned Research Team Leader, Endocrine Cancers Program
Biography

Research & Publications

Patient Care

News

Locations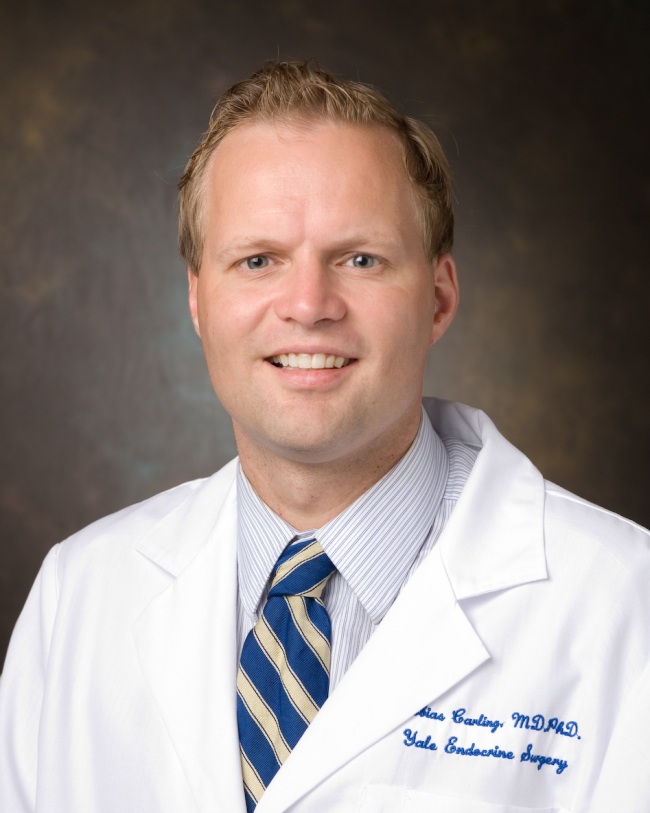 Biography
Dr. Carling is the Section Chief of Endocrine Surgery and Associate Professor of Surgery at Yale University School of Medicine. He serves as Clinical Program and Disease Aligned Research Team Leader for the Endocrine Cancers Program at Smilow and is Director of the Yale Endocrine Neoplasia Laboratory, and Endocrine Surgery Fellowship. He is a highest-volume surgeon and his clinical interests are surgery of the thyroid, parathyroid, and adrenal glands, including minimally invasive laparoscopic and retroperitoneoscopic surgical techniques. Dr. Carling and the Yale team performed the first "scarless" transoral endoscopic thyroidectomies and parathyroidectomies (vestibular approach; TOETVA, TOEPVA) in the world, outside of Asia. His research interests involve molecular and tumor genetics of endocrine tumors, including inherited endocrine tumor susceptibility syndromes. Dr. Carling has published in the most prestigious medical/scientific journals, including Science, Nature Medicine, Nature Genetics, New England Journal of Medicine, PNAS, and Human Molecular Genetics. According to Google Scholar calculations of scientific impact, Dr. Carling ranks within the highest-quality elite of the world. As a physician-leader, he has implemented improved endocrine medical and surgical care, as well as enhanced cancer prevention and genetics programs across the Yale New Haven Health Systems, a 1,541 bed system, one of the largest in the country.
For international patients, who wish to obtain a consultation with Dr. Carling, please call +1-203-737-2036.
He obtained his MD and PhD from Uppsala University, Sweden. He was a postdoctoral fellow in Cancer Genetics at The Burnham Institute, La Jolla, CA. He completed his training in both General Surgery and Endocrine Surgery at Yale New Haven Hospital.
Education & Training
MD

Uppsala University (2000)

PhD

Uppsala University (1997)

PhD

Uppsala University (1997)

Fellow

Yale University School of Medicine

Resident

Yale University School of Medicine

Postdoctoral Fellow

The Burnham Institute for Medical Research

Board Certification

AB of Surgery, Surgery, General (2008, recertified: 2017)
Activities
External scientific reviewer

Canada 2012

External scientific reviewer. Clinician-Scientist Award. Physicians' Services Incorporated (PSI) Foundation, Ontario, Canada.

External scientific reviewer.

France 2012

External scientific reviewer. The European Science Foundation (ESF), Strasbourg, France; "Strategic Research Grants" issued by the University of Torino, Italy with support from the Compagnia di San Paolo Foundation

External scientific reviewer

United Kingdom 2011

External scientific reviewer. Clinician-Scientist Award. Medical Research Council (MRC), UK.

Scientific collaboration

Sweden 2008

Significant scientific collaborations with major international institutions. Main collaborators at Uppsala University and Karolinska Institute, Sweden
Honors & Recognition
| Award | Awarding Organization | Date |
| --- | --- | --- |
| Damon Runyon Cancer Research Foundation Clinical Investigator Award - Renewal | Damon Runyon Cancer Research Foundation | 2013 |
| Doris Duke-Damon Runyon Clinical Investigator | Damon Runyon Cancer Research Foundation and the Doris Duke Charitable Foundation | 2010 |
| Quest Diagnostic Young Investigator Award | The American Endocrine | 2001 |
| Best scientific presentation | Annual Swedish Medical Society Meeting | 1999 |
| Postdoctoral Scholarship Award | Wenner-Gren stiftelserna | 1999 |
| Travel Award | Wenner-Gren stiftelserna | 1999 |
| Göransson-Sandvikens research scholarship | Gästrike-Hälsinge Nation, Uppsala University, Uppsala, Sweden | 1999 |
| Postdoctoral Scholarship Award | Swedish Society for Medical Research | 1998 |
| Travel Award | The American Endocrine Society | 1997 |
| Travel Award | Swedish Medical Research Council for Visiting Scientist at University of Connecticut, CT | 1997 |
| Göransson-Sandvikens Research Scholarship Award | Gästrike-Hälsinge Nation, Uppsala University, Uppsala, Sweden | 1997 |
| The Lennanders Scholarship Award | Uppsala University, Uppsala, Sweden | 1997 |
| The Ciba-Geigy Scholarship Award | The Swedish Endocrine Society | 1996 |
| Travel Award | Swedish Medical Society | 1996 |
| The Signe och Seda Hermanssons Scholarship Award | Uppsala University, Uppsala, Sweden | 1996 |
| The Lindau Scholarship Award | The Nobel Foundation, Stockholm, Sweden | 1996 |
| H och G Ankarstrands Scholarship Award | Uppsala University, Uppsala, Sweden | 1995 |
| The Lennanders Scholarship Award | Uppsala University | 1995 |
Professional Service
| Organization | Role | Date |
| --- | --- | --- |
| The Cancer Genome Atlas (TCGA) NIH/NCI | Thyroid Disease Working Group | 2010 - Present |
Departments & Organizations