Camara Phyllis Jones, M.D., M.P.H., Ph.D., remembers the night she and her medical school study group at Stanford put aside their textbooks for a dinner break at a local restaurant. As they ate, talked, and laughed, Jones caught sight of a sign in the window that read "Open." She could have thought no more about it, and assumed that other hungry people could come in to eat. But she knew something about the two-sided nature of those signs, and realized that due to the late hour the restaurant was indeed "Closed." Hungry people just a few feet away from her, but on the other side of the sign, would not be able to come in, sit down, order their food, and eat. That moment was a turning point—the sign, she realized, was a metaphor for racism, which structures a dual reality of open/closed signs in our society. "For people already on the inside, sitting at the table of opportunity, it's hard for them to recognize that there is a two-sided sign going on. It is hard for any of us to recognize a system of inequity that privileges us. Yet the people on the outside are very aware of the two-sided nature of the sign, because it proclaims "Closed" to them but they can look through the window and see people inside eating," she said.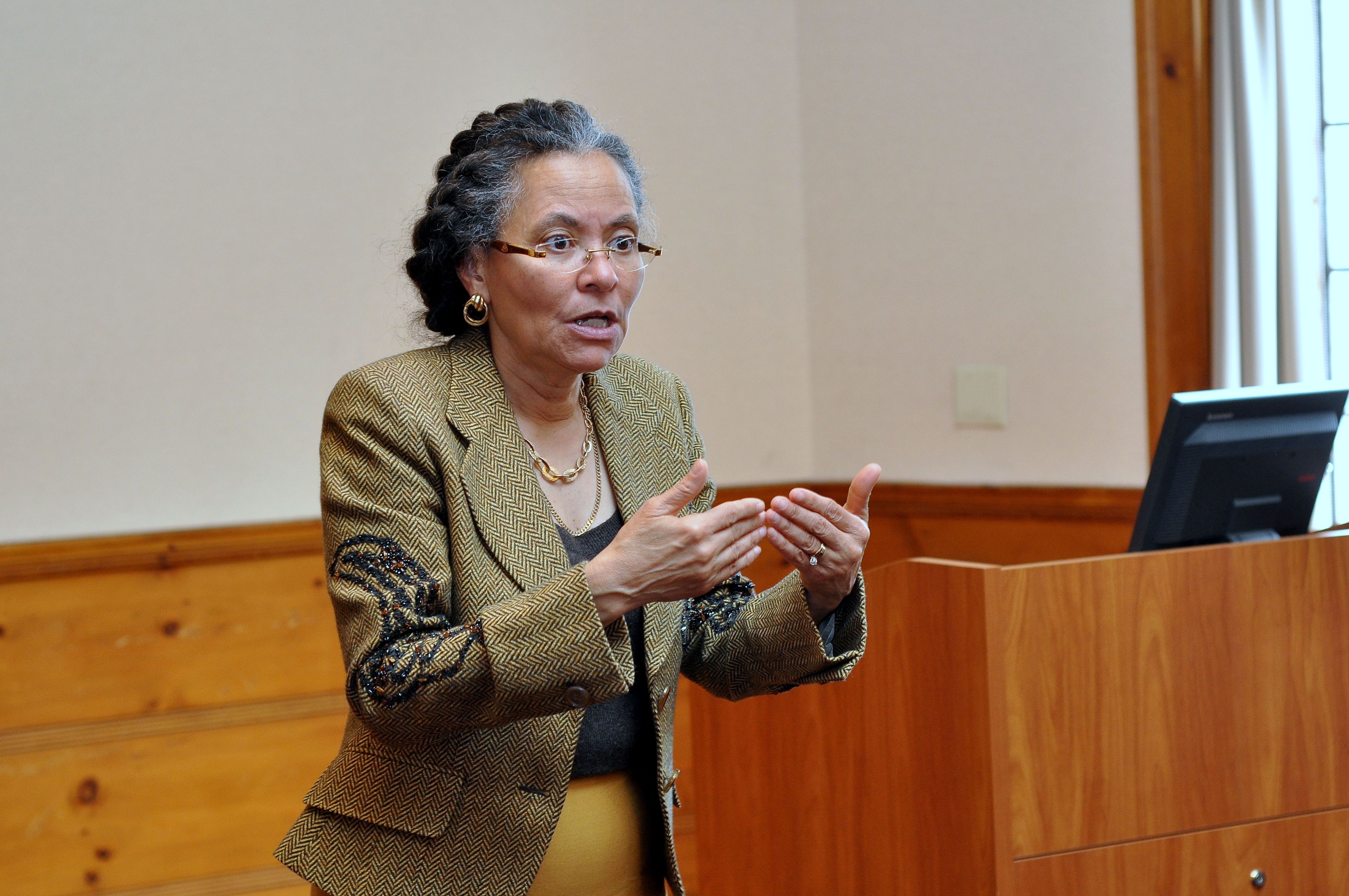 Jones, a petite woman crackling with energy and no need for a microphone, told this story to a group of 40 students over lunch in the Beaumont Room on January 5. A senior fellow at the Satcher Health Leadership Institute and Cardiovascular Research Institute at Morehouse School of Medicine, she travels the country speaking about the relationship between racism and health disparities in the American medical system. That morning, Jones also gave the Phyllis T. Bodel Lecture at internal medicine grand rounds. The annual lectureship, established in 1978, features a distinguished woman in the medical sciences who discusses her work and career with students and faculty.
Jones' story begins in Detroit, where she was raised by a father who was a surgeon and a mother who wanted to be a doctor. "We grew up in a household where it was understood that we would all be doctors," Jones said of herself and her two sisters. Her journey took a circuitous route, landing her in the Philippines with a fellowship from the Henry Luce Foundation, at Stanford as a medical student, and at the Johns Hopkins School of Hygiene and Public Health where she studied public health and earned her Ph.D. in epidemiology. Jones also taught at the Harvard School of Public Health, and worked as the research director on social determinants of health and equity for the Centers for Disease Control and Prevention. "You do not have to know what you'll be doing in 10 years," she said about her career path. "Everything you do in life equips you to be you."
Her knowledge of medicine and public health led Jones to develop the accelerated aging hypothesis, in which she posits that African Americans show worse health outcomes because they age faster. This "accelerated aging" is caused by racism in the system that prevents African Americans from accessing resources to maintain health and receiving quality health care. She said that racism not only harmful for people of color, but also saps the strength of the whole society through the waste of human resources.
With the election of Donald J. Trump as president and his calls to repeal the Affordable Care Act, she said, the national conversation on health care has taken an unexpected turn. At the lunchtime meeting, she called on the students present to think beyond their medical school studies and about their role as citizens in society. "We have to embrace our citizen role now, even though I know we're busy," she said. "However many citizen things you did on November 8, you need to add at least one. If you were on 20 committees on November 8, you need to be on 21. "
Submitted by John Curtis on January 18, 2017