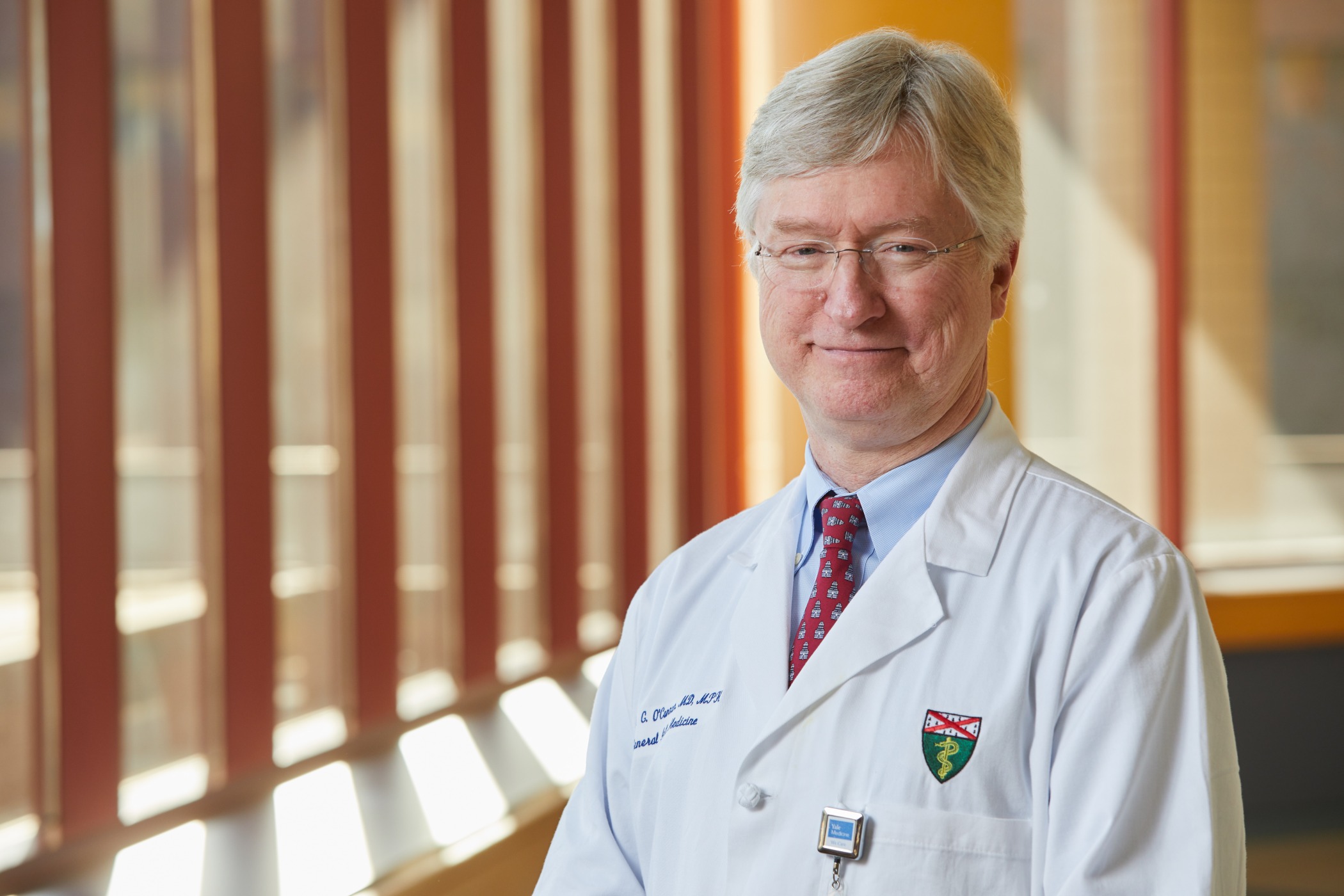 Patrick G. O'Connor, MD, MPH, Dan Adams and Amanda Adams Professor of General Medicine and chief of general internal medicine at Yale School of Medicine (YSM) is the recipient of the 2019 Society of General Internal Medicine (SGIM) Robert J. Glaser Award. The Glaser award is SGIM's highest honor.
O'Connor was nominated by 22 faculty in YSM's Section of General Internal Medicine (GIM) along with leaders in general internal medicine from across the United States. In their three-page nomination letter, Yale GIM faculty detailed O'Connor's vast accomplishments in research, education, patient care, health policy, and mentorship throughout his career.
O'Connor joined the YSM faculty in 1988 after graduating from the Yale Robert Wood Johnson Clinical Scholars Program, now called the National Clinical Scholars Program (NCSP). Early and sustained success for his work in the prevention, identification and treatment of opioid and alcohol use disorders in primary care and other general medical resulted in his rapid progression through the academic ranks. O'Connor became professor of medicine in 1998 and chief of Yale General Internal Medicine in 2002. Yale GIM has grown from 36 to 140 faculty and a research budget of $2 million to over $20 million during his tenure.
In addition to the Glaser Award, O'Connor has received numerous other honors and awards during his time at YSM, including being the first recipient of the SGIM - Association of Chiefs & Leaders of General Internal Medicine "Chief's Recognition Award" in 2007. In addition, based on his mentorship and accomplishments as a physician scientist, he received 2 awards from the Association for Medical Education and Research on Substance Abuse (AMERSA): The Excellence in Mentorship Award (2005) and the John P. McGovern Award (2017), which is AMERSA's highest honor. Yale University awarded him the Dan Adams and Amanda Adams endowed professorship in 2016.
O'Connor has been continuously funded by the National Institutes of Health (NIH) and his research on substance use disorders has resulted in well over 200 publications in leading generalist journals such as the New England Journal of Medicine and the Journal of the American Medical Association. He currently serves as a principal investigator on 2 NIH-funded training programs: The Yale Drug Use Addiction, and HIV Research Scholars (DAHRS) K12 program and the Research in Addiction Medicine Scholars (RAMS) R25 program – each of which focus on the development and training of future physician scientists in the field of addiction medicine.
Recently, O'Connor was elected as chair of the Board of the National Clinician Scholars Program, which oversees the six NCSP sites including Yale, Penn, Duke, Michigan, UCLA, and UCSF. Among his many other honors, he is a Past President of both AMERSA and of the American Board of Addiction Medicine, served as Chair of the Editorial Board of the Journal of General Internal Medicine, and has served on numerous task forces and committees of national academic and research organizations. O'Connor has worked closely with federal agencies on addressing addiction in the United States including the White House Office on National Drug Control Policy (ONDCP), serving as a Co-Chair of a White House Summit on Addiction in 2015. He also served as an author on the 2016 Surgeon General's Report on Drugs, Alcohol, and Health. His international work in the area of addiction has taken him to China, Russia, Poland, Iceland, and Vietnam.
"I am deeply honored to have received the Glaser Award and I am especially grateful that my nominations included so many colleagues who represented the Yale General Internal Medicine faculty," said O'Connor. "I am exceedingly proud to be part of Yale GIM where I have thrived with an awe-inspiring group of faculty, staff, mentors, and friends who collectively have advanced Yale GIM to the very top echelon of general internal medicine departments in the United States. They are a wonderful group of colleagues who bring great joy to me every day."
The SGIM Robert J. Glaser Award recognizes outstanding career achievement through contributions to research, education, leadership and mentoring in generalism in medicine. The Glaser Award is supported by grants from the Henry J. Kaiser Family Foundation and the Commonwealth Fund. The award will be presented at a plenary session ceremony during the 2019 SGIM Annual Meeting in Washington, D.C. on May 10, 2019.
Submitted by Julie Parry on May 06, 2019