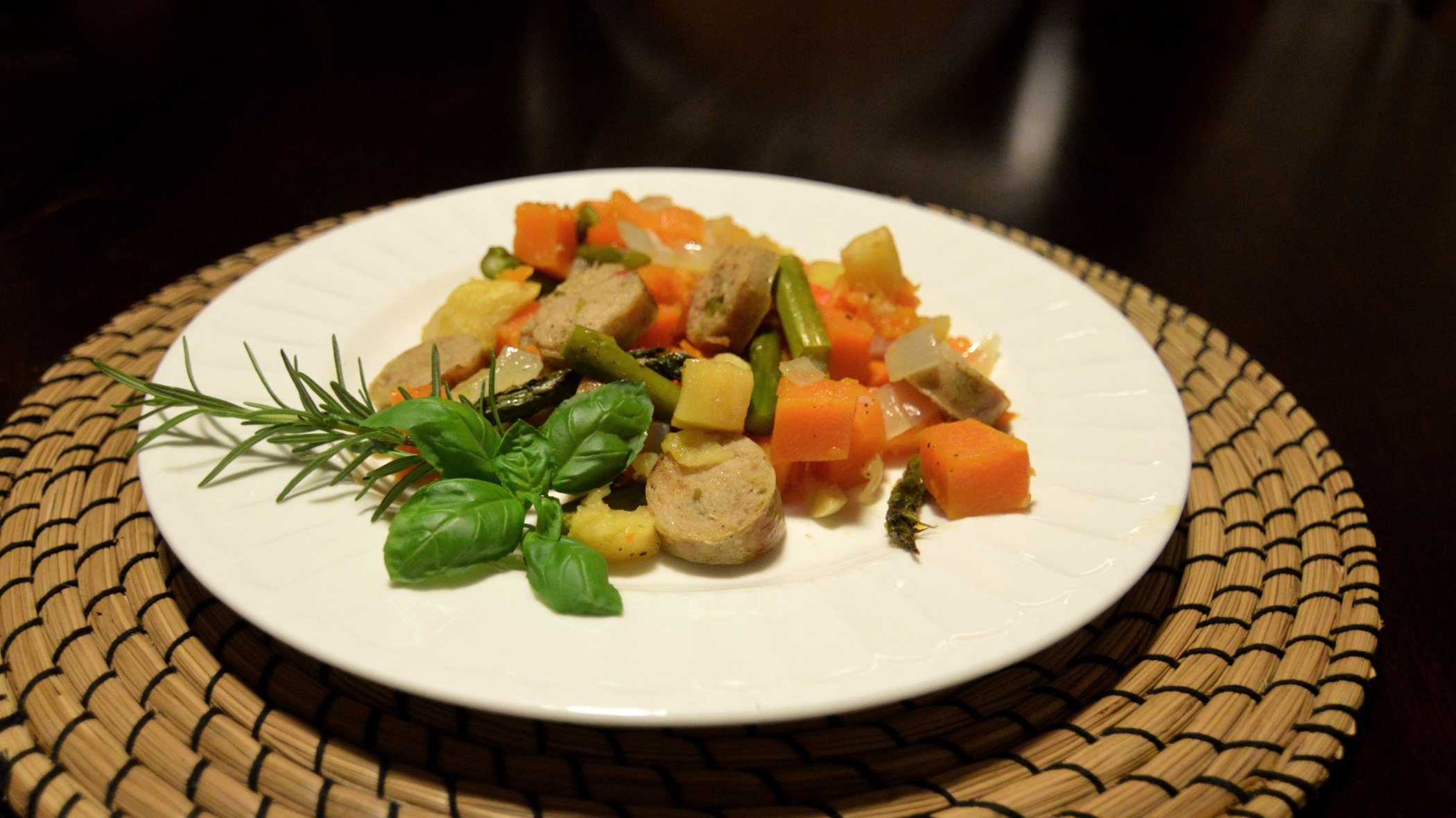 A chill is in the air, pumpkin spice is abundant, and — with the holidays fast approaching — warm fall flavors are in demand! Loaded with harvest delights like apples and butternut squash, our latest Sweet and Savory Harvest Bake is a simple, nearly no-measure dish that can hold up as a main course or seamlessly find its way to your table as a Thanksgiving side.
Apples are a great source of fiber, which can help curb cravings by keeping you fuller, longer. Fiber can also help with proper digestion and bowel function. One serving of butternut squash, an autumnal favorite, exceeds the daily-recommended amount of vitamin A, an antioxidant that helps keep your eyes, skin, and teeth healthy. A bit of bright green asparagus not only adds color to the dish, but also packs a punch of vitamin C, helping to heal wounds and serving to strengthen your body's defenses during flu season.
Women ages 55 and older should consume 1½ cups of fruit and 2 cups of vegetables daily to ensure a healthy and nutritious diet. With one serving of our Harvest Bake, you're halfway there for less than $4 a dish!
Ingredients
1 large butternut squash, peeled and cubed
3 large apples, peeled and cubed, any variety
1 bunch asparagus spears, chopped into 1 inch pieces
1 medium yellow onion, diced
1 package chicken (or vegetarian) sausage links
1 tablespoon vegetable oil
3 cloves garlic, minced (optional)
3 tablespoons sage
Directions
Preheat the oven to 400 degrees. Line a baking sheet with nonstick aluminum foil.
Prep the squash, apples, asparagus, and onion per the ingredient list above. Toss with the oil until evenly coated and spread onto the lined baking sheet in a single, even layer. Bake for 25-30 minutes, until squash is soft and lightly browned.
Meanwhile, place chicken sausage links in a skillet over medium heat with ¼ cup water and cover with lid to steam until cooked thoroughly. If water evaporates too quickly, add more as needed.
Once cooked, remove lid and allow any remaining water to evaporate. Brown the sausage on all sides. Add optional minced garlic to pan and cook for 1 minute. Let cool slightly before slicing sausage.
Combine sausage slices with roasted fruits and veggies, toss, and serve.
Adapted from Roasted Vegetable, Apple, and Sausage Medley by Wholesomelicious
---
The information provided here may help you make more informed choices. However, it is not a substitute for an individualized nutrition plan, medical opinion, or diagnosis. You should always consult with your personal physician to make decisions about your diet and nutrition.
For more news from Women's Health Research at Yale, sign up for our e-blasts, connect with us on Facebook and Twitter, or visit our website. For questions, please contact Rick Harrison, Communications Officer, at 203-764-6610 or rick.harrison@yale.edu.
Submitted by Carissa R Violante on November 08, 2016