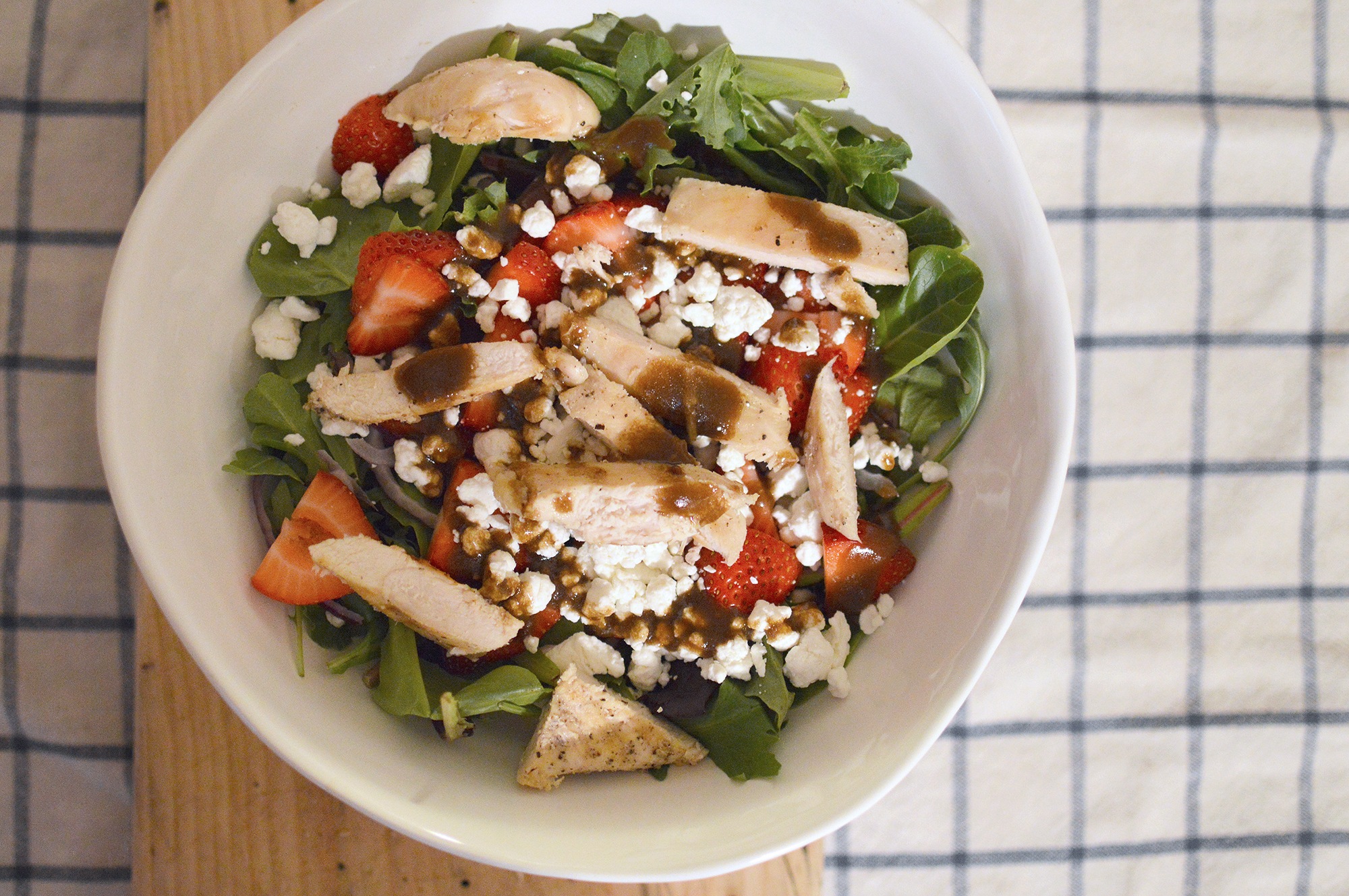 With autumn fast approaching, there is still time to experiment with fresh, unexpected summer salads. Assembling and preparing ingredients requires little to no stove time, keeping your kitchen cool and letting you enjoy the extra sunlight. Fruit and vegetable selection is at its prime, offering you the largest variety of ingredients to build your perfect salad.
With so much to choose from, it's easy to overcrowd your plate and be tempted to sneak in some not-so-healthy items. This recipe helps keeps the ingredient list short and even offers a DIY salad dressing option that lets you control fat and sodium content.
We've chosen fresh strawberries to star in this recipe, but blueberries or blackberries would be just as tasty. Berries are a good source of fiber, vitamins C and E, and other micronutrients that can help prevent cancer and cardiovascular disease — and they are a nutritious addition to any diet. Chicken breast adds hefty protein with 1/3 the fat of dark meat, and grilling the cutlets saves time and removes the temptation to prepare them with high-calorie breading.
Ingredients
4 cups salad greens
1 cup strawberries
1/4 cup red onion
1 chicken breast, thinly sliced into 3-4 cutlets
1/2 cup goat cheese
salt and pepper (just a pinch!)
For the dressing
3 tablespoons olive oil
1 1/2 teaspoons Dijon mustard
2 tablespoons balsamic vinegar
salt and pepper (just a pinch!)
Directions
Wash and prep your veggies: rinse the salad greens in cold water. Slice strawberries and red onion.
Prep the dressing by mixing all ingredients in a jar with tight fitting lid. Carefully, shake to combine. Let rest, but shake well before adding to salad.
Lightly sprinkle salt and pepper on both sides of the chicken cutlets. Cook the chicken over medium heat on a grill pan or non-stick skillet until golden and cooked through, about 5 minutes per side. Transfer to tin foil, wrap, and set aside.
Assemble salad by layering salad greens, strawberries, and red onion in a serving bowl. Sprinkle with goat cheese. Once cool enough to handle, slice the chicken cutlets into smaller pieces and add to serving bowl. Add salad dressing, and toss to combine.
---
The information provided here may help you make more informed choices. However, it is not a substitute for an individualized nutrition plan, medical opinion, or diagnosis. You should always consult with your personal physician to make decisions about your diet and nutrition.
For more news from Women's Health Research at Yale, sign up for our e-blasts, connect with us on Facebook and Twitter, or visit our website. For questions, please contact Rick Harrison, Communications Officer, at 203-764-6610 or rick.harrison@yale.edu.
Submitted by Carissa R Violante on August 03, 2016