Second-year Psychiatry resident Eden Almasude, MD, MA, remembers from her childhood what it's like to struggle with poverty and hunger. So when it became clear how severely New Haven-area households could suffer economically from the COVID-19 pandemic, Almasude was moved to take action.
"So many communities are already barely getting by, so a crisis like this is devastating," Almasude said. "Many households can't afford to be out of work for even a single week, much less for months. When the COVID-19 crisis hit, I knew we needed to find a fast and efficient way to get cash and essential items out to the folks who are hardest hit."
Almasude co-founded the New Haven Area Mutual Aid Fund with Sarah Eppler-Epstein and Kelly Hernández Naranjo, and help from Luis Luna and Ariana Shapiro. All are members of the Semilla Collective, a New Haven-based group organizing for immigration and labor justice that is sponsoring the project.
The Mutual Aid Fund is designed to, in the short-term, provide emergency assistance to households that don't have enough food — primarily Spanish-speaking immigrant families, Almasude said.
"It is especially urgent to get resources to these folks because many immigrant families cannot currently receive government financial support through unemployment benefits or stimulus checks," Almasude explained.
"We're working in solidarity alongside our neighbors. The inspiring thing about mutual aid work is that it's not charity. The existing system in the U.S. has failed us, so on a local level we're finding solutions ourselves and implementing them."
After the first week of fundraising, the Mutual Aid Fund distributed $7,000 in financial assistance to over 65 households directly impacted by the pandemic crisis. As of Wednesday afternoon, the fund had raised over $24,000 total.
The group is also exploring ways it can be sustainable on a long-term basis to provide additional support to the community.
"Food access, paying rent and utilities, getting transportation — these aren't new issues. The pandemic is just jump starting us to think about new solutions," Almasude said.
Almasude has primarily contributed to the Mutual Aid Fund from a distance by leading fundraising efforts; her inpatient work at Yale New Haven Hospital (YNHH) puts her at high risk for contracting COVID-19, so she is unable to do face-to-face work on the ground.
"Working together with fellow organizers and other community members reminds me that I'm not alone in this struggle. Together, we can support each other and get through this.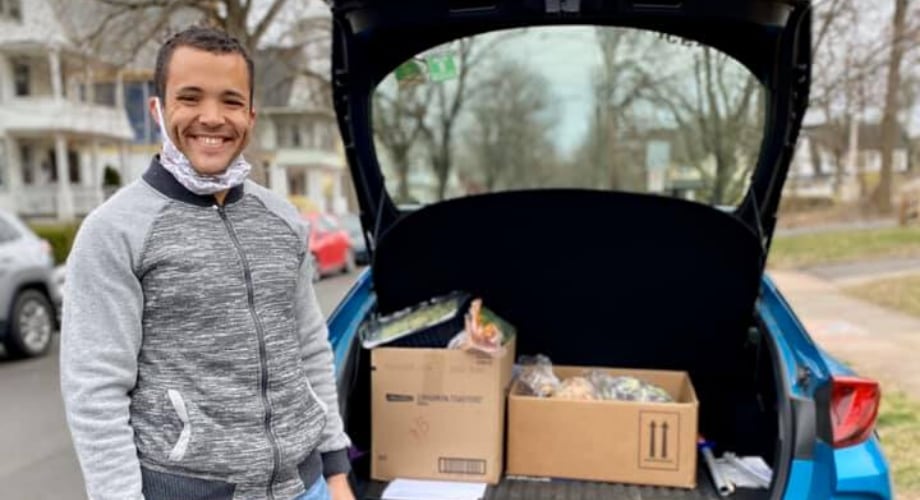 Almasude expressed gratitude for the support of all the project's contributors, which have included many of her colleagues and fellow members of the Department of Psychiatry. Second-year Psychiatry resident Walker Keenan has volunteered by helping with food deliveries.
Almasude does not view her work with the Mutual Aid Fund as separate from her work as a psychiatry resident.
"I believe that building strong communities is essential for our mental health and wellbeing. It's hard to truly address mental health issues when my patients don't have stable housing, consistent food access, (or) when loved ones are incarcerated," she said. "If we want to improve mental health, we must address the systemic inequalities of a capitalist society. I live in a country that locks migrant children in cages, that has the highest rate of incarceration in the world, that has brutal policing practices. It is my obligation as a physician to work to abolish these systems in order to promote healthy and thriving communities."
Submitted by Jordan Sisson on April 08, 2020