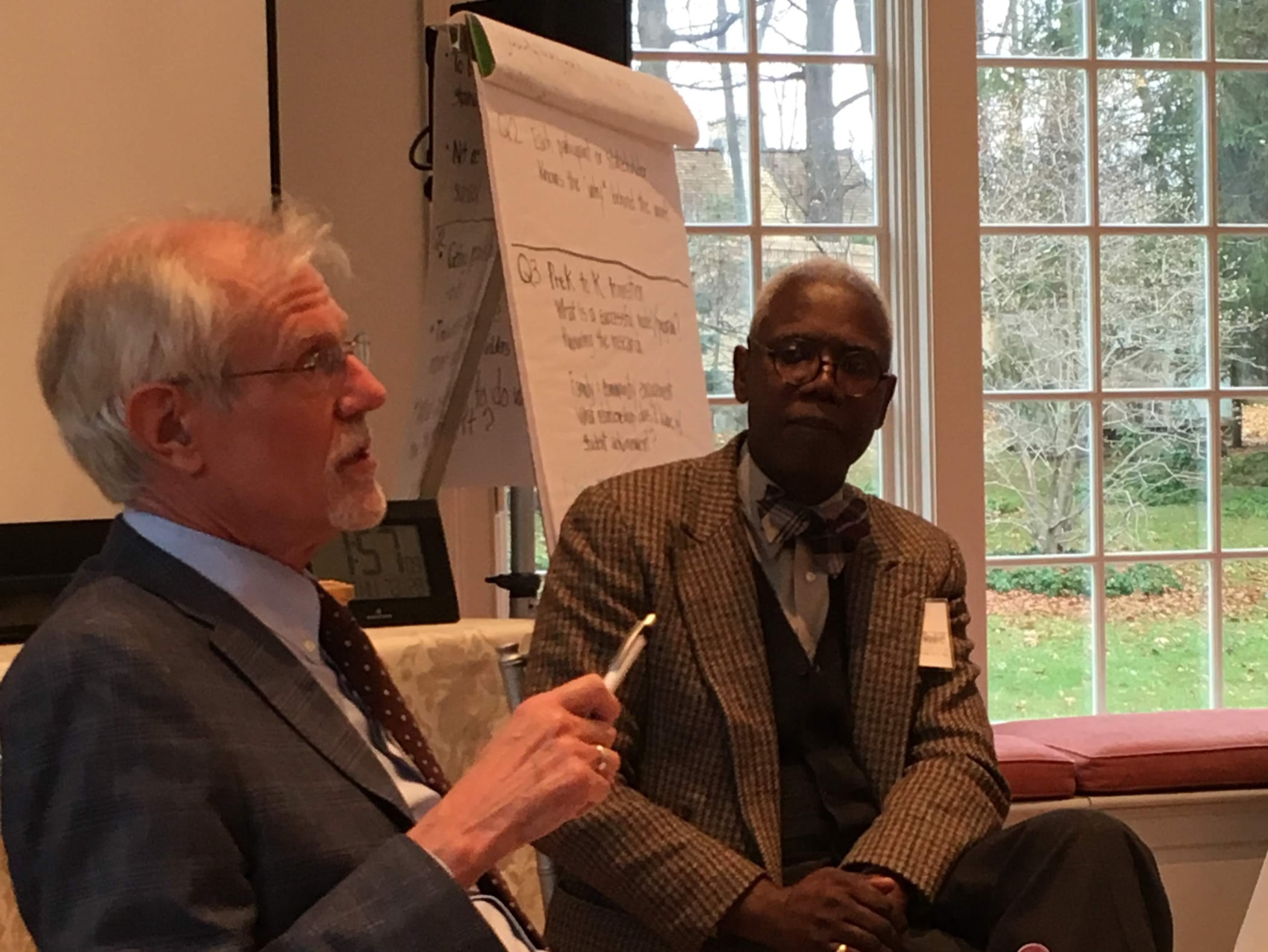 On November 15, PEER member organizations gathered at The Leir Retreat Center in Ridgefield, Connecticut for a strategy session focused on leveraging research to enhance decision-making. Despite the season's first snow storm, the session was attended by representatives from 23 different member organizations across Bridgeport, Norwalk, Stamford, and around the state. The goals of the session were to explore how PEER research findings have or might impact practice within member and affiliate organizations and to strategize about what potential projects within PEER's priority research areas would best serve member communities in the years to come.
To provide a national perspective, PEER invited John Q. Easton to provide the keynote address, and the management team was thrilled that he was able to attend and share his deep expertise in research-practice partnerships. Easton is currently a Senior Fellow at the University of Chicago Consortium on School Research (UChicago Consortium), a 30-year-old research-practice partnership that he previously led as Executive Director. While away from the UChicago Consortium, Easton served as Director of the U.S. Department of Education's Institute of Education Sciences (IES) from 2009 to 2014 and as Vice President of Programs for the Spencer Foundation from 2014-2018. In his keynote address, entitled Why I Think that Research-Practice Partnerships (RPPs) Can Improve Education Research, Practice, and Policy, Easton shared examples from his time at UChicago Consortium, IES, and the Spencer Foundation in which researchers and practitioners worked together to conduct research that was relevant, rigorous, and actionable. Examples included UChicago Consortium's On-Track Indictor as a Predictor of High School Graduation and recent UChicago Consortium/Ounce of Prevention efforts to design and test the Early Education Essential Organizational Supports Measurement System, which helps early childhood education programs to diagnose their strengths and weaknesses. During the keynote address, John also shared lessons he has learned about the conditions under which educational systems are most likely to use research to drive decision-making.
In the next segment of the strategy session, two member organizations provided local examples of research-practice collaborations that involved PEER. Anna Witkowski, Director of School Readiness for Children's Learning Centers of Fairfield County (CLC), described how the Stamford Cradle to Career Kindergarten Readiness Community Action Network (CAN) worked with PEER to collect data that informed action. PEER worked with CAN co-chairs to survey kindergarten teachers and administrators about how they were using child information collected through Stamford's Preschool-Kindergarten Transition Summary (PKTS), and the resulting data informed the next year's PKTS process. Tom Naiman, Director of Education for The Maritime Aquarium, described how The Maritime Aquarium and Maritime Odyssey Preschool are working with PEER to evaluate the preschool's early STEM education model. The group has created a logic model that shows how the model is expected to produce outcomes and an evaluation plan for measuring the anticipated outcomes over time.
The day also included structured discussions in which small groups explored how PEER's work can benefit member communities. In the first portion of these discussions, groups discussed how PEER's research findings have or might impact practice within their organization and considered what obstacles stand in the way of using PEER's research findings to inform practice. Then groups shifted their focus to the future and explored what specific projects might best meet the needs of their organizations, communities, and the region. The PEER management team looks forward to compiling the ideas that came out of these discussions and using them to design future projects and seek appropriate funding.
At the end of the day, John Easton and George Coleman, PEER's practitioner lead, discussed some broader topics in education research-practice partnerships (RPPs) during a fireside chat. Topics included strategies for ensuring the long-term sustainability of RPPs, engaging decision-makers in the use of RPP findings, and understanding the effectiveness of RPPs at various stages of their evolution. In closing, Michael Strambler, PEER director, presented an award to The Leir Retreat Center in appreciation of their generous support since PEER's launch in 2014. Participants reported that the day was engaging and productive, and the PEER Management Team looks forward to continuing to advance the partnership's collaborative work.
Submitted by Joanna Meyer on November 27, 2018