Donating to the HAVEN Free Clinic 8th annual ¡ANDA! (Go!) 5K Walk/Run tangibly benefits patients in the New Haven community:
$25 – One complete blood test
$50 – One hepatitis B vaccine
$165 – A comprehensive patient visit
$439 – Support the care of one HAVEN patient for an entire year
The event's website shares these donation equivalents to encourage participation in the clinic's signature fundraising event. The funds raised typically cover 50% of HAVEN's annual operating budget. The organizers hope to raise $50,000.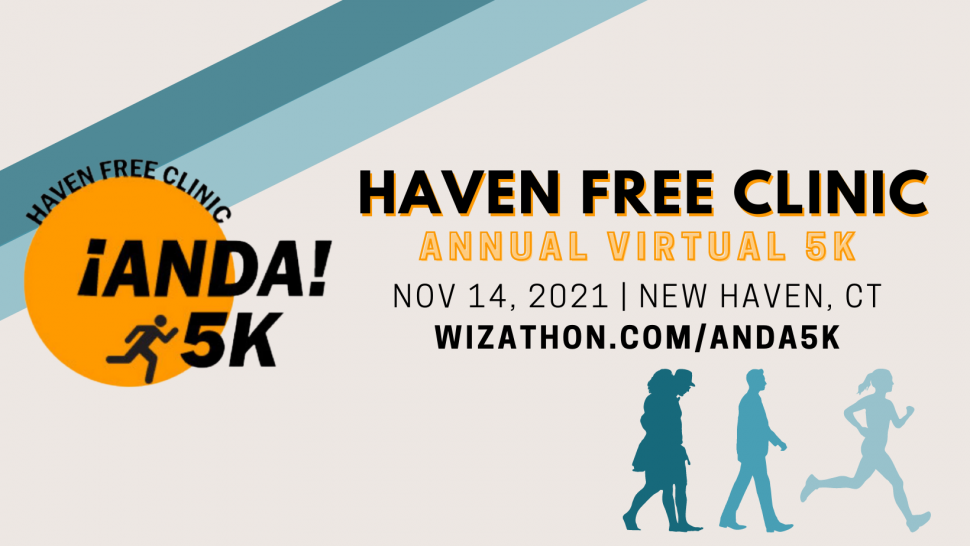 For 15 years, HAVEN has filled a critical gap in New Haven's health care landscape, providing primary care, reproductive health care, social services, and health education to uninsured adults for free. Other ancillary services include TB treatment, behavioral health sessions in partnership with Connecticut Mental Health Center's Hispanic Clinic, legal assistance through HAVEN's Medical-Legal Partnership, and medical debt relief. HAVEN also provides a bridge to the formal health care system, providing access to free specialty care and helping eligible patients through the health insurance enrollment process.
More than 250 students from Yale's health professional schools work in teams to support all aspects of patients' wellness. Students from many other parts of the university also are actively engaged in HAVEN, including students from Yale College, the Graduate School of Arts and Science, the Law School, and the School of Management. The clinic, which is located at 800 Howard Avenue in New Haven, is open on Saturdays from 8:30 am to 12:00 pm.
Fourth-year YSM MD student Mariana Budge, the Jones Fellow and executive director at HAVEN, states that "during the COVID-19 pandemic, our patients and their families were disproportionately impacted, and most did not qualify for federal relief programs." She says HAVEN not only continued to provide primary care services, but also covered many patients' medication expenses, transportation to visits, and medical equipment. She adds that HAVEN has partnered with various community-based organizations to connect the clinic's most economically impacted patients with cash assistance, rental assistance, food garages, and other community resources.

Last year the clinic engaged with more than 380 patients.
Budge, in her fourth year of volunteering at HAVEN, says volunteering "has allowed me to appreciate the ways in which access to insurance, housing and financial insecurity and documentation status pose barriers to healthy lives for our patients. I stand firmly behind HAVEN Free Clinic's mission to mitigate these barriers by providing comprehensive and quality primary care services."
This year the 5K Walk/Run will be virtual, as it was in 2020, due to the ongoing COVID-19 pandemic. Participants will walk or run on their own routes, which has the advantage of enabling people who do not live near New Haven to participate. However, the 9:00 am to 2:00 pm (ET) timeframe for the event will create a sense of unity among the participants. Social media also will help connect them, with participants being encouraged to share videos and photos of themselves on the HAVEN Free Clinic Facebook page or on Instagram using #HAVEN5K.
Registration for the 5K Walk/Run is open through November 14. People can register as individuals or as part of a team. The event is free for patients of the HAVEN Free Clinic and anyone under 18. The standard registration for adults is $25. For $40, adults also receive a t-shirt and for $45, a t-shirt and HAVEN face mask. If people are not able to participate, the organizers hope they will volunteer to help coordinate the event, support the fundraising efforts of an individual or team that is participating, or simply donate to HAVEN.
Submitted by Abigail Roth on October 29, 2021