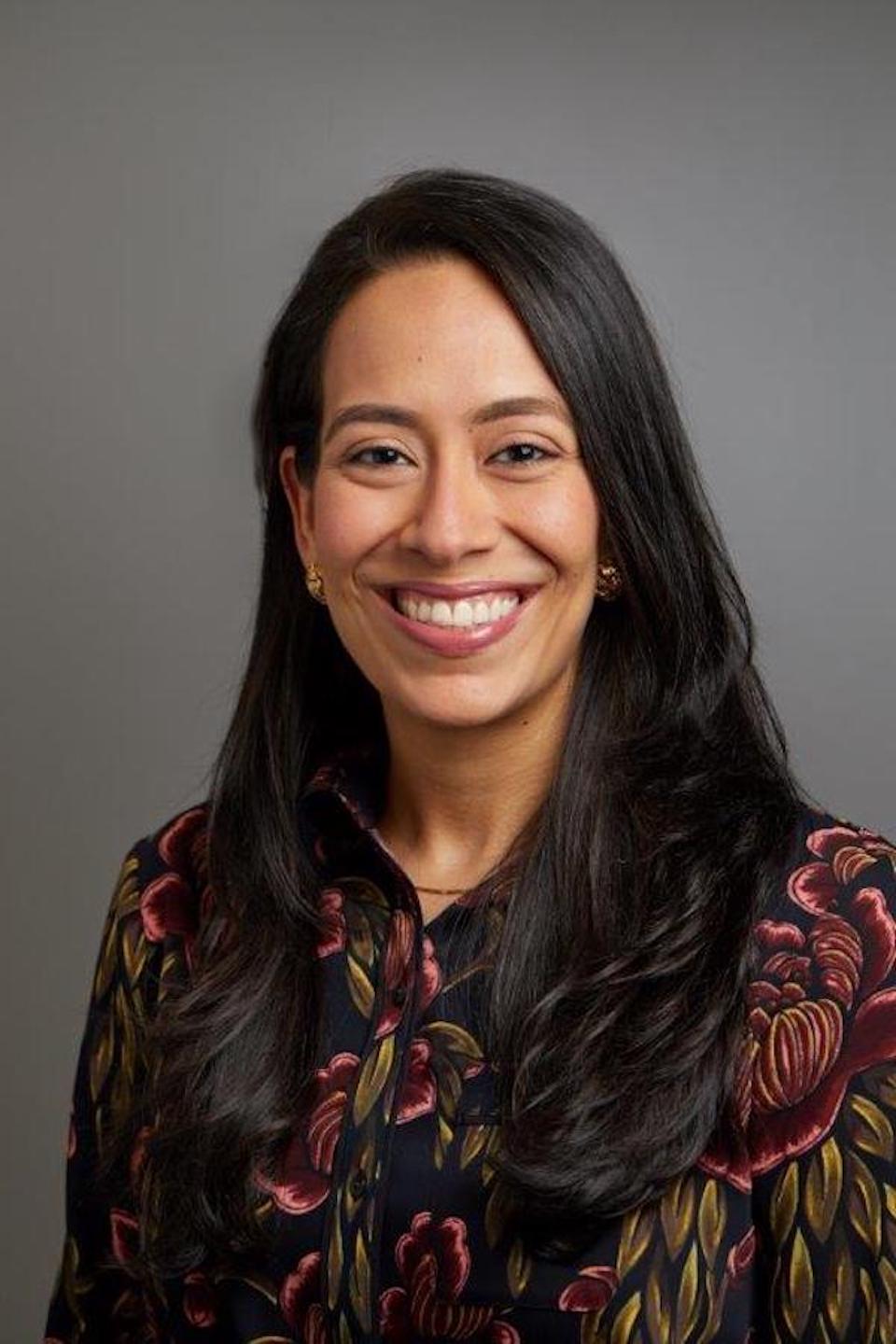 The Master of Health Science (MHS) program enables Yale School of Medicine residents, fellows, and faculty to prepare for careers in academic medicine. Cesia Gallegos Kattan, MD, MHS, an assistant professor, was the first fellow in the Section of Cardiovascular Medicine to complete the two-year program while pursuing general cardiac and subspecialty training.
Gallegos Kattan completed her residency training at the University of Miami Miller School of Medicine where she developed a strong interest in multimodality imaging techniques and cardiac imaging.
"By the end of my second year of internal medicine I knew that I wanted to focus on nuclear cardiology and imaging. When I was applying for fellowships, I was narrowing it down to the places that had strong teaching and research opportunities. Yale as the home of nuclear cardiology, was the top of my list," Gallegos Kattan recalled. "I knew that if I wanted to be an academic cardiologist and focus on nuclear cardiology, I needed the right foundation and expertise to do clinical research."
She found that opportunity at Yale. During her fellowship interview Edward J. Miller, MD, PhD, the co-director of the fellowship program and the MHS cardiology program director, explained that she could fulfill all of the program requirements and earn a master's degree.
As part of a competitive application process, Gallegos Kattan submitted a detailed research proposal and letters of recommendation. After her proposal was accepted, Gallegos Kattan completed her required coursework during her third and fourth year of fellowship training.
To meet the clinical requirements for graduation Gallegos Kattan, she worked with Miller and the other rotation directors to adjust her clinical schedule. This led her to complete her required outpatient curriculum in the weekly cardiac sarcoidosis and amyloidosis clinic with Miller. At the time, cardiac amyloidosis was under-diagnosed therefore fellows were not exposed as much to either of these conditions.
"I knew that this opportunity would enhance my training, but I never thought this would become a passion of mine. After my first clinic, I realized I was going to spend the rest of my academic life doing this."
Gallegos Kattan continued to treat patients with this disorder during her advanced fellowship and now works at the clinic as a faculty member. She recently coauthored a study on the use of new imaging techniques in cardiac amyloidosis and a systematic review on cardiac sarcoidosis treatment with Miller. She has also collaborated with faculty from other institutions on important documents for these conditions.
Working across institutions
The MHS program also provides research, professional development, and networking opportunities with other academic cardiologists.

"You have to understand that the MHS program is a time commitment, but this opportunity not only helps you build your research opportunities, but it also opens the doors to make connections with people at other institutions. If that's your goal, it's truly a fantastic program" she added. "It was definitely an important step for me to be accepted into the American Society of Nuclear Cardiology (ASNC) Leadership Development Program."
"Through the ASNC Leadership Development Program for example, I was paired with a mentor, Dr. Jamieson Bourque, and I have been able to interact with other faculty as well. This has further advanced my research interests and productivity and I am now participating on different committees, focusing on imaging guidelines and planning the annual ASNC conference."
Gallegos Kattan will be moderating the ASNC 2021 session, "A Precision Approach to Cardiac Amyloidosis" on October 1 at 11:45 a.m. - 1:00 p.m.
Thesis: Integration of Rubidium-82 PET Derived Regional MBF Quantification in the Diagnosis of CAD
Non-obstructive coronary artery disease (CAD) is associated with a higher risk of major cardiac events, including myocardial infarction or heart attack. With limited patient data, non-obstructive CAD is difficult to detect and thought to be undertreated.
Gallegos Kattan presented the findings of her thesis from the MHS program, "Integration of Rubidium-82 PET Derived Regional MBF Quantification in the Diagnosis of CAD" on January 21, 2020. Her research demonstrates a correlation between regional myocardial blood flow (MBF) and angiographically defined CAD lesion severity. She was also a finalist for the Young Investigator Award with her presentation during ASNC 2020.
For program requirements and course information, please visit medicine.yale.edu/education.

Submitted by Elisabeth Reitman on August 05, 2021