In May, Yale School of Medicine (YSM) organized and sponsored a diversity, equity, and inclusion (DEI) symposium in Puerto Rico. The event was a collaboration between Yale and four universities on the island: San Juan Bautista Medical School, Ponce Health Sciences University, University of Puerto Rico (UPR), and Universidad Central del Caribe (UCC). Approximately 130 students attended.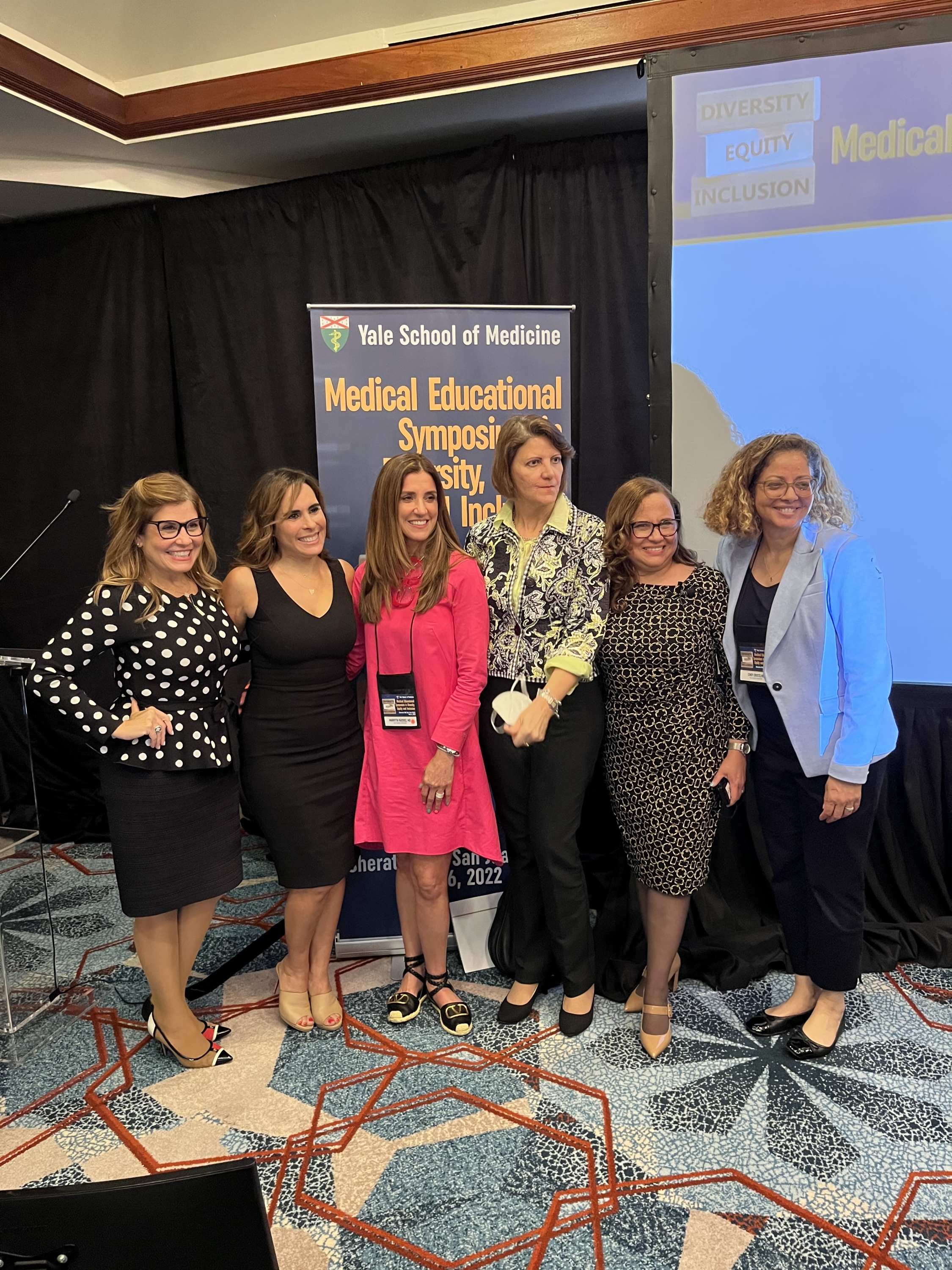 The idea for the symposium sprang from conversations with medical students. "We learned of their interest in integrating diversity, equity, and inclusion into their medical education curriculum," said Marietta Vázquez, MD, YSM's associate dean for medical student diversity and professor of pediatrics (general pediatrics).
"I think that Puerto Rico can sometimes be misleading," said Mónica Torres-Piwinski, a rising second-year at UCC and summer research student at Yale. "People may think that because we're a mixed race, there's no racism or discrimination happening. But the reality is that it's something that does occur in Puerto Rico. It just doesn't present itself as it does in other places."
The nine-hour symposium covered imposter syndrome, implicit bias, microaggressions, colorism, and women's health.
"It surpassed my expectations in a lot of ways," said Veronica Davila Parrilla, also a rising second-year at UCC and summer research student at Yale. "A lot of the conference speakers were really engaging. They made sure that everyone who was present could talk and they made sure that even the shiest person could talk about things."
Along with conventional lectures, panel sessions invited open dialogue. Vázquez spoke on a panel of Latina women sharing their experiences of being a woman in the medical field. "As a Latina, as a Puerto Rican, to me, it's very special," said Vázquez. "It's good to give back and to be able to bring in more opportunities to the students, but also to learn from their reality."
"They were very open to talking about whatever hardships they had encountered," said Parrilla. "They weren't afraid to limit their experiences or sugarcoat them. It was all very upfront."
Torres-Piwinski was surprised that she didn't know as much as she thought about the topics covered. "There were many aspects of not even society, but about myself that I didn't understand and know," she said. "I came to a realization of what was happening to me. It was a growing experience for me."
Parrilla felt validated in her experiences and empowered to think bigger about her future in academic medicine. "I deserve a space at the table too," Parrilla said. "... It's not that I didn't before, but I feel more comfortable in acknowledging it and more comfortable in saying, 'Hey, no, I'm just as qualified, I'm just as prepared and I can easily fit in there.'"
Besides establishing a foundation of DEI in Puerto Rico, Vázquez said she learned a lot from the students. "They approach every single thing that we brought with gratitude, with excitement," she said. "It would have been rewarding no matter what, but I was impressed by how accomplished the students are and also how determined they are to take advantage of every single opportunity that was offered to them."
A Historic Collaboration With Lasting Impact
"I don't think that all four schools had gotten together before to do this type of educational event, and it was unique because it was for medical students solely," said Vázquez. Parrilla enjoyed the opportunity to speak with students at other schools with a shared purpose.
"A lot of the time, medical students are pitted against each other," said Parrilla. "... In such a high-stress lifestyle that is medicine, I feel like this helped with breaking that ice. It was more humanizing."
Because of the event, new relationships were formed among the schools, and existing relationships were strengthened and expanded. "Once Dr. Vázquez mentioned the activity, we knew it was a great opportunity for our students and we expressed our interest in participating," said Hilton Franqui-Rivera, MD, UPR's interim associate dean for academic affairs. "... The UPR School of Medicine is willing to collaborate with Yale and the other schools of medicine on the island to make this a tradition."
Yale has already been invited to return to Puerto Rico in November to continue these trainings. At Universidad Central del Caribe, for example, Yale will be working with both medical students and – importantly – faculty. "At the end of the day, we students are learning all these things," said Torres-Piwinski, "but if we have our superiors, our professors, or our attendings not knowing these things or ignoring these things, what's the point? We want everyone on the same page. I think in those terms, the university is trying to change the way that things were and trying to make them a safer space for students in the academic environment."
Parrilla has started inclusion groups at UCC to pursue diversity in medicine and to incorporate lessons from the symposium. "Considering this was Yale coming to Puerto Rico – like a big institution coming someplace else and doing this – it was very surprising, but in a good way," said Parrilla. She noted that having Yale lead these conversations opened the door for smaller institutions to start prioritizing DEI, and now UCC is making changes to its curriculum. Its first focus will include adding LGBTQ+ terminology, statistics, and health risks and disparities. Then, it will add in sex, gender, and race as they relate to patient care
"There are so many aspects of a patient's identity that will intersect that you will never have two patients with the exact same health disparities," Parrilla explained. "Everyone is impacted by a different grading scale. I feel like that's something that we're finally ready to talk about at the institution, and a lot of it was because this symposium offered the opportunity to have these conversations."
The symposium did not spur instant curriculum changes at all of the schools, but the institutions are continuing conversations and Yale is offering support for future events and new initiatives. "There's a lot of interest; there's a lot to do," said Vázquez. "I think the best thing to do is to focus and start small because we want to be able to do something that is attainable – that will be successful – before doing multiple things that we won't be able to support."
Presenters at the May symposium were Marietta Vázquez, MD; Darin Latimore, MD; José Caraballo-Cueto, PhD; Tania Rosario-Méndez, MPH; Paris Lawrence; Rochelle Smith, MS; Marcia Cruz-Correa, MD, PhD; Sandra Escalera, MD; and Marelli Colon-Emeric, MD.
Submitted by Robert Forman on August 30, 2022