Yale health professional students who practice delivering serious news to patients. Clinicians gaining experience in how to recognize and respond effectively to racist behavior in the workplace. Yale School of Medicine (YSM) Admissions Committee members learning how to interact consistently with applicants during the interview process.
These are a few examples of how the YSM Teaching and Learning Center's (TLC) Simulated Participant Program benefits students, residents, fellows, faculty, and staff across Yale. Simulated Participants (SPs) are health educators who participate in simulated interactions with learners in a safe and effective learning environment in which to acquire and practice skills, particularly related to interpersonal communications.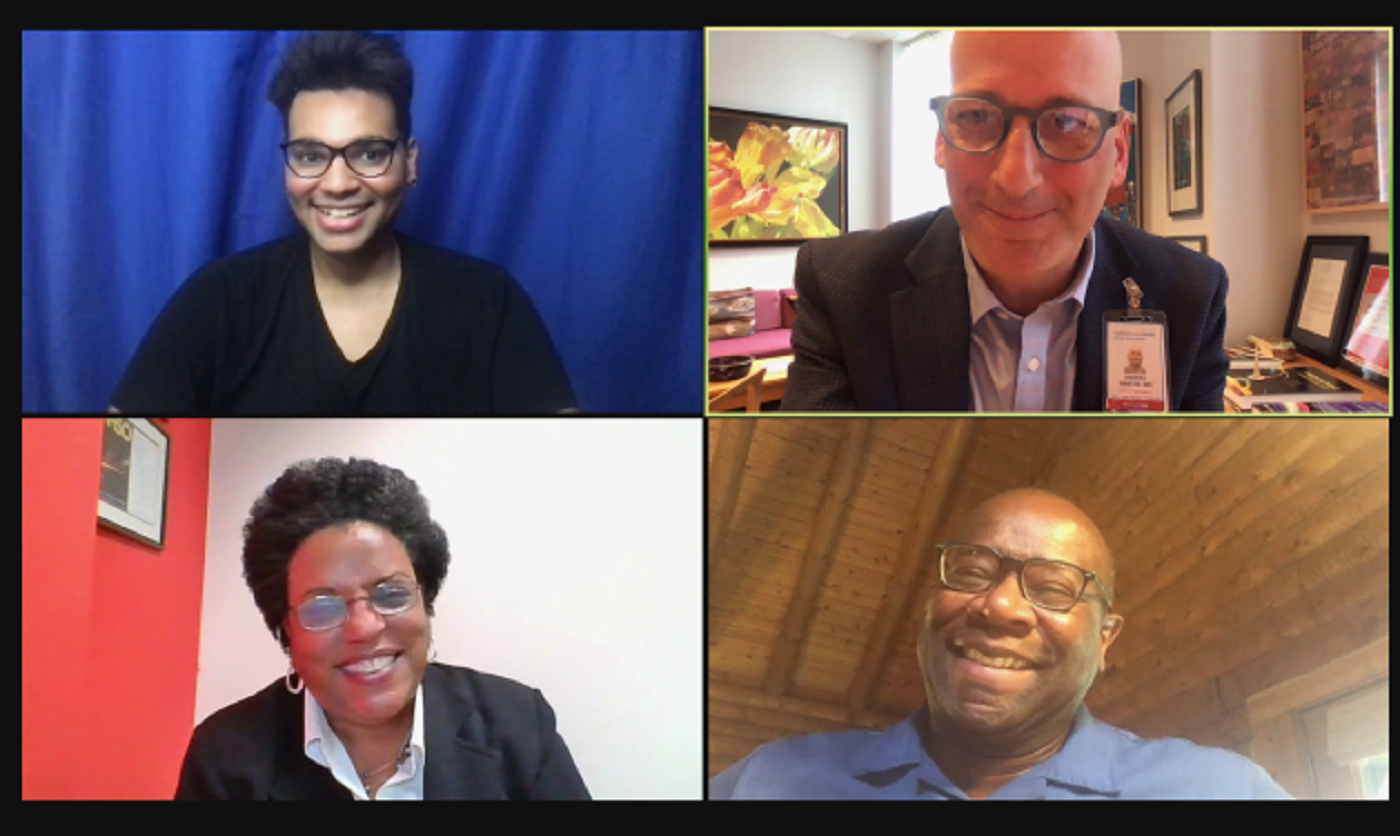 Howard Barrows, MD, a neurologist at Southern Illinois University, introduced SPs into his pioneering work training actors to serve as patients. Medical schools followed suit by incorporating trained actors in teaching, assessment, and research activities. In 1993, YSM began using SPs to train medical and physician associate students on how to engage with patients using a patient-centered model.
From Standardized Patient to Simulated Participant
When SPs were first utilized at YSM, the focus was on standardization—consistency and accuracy in interactions—to ensure trainees had the same educational experience. Over time it became clear that in formative training sessions, learners could benefit when SPs responded with more improvisation, while keeping within the social and medical history of their characters. At Yale and elsewhere, educators recognized SPs could provide valuable training for interactions with a wide variety of people in medical settings and beyond: for example, parents, spouses, children, social workers, lawyers. This resulted in the shift from "patient" to the more expansive "participant," combined with a shift from "standardized" to "simulated."
As the recently updated TLC SP Program webpage explains, "Our new name is an accurate expression of the varied roles our SPs are trained to portray, as well as our commitment to serve the diverse needs of our clients and to advance research in education and training using human simulation pedagogy." The change is consistent with language being advanced in the human simulation field. For example, the Association of SP Educators (ASPE) recognizes the term "simulated participant."
With the growth in how SPs are used, YSM has expanded its program. In Academic Year 2018-19, 35 SPs participated in 124 activities. By 2022, 40 SPs are engaged in 190 activities. SP Program Manager Barbara Hildebrand, MFA, says the SP Program is embedded in a wide range of undergraduate and graduate medical education activities at YSM, and has a strong presence in the School of Nursing.
COVID-19 allowed for the growth in the use of SPs. Indeed, they became more vital in the virtual environment. Because YSM's Physician Assistant Online Program had trained virtually with SPs prior to the pandemic, the SP Program was prepared to activate virtual use of SPs when COVID-19 restrictions eliminated in-person experiences.
When someone contacts the SP Program to explore using SPs for educational purposes, the program team, which has expertise designing and implementing training scenarios, partners to brainstorm about the best training structure. Associate Professor Laura J. Morrison, MD, director of Hospice and Palliative Medicine Education and the Hospice and Palliative Medicine Fellowship, says the TLC's SP Program has been a supportive and mission-driven partner in efforts to innovate serious illness communication skills in training multi-subspecialty fellows and other trainees. She explains that the fellowship's annual workshop series continues to evolve SP roles, "where actors selectively titrate their response to trainees to encourage specific skill development in real-time simulation. A facilitating faculty member and the SP collaborate almost as co-teachers to identify that focus for improvement in each learner's unique skill set."
SP Program as Research Lab
In addition to educating learners, the SP Program is a rich resource for research. Andrés Martin, MD, MPH '02, Riva Ariella Ritvo Professor in the Yale Child Study Center and director of the SP Program, characterizes the program as a research lab and is excited about the scholarship emerging from it. For example, fourth-year MD student Alex Kimmel's thesis focused on development of a video-based curriculum on treating children with physical disabilities; the video depicts a primary care visit for a child in a wheelchair and his mother, both portrayed by simulated participants.
For Kimmel, the SP Program "has been a vital part of my entire medical school education. Practicing interviews and learning how to do exams early on offered me a supportive and safe environment crucial to develop skills and my own style as a clinician," she says. Now as a senior student, she is grateful for the opportunity to work with the SP Program "to develop new curricula and medical education research that will help shape the next generation of Yale physicians. The professional actors are incredibly talented and dedicate themselves to simulating genuine patient interactions."
The TLC employs a diverse population of SPs so that learners experience interacting with the range of people with whom they will engage in practice. Diversity spans race, ethnicity, gender, sexual orientation, age, and developmental, behavioral, and physical differences.
The SPs express great satisfaction with their role. "It is such a privilege to help future medical practitioners develop their communication skills," says SP and Senior Lector and Language Program Director in French Ruth Koizim: "I find it especially rewarding to observe students' progress over the duration of their program."
Actor and singer Betzabeth Castro echoes this joy: "I love that my job as an SP assists aspiring medical professionals with their ability to empathize with their patients. I feel like Yale is training a generation of doctors who will be able to provide more care and resources for patients apart from just their physical needs."
Submitted by Abigail Roth on March 18, 2022