Who: Mursal Gardezi, BS; Harold G. Moore, MD; Adrienne R. Socci, MD; Jonathan N. Grauer, MD
Journal: North American Spine Society Journal
Overview: The COVID-19 pandemic has had widespread impact across medical educational sectors, including cancellations and delays of board exams, interruptions in clinical rotations and electives, altered processes for away rotations, and conversion to virtual interviews. These changes, combined with applicant and program uncertainty, may affect the 2021 residency application cycle for competitive fields such as orthopaedic surgery. In consideration of spine trainees and the spine fellow application pipeline, the current study aims to evaluate for deviations in trends found in applications to an orthopaedic surgery residency program from the 2021 cycle compared to six years prior.
After institutional review board approval, applications to a single orthopaedic surgery residency program from application cycles 2015 to 2021 were evaluated in the Electronic Residency Application System (ERAS) and analyzed for trends. Supplementary information was taken from publicly available ERAS statistics.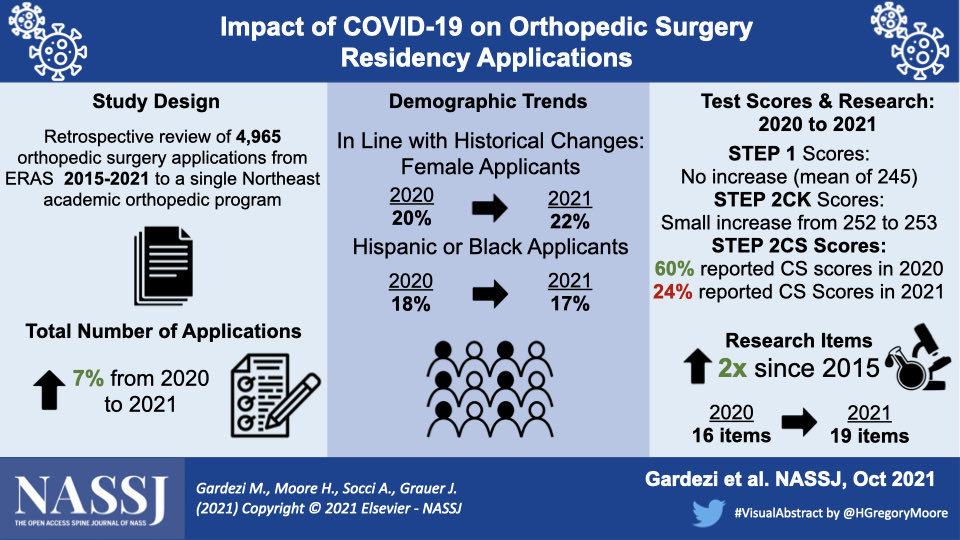 Compared to existing trends, the ERAS 2021 cycle had a greater number of applicants, more research items, and lower rates of USMLE Step 2 test administration. Of the 4,965 applications analyzed, no deviations in trends were found in number of female applicants, Black and Hispanic applicants, applicants from medical schools outside the US, DO applicants, applicants with interruptions in their training, or USMLE scores.

The authors concluded that the orthopaedic surgery applicant pool increased amidst the COVID-19 pandemic and applicants had more research items than previous years. No significant deviations in the demographics of the applicant pool were noted. This is thought to be reassuring about the integrity of the orthopaedic residency application process/spine fellow application pipeline and should continue to be observed in the coming years. The full article is available via the link.
Submitted by John Ready on November 08, 2021