Twenty years ago, Yale radiology hired Syed A. Jamal Bokhari, MBBS, to a new position in the emergency radiology division in an effort to provide 24-hour coverage to patients at Yale New Haven Hospital.

Bokhari had arrived at Yale School of Medicine (YSM) as an intern in 1992, and began his residency in 1993. "He became one of radiology's best chief residents and then an outstanding neuroradiology fellow before he decided that he would commit his time to helping us build a 24-hours-a-day, seven-days-a-week radiology section," said Howard Forman, MD, MBA, a faculty member in the section who, as vice chair, was principally involved in hiring Bokhari.
Since 1999, Bokhari has worked 182-183 shifts every year, meticulously mapping his schedule to be on site for as many as three weeks in a row, without a break. Now, on the 20th anniversary of the attending-led coverage of emergency radiology at YSM, Bokhari has recognized that the section he built and helped sustain no longer needs him to be working quite as many overnight hours.
"I don't know of anybody in the whole community of radiology in the United States who has done this many nights for this long a period," Bokhari said during a recent interview after another night shift had ended. "People say I must be used to it," he said. "But every year it actually gets harder."

Yale School of Medicine was the first medical school in the U.S. to offer patients 24/7 emergency radiology coverage with a board-certified radiologist present in-house.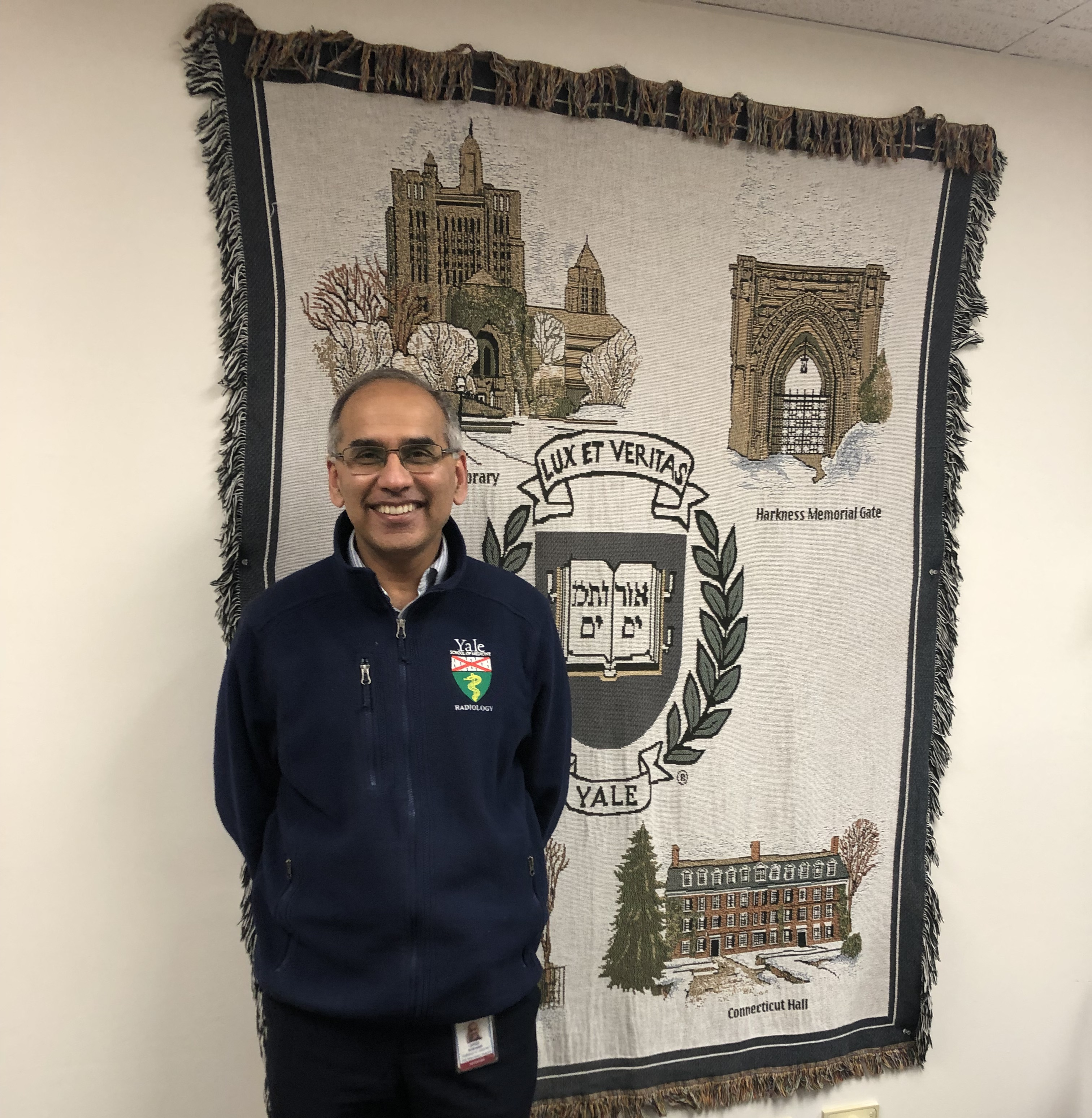 "When we hired Dr. Bokhari into this role, we believed we would be very fortunate to have him do this for a few years, perhaps five at most. But he never wavered in his commitment to our department and the emerging section," said Forman.
Recently, Yale hired two additional emergency radiologists, Simon Onderi, MD, a 2018 fellow who most recently practiced neuroradiology and emergency radiology at Boston University Medical Center, and Jason Teitelbaum, MD, MBA, who recently completed his Leadership in Radiology Fellowship in the department and section, culminating with his graduation from the School of Management.

When the overnight program was launched 20 years ago, a key goal was to provide guidance to the residents on duty, Bokhari said. "We wanted to be sure that the residents working the overnight shift were in a position where they could have help with tough cases and questions," said Bokhari, who also serves as the diagnostic radiology residency director.

"We were the torchbearers," he said. "Some people questioned if it was good for the residents, who had been independent decision makers, to now have supervision. But you don't throw people in a storm to teach them to swim. If it's done right it can still give independence to residents. It just means the attending radiologist can review a resident's report within minutes rather than hours or days," he said.

"If residents only work an overnight shift, their reports don't get looked at until the next morning -- that's the jeopardy," he added. "It's a good balance between resident education and patient care and safety."

Having an attending radiologist consult on cases for other physicians is another way that the program brings value to health care, Bokhari said. "It really helps radiology grow as a specialty. Your standing grows as you provide this service."

Bokhari's role in emergency radiology helped to shape his career. "Since it was a unique role that I was doing, it helped me to define who I am in the sense of whatever I am doing I will do with full focus," he said. "At night I am focusing on the patient and I am not distracted by administrative work. When that job is finished I am focused on administrative work and training," said Bokhari, who is also the medical director of emergency radiology.

His overnight shift starts at 9:30 p.m. and ends at 8 a.m. Afterwards, Bokhari returns to his office and works until noon or 1 p.m.
"My philosophy is central to my work," he said. "If I keep the patient at the center of my work life, nothing can go wrong. Everything is about the patient."
Submitted by Angel Machon on July 22, 2019