Discoveries & Impact highlights select scientific discoveries and editorial commentaries for each section in the Department of Internal Medicine
To see the complete list of publications from the Department of Internal Medicine, please refer to the report under Related Documents.
Cardiovascular Medicine
Atrial Fibrillation (AF) is the most common heart arrhythmia that puts between 3-6 million Americans at risk for stroke and death. James Freeman, MD, the director of the Yale Atrial Fibrillation Program and the senior author of this study, discusses quality improvement strategies in the journal Heart Rhythm. The study highlights the need to improve health care delivery, which may lead to adverse events.
Deering, Thomas F., Smith, Anne M., Freeman, James. "EP News: Quality Improvement and Outcomes." Heart Rhythm, 19 Oct. 2021, https://doi.org/10.1016/j.hrthm.2021.10.013
Digestive Diseases
While an equal number of women and men are entering medicine, gastroenterology remains a male-dominated field. As of 2019, only 18.9 percent of active gastroenterologists in the United States were women. Yale researchers looked at the reasons for this disparity and suggested strategies to make it easier for women to enter this medical subspecialty. Their review was published in Digestive Diseases and Sciences.
Rotundo LC, Gaidos JKJ. Creating a Pathway to Leadership for Women in Gastroenterology. Digestive Diseases and Sciences 2021 doi:10.1007/s10620-021-07267-w PMID: 34623576.
Endocrinology & Metabolism / Geriatrics
After evaluating data from published peer-reviewed literature and briefing documents from Emergency Use Authorization applications submitted by Pfizer-BioNTech, Moderna, and Johnson & Johnson, The Obesity Society has concluded that these vaccines are as effective against SARS-CoV-2 in people with obesity as in those who do not have obesity. Read the Society's position statement here.
Butsch WS, Hajduk A, Cardel MI, Donahoo WT, Kyle TK, Stanford FC, Zeltser LM, Kotz CM, Jastreboff AM. COVID-19 vaccines are effective in people with obesity: A position statement from The Obesity Society. Obesity (Silver Spring). 2021 Sep 13. doi:10.1002/oby.23251 [Epub ahead of print] PMCID: PMC8441899 PMID: 34212511
General Internal Medicine
Patients with chronic pain who smoke frequently identify pain as a motivator for their smoking behavior and are reluctant to quit for this reason. The Pain and Smoking Study retrospectively analyzed smoking cessation counseling notes for 136 veterans and concluded that smoking cessation interventions need to take this relationship between smoking and pain relief into account. Learn more in "Central Europe Journal of Medicine."
Lee M, Snow J, Quon C, Selander K, DeRycke E, Lawless M, Driscoll M, Ditre JW, Mattocks KM, Becker WC, Bastian LA. I smoke to cope with pain: patients' perspectives on the link between cigarette smoking and pain. Central Europe Journal of Medicine 2021, 133(19-20):1012 1019. doi:10.1007/s00508-021-01931-x. PMID: 34460005 https://pubmed.ncbi.nlm.nih.gov/34460005/
Hematology
In an editorial published in JAMA Oncology, Yale authors comment on the report, Bone Marrow Transplant Survivor Study, on late mortality and life expectancy of patients who receive transplants over the course of 40 years. The Yale authors consider how the study's findings should inform and guide the transplant and medical community regarding the long-term effects of allogeneic stem cell transplantation. "Transplantation gives patients a new lease on life, but the findings reported by Bhatia et al illustrate the need for stewardship of medical care over a period of decades. Patients take a leap of faith when they select transplantation, hoping for long-term survival. Patients are obviously in it for the long haul," they write, adding that the transplant community must be in it for the long haul as well.
Gowda L, Seropian S.Life Expectancy After Allogeneic Stem Cell Transplant-In It for the Long Haul?JAMA Oncology 2021 doi: 10.1001/jamaoncol.2021.3674. PMID: 34499090.
Infectious Diseases
A study in the Journal of Community Health aimed to assess the impact of the COVID-19 pandemic on access to and utilization of various HIV prevention services among opioid-dependent people who inject drugs (PWID). Results indicated that PWID did not experience reduced access to HIV or STI testing but found it difficult to obtain appointments with HIV counselors or doctors and had limited access to PrEP.
Mistler CB, Curley CM, Rosen AO, El-Krab R, Wickersham JA, Copenhaver MM, Khati A, Shrestha R. The Impact of COVID-19 on Access to HIV Prevention Services Among Opioid-Dependent Individuals. Journal Of Community Health 2021, 46(5):960-966. doi: 10.1007/s10900-021-00979-0. PMID: 33770334. PMCID: PMC7996112.
Medical Oncology
The use of dietary supplements is common in the general population and even more prevalent among cancer survivors. The World Cancer Research Fund/American Institute for Cancer Research specifies that dietary supplements should not be used for cancer prevention. Several dietary supplements have the potential for adverse interactions when taken with the adjuvant endocrine therapy prescribed for breast cancer treatment. This analysis examined the prevalence of self-reported dietary supplement use and the potential interactions with tamoxifen and aromatase inhibitors (AIs) among breast cancer survivors enrolled in three randomized controlled trials of lifestyle interventions conducted between 2010 and 2017. The potential interactions with tamoxifen and AIs were identified using the Natural Medicine Database. Among 475 breast cancer survivors (2.9 (mean) or 2.5 (standard deviation) years from diagnosis), 393 (83%) reported using dietary supplements. A total of 108 different types of dietary supplements were reported and 36 potential adverse interactions with tamoxifen or AIs were identified. Among the 353 women taking tamoxifen or AIs, 38% were taking dietary supplements with a potential risk of interactions. Read more in Nutrients.
Harrigan M, McGowan C, Hood A, Ferrucci LM, Nguyen T, Cartmel B, Li FY, Irwin ML, Sanft T. Nutrients 2021, 13(11), 3730; https://doi.org/10.3390/nu13113730
Nephrology
"The world is a much smaller place than when I grew up, and I'm not even that old," writes Ursula C. Brewster, MD, in an essay published in the American Journal of Kidney Diseases. "I can wake up in my house in suburban New England, and go to bed in Kampala, Uganda. Which is what I did over a year ago, before COVID turned the world upside-down." Brewster, a clinical nephrologist and the nephrology fellowship training program director at Yale School of Medicine, argues that global health education is necessary to prepare trainees as hypertension and diabetes spread throughout the world. Read more: https://www.ajkd.org/article/S0272-6386(21)00695-8/fulltext
Brewster UC. Global Health Education: A Call to Action in This Moment. American Journal Of Kidney Diseases : The Official Journal Of The National Kidney Foundation 2021, 78(4):A9-A10. doi: 10.1053/j.ajkd.2021.05.014. PMID: 34247882.
Pulmonary, Critical Care & Sleep Medicine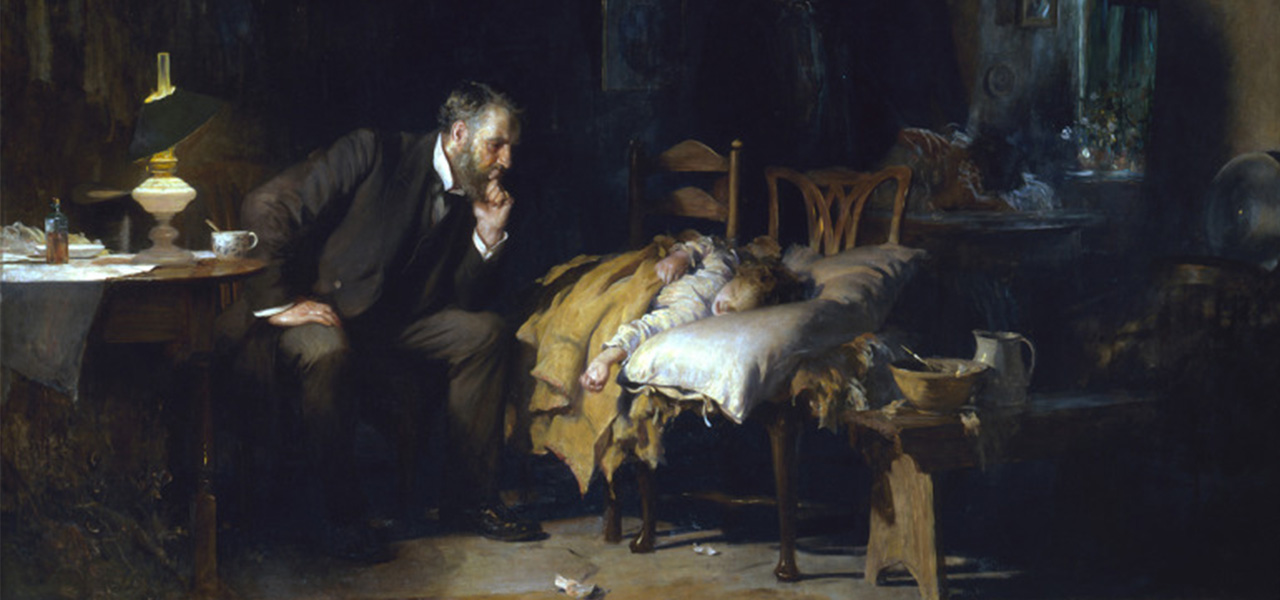 "In the 19th century, the heroic doctor was the public's face of compassion and caring for the sick. What COVID-19 has shown us is that compassion and caring for the sick has a much more diverse face. It now also includes nurses and other staff in hospitals, facilities and clinics; scientists; frontline workers; and many others who protect society and care for those who hover between life and death," writes Meir H. Kryger, MD, in an essay about the painting "The Doctor," in Sleep Health.
"Sleep through a doctor's eyes," Meir H. Kryger, MD. https://doi.org/10.1016/j.sleh.2021.08.008
Rheumatology, Allergy & Immunology
In rare cases, skin reactions have been reported in some individuals after the first or second injection with the messenger RNA (mRNA) vaccination against coronavirus. On averages, recipients reported these reactions eight days after the vaccine. A new correspondence in the New England Journal of Medicine by Philip W. Askenase, MD, of the Department of Medicine, suggests that the cutaneous hypersensitivity reactions among recipients of mRNA vaccines are responses to the translated spike protein of the SARS-CoV-2, similar to Jones–Mote Basophil Responses (JMR) that his laboratory reported several decades ago. The author notes that these delayed reactions may lead to other related studies to better understand SARS-CoV-2 infections and to treat the consequent long-Covid syndromes.
Askenase, Philip W. "Rare Skin Reactions after mRNA Vaccination, Similar to Jones–Mote Basophil Responses." New England Journal of Medicine, vol. 385, no. 18, 28 Oct. 2021, pp. 1720–1721., https://doi.org/10.1056/nejmc2111452.
Submitted by Jane E. Dee on November 10, 2021