When he was 8 years old, Marc Auerbach, MD, accidentally cut off the tip of his finger in a vending machine while in New York's Adirondack mountains. He was treated in a community hospital whose staff had limited experience in pediatric emergency care and little access to pediatric specialists. As a result, he suffered a number of preventable complications.
Years later, Dr. Auerbach's sister died as a result of an aggressive adrenocortical tumor during her pregnancy. She was initially cared for in a small community hospital, and there were some delays in her diagnosis and other shortcomings in the quality of care she received. Her baby girl survived, and is now a healthy 13-year-old.
Those two experiences helped drive Dr. Auerbach's passion for improving care in community hospitals, particularly for children. Over the years, he has become a nationally recognized expert in using high-tech simulations to train community health care providers in pediatric emergency care. Dr. Auerbach recently was presented with Yale Medicine's third annual Excellence in Quality and Safety Award for his pioneering work in this area.
"I honestly could not think of a more deserving clinician, educator, mentor, researcher, role model or patient advocate for this award," says Karen Santucci, MD, medical director and section chief, Pediatric Emergency Medicine, and one of several people who nominated Dr. Auerbach for the award. "He has made an unbelievable and profound difference in the way that children are cared for in community hospitals in the state of Connecticut and other regions of the country."
The award was established in 2014 to honor Yale Medicine clinicians who have made significant contributions by leading quality and safety initiatives, improving quality and safety in patient care and creating a positive and collaborative culture.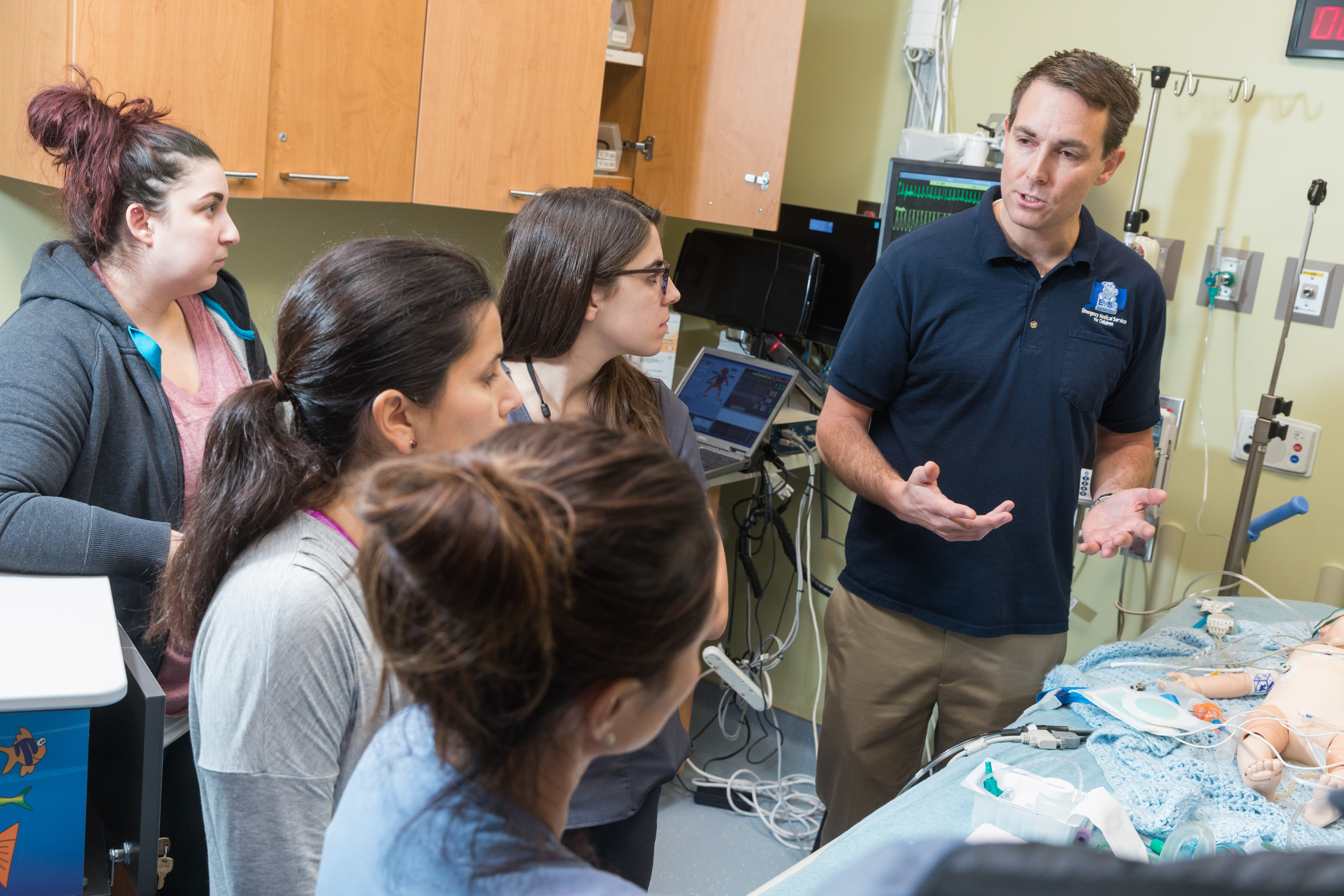 Dr. Auerbach, FAAP, MSc, is associate professor of pediatrics and emergency medicine at the Yale School of Medicine, and he serves as director of pediatric simulation and associate medical director of trauma at Yale New Haven Children's Hospital (YNHCH). Since arriving at Yale in 2009, he has championed and established simulation-based training and research at YNHCH to improve patient care, including a system that standardizes care for children with injuries that may indicate abuse. Simulation involves using realistic, computer-driven mannequins, technological devices or other tools to mimic clinical care scenarios. It has become a key training tool for pediatric emergency care.
Although Connecticut has 36 hospitals, there are only two children's hospitals—Yale and Connecticut Children's Medical Center in Hartford—with 24-hour pediatric emergency departments. In order to ensure that all children receive the best possible care regardless of where they live, Dr. Auerbach has led regional training programs to improve the quality of pediatric resuscitation and trauma care delivered by community hospitals and EMS personnel. His efforts have built a network of collaborative simulation-based programs involving community emergency departments throughout Southern Connecticut. (Read more about the simulation-based training programs for community providers.)
When Dr. Auerbach was a fellow at NYU/Bellevue Hospital Center, he was struck by the disparities in resources in different hospitals across New York City. In reviewing literature, he learned that less than 10 percent of ill and injured children are cared for in tertiary care centers like YNHCH. "I realized that if I want to impact the greatest number of patients, my work must focus on the 90-plus percent of patients cared for outside of tertiary care centers," he says.
"I am passionate about this work both as a parent and a healthcare provider," says Dr. Auerbach, a father of two young boys. He adds that he is honored to be recognized for his work. "It means a lot to me that (Yale Medicine) recognizes multiple approaches to quality and safety. They recognize the importance of quality and safety across the region and across different populations of children."
Dr. Auerbach also has worked at the national and international levels to advance the science of improving patient safety using simulation. He is the founder of the International Network for Simulation-based Pediatric Innovation, Research and Education (INSPIRE), the largest simulation-based research network in the world, with 250 institutions across 21 countries. He currently co-chairs INSPIRE and has led the network to obtain more than $2.5 million in grant funding.
On Jan. 30, 2017, INSPIRE was awarded a presidential citation for outstanding work by the Society for Simulation in Healthcare.
Dr. Auerbach's extensive and groundbreaking work prompted a number of colleagues to nominate him for the Yale Medicine quality and safety award. One of the letters of nomination says: "He works tirelessly to break down silos and barriers across professions, disciplines and institutions in the name of patient care."
Submitted by Stephen Hamm on January 23, 2017