A multi-institution symposium led by Yale School of Medicine treated more than 1,900 online participants from across the country to a showcase of research from a diverse group of talented postdoctoral researchers, with the goal of propelling their promising careers in scientific discovery. The Intersections Science Fellows Symposium was held through Zoom sessions and webinars from January 6 through 8, and was hosted by a coalition formed by Yale and 25 other national research institutions.
The symposium featured the research contributions from 26 junior scientists, who were chosen to present their work as 2021 Intersection Science Fellows. Selected from a pool of more than 400 applicants, the fellows largely represented communities that have been historically unrepresented in the field of medical research, including those from ethnic and racial minorities, those with disabilities, those from low socioeconomic backgrounds, women, or those who identify as LGBTQI+.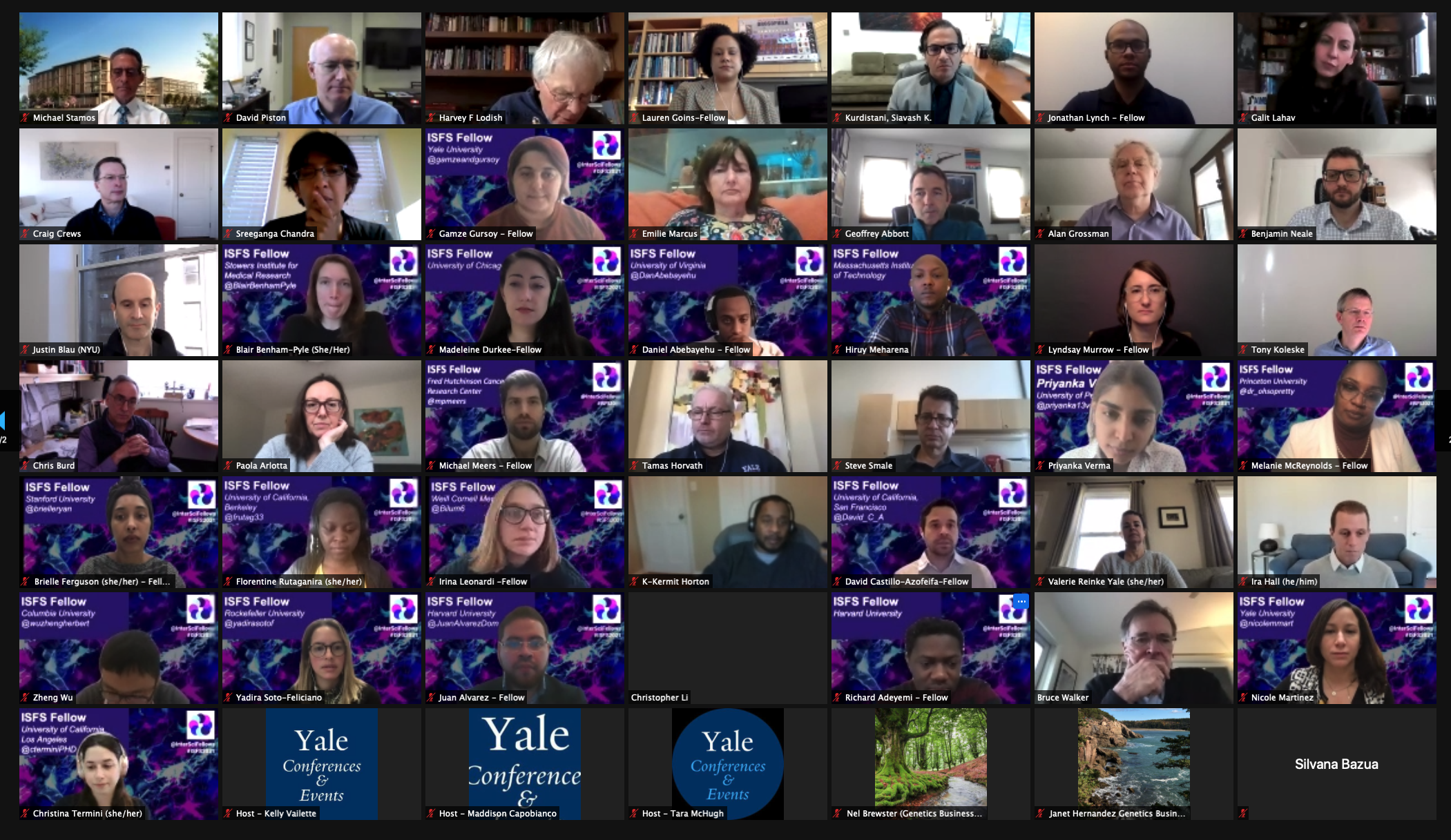 Postdoctoral researchers–known as postdocs–are at a crossroads in their careers. Pursuing faculty positions at academic institutions, rather than taking their talents to industry, teaching, or other fields, is a difficult decision, and it sets them on a path filled with challenges. For scientists from backgrounds that have been historically underrepresented in the field, there are additional roadblocks.

Even with the vast accomplishments of all of the fellows who were chosen, said Rochelle D. Smith, MS, associate dean of diversity and inclusion (DEI) and associate chief diversity officer at the medical school, they still can face such obstacles as stereotyping, impostor syndrome, and marginalization. "All of these things can have a cumulative effect on their thoughts about what the next steps in their careers might be," says Smith. "This symposium hopefully served as a confidence builder and reinforced to them that they are ready, and they are the scientists whom we need to grapple with the questions of a diverse world."
The symposium and the fellowships are steps in a larger effort to address these disparities and create more inclusive environments in academic medicine. "Many women and underrepresented graduate students and postdocs feel that their experiences were less than ideal during their training," said Darin Latimore, MD, deputy dean, chief diversity officer, and associate professor of medicine (general medicine). "Those who feel that way are much less likely to sign up for academic medicine as a long-term career choice. So, institutions of higher learning need to figure out how to make sure graduate students and postdocs are getting equitable access to resources, publication opportunities, and sponsorship so they are prepared to go to the next stage in academic medicine."

"We are showing that the pipeline has worked," said Smith, referring to the ongoing, systemic effort to encourage students from underrepresented groups to pursue careers in science, technology, engineering, and math (STEM) in order to ultimately increase the ranks of faculty from those backgrounds. "To those who say we can't find diverse talent to diversify the ranks of our faculty, this symposium shows that we can. Our goal is that recruiting top diverse talent will become the norm."
Each fellow was paired with a mentor who will, over the course of the coming year, guide their entry into their field, make crucial connections, and help map out pathways so that they may ultimately earn faculty positions.

Providing meaningful networking opportunities was another key goal of the symposium. "Minorities and women also tend to have smaller networks than white men," said Latimore, "which means they simply tend to be less in the know about all the awesome opportunities that are out there, and the pathways to get to those opportunities."
"The symposium dispelled the myth that diversity and excellence are mutually exclusive," said Sherree Wilson, PhD, associate vice chancellor and associate dean of diversity, equity, and inclusion at Washington University School of Medicine in St. Louis, a member of the committee that matched fellows with their mentors.

"I found the entire program really beneficial for planning my career goals, and more importantly preparing for interviews for faculty positions," said Hiruy Meharena, PhD, a postdoctoral fellow in genomics at MIT who studies structural variations in the genome as they relate to neurological disorders such as Down syndrome and autism spectrum disorder. In addition to presenting their work, fellows participated in sessions on topics related to navigating the challenges presented by careers in academic medicine.
"The Symposium provided me with very relevant workshops that were timely since I was starting the faculty job interview process the week after the symposium," said Yadira Soto-Feliciano, PhD, a postdoctoral fellow in genetics at the Rockefeller University whose work seeks to understand the mechanisms of transcriptional regulation by chromatin adaptor and scaffold proteins. "I really hope it serves at the blueprint for similar initiatives throughout the nation."
The symposium was driven by a team of postdocs from across the participating institutions, and was the "brainchild," said Smith, of Yale postdocs Valerie Tornini, PhD; Anupama Hemalatha, PhD; Aileen Fernandez, PhD; Brionna Davis-Reyes, PhD; and Chrystal Starbird, PhD. Caroline Hendry, PhD, scientific director and advisor to the chair of Genetics, Yale School of Medicine, along with senior advisor Antonio Giraldez, PhD, chair and Fergus F. Wallace Professor of Genetics helped lead the program together with Latimore and Smith.
"Everyone volunteered their time, and many postdocs temporarily put aside their research to make this happen," said Yale postdoctoral associate in neuroscience Snusha Ravikumar, PhD, who was a member of the organizing team. "Behind the scenes, the mood was energetic and supportive and there was a lot of passion in making the symposium come to life."
The symposium organizers sought to use the now-necessary Zoom platform to their best advantage. A wider range of people could participate in the online sessions because there was no need to travel. "We wanted to as much as possible create a warmth, a connection that sure would have been in person," said Smith. During the conference, the website was filled with photos of the fellows as well as CVs, as well as the work of symposium associates – postdocs who were not chosen to be fellows but had their work showcased as honorable mentions. "In one session, we even bought everybody lunch – we bought GrubHub cards so they could break bread together virtually."

That said, for future versions of the symposium, Latimore looks forward to returning to face-to-face interaction, which can't be replicated when it comes to networking. "A lot of real connections happen over the coffee pot, in front of the elevator, getting that muffin," said Latimore. Both Latimore and Smith say the intention is to continue the symposium next year, whether online or in person.
"My hope is one day is historically underrepresented groups will be overrepresented in the sciences," said Smith. "Until then, we take these little steps forward that have a big impact. If every institution could do something like this, I think in the next five to ten years the landscape of STEM could be dramatically more diverse than it is now."
Submitted by Robert Forman on February 17, 2021