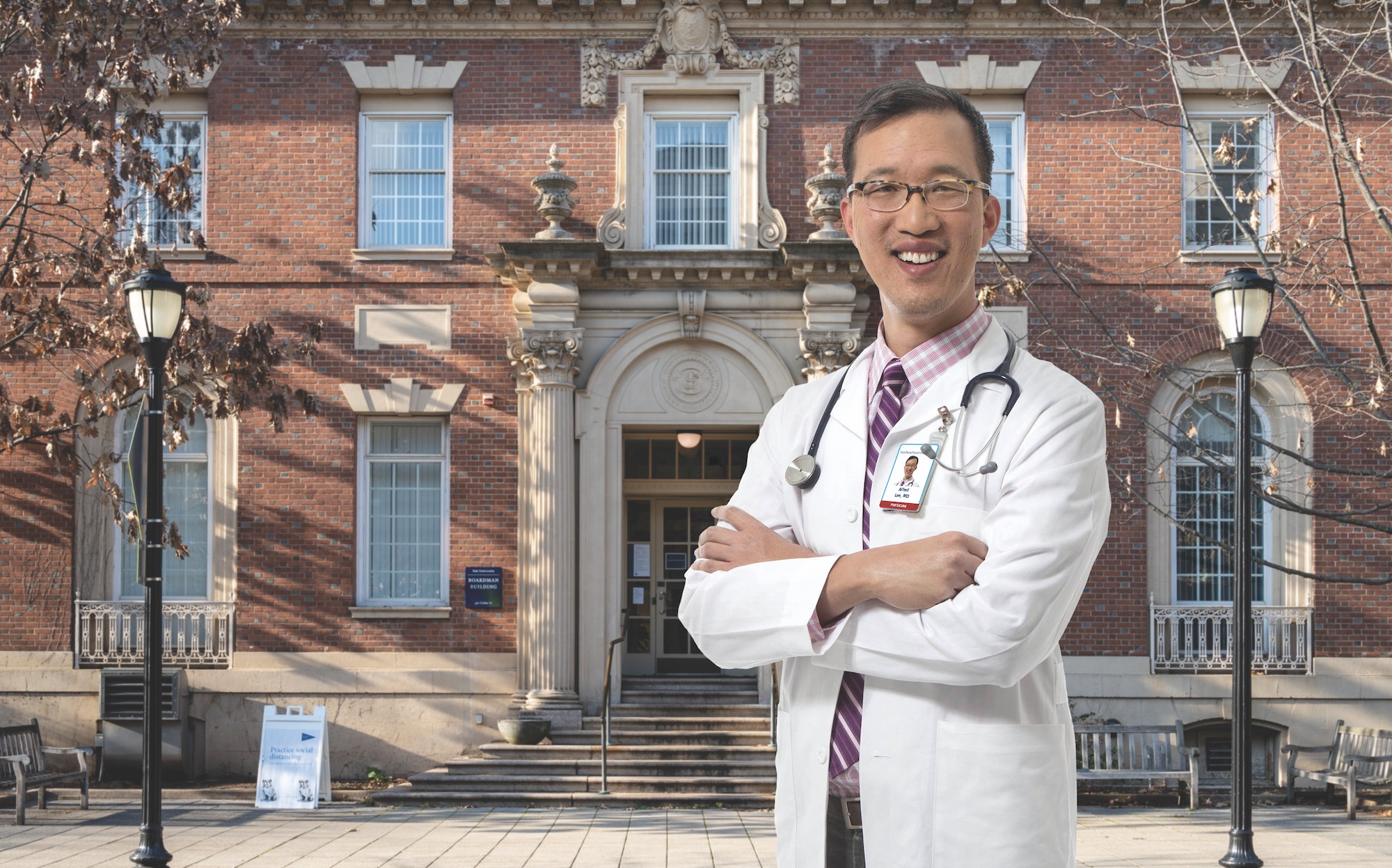 The Yale Medical Oncology-Hematology Fellowship Program provides promising young physicians a wealth of clinical and research opportunities to advance their careers. Among the sea of white lab coats at Smilow Cancer Hospital, you'll find the medical oncology and hematology fellows. The eight promising young physicians selected each year for the prestigious Yale Medical Oncology-Hematology Fellowship Program are important members of not only the clinical care teams, but also the research teams of Yale Cancer Center.
They're helping drive innovations in cancer care and blood diseases as they advance their flourishing careers in these fast-changing specialties. "In no other field of medicine does the therapy change as rapidly as it does in oncology and hematology," said Alfred Lee, MD, PhD, Associate Professor of Medicine (Hematology) and the new director of the esteemed fellowship program. He recently took over the reins from longtime director Jill Lacy, MD, Professor of Medicine (Medical Oncology).
"I graduated from fellowship in 2011, and yet the landscape of therapies we now have in cancer is completely different," Dr. Lee continued. "A huge number of treatments that we now use every day weren't even in existence when I was a fellow. They're changing so quickly because the science in the lab is changing so quickly; it's a really exciting time to be in these fields." The 36-month program grants fellows full access to the vast resources of Yale Cancer Center as they refine their career focus and expand their sizeable skill set. They devote 18 months to clinical practice, split between Yale Cancer Center and the West Haven VA Medical Center.
"The two settings are great complements to one another and create a tremendously broad educational experience for the fellows," Dr. Lee explained. At the VA Medical Center, fellows work with a veteran population that's diverse in age, ethnicity, and socioeconomic status. They become well acquainted with a multitude of common blood disorders and cancer types, including lung and prostate cancer. "Our fellows love the VA experience," said Sarah Goldberg, MD, MPH, Associate Professor of Medicine (Medical Oncology) and a new associate fellowship program director. "They have a lot of responsibility for patient care there, and the faculty teaches them so much about how to care for our veterans."
After their broad exposure at the VA, the fellows then drill down deeply during their clinical time at Yale Cancer Center. "We have some of the world's top experts in many disease areas within hematology and medical oncology," Dr. Lee explained. "The fellows rotate among our clinics and learn from a world expert in each particular disease. Often, they'll see very specialized and rare conditions they wouldn't see anywhere else." That scientific expertise is paired with valuable bedside experience, too.
"The fellows take care of our Smilow and Yale Cancer Center patients on so many levels: when they're in clinic, when they're admitted, when they call the office," Dr. Goldberg said. "The Smilow patients overwhelmingly appreciate having a fellow involved in their care. They like having another person who can listen to what is going on and help them through their journey." The fellowship also provides 18 months of valuable protected research time. A mentorship committee, comprised of core faculty members identified as outstanding teachers and mentors, helps the fellows evaluate their research options and navigate their potential career trajectories.
"We really encourage individual exploration," Dr. Lee said. "Our fellows have complete access to not only every single possible faculty member throughout Yale Cancer Center, Smilow Cancer Hospital, and the VA but Yale School of Medicine and the entire university. Because of that, we tend to attract fellows with wide-ranging interests." During her fellowship, Thuy Tran, MD, PhD, worked in the lab of Harriet Kluger, MD, a leader in melanoma research and director of the Yale SPORE (Specialized Program of Research Excellence) in Skin Cancer. SPOREs enable the rapid and efficient movement of basic scientific findings into clinical settings. Currently, Yale Cancer Center is one of the top centers in the country in terms of numbers of SPOREs dedicated to research in specific areas of cancer biology and treatment.
"For years, the skin SPORE has been collecting blood and tumor samples from patients with melanoma and has done extensive genetic sequencing of the samples," Dr. Tran explained. "In Dr. Kluger's lab, I was working with patient samples for research. But then in Dr. Kluger's clinic, I got to finally meet these patients and learn their personal stories. It was very meaningful and motivating in terms of my drive for improving the translational research to help our patients."
Dr. Kluger's mentorship helped Dr. Tran navigate not only short-term goals, such as a target number of publications each year, but also her long-term career objectives as well. Since her fellowship ended in 2018, she has secured two prestigious NIH grants and has been appointed to a faculty position at Yale. She continues her melanoma research, still sees patients at Smilow, and is now an instructor in medical oncology.
"We try to bring in fellows who not only excel in patient care and research but also who want to advance the educational mission of Yale as well," Dr. Goldberg said. "Many of our fellows are interested in teaching; I think that will make our strong program even stronger." For Dr. Tran, her fellowship exemplified the academic strengths of Yale and the friendly, supportive meaning of the very word 'fellowship.' "From the beginning, everyone was very welcoming," she said. "It created a sense of family."
The success of Dr. Tran and other members of the fellowship family inspires Dr. Lee as he and the fellowship leadership team, including Dr. Goldberg, Dr. Michael Hurwitz (Associate Professor of Medicine and a specialist in genitourinary cancer), and Dr. Nikolai Podoltsev (Associate Professor of Medicine and a specialist in hematologic cancers), move the program forward. "It's so exciting to work with and learn from our brilliant young physicians," Dr. Lee said. "We recognize that our fellows will soon become the leaders in their field. They'll emerge from our fellowship with the opportunity to push their fields forward by finding new therapies and new ways to attack these diseases that are even better than when they trained.

Submitted by Emily Montemerlo on January 20, 2021