On July 1, 2020, Yale PA Online faculty Diane Bruessow, MPAS, PA-C, DFAAPA, was elected the president-elect of the American Academy of PAs (AAPA). Bruessow served three years as secretary-treasurer of the AAPA immediately prior to assuming her new role, and seven years overall on the Board of Directors.
In a campaign statement to members of the AAPA, Bruessow shared, in part, "I welcome the opportunity to serve as a dedicated advocate for PAs, PA students, and, most importantly, our patients. To achieve AAPA's vision, the PA leading our association will need to focus beyond today's crises. That is where I hope to have an impact: by influencing trends, not just reacting to them, and by preparing the AAPA to meet the changes ahead while safeguarding our reputation and values."
Speaking more personally about why she sought this role, Bruessow adds, "philanthropy is a personal and family value that motivates me. Board service allows me to contribute my human capital to an organization whose mission inspires me – and what PAs do every day inspires me. As a clinically practicing PA for 27 years, I can say with certainty that my PA colleagues transform health every day."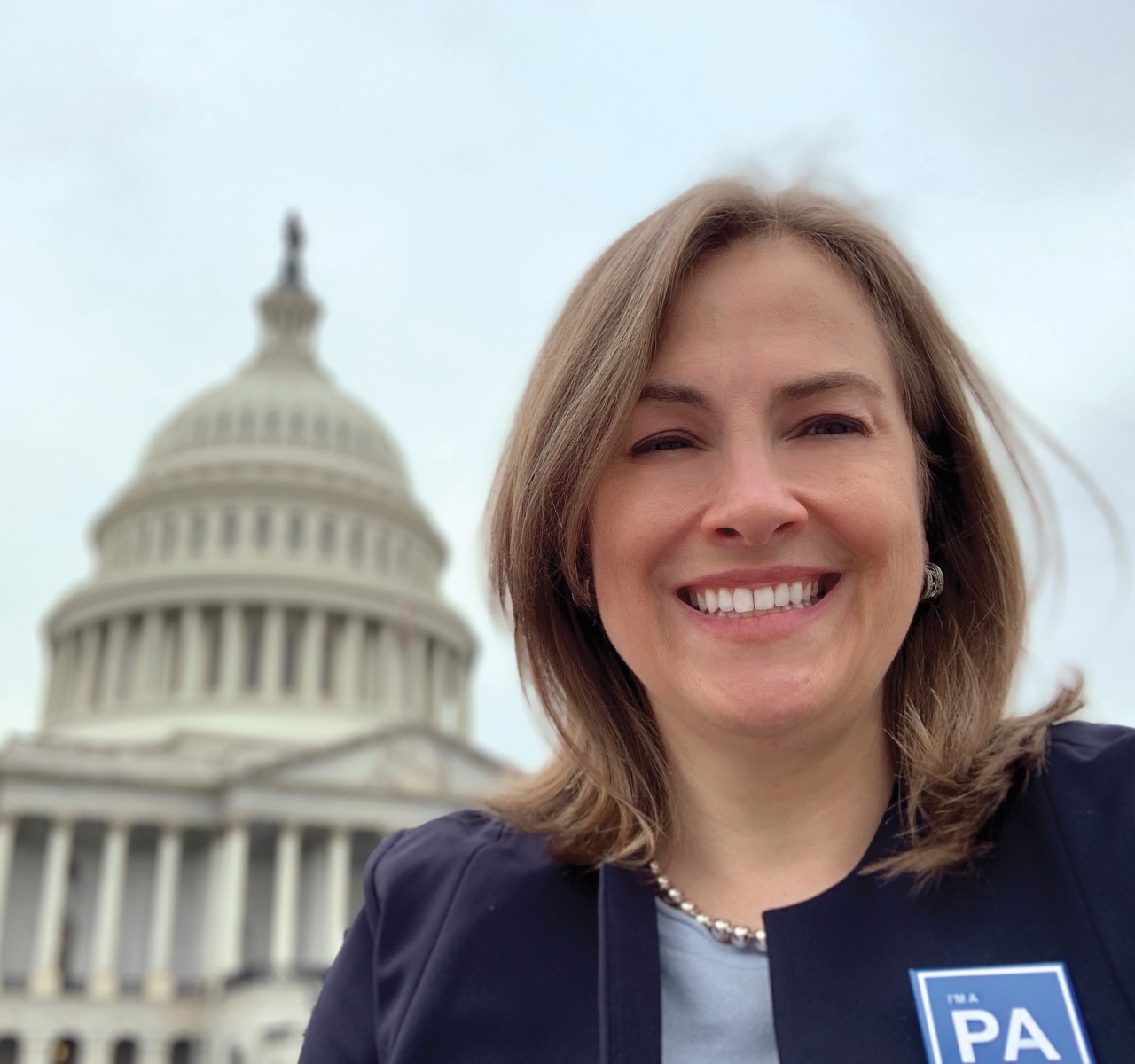 A key priority for Bruessow as president-elect is "resolving the invisibility of PA work." She believes this would be beneficial from the national to the practice level. She explains that PAs' professional performance is largely hidden for several reasons including exclusions from direct billing, limits to capturing PA work in electronic health records, lack of consistent inclusion in provider directories, and lack of designation as primary care providers for PAs practicing in primary care. Changing these systemic practices would provide data demonstrating the breadth and depth of PA practice. Bruessow explains this information is critical as the country considers both its immediate health care needs and future planning, such as for health care workforce distribution.
Bruessow is optimistic about progress, pointing to the more than 115 PA-positive legislative or regulatory changes made across 45 states in 2019, bringing PAs closer to practicing in optimal environments. She adds, "more than ever before, the country has come to know PAs are uniquely adaptable, vital to patient care, and central to health care reform. I anticipate current events will be a driver of this trend toward legislative and regulatory change for years to come."
However, for change to continue, she says it is critical to ask, "what opportunities and challenges will PAs face within an optimal team practice environment?" She emphasizes the importance of PA scope of practice to being determined at the practice level based on the individual PA's education and experience, without being encumbered by administrative burdens that provide no benefit to patient care.
She anticipates "PAs will need to be prepared to self-define the breadth and depth of our scope of practice, as well as our adaptability, to an extent that we've never experienced in the last 50 years. This will require a new kind of advocacy among PAs and our professional associations."
Four Yale PA Online students sought AAPA Student Academy's leadership roles in the same cycle as Bruessow. Bruessow says, "our students need to be credited with driving their engagement toward leadership," and that it is "hard to say where students find their inspiration because the PA Online Program has many opportunities to be inspired!" However, she cites a few possibilities. She is the course director for "Preparing Future PAs," where first-year students learn about the PA profession's cross organizations (the AAPA, the PA Education Association (PAEA), the NCCPA, and ARC-PA. The course concludes around the time applications for national student leadership service are due, so familiarity with the national PA organizations may "play a role in lowering the threshold to activated students." She also points out that PA Online students have several role models for national leadership engagement. Her colleague Jane McDaniel, MS, MLS(ASCP)SC, is an officer for the PAEA Board of Directors, and Yale PA Online Program Director Jim Van Rhee, MS, PA-C, is a past chair of the ARC-PA.
For Bruessow, health care and social justice are dynamically intertwined. Regarding the disparate impact of COVID-19 on Black, Indigenous, and other communities of color and the role PAs can play in addressing this problem, Bruessow states, "health disparities are the result of many factors, from systemic bias which informs social determinants of health, to implicit bias which informs clinical decision making." She encourages her colleagues "to use their superior credibility as licensed medical professionals to educate policy makers and drive systemic change. If it has an impact on health, never let them tell you that it's not your lane."
Additionally, Bruessow currently serves on the YSM Dean's Advisory Council on LGBTQI+ Affairs. She previously served on the CDC's Sexual and Gender Minority (SGM) Working Group, GLMA: Health Professionals Advancing LGBTQ Equality's board of directors, and is a past president of the LBGT PA Caucus. Reflecting on the recent US Supreme Court decision finding civil rights law protects SGM people from discrimination in employment, she notes that June 26, 2020 was the seventh anniversary of the US v Windsor ruling by the US Supreme Court, which paved the way for marriage equality in the United States. "I was one of the medical professionals who externally validated the amicus brief submitted on behalf of GLMA. It was a career highlight."
Looking ahead, Bruessow says, "I'd like to use my term as president-elect to prepare for the following term as president and chair of the board. I hope to assist the board and the organization to manage conflict, lead more efficient change, and improve effective communication on multiple levels."
Submitted by Abigail Roth on July 14, 2020