For Kate Goodrich, MD, MHS, the firsthand knowledge she has of the health care system as a practicing clinician has been vital to her career in the federal government, where she is the Chief Medical Officer (CMO) and Director of the Center for Clinical Standards and Quality (CCSQ) of the Centers for Medicare and Medicaid Services (CMS).
Goodrich practiced as a hospitalist for 10 years before she enrolled in the Robert Wood Johnson Clinical Scholars Program, where she met Howard Forman, MD, MBA, professor of Radiology & Biomedical Imaging at Yale School of Medicine (YSM).
Goodrich was the speaker at the annual Boroff-Forman Lecture on Jan. 30 at YSM. Her talk, "Payment Reform is Here: What Clinicians Need to Know," was hosted by the Department of Radiology & Biomedical Imaging and co-sponsored by the Department of Emergency Medicine and The Center for Outcomes Research and Evaluation (CORE).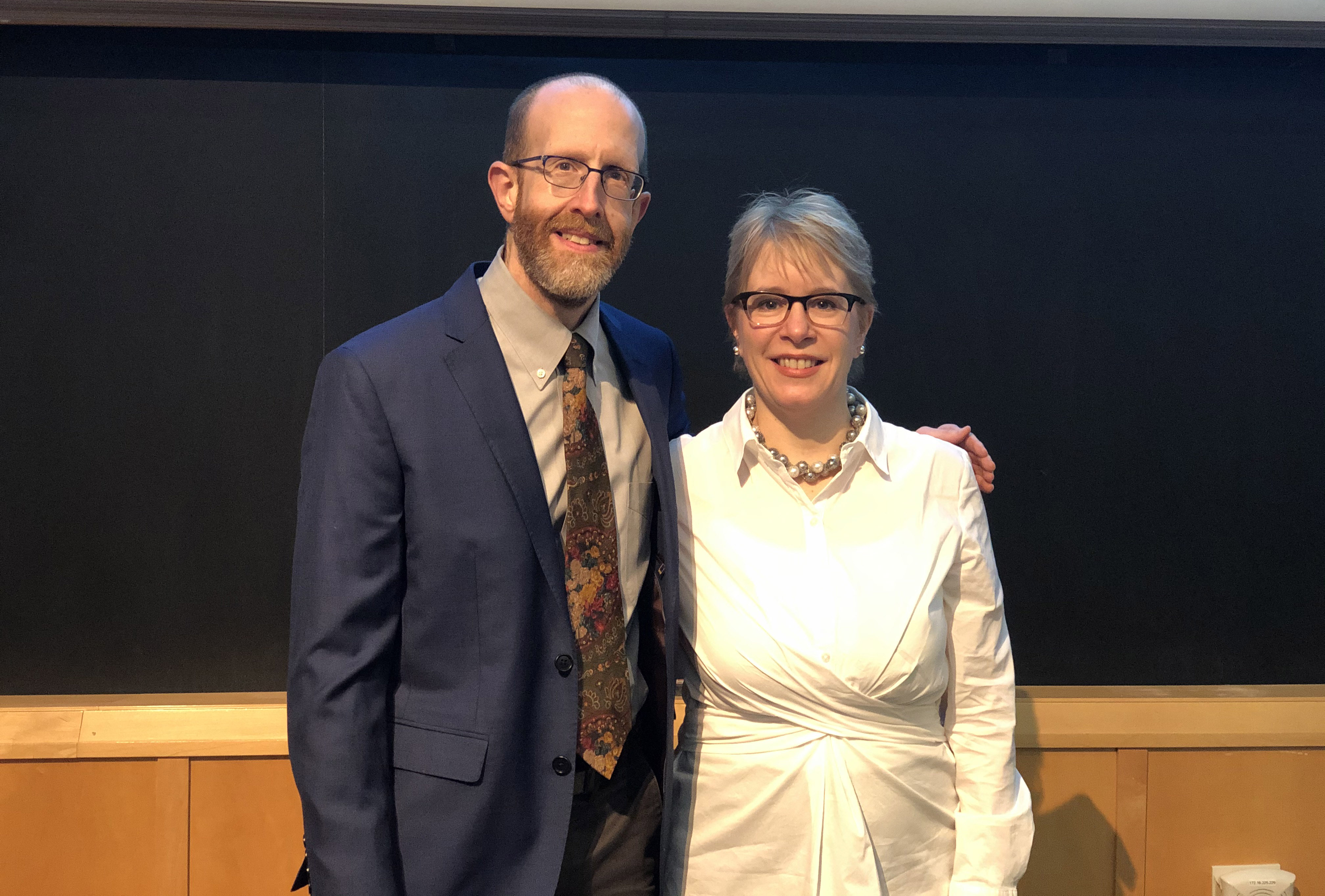 Forman was reminded of her involvement in policy discussions during his summer course in 2008, inspired by her dedication to continued learning and professional advancement, all in the name of promoting health care quality and safety. "I could not be more happy and proud to have you come back to New Haven and talk to us," Forman added.
According to Goodrich, physicians and other clinicians – with their professional knowledge of the health care system – must lead the transformation of U.S. health care, with a focus on quality care and outcomes. "Private payer and CMS collaboration is critical, with an alignment of incentives, payment models and measures," she said. "System redesign through lean, continuous improvement must be widespread."
Over 140 million people in the U.S. receive health care coverage through programs administered by CMS – Medicare, Medicaid/CHIP and the Health Insurance Marketplaces. And while health care spending in the U.S. eclipses health spending by other countries, including Canada, the UK, Japan, Germany and France, the U.S. has the highest rate of deaths amenable to health care among those countries. Hospital admissions for preventable diseases are more frequent in the U.S. than in comparable countries, as well.
The continuing increase in U.S. health care spending as a percentage of gross domestic product is unsustainable, Goodrich said. "Everything else is getting squeezed out" she said. "This is absolutely non-sustainable if we want to have the society we're used to or a better society that spends on other programs."
Goodrich discussed alternative payment models (APMs) as a way to change the trajectory. This payment approach provides added incentives to clinicians to provide high-quality and cost-efficient care.
APMs can be applied to a specific condition, a care episode or a population. The goal is to accelerate the percentage of U.S. health care payments tied to quality and value in each market segment through the adoption of shared accountability alternative payment models. "We are challenging states to be on this trajectory with us," she said.
For this approach to be successful, clinicians must have a seat, and a voice, at the table, she said.
"Nobody knows how health care works better than the people working in it," she said. "Clinicians really do have to lead for this to be successful."
Submitted by Angel Machon on February 05, 2020