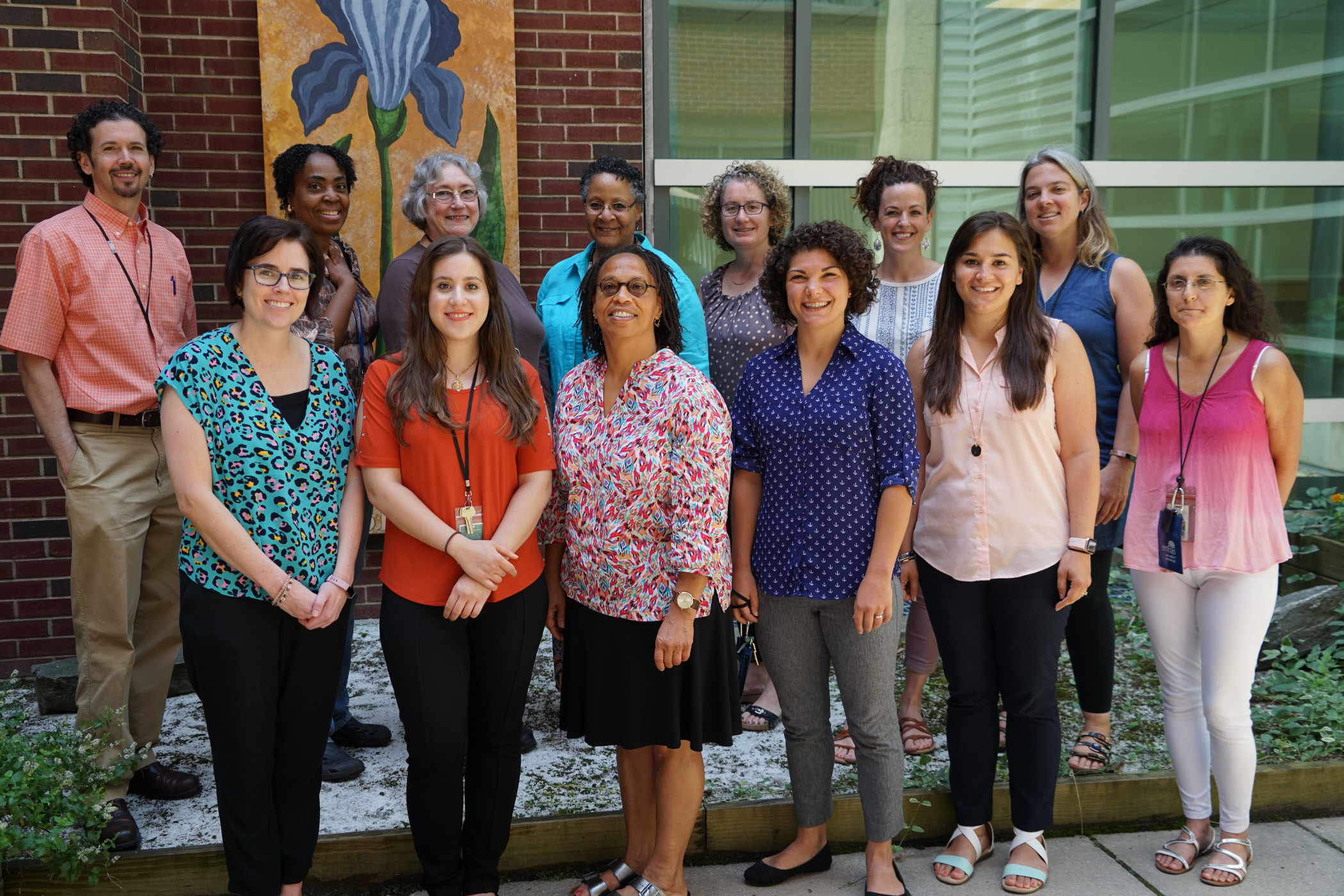 Respect. Empathy. Compassion. Connection. Awesome.
Those are some words staff members at Connecticut Mental Health Center use to describe "Dialogues on Difference," a monthly convening that is deepening the workplace conversation about cultural and racial differences and how these factors impact people's mental health.

Maria Oliva, LCSW, CMHC's Director of Social Work, facilitates the Dialogues, which she and her social work department launched in the fall of 2018. Since the beginning, every meeting has been packed with an average of 50 people (sometimes, all chairs are filled and people sit on the floor). The high attendance testifies to staff members' desire for dialogue and the effectiveness of the conversations.

Dialogues on Difference, Oliva explains, was born out of social workers' desire to be more effective in cross-racial work. They also wanted to know each other and their colleagues better.

"There is so much we don't know about people," explains Oliva, a 35-year veteran of the field and doctoral candidate at Smith University School of Social Work. "We often work together in emotionally charged situations, and it doesn't feel right for us not to have closer connections with each other."

Attendees echo that sentiment across the board. "Dialogues on Difference has helped me feel more connected to people," says Jeannette Knipe, LCSW. "I didn't expect to feel this kind of connection at an event that's focused on difference."

Michael J. Sernyak, MD, CEO of Connecticut Mental Health Center, is impressed by how the group has grown organically within the workplace. "The Dialogues represent the best of CMHC," he says. "It is creative people coming together and addressing what can be a very difficult subject."
Connecticut Mental Health Center, founded in 1966, is the center for public psychiatry in the New Haven region and a longstanding collaboration between the Yale University Department of Psychiatry and the State of Connecticut Department of Mental Health & Addiction Services.
All CMHC social workers are invited to attend Dialogues on Difference and to invite a colleague from a different discipline (medicine, nursing, case management, peer support, administration). Using this personal approach they have brought many others into the conversation.

Social workers are natural leaders in the area of multicultural affairs. Their discipline emphasizes the interaction between human beings and the social, cultural, and economic institutions within which we all live. They are trained to solve problems and advocate for social justice. "Social workers believe that everyone has the right and potential to lead a productive and fulfilling life," writes the National Association of Social Workers on its website. "Social workers believe in the importance of human relationships in civil society, and that each person has dignity and worth."

Working with CMHC clients, who live with serious mental illness and/or addiction and who subsist below the federal poverty level, social workers and other professionals at the Center witness firsthand how external factors such as stigma and discrimination impact a person's health and wellbeing. In addition, some staff members have experienced discrimination themselves and bring a multi-layered perspective to the Dialogues.

Maria Oliva says the conversations have given voice to people's unspoken concerns. "Without the opportunity to give things words," she observes, "there will not be the opportunity for change. We don't need to talk about radical change or drastic change to make a difference."

For social worker Tyrone Waters, LCSW, the Dialogues are energizing and always worthwhile. "We talk about difficult and nuanced topics that exist within the agency but don't always get discussed," he says.

"We recognize there is a price for silence," Maria Oliva emphasizes, referring to one of the major themes of the Dialogues: how to speak up when you feel that something is not right. "It's taken quite an effort to practice not being silent in a way that is productive and that can lead to improvements in how we connect with one another."

Often, people tell stories in the Dialogues and sometimes, those stories elicit a good deal of laughter. Tyrone Waters notes there is great diversity in the room and it's fascinating to hear others' beliefs and perceptions.

"People come from such different cultures and backgrounds," he reflects, "and we don't all see things the same way. I really enjoy that aspect. It's definitely a learning experience."

Submitted by Lucile Bruce on August 14, 2019