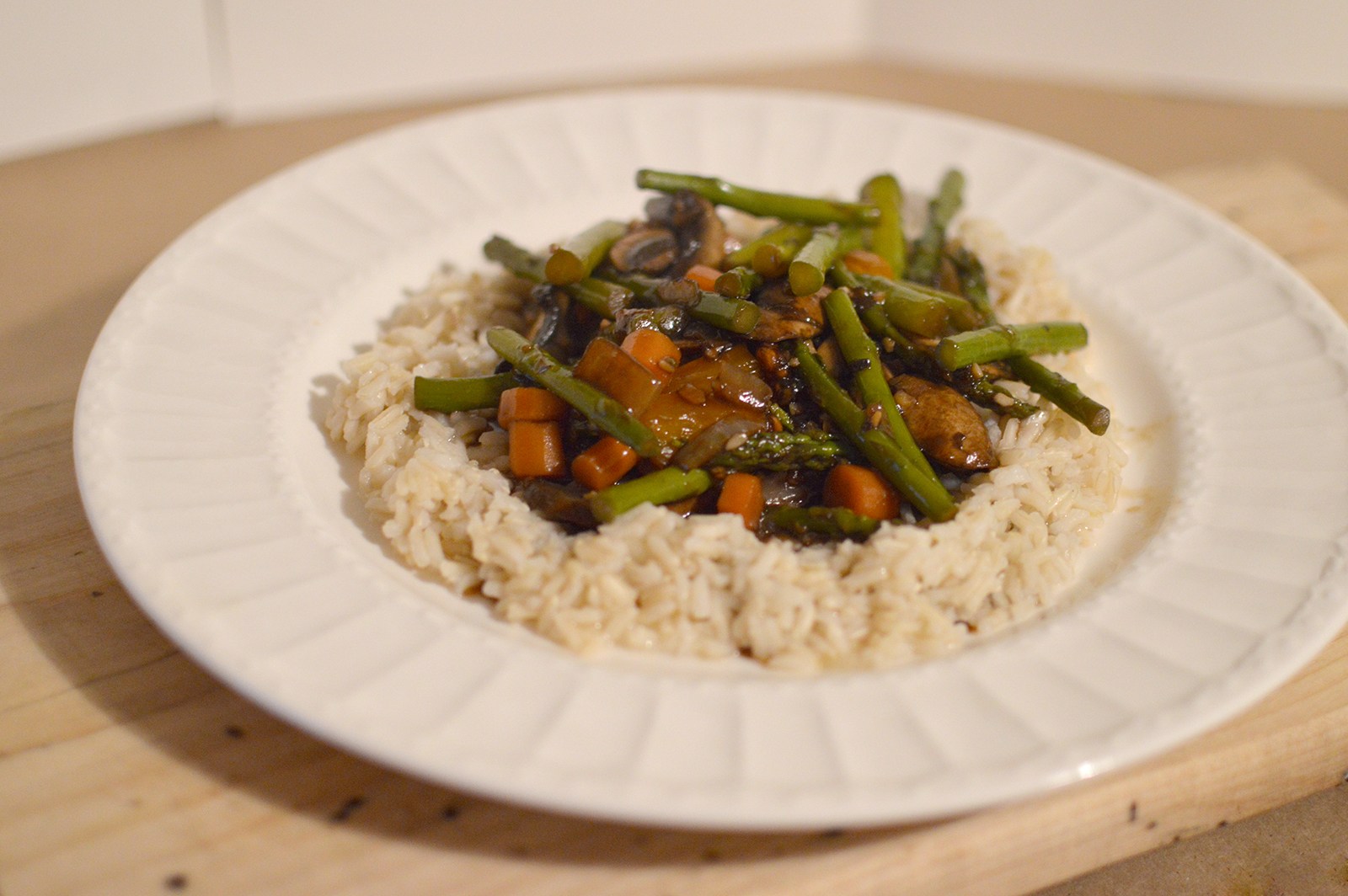 Even as the leaves start to change and cooler air sweeps in, you can still frequent a farmer's market. Local farmer's markets are a great way to find fresh, in-season produce, especially if your neighborhood does not have an easily accessible supermarket. Farmer's market selections vary by time of year, location, and crop availability, so having adaptable recipes like this one at the ready will help you maximize the potential of your fresh finds.
This simple (and vegetarian) stir-fry recipe uses pantry staples to set the stage for you to mix and match vegetables available at your local market. Carrots are a great source of vitamin A, which can help reduce age-related vision loss. Asparagus is high in vitamins K and C and contains the highest amount of metabolism-boosting glutathione of any fruit or vegetable. We used available produce options to create this recipe, but feel free to experiment with what is in season near you. For example, if you can't find asparagus, try using broccoli instead. Looking to splurge for more authentic flavor? Swap bell peppers for bok choy! You can even add protein like shrimp, chicken breast, or tempeh to suit your personal taste.
Most importantly, we recommend serving your delicious steamed veggies over whole grain rice instead of noodles. Rice, especially whole grain options like wild and brown rice, offer more heart-healthy dietary fiber than the refined grains found in pasta and white rice. Something as simple as choosing brown rice instead of pasta can help you achieve the recommended daily dietary value of whole grains.
Ingredients
1 cup whole grain rice
3 large carrots
2 cups asparagus
1 cup mushrooms
1 bell pepper
1 medium onion
1 clove of garlic (minced)
1 tablespoon canola oil
4 tablespoons low-sodium soy sauce
1 tablespoon red wine vinegar
1/2 teaspoon ginger (fresh or ground)
Directions
Start the rice per package's cooking directions.
Prep your veggies so they are all cut into pieces that are about the same size: peel and slice carrots into circles, chop asparagus into 1-inch lengths, slice mushrooms into bite-size pieces, and dice bell pepper and onion.
In a large sauté pan (with a lid — you'll need it later), add the oil and heat over medium heat. Once warm, add onions and cook until translucent, about 6 minutes. Add garlic and cook for 1 minute more. Scrape onions and garlic onto tin foil, wrap closed, and set aside.
Add veggies to the sauté pan in layers starting with the most firm (carrots, bell pepper, mushrooms, then asparagus). Add 1/4 cup of water to the pan while being cautious of steam! Cover with the lid and let cook until tender, about 10 minutes. Keep an eye on the veggies and, if you see the water start to evaporate, add more 1/4 cup at a time.
When veggies are cooked, return onions and garlic to the pan. Add soy sauce, vinegar, and ginger, and stir to fully coat veggies. Cook for 2 minutes.
Remove from heat and serve immediately over rice.
---
The information provided here may help you make more informed choices. However, it is not a substitute for an individualized nutrition plan, medical opinion, or diagnosis. You should always consult with your personal physician to make decisions about your diet and nutrition.
For more news from Women's Health Research at Yale, sign up for our e-blasts, connect with us on Facebook and Twitter, or visit our website. For questions, please contact Rick Harrison, Communications Officer, at 203-764-6610 or rick.harrison@yale.edu.
Submitted by Carissa R Violante on September 21, 2016