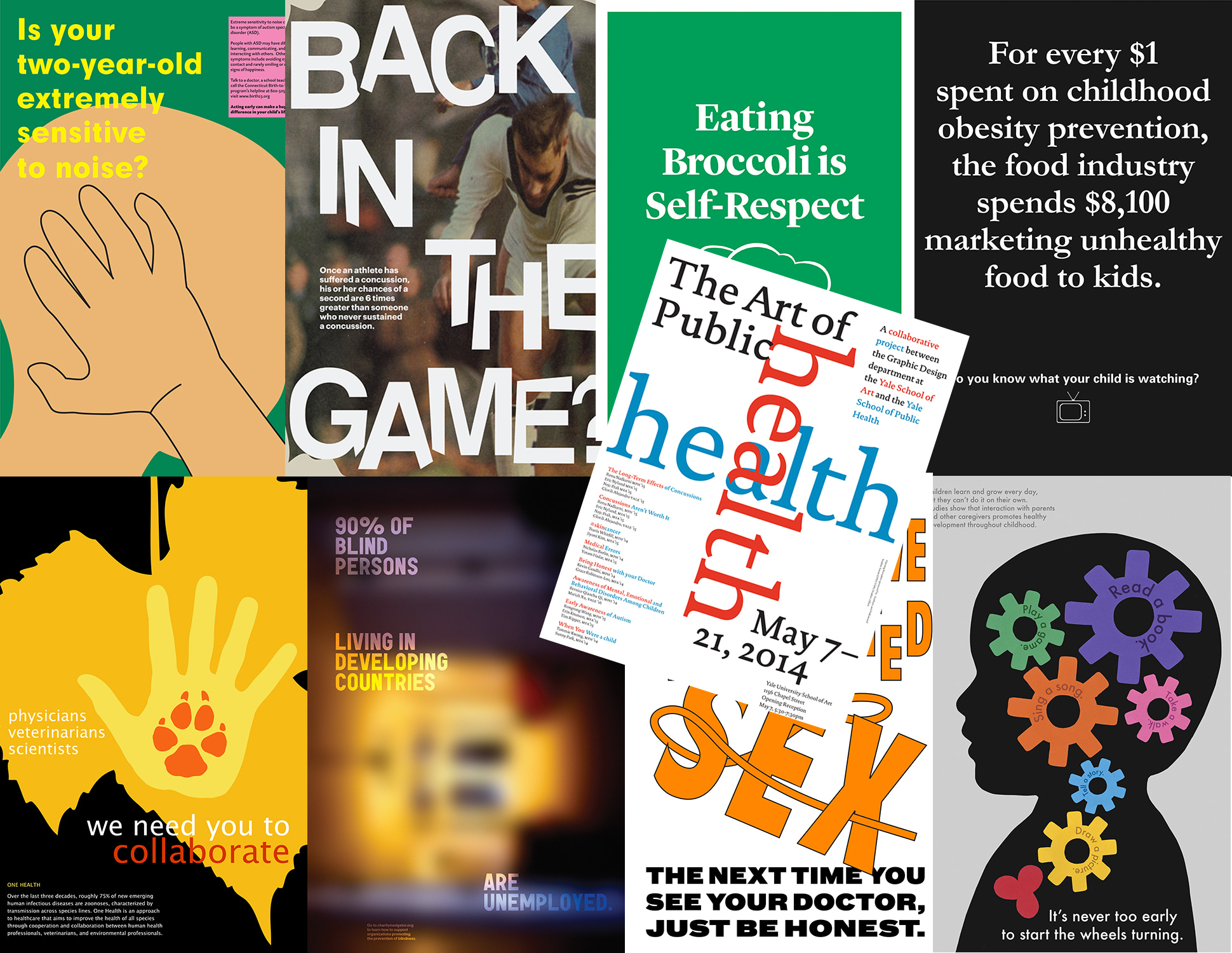 How do public health practitioners translate sophisticated health messages into information that resonates with the public?
Yale students have an answer: The Art of Public Health.
An ongoing collaboration between students from the Yale School of Public Health and the Yale School of Art has created dozens of health-themed posters since 2012. The partnership has been so successful that the project directors were invited to show the two poster collections at the Oglethorpe University Museum of Art in Atlanta, Ga. Fifty-six original health-themed posters will be on display beginning March 19 and running through April 24. An opening reception is planned for March 23.
Yale's poster project has gained attention from other schools, but the call from the Oglethorpe came out of the blue, said Catherine Yeckel, assistant clinical professor at the School of Public Health and the project's faculty co-director and advisor. "I was surprised that they knew about our work."
The trip to Atlanta coincides with the Atlanta Science Festival and will provide an opportunity to meet with health professionals from the nearby Centers for Disease Control and Prevention. Yeckel and Henk Van Assen, senior critic and the project's co-director in 2014, will also deliver a lecture and conduct a workshop on public health and art.
Only 12 percent of the adult population is health literacy proficient, meaning that they can obtain and use health information, said Yeckel. "We have to change that proficiency statistic. We have to use imagery and text that have the power to influence. Make health information accessible to everyone."
Public health posters have had a long and influential history, said Yeckel."Who doesn't know what a skull and crossbones means?" The polio and typhoid epidemics also prompted effective poster campaigns.
The challenge for people wanting to communicate health information today, Yeckel said, is keeping a message fresh so that it is still effective. The pink ribbon, representing breast cancer, is an example. "We all know what the pink ribbon means, but what do you do with that information? How do we leverage that recognition to take it to the next level? We need to be able to convey the right pieces of information to the right target groups"
The most recent iteration of the poster project, completed in 2014, involved seven public health students and 10 School of Art students who worked together to create posters on topics ranging from concussions, child abuse, skin cancer and autism, medical errors and childhood mental disorders.
"Each collection has had a large spectrum of health issues," Yeckel said. "The only constraint we put on the project was that it had to be a poster, not a website or another form of communication. The public health students worked with the graphic design students not as clients, but working together in collaboration. It was an exercise in health communication on several levels."
Students were challenged to bring their message to "a minimalist level," Yeckel said.Typically, they began with lots of text that they then got down to a single word."It was a lot of work, but it was incredibly rewarding. A still image can be very powerful."
The first poster exhibit, done in 2012, was displayed at the Connecticut State Capitol.One day, when Yeckel was up there, she overheard people talking about the exhibit and getting into animated discussions about various health issues. "At that moment, I knew we were making a connection with the public," she said.
She sees the show's move to the Oglethorpe Museum as a continuation of that conversation. "How often does a museum come knocking?"
Art of Public Health, the Yale poster exhibit, will be on display at the Oglethorpe University Museum of Art in Atlanta, Ga., from March 19 to April 24. To learn more about the museum, visit museum.oglethorpe.edu. More information about the Art of Public Health exhibit is available at museum.oglethorpe.edu/exhibitions/yale-universitys-the-art-of-public-health/.
Submitted by Denise Meyer on March 16, 2016