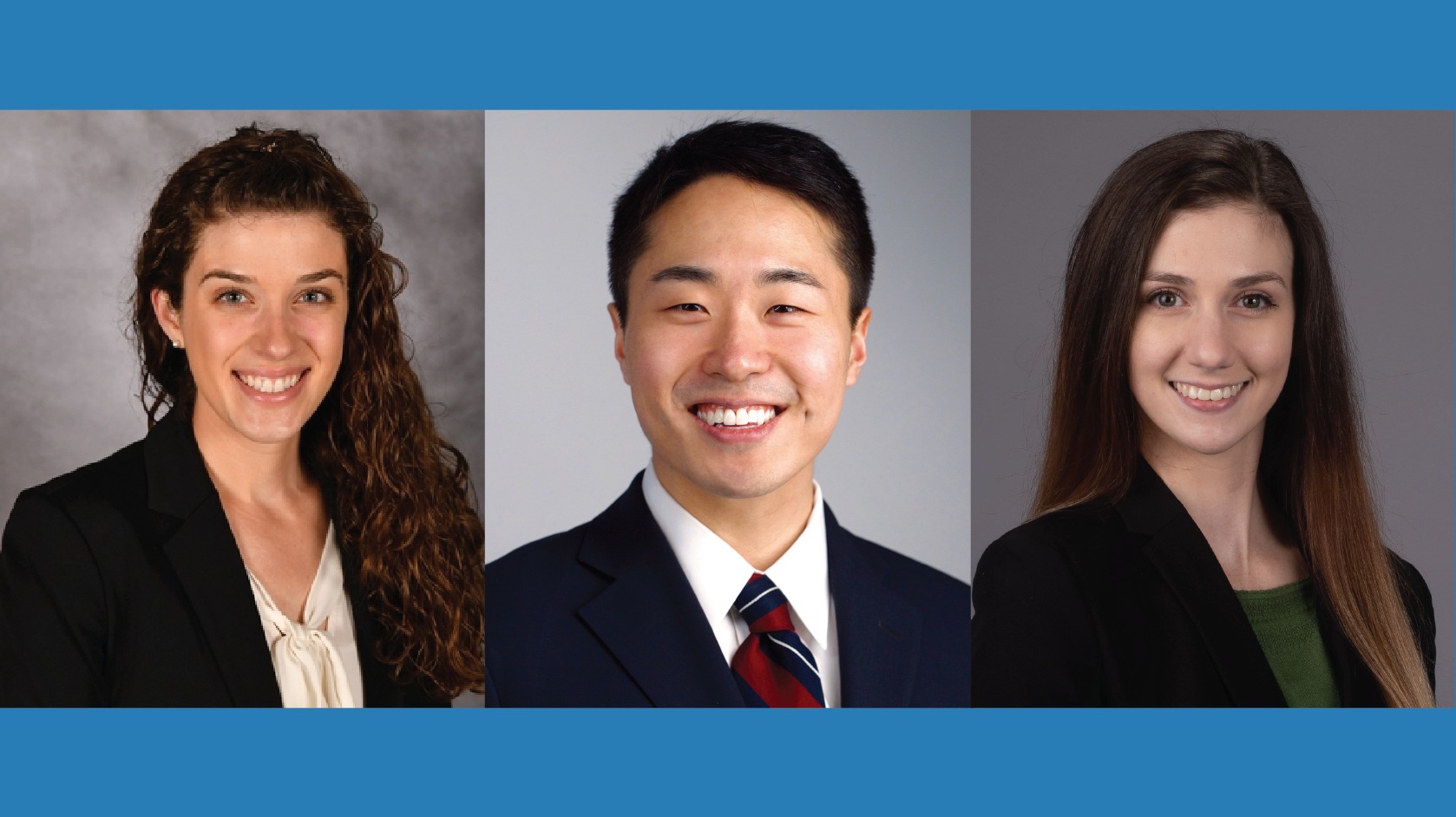 On March 20, Yale Neurosurgery was pleased to announce Andrew Koo, Kelsey Anne Templeton, and Brianna Carusillo Theriault as the newest residents to join the Yale Neurosurgery Residency Program. The department extends our sincerest congratulations and we look forward to continuing our commitment to education as we welcome these new residents.
The Residency Program, led by Department Chair Dr. Murat Gunel and Associate Program Director Dr. Michael DiLuna, is a 7-year program that provides training to the best and brightest physicians to achieve confidence and success in all neurosurgical domains. Residents in our program benefit from early OR experience, two years of protected academic time, and nearly all recent graduates have gone on to take highly competitive fellowships or academic positions.
Andrew Koo is already a familiar face of the Yale community. After receiving his degree in Public Health and Biology from the University of North Carolina at Chapel Hill, Andrew came to Yale where he is currently finishing his medical studies at the Yale School of Medicine. Andrew is the recipient of the Colonel Robinson Scholarship, the NIH T35 Research grant, the Taylor Opportunity Research award, and the Heinrich Quincke Research Scholarship. Andrew's interest in health policy parallels his academic research where he examines healthcare utilization and cost and risk factors in neurosurgical care to improve clinical decision-making. Andrew chose to continue his studies at Yale because of "the mentors, teachers and colleagues" he's forged relationships with throughout his academic journey.
Kelsey Anne Templeton will be joining our program post-graduation from the University of South Alabama College of Medicine. During her studies at South Alabama, Kelsey worked closely with the Student-Run Free Clinic (USA SRFC) by co-founding the clinic's second location as well as founding the SRFC's first international clinical experience in partnership with Salvation Army in London, England. Kelsey was a founding member of her local chapter of the American Association of Neurological Surgeons and during her last two years of medical school became a business owner and co-founder of a winery in southern Alabama. Kelsey chose Yale because of "the family [she] found during the month spent as a visiting student last fall."
Brianna Carusillo Theriault is a Connecticut native most recently joining us from New York Medical College where she was elected by peers and faculty to the Gold Humanism Honor Society. While in graduate school at the University of Maryland-Baltimore, Brianna worked collaboratively with Yale faculty to study mechanisms of CSF hypersecretion in post-hemorrhagic hydrocephalus leading to a publication in Nature Medicine. Brianna chose Yale because of its "strong presence in the neurosurgery community – both clinically and academically, cohesive resident cohort and supportive faculty".
Submitted by Jennifer Chen on March 26, 2020