Neha Bhatt, '20, is not spending her summer the way she might have, practicing music and visiting family and friends in anticipation of being away next school year on a world concert tour.
That's because Bhatt, the second woman and the first woman of color to be accepted into the Whiffenpoofs, the country's oldest collegiate a cappella group, is also a pre-med student.
Bhatt is spending her summer in an imaging research laboratory at the Yale School of Medicine (YSM). She is working on quantitatively measuring Lipiodol deposition seen on intraprocedural cone-beam CT, and characterizing its relation with what is seen on follow-up multi-detector CT.
Bhatt, a biomedical engineering major, is collaborating with other visiting students in the Department of Radiology & Biomedical Imaging's Interventional Oncology (IO) Research Lab. Her summer internship is funded by a grant from the American Association of Physicists in Medicine's (AAPM) Diversity Recruitment through Education and Mentoring Program. She is being mentored by MingDe Lin, PhD, an adjunct professor and an adviser to Yale's Chapter of Tau Beta Pi, the national engineering honor society.
"The research in the IO Lab is in line with engineering because we are working on a lot of coding to semi-automatically read images," Bhatt said. "I hope to end the summer with a better understanding of coding, and also to have learned a lot about TACE," she said, referring to transcatheter arterial chemoembolization, a treatment that locally delivers high-dose chemotherapy intra-arterially to liver tumors.
"This will be a good example of how research can be applied to clinical data," she said.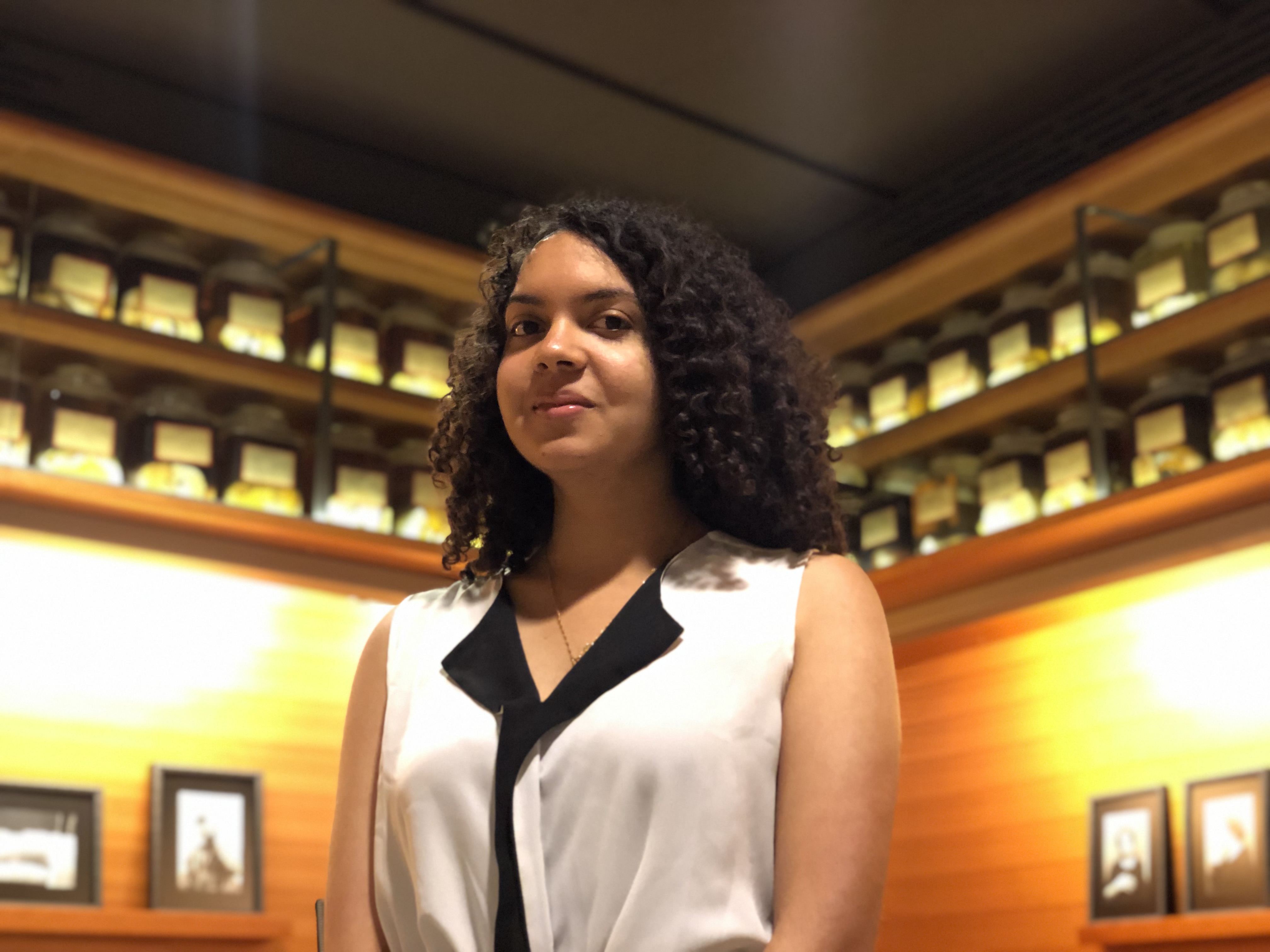 Bhatt's academic adviser is James Duncan, PhD, the Ebenezer K. Hunt Professor of Radiology & Biomedical Imaging at YSM, and a professor of biomedical engineering as well as the director of undergraduate studies in biomedical engineering. "The translational research that Neha is describing is a good example of how our students can apply their knowledge of science and engineering to techniques that address healthcare needs," Duncan said.
Come August, Bhatt will take a year off from school to travel and perform with the Whiffenpoofs, an all-senior group that admitted only men from the time of its founding in 1909 until 2018 when it tapped Sofia Campoamor '19. Like Campoamor, Bhatt was the musical director of the all-gender a cappella group Mixed Company during her junior year. In the spring of junior year, performers can audition for the two senior a cappella groups, Whim 'n Rhythm or the Whiffenpoofs.
Campoamor encouraged Bhatt to audition for the Whiffenpoofs, even as Bhatt grappled with the idea.
"I'm somewhat intimidated by being the only woman in the group, but I think it will be a very valuable growth experience for me," Bhatt said. "Anywhere I go in the future – medicine and especially surgery, the specialty I'm interested in – will be skewed by gender, so it will be a great experience to spend a year in a similar environment. I'm also looking forward to new adventures and learning from all of the wonderful places we'll visit and people we'll meet."
Having sung with Bhatt for two years, Campoamor could see that Bhatt had the skills necessary to succeed in the group, "musically and socially," she said. "I think I encouraged her to trust that and enjoy sharing her talents in her audition and in the group," Campoamor said.
"Keeping up a demanding travel and performance schedule helps you discover what you need to take care of yourself, and develops resilience," Campoamor added. "Also, given her visibility as the only woman, she will find herself answering similar questions many times. Learning to do so with patience and grace is something I imagine would be very useful to a medical professional!"
Bhatt arrived at Yale in 2016 from Maple Grove, Minnesota where she had been in high school Science Olympiad and a member of the all-state choir.
"I've been singing since I was probably four," she said. "My parents would have me listen to Indian and Bollywood music, singing in Hindi. As the years went on, in middle school, I participated in musicals. In high school I did choir all four years. That was my first foray into western classical music."
Bhatt knew she wanted to sing a cappella when she arrived in New Haven. "As a Yale undergrad, there are more than 14 groups," she said. "To audition, you participate in a rush process. All the groups sing two songs at Woolsey and Dwight halls, and then you sign up for the groups you want to audition for. There are call backs, and rush meals with the groups in between," she said. "Everything culminates on tap night. It happens first year right when you get to school."
A 2016 Facebook post by Mixed Company introduced Bhatt as "an incredibly versatile vocalist, with a three-octave range and musicality for days. Yes, you read 'three-octave' correctly."
Bhatt sang with the group for three years and was the music director of Mixed Company her junior year, helping to direct the group's new album, "Animal Flow," for which she arranged several songs.
"I got to grow a lot from the singers in the group – everyone is so talented and fun to be around," she said. "I like to start lower and jump up an octave. I'm not a belty singer like Adele. I like to sing more softly and do some riffs.
"I'm still playing around," Bhatt said. "I haven't found my style, yet. I have a lot of room for growth."
The Whiffenpoofs perform in more than a dozen countries, performing hundreds of concerts.
"For the past several years, mostly everyone in the group has taken a year off from school," Bhatt says.
"Every few weeks there's domestic travel, with evening local gigs throughout the year, spring international travel, and in the summer of 2020, a world tour," she said.
Suspending her studies was a tough decision. "I did a lot of flip-flopping," she said. "At first I didn't want to disrupt my flow between junior and senior year -- spending time with friends and graduating with them," she said. "But I talked to friends in this year's iteration of the group about how this is a once-in-a-lifetime opportunity, so I decided to go for it."
Campoamor, a music major, said her year with the Whiffenpoofs "was an amazing chance to grow as a singer and musician, being able to dedicate so much time and energy to performing and creating." She composed a song, "Dragonfish," for the group that she will be singing on its upcoming album and that other members have performed live. She also arranged several other songs for the group.
Her year with the group also "was an opportunity to connect with beautiful places and communities around the world. It was a moment to step back from the fast pace of life as a Yale student and reflect on what makes me happy and what I want out of my last year in school."
Bhatt says she plans to visit with her family after her internship in the lab ends and before the Whiffenpoofs begin practice.
"Once it's all said and done, I feel like I will be reinvigorated and will be more excited about classes and connecting with my community again when I return to graduate in 2021," she said.
Submitted by Angel Machon on July 03, 2019