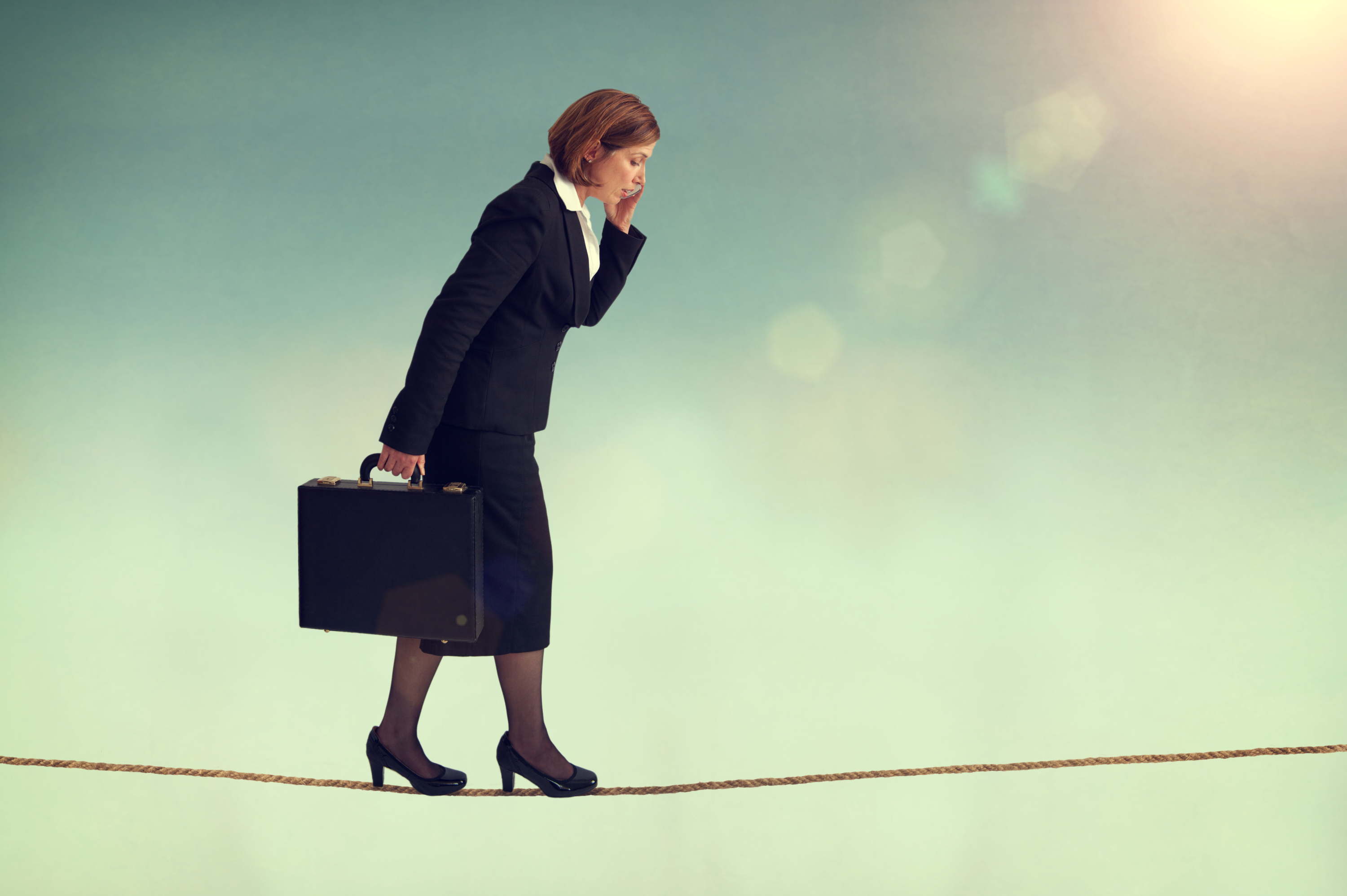 The Department of Internal Medicine's 2023 Annual Phyllis T. Bodel Visiting Professorship Medical Grand Rounds, "The Tightrope Women Leaders Walk," was given by Arghavan Salles, MD, PhD, on April 13.
Salles, a clinical associate professor of medicine (gastroenterology and hepatology) at Stanford University, opened her presentation with a disclosure: "I am a person who has been severely affected by all the things I'm going to talk about today," she said.
She discussed the importance of the identities physicians bring to clinical work by highlighting findings that showed patients are more likely to adhere to treatment plans and more satisfied with their visits when they are cared for by people who look like them. In a study of patients presenting to the emergency room with heart attack symptoms, women patients were more likely to die if the physician caring for them was male. More interestingly, Salles noted, the more women providers there were in the emergency department, the better care all women patients received.
Despite this, few women ascend into leadership roles. Salles provided data showing that even though women have made up more than 45 percent of medical school classes since the 1990s, few become full professors, division chiefs, department chairs, or deans.
"There's this idea that with time things will inevitably get better, that there's some inevitable march toward progress," she said, "and there really is not."
The Tightrope
Shifting to an image of a tightrope, Salles asked the women in the room to tell her if they a) felt like they had a safety net underneath them, b) felt like they had a pole to help them balance but also a long way to fall, or c) felt like someone was going to come up behind them and cut the rope. Most of the women in the room chose b and c.

"That's a problem because we should all be at a," Salles said. "Everyone should feel like we can take some risk."
Salles pointed to the impact of gender bias on the way people interact with women in the health care workplace. She gave an example of patients she sees, who expect someone else will perform their surgery because they assume she, a woman, is not a surgeon.
The connection to the tightrope, Salles said, is the balance of responding to situations like these without being too assertive (and not being liked) or not assertive enough (and not being respected). This is a tradeoff that men don't have to consider because they are allowed to be assertive, controlling, and confident, she said.
In addition to a lack of acceptance among patients, women in the health care workforce encounter microaggressions—such as demeaning messages, discrimination, exclusion, or dismissal—and sexual harassment, she said.
The Double Bind
Dealing with microaggressions and sexual harassment is challenging because of the double bind women face, Salles said. Characteristics such as assertiveness, confidence, and directness are associated with both leadership and men, she said, while women are expected to be kind, nurturing, and caring. Thus, gendered expectations of women are at odds with expectations of leaders; gendered expectations of men, on the other hand, are aligned with expectations of leaders.
As potential leaders, she said, women must navigate how assertive they can be while also being caring enough for others to like them. "These kinds of balancing acts that we have to do are not things that men have to engage in," she said.
Other examples of double binds she raised are women being judged more harshly than men for the same mistakes, and women physicians and surgeons needing to develop personal connections with nurses and other staff to gain respect and cooperation.
"These things that I'm talking about—expressing anger, having confidence, making mistakes, communicating with our female colleagues—these are things that are happening all day, every day," Salles said. "These are dynamics we have to be thinking about in navigating and walking this very fine tightrope."
The Safety Net
Despite the heavy burden women physicians and surgeons bear, studies show that they continue to deliver exceptional care and are likely to provide safer treatment to all genders, Salles pointed out.
"Imagine what we would be able to accomplish if we didn't have to jump through all these hoops?" she said. "As it is, we're walking this tightrope, we're jumping through hoops, we're becoming acrobats, and all we're trying to do is be physicians and take care of patients."
In closing, Salles returned to the picture of a tightrope with a safety net. "What might it look like for women to be supported?" she asked.
She left the audience with several suggestions of ways they—or anyone—can help:
Amplify the voices of women by redirecting the conversation back to them if they are cut off.
Give credit to women by recognizing when they first voice an idea, especially if that same idea is repeated by a man.
Avoid making assumptions about whether a woman is right for an opportunity because of her family situation.
Sponsor junior or marginalized faculty members by inviting them to co-write a commentary or give a talk.
For more information on Salles's work or "The Tightrope Women Leaders Walk," Yale faculty and staff can view a video of the event.
The Phyllis T. Bodel Visiting Professorship was established in memory of Phyllis Bodel, a physician/scientist in the Department of Internal Medicine. The lecture is a collaboration between the Department of Internal Medicine, the Office of Student Affairs, and the Office for Women in Medicine, of which Bodel was the founder. She was considered a "triple threat" as an outstanding educator, clinician, and investigator. Early in her career, Bodel was a leader in the study of fever. Tragically, in 1978, Bodel died at age 44 from acute leukemia.
To learn more about Bodel and the history of the Office of Women in Medicine and Science, visit 100 Years of Women at Yale School of Medicine.
Submitted by Serena Crawford on April 19, 2023