Update from Section Chief Erol Fikrig, MD
The Section of Infectious Diseases played a leading role in COVID-19 research and clinical trials while continuing its work in HIV/AIDS, Lyme, and other infectious diseases. Seventy-four faculty, 51 staff, and 57 postdocs, postgrads, and clinical fellows make up the section, led by Section Chief Erol Fikrig, MD, and Clinical Chief Vincent Quagliarello, MD.
Clinical Updates
COVID-19
Maricar Malinis, MD: Jeffrey Topal, MD: Marwan Azar, MD: and Shana Gleeson, MD, led the Yale New Haven Health (YNHHS) COVID-19 treatment team. This multidisciplinary team of pharmacists, pulmonologists, allergists/immunologists, hematologists, OB/GYN specialists, and pathologists created treatment algorithms for people infected by the disease in inpatient and outpatient settings. Since the beginning of the pandemic, the inpatient treatment guidelines have been updated over 30 times, and recently were converted to an EPIC pathway to reflect rapidly evolving guidance. Due to multiple waves of COVID-19 infections and the immune-evasive Omicron variant, infectious disease and pharmacy faculty have been working tirelessly to adapt current guidance to incorporate newly available therapeutics. Topal, Malinis, and Azar also have led hospital and university-wide efforts to devise and update COVID-19 vaccination guidelines and testing strategies, including guidelines for immunocompromised patients for whom national guidance is scarce.
Richard A. Martinello, MD; Scott Roberts, MD; and pediatric infectious diseases physician Thomas Murray, MD, PhD; lead the Infection Prevention efforts at YNHHS hospitals and ambulatory sites in Connecticut, New York, and Rhode Island. When the second wave of the COVID-19 pandemic began in the fall of 2020, the team managed the protection of patients, clinicians, and staff through the coordination of personal protective equipment (PPE). When vaccinations became available in December 2020, the team partnered with Yale School of Medicine (YSM), Yale Medicine (YM), and YNHHS to outline each organization's vaccination policy. They also advised on policies around exposed patients and health care workers. As vaccination centers opened throughout Connecticut, the team ensured that each location followed protocols for infection prevention. They worked with counterparts in infectious diseases and infection prevention across YNHHS to ensure standardization.
Roberts and Martinello collaborated with Michael J. Aniskiewicz, infection prevention manager at YNHH; Steven J. Choi, MD; and Christian M. Pettker, MD, on research that supported a vaccination mandate for health care workers. The study, "Correlation of healthcare worker vaccination with inpatient healthcare-associated coronavirus disease 2019 (COVID-19)," published in Infection Control & Hospital Epidemiology, sought to determine whether there is a correlation between the vaccination of health care workers and COVID-19 infection. They found that units with health care workers with lower vaccination rates had more instances of health care-associated COVID-19 in patients.
Infectious diseases fellows responded to an unprecedented demand for expert consultation at Yale New Haven Hospital and the VA Connecticut Healthcare System while caring for patients. Clinical Fellow Shiv Gandhi, MD, PhD, worked with Albert Ko, MD, to describe the first de novo emergence of a remdesivir-resistant SARS-CoV-2 virus mutation in an immunocompromised patient with persistent COVID.
Yale New Haven Transplantation Center
In the 2021-22 academic year, the Yale New Haven Transplantation Center performed the first liver transplant in Connecticut from a deceased donor who had tested HIV-positive to an HIV-positive patient as part of the HOPE act study led by Malinis. The patient, a male in his late 40's, returned home within 10 days of the successful surgery.
Project Commit
Project Commit is testing a new model of care in which opioid use disorder (OUD) is managed by infectious disease specialists concurrent with the management of OUD-related infections. The model uses injectable buprenorphine followed by referral after hospital discharge to community resources for OUD treatment. Led by Sandra Springer, MD, and Nikhil Seval, MD, the study began in August 2020
with plans to recruit 200 participants with OUD and addiction-related infections from hospitals across three sites in Connecticut, South Carolina, and Pennsylvania.
Appointment
Lydia Aoun-Barakat, MD, was appointed director of the Yale Infectious Disease Ambulatory Services Program in November 2021. Aoun-Barakat will oversee infectious disease ambulatory services at both campuses of YNHH, including the Nathan Smith Clinic; the Haelen Center IDClinic; and the Yale Physicians Building outpatient ID clinic, and supervise the medical directors of each area.
Research
YNHHS and YSM were among 150 testing centers around the world to host COVID Phase 3 vaccine clinical trials, which contributed to the establishment of the vaccine's 95% efficacy rate against the original virus. Onyema Ogbuagu, MBBCh, was Yale's principal investigator for—and one of the earliest recipients of—the COVID vaccine, the first to be administered in the United States in December 2020. In addition to the trials for adults over age 18, Ogbuagu led the trials that evaluated the safety and efficacy of the vaccine for adolescents between 12 and 17 years, and for children aged 5 to 12, 2 to 5, and under 2 years to 6 months of age. He also is directing Phase 2 trials for an adjuvanted recombinant protein-based vaccine similar to influenza vaccines. Ogbuagu also conducted clinical trials for remdesivir. Yale has also been the site for studies of other treatments, including convalescent plasma, led by Mahalia S. Desruisseaux, MD.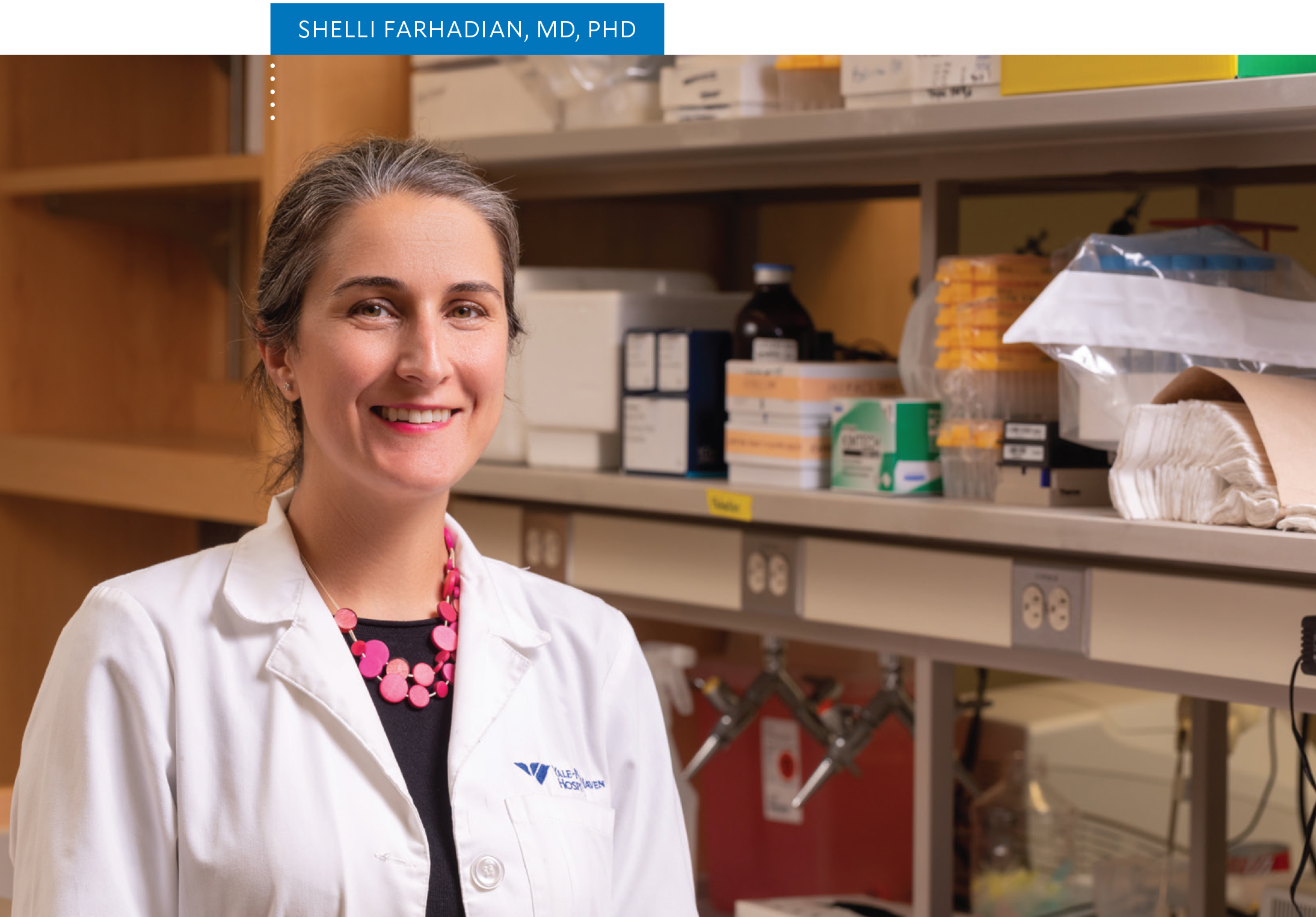 Shelli Farhadian, MD, PhD, expanded her research to study the neurologic effects in COVID-19 patients, guided by what she had seen in those with HIV. In the spring of 2020, Farhadian and colleagues saw patients with neurological complaints but no other COVID-19 symptoms who later tested positive for the disease. Farhadian and collaborators launched a study to look at cerebrospinal fluid. The study, published in Cell Reports Medicine in the spring of 2021, found that unique immune responses were seen in the spinal fluid compared to what was going on in the rest of the body, including higher levels of antibody-producing cells than what would typically be expected. They also found a high level of autoantibodies in the spinal fluid, which suggests that these brain-targeting antibodies are a potential contributor for the neurological complications. The COVID Mind Study at Yale is ongoing.
Sunil Parikh, MD, MPH, served as senior author of the Morbidity and Mortality Weekly Report, "Effectiveness of the Pfizer-BioNTech COVID-19 Vaccine Among Residents of Two Skilled Nursing Facilities Experiencing COVID-19 Outbreaks - Connecticut, December 2020-February 2021." The retrospective cohort analysis concluded that even with partial vaccination, the Pfizer-BioNTech COVID-19 vaccine provided protection, but recommended completing the two-dose series.
How and why genetically identical cells adopt different behaviors is a fundamental question in biology. Barbara Kazmierczak, PhD, MD, and Christina Lin, an MD/PhD student, wondered why only a subset of Pseudomonas aeruginosa bacteria express a specialized secretion system that allows this human pathogen to inject toxins into host cells, including neutrophils. By tracing gene expression patterns over many generations of growing bacteria, Lin et al. discovered that a subset of bacteria is poised to respond to danger signals by expressing this secretion system, and by doing so, protects their "non-producing" kin from neutrophil-mediated killing. The team published its findings in June 2021 in mBio. The Kazmierczak lab continues to study other situations in which bacteria cooperate or set up a division of labor, and how this pattern leads to increased virulence, or antibiotic resistance and tolerance.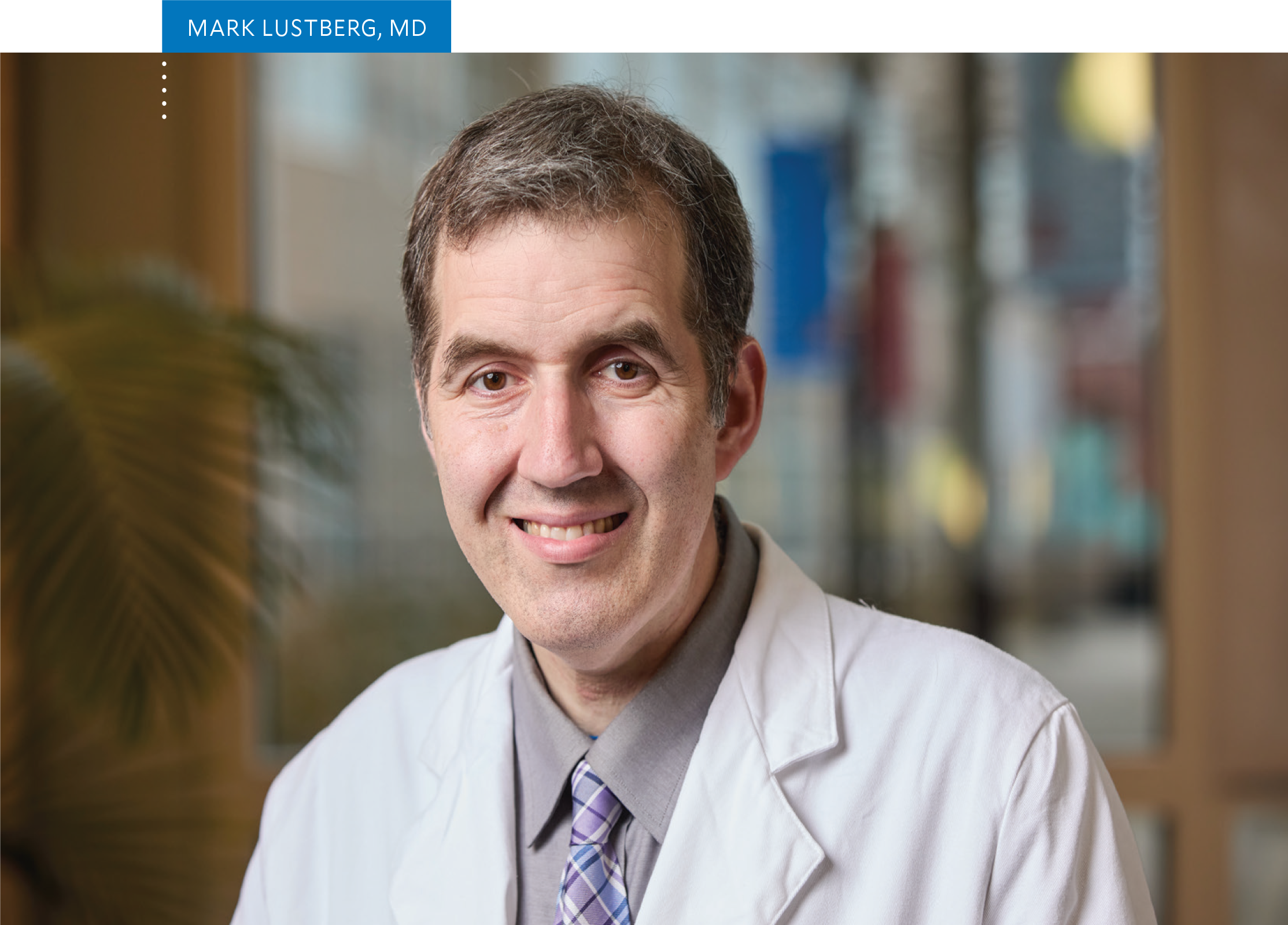 Pneumocystis jirovecii is a fungal infection that causes pneumonia, often in immunocompromised patients. In 2019, physicians within the transplant and infectious disease service at YNHH saw many cases of Pneumocystis pneumonia among their kidney transplant patients. After six patients were diagnosed with Pneumocystis pneumonia, a team led by Marwan Azar, MD, and Maricar Malinis, MD, created an ad hoc committee for an epidemiological investigation. In collaboration with scientists at the National Institutes of Health, Yale physicians identified multiple clusters of Pneumocystis transmission among kidney transplant patients, and antimicrobial prophylaxis was used to mitigate the outbreak. Azar, Malinis. Gleeson, Grant, and Topal published their findings in "Genetic and Epidemiologic Analyses of an Outbreak of Pneumocystis jirovecii Pneumonia among Kidney Transplant Recipients in the United States," in Clinical Infectious Diseases in June 2021.
Published in the November 11, 2020, issue of PLOS Pathogens, Yale researchers discovered a protein that helps protect hosts from infection with the tick-borne spirochete that causes Lyme disease, a finding that may help diagnose and treat this infection. Lyme disease is the most common vector-borne disease in North America and is transmitted by ticks infected with the spirochete Borrelia burgdorferi. The course of the disease varies among individuals, with the majority experiencing mild symptoms easily treated by antibiotics. However, in some cases of untreated Lyme, the infection can spread to the heart, joints, nervous system, and other organs. For the study, the Yale team, led by Erol Fikrig, MD, expressed more than 1,000 human genes in yeast and analyzed their interactions with 36 samples of B. burgdorferi. They found that one protein, peptidoglycan recognition protein 1 (PGLYRP1), acts like an early-warning signal to the immune system when exposed to the bacteria. Fikrig and colleagues are also investigating whether people with higher levels of PGLYRP1 may be less susceptible to infection by B. burgdorferi, which would help explain why some infected individuals have better outcomes.
Education
Maricar Malinis, MD, Jeff Topal, MD, and Marwan Azar, MD, with pediatric infectious diseases specialist Inci Yildirim, MD, PhD, and Hematologist Stuart Seropian, MD, led the COVID-19 symposium, "SARS-CoV-2 Vaccination in Immunocompromised Patients: What We Know & What We Don't Know," which provided an overview of vaccine data for immunocompromised patients and the role of antibody testing.
Matthew Grant, MD, was named an associate program director for the Internal Medicine Traditional Residency Program. Grant also participated as core faculty in the [IM]Educators training, created by Dana Dunne, MD, MHS.
Mahalia Desruisseaux, MD, joined the Yale Institute for Global Health as an affiliated faculty member.
Marwan Azar, MD, was named the new fellowship program director. Jaimie Meyer, MD, MS, became the associate program director for research. Also, the National Institute of Health institutional training grant (T32), overseen by Albert Shaw, MD, PhD, was renewed for another five years.
Dunne, the associate chair for education & academic affairs, presented, "Embracing Feedback: How to Create a Culture of Psychological Safety to Promote Learning and Growth," at Medical Grand Rounds. Emphasizing the crucial role that feedback plays in the mastery learning cycle and after reviewing the barriers for both teachers and learners, Dunne said that behaviors that promote psychological safety (the blending of trust and respect) could support a more robust and honest feedback culture. She concluded her presentation with action steps for culture change and adaptation of behaviors that promote psychological safety at all levels of leadership.
Section faculty and experts from Yale's Poorvu Center for Teaching and Learning launched an Infectious Disease Diversity, Equity, and Anti-Racism (ID2EA) curriculum for faculty and fellows in 2020. Lydia Aoun-Barakat, MD; Mahalia Desruisseaux, MD; Gerald Friedland, MD; Shana Gleeson, MD; Marjorie Golden, MD; Jaimie Meyer, MD, MS; Albert Shaw, MD, PhD; Sheela Shenoi, MD, MPH; Paul Trubin, MD; Michael Virata, MD; and Heidi Zapata, MD, PhD, participated.
The adult and pediatric transplant infectious diseases teams launched a new educational conference series for the 2021-2022 academic year that will cover core concepts in transplant infectious diseases for trainees and faculty from pediatric and adult infectious diseases, transplant hepatology, transplant nephrology, transplant cardiology, and hematology/oncology. Maricar Malinis, MD; Inci Yildirim, MD, PhD, MSc; and Paul Trubin, MD, lead the initiative.
Community Advocacy
Manisha Juthani, MD; Albert Ko, MD; Onyema Ogbuagu, MBBCh; Saad Omer, MBBS, MPH, PhD; Richard A. Martinello, MD; Jaimie Meyer, MD, MS; and Scott Roberts, MD, took to the airwaves and social media to inform the public about COVID-19 transmission, treatments, and vaccinations, and to combat myths about the virus. They were facilitated by public relations teams at Yale School of Medicine, Yale Medicine, and Yale New Haven Health.
Rick Altice, MD, and Sharon Joslin, APRN, FNP, led efforts to bring COVID-19 testing and vaccinations to New Haven neighborhoods with the Yale Community Health Care Van.
Lydia Aoun-Barakat, MD, and Michael Virata, MD, members of the New Haven Mayor's Taskforce on AIDS (MTFA), work on efforts to enhance prevention, treatment, and advocacy services. The MTFA planned four days of events in New Haven in honor of World AIDS Day, with 10 free events. The events culminated with the Elise Cofield Awards. Cofield was a local trailblazer in the fight against AIDS. Sharon Joslin, APRN, FNP, was nominated for the 2020 award.
Faculty Updates & Honors
In June 2021, Manisha Juthani, MD, was nominated by Governor Ned Lamont to be the commissioner of the Connecticut Department of Public Health. She assumed her new role on September 20, taking a public service leave of absence as Yale faculty.
Mahalia Desruisseaux, MD, received the Bailey K. Ashford Medal in 2020 for her work in cerebral malaria. Desruisseaux's lab focuses on the brain's microvascular and neural cell responses to parasitic infections that lead to debilitating neurological sequelae and mortality. Desruisseaux was also included on a list of 1,000 inspiring Black scientists in America in Cell Mentor in January 2021. She also was named the section's vice chief for diversity, equity, and inclusion.
The following new faculty joined the section, focusing on clinical care: Associate Professor Mark Lustberg, MD; Assistant Professor Amit Achhra, MPH, MD, PhD; and new instructors Benjamin Goldman-Israelow, MD, PhD; and Paul Trubin, MD.
To learn more about the Section of Infectious Diseases, visit medicine.yale.edu/intmed/infdis/
-------------------------------------------------------------------------------------------------
Read Medical Oncology...
Submitted by Julie Parry on June 23, 2022