Clinical Affairs

Lynn Tanoue, MD, MBA, Vice Chair, Clinical Affairs
During this challenging year, the department demonstrated its resilience with strong clinical growth despite the challenges of a protracted second COVID-19 wave. Inpatient teams developed nimble and collaborative approaches to the enormous task of caring for far more hospitalized patients than usual, and ambulatory sites flexibly innovated to rapidly and effectively incorporate telehealth and other new approaches to ensure robust and reliable outpatient care. Maintaining clinical excellence in the face of the pandemic has reinforced the department's commitment to providing the highest quality of care and equal access to all patients, informed by evidence grounded in science, and delivered with compassion.
Clinical Care
Inpatient
Inside Yale New Haven Hospital (YNHH), the Medicine service was characterized by a substantial increase in inpatient census persistent throughout the entire year, and was particularly exaggerated during the six months of the second COVID-19 wave (November 2020 – April 2021). Effective collaboration and open communication between all departments and service lines have always been key to YNHH successfully navigating through usual busy times and have been critical during the pandemic. The Medicine service, inclusive of department educational and subspecialty firms and the hospitalist program, is the backbone of the inpatient front line. Our ability to provide superb care for an inpatient Medicine census routinely running 150-200 inpatients in excess of the usual 550 was accomplished by strong partnership with all members of patient care teams - nursing, JDAT, engineering, environmental health, information technology, food services, and countless others. The remarkable efforts by our teams contributed to YNHH having the lowest COVID-19 mortality of all hospitals in Connecticut, and most importantly, resulted in many lives saved. The department particularly acknowledges the contributions of our inpatient teams and their leaderships to this collaborative achievement: the Medical ICU (Jonathan Siner, MD; Shyoko Honiden, MD, MS; and Margaret Pisani, MD, MPH), the hospitalist program (Thomas Donohue, MD, and Will Cushing, PA-C), the educational firms (Vincent Quagliarello, MD; Lloyd Friedman, MD; and the firm chiefs), and our Internal Medicine residency training programs (Mark Siegel, MD; John Moriarty, MD; and Benjamin Doolittle, MD, MDiv).
Ambulatory
During 2020-2021, the ambulatory practice of the department continued its trajectory of expansion and diversification. Remarkably, the ambulatory practice has grown substantially during the two years of the pandemic despite the multitude of challenges posed. The Department of Medicine ambulatory footprint now includes 46 unique practice sites across the state, bringing the expertise of our talented subspecialty faculty within reach of more patients. The ambulatory practice flexibly responded to overcome barriers to care caused by the pandemic. Intensive efforts to help patients maintain access to care quickly enabled telehealth capability for the majority of our patient population.
The department continues to tailor the use of telehealth to appropriate subspecialties and to match patient preferences. Our outpatient sites seamlessly adjusted to provide safe in-person care with proper screening, planning, and PPE while nimbly and consistently following protocols and procedures that evolved in response to the changing prevalence of COVID-19 in the community. For more detailed descriptions of development and expansion of individual ambulatory programs, see Section reports.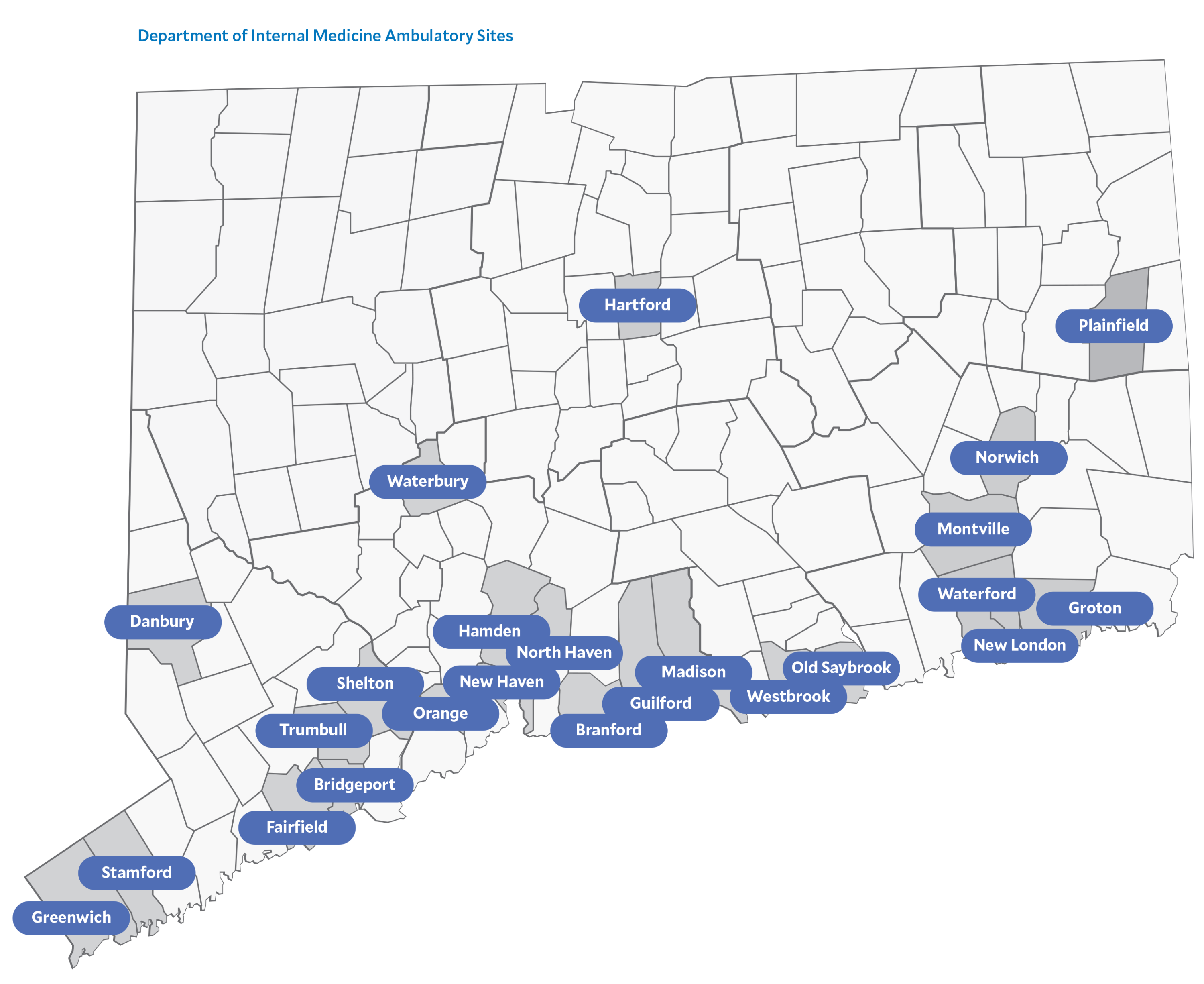 Clinical Affairs Team
In 2020-2021, the Department Clinical Affairs team, led by Lynn Tanoue, MD, MBA, and Jennifer Lacerda, launched a multipronged effort to improve physician/APP interaction with Epic, our electronic health record (EHR). Prompted by studies consistently demonstrating the EHR to be a major contributor to provider dissatisfaction and burnout, Sinead McKernan's EHR Utilization team, under Clinical Affairs, developed department specific workflows and videos that provided quick and practical training to increase efficiency, decrease repetitive work, and enable individual provider customization. These are disseminated by the department each Monday as the "Weekly Wizard." Collaborating with the department communications team led by Julie Parry, a robust array of content related to Epic efficiencies, billing and compliance, and COVID-19 updates is now housed on the Department Intranet site, accessible to all members of the department. The intranet site also offers ready access to one-on-one tutoring by the team wizards (Epic experts).
The Clinical Affairs team also successfully piloted the EpicSTARS program, which will assess individual providers' Epic proficiency, and design personalized training to improve interaction with the EHR. In addition to these initiatives, the team coordinated Yale Medicine credentialing and performed documentation/coding training for over 60 new incoming faculty and APPs; recredentialed over 100 current providers; and developed section-specific quarterly clinical effort and productivity reports to enable assessment of established and new clinical practices.
-------------------------------------------------------------------------------------------------
Submitted by Julie Parry on June 23, 2022