Shelli Farhadian, MD, PhD, assistant professor (infectious diseases and neurology), is interested in how systemic infections affect the brain and mind. Her research of neuroinfectious diseases focuses on several areas: HIV effects on the aging brain; neurological symptoms in acute and post-acute COVID-19; and central nervous system effects of other infections, including syphilis.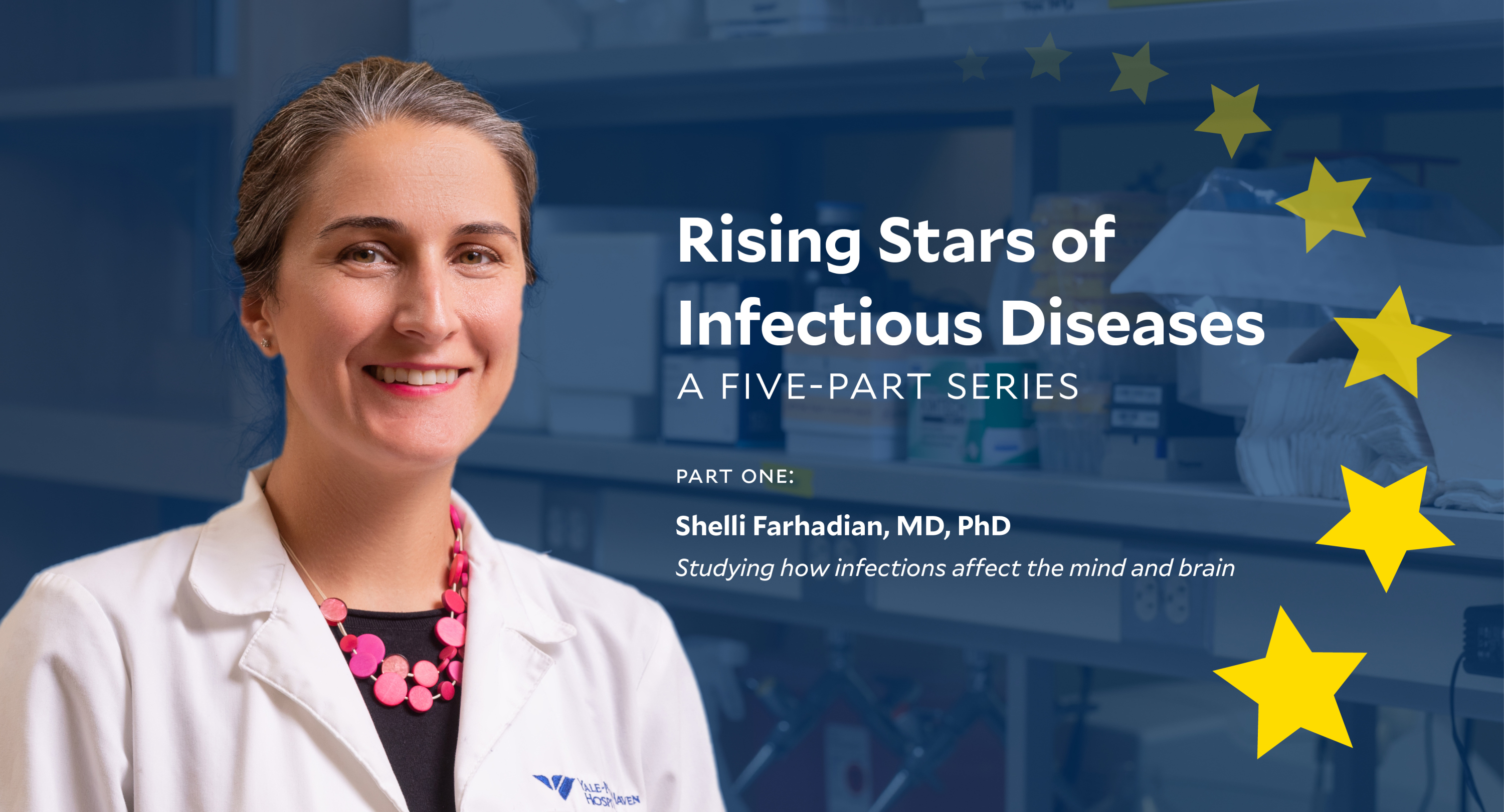 Farhadian came to Yale for an internal medicine residency in 2015 and stayed for an infectious diseases fellowship in 2018. She received with the Iva Dostanic Physican-Scientist Award from the Department of Internal Medicine in 2019. The award recognizes a trainee for exemplary work.
Farhadian began her research as a trainee in the research group of Serena Spudich, MD, MA, an internationally known expert in neuroinfectious diseases, focusing on the neurological consequences of HIV infection. Like many Yale researchers, she shifted her attention to studying COVID-19 in 2020. As a member of the Yale IMPACT Team, she built a biorepository of COVID-19 patient samples to better understand acute COVID-19.
"Because I had been working with Serena for so many years, I had gained an understanding of how to start a human subjects translational research study pretty quickly," she said.
When the initial COVID surge abated, Farhadian turned her attention to people who reported having symptoms after their initial infection, a situation often referred to as long-COVID.
"Together with Dr. Spudich, we used a lot of the tools that we and others had developed for studying HIV and the brain for studying this new constellation of symptoms," Farhadian said.
"Through studying HIV and other neuro-infectious diseases, we've learned that we can understand something about what's going on in the central nervous system by examining proteins and cells in the spinal fluid," she said. "We have a study in which people in our community in New Haven and surrounding areas volunteer to provide blood and spinal fluid. They go through rigorous neuropsychological testing, lots of symptom questionnaires, mood testing, and through that, we hope to be able to learn something about what might be causing these symptoms."
With HIV, her specific focus has been on adults with long-standing HIV infection. They "are doing great on their medications, have an undetectable viral load, but some may continue to experience neurological consequences of the infection," she said. "I'm really interested in understanding why that is even in people who are on antiretroviral therapy."
As an HIV doctor, Farhadian treats people with HIV, many of whom are older men. Her research is informed by the problems she hears about from her patients. "I want to help my patients live long and healthy lives. Many of them want to know what they can do to keep their minds healthy as they age. I hope our research can help advance our understanding of how living with HIV can affect the brain, and eventually help us find new strategies to help our patients."
The Infectious Diseases Section of the Department of Internal Medicine engages in a broad range of patient care, research, and educational activities. To learn more about their work, visit Infectious Diseases.
Submitted by Jane E. Dee on June 23, 2022