The January 23, 2020 Department of Internal Medicine Medical Grand Rounds "Working Towards Zero Tolerance: Reducing Physician Abuse in the Workplace," was presented by Rebecca Slotkin, MD, chief resident, Yale Traditional Internal Medicine Program.
Slotkin explained that the timing of her presentation was due to a clinical scenario that occurred at Yale New Haven Hospital (YNHH) in the beginning of the academic year. This experience led Slotkin and her fellow chief residents to learn how to help residents navigate workplace violence, learn how the hospital might provide sufficient support systems, how Yale might embody a policy of zero tolerance, and how patient safety can be balanced with provider safety. In the months following that clinical scenario, Slotkin and her fellow chiefs met with the Graduate Medical Education (GME) office, YNHH and Yale New Haven Health (YNHHS) administrators, and were welcomed into discussions that were already underway regarding YNHHS policies on workplace violence.
"While these discussions are relatively new to us, they are really not new for our community as physicians," explained Slotkin.
Workplace violence is categorized into both physical and psychological violence. "I want to emphasize the duality of this definition," she said. "It encompasses everything from the microaggressions we heard about from Dr. [Darin] Latimore earlier in the year at Grand Rounds, to homicide. What is psychologically violent for one individual may not be seen as such to another."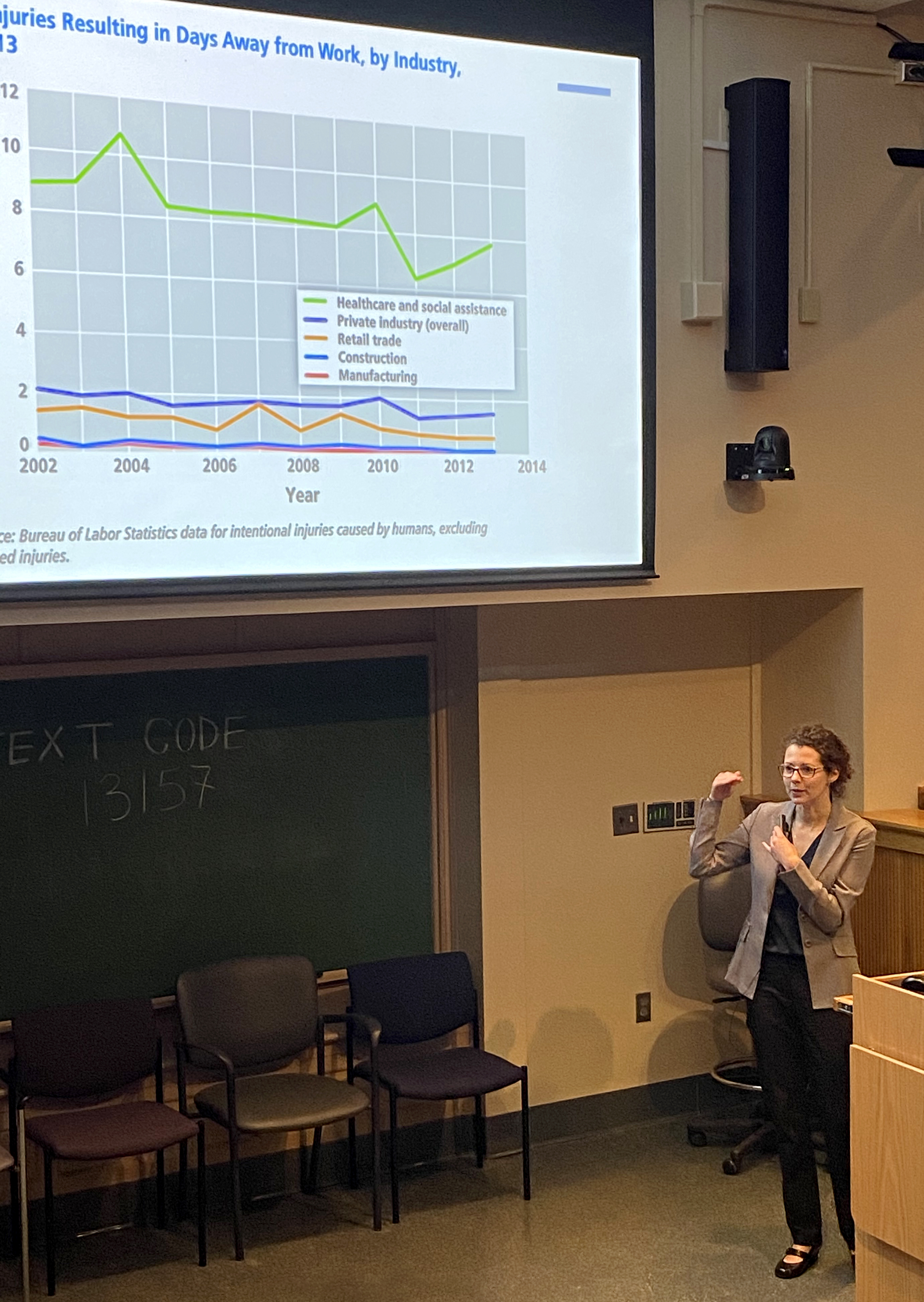 The breadth of this definition makes it hard to study, said Slotkin. Historically, healthcare violence is vastly underreported. Slotkin shared a graphic illustrating the number of injuries resulting in days of missed work due to these incidents within healthcare, as compared to other fields of employment. "The healthcare industry has such a higher rate of these incidences, that they fit the entire legend of the graph between us and everyone else," said Slotkin.
Slotkin surveyed current residents to determine their experience with workplace violence and their perception of the current resources. While she felt that the data may underrepresent the issue, 63 percent of Yale residents across the GME experienced at least one incident of workplace violence within the past year. These results correlate with the results found by the 2018 American Nursing Association's survey which showed that 62 percent of all nurses have experienced physical or verbal abuse on the job.
Slotkin detailed the current resources available and the initiatives underway through YNHHS. She shared a QR code that allows the user quick access to various tools, trainings, and resources.
"There are ongoing efforts to improve our training and resources at all of our hospitals because at the end of the day, our bottom line should be that everyone feels safe at work 100 percent of the time," she concluded.
To learn more about Slotkin's presentation, review the video from yesterday's Medical Grand Rounds.
To learn more about the Residency Training Programs within the Section of General Internal Medicine, visit Residency Training Programs.
Submitted by Julie Parry on January 24, 2020