Alumni Spotlight: Sarah Dash, MPH '01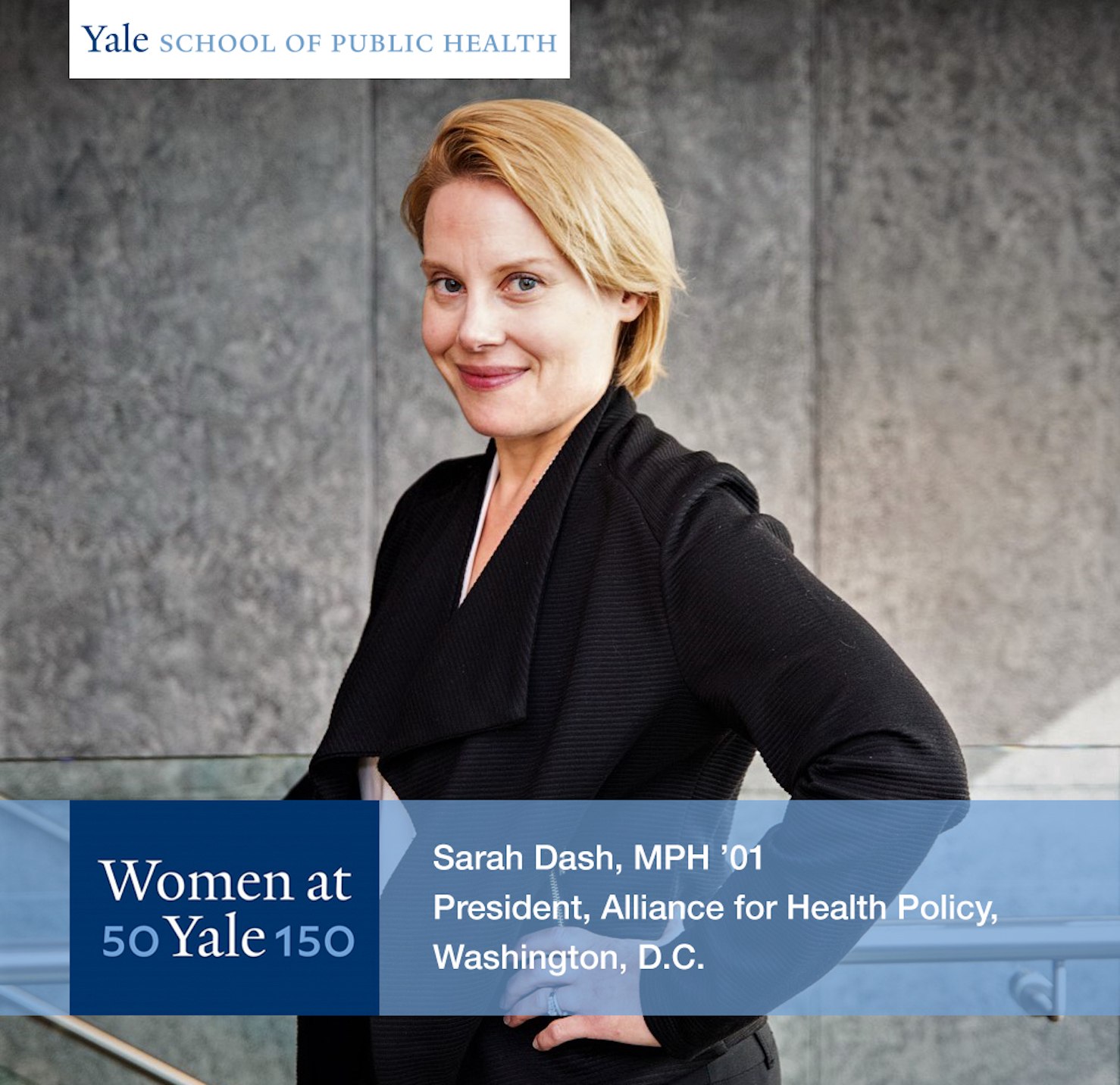 At the Alliance for Health Policy in Washington, D.C., Sarah Dash works to inform others (i.e. federal lawmakers, the media and policy influencers) about the many issues and often complex nuances surrounding health policy.
They do this by organizing nearly 50 programs each year on a wide range of health policy topics. That's an average of about one a week. But the group is careful not to advocate for any particular solutions to health policy challenges. They serve as a nonpartisan, neutral educator and convener with an eye toward bridging gaps in knowledge and understanding – and ultimately informing policies that will actually work.
"Finding that balance can be a challenge, but we work very hard to seek out different points of view, listen carefully, and then synthesize and clarify what we've heard, so we can give our audience the full-spectrum view of the issues," said Dash, the company's president and CEO who studied health policy at the Yale School of Public Health and earned her M.P.H in 2001. "We make a concerted effort to bring diverse voices to the table not just from a political or industry perspective but also from a race, gender, geography and life experience perspective."
Despite their best efforts, health policy remains a "political football" in the United States. Many well-intentioned people think their idea is the right one for America and they frame health policy as a fight that needs to be won. Changing minds is often difficult.
Dash, who used to work for Connecticut's own representative, Congresswoman Rosa DeLauro, and former U.S. Sen. Jay Rockefeller, D-WV, credited the Yale School of Public Health for helping prepare her for the complex challenges surrounding health care reform.
"I gained a broad understanding of key health policy issues and an appreciation for how to think critically about what's at stake, which includes challenging my own assumptions," said Dash. I also learned valuable skills for working in a group. I still send holiday cards to some of my group partners. Almost everything you do in the professional world will be as part of a team, so don't groan about those group projects—they are essential!"
For Dash, writing her thesis was a seminal experience. She remembers combing through old issues of Congressional Quarterly to research legislation on gun violence. The same issue keeps resurfacing today, nearly 20 years later
"It is a reminder for me that in public health policy, few issues are ever truly resolved and tied up in a bow. But that shouldn't stop us from pushing forward," she said.
Washington, D.C. remains a thrilling environment full of interesting and influential people. Dash still remembers a chance encounter with a U.S. Senator on the subway connecting the Senate office buildings to the U.S. Capitol that makes her laugh.
She was working as a congressional staffer and was riding the subway when she said "hello" to a U.S. Senator riding the train too. For some reason, the Senator focused on a necklace Dash was wearing and commented, "My, that's a lot of bling, isn't it? I'm just wearing this boring old pearl necklace."
For current and future public health students, she advises to learn as much as possible while at Yale. 
"It is a unique place for deep and interdisciplinary learning. If I could be student there again tomorrow, I would! But also, even in this temple of achievement, don't feel bad if you are not good at everything," she said. "It's okay to be really good at some things and not others – and it's better in the long term if you can be honest and learn as much as you can about your own strengths, areas where you need to grow, and areas where you are strengthened by working with others who complement your skills."
Submitted by Sayuri Gavaskar on February 24, 2020