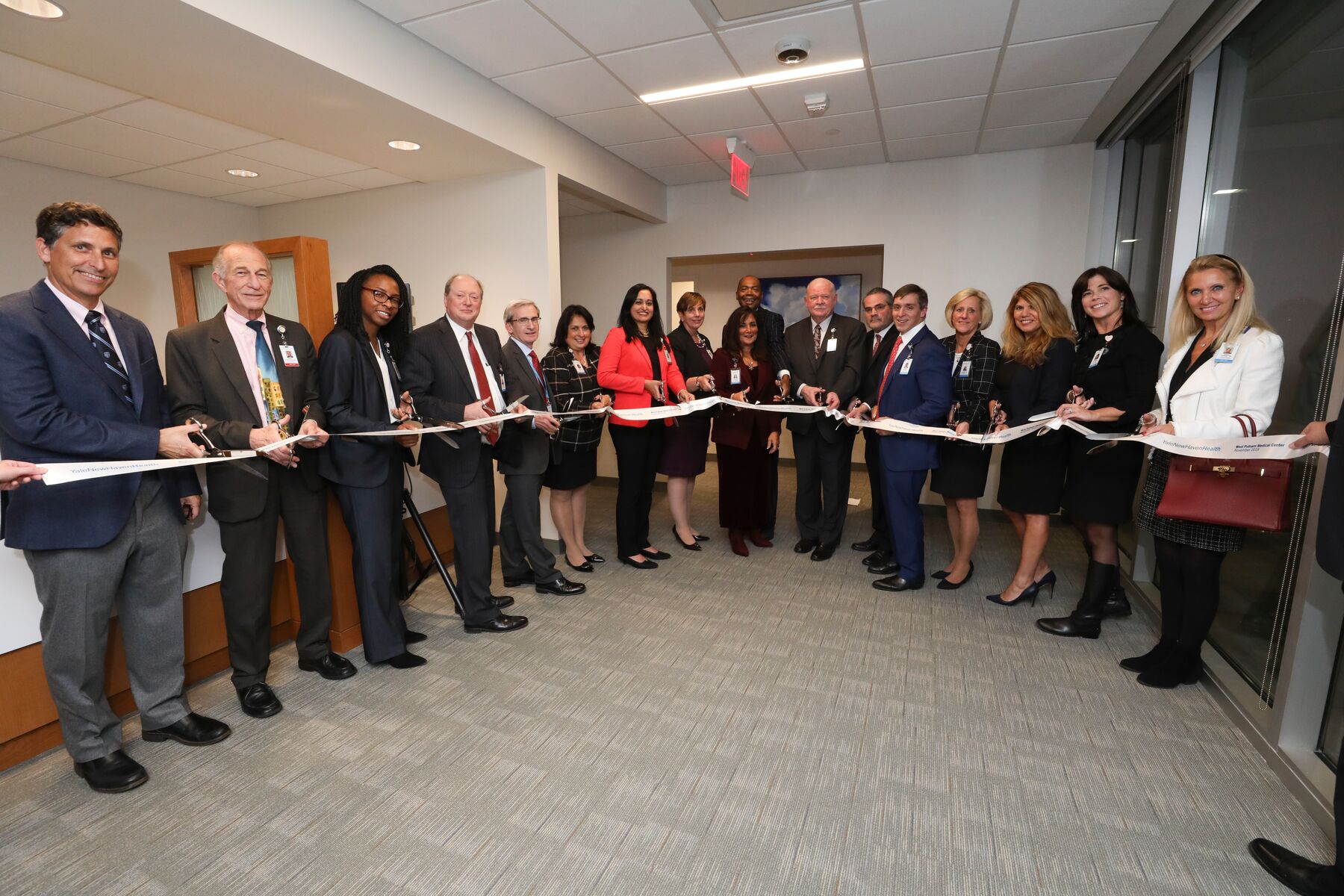 Yale New Haven Health hosted a ribbon-cutting ceremony to officially open the newly-renovated West Putnam Medical Center in Greenwich, which offers patients easy access to cardiac, primary care, pediatric, endoscopy, laboratory, diagnostic imaging, and rehabilitation services under one roof.
Approximately 170 people attended the grand opening of the outpatient facility, which includes services from Greenwich Hospital, Yale New Haven Health Heart and Vascular Center and Yale Medicine.
"The Heart and Vascular Center (HVC) at the West Putnam Medical Center is a fantastic development for the community. The HVC reflects the commitment of Greenwich Hospital, Yale New Haven Health System, and Yale Medicine to provide the highest level of cardiovascular care in the lower Fairfield region with expert clinicians and the best diagnostic equipment," said Christopher Howes, MD, Greenwich Hospital's Chief of Cardiology and Director of Cardiac Catheterization and Intervention. Greenwich Hospital provides diagnostic imaging, laboratory, physical medicine and endoscopy services at West Putnam Medical Center.
Keith Churchwell, MD, Yale New Haven Hospital Executive Vice President and Chief Operating Officer, said community access to heart and vascular services from Yale Medicine specialists had "grown exponentially" with the opening of the Greenwich facility. The center includes general cardiologists, interventional cardiologists, electrophysiologists, cardiovascular surgeons and other physicians. "The ability to build a heart and vascular center in collaboration with our partners in primary care, obstetrics and pediatrics is a dream come true," he said. "Our enhanced ability to take care of the patients we have the honor to serve is exciting and a huge opportunity for Greenwich and the Heart and Vascular Center."
Eric J. Velazquez, MD, Yale Cardiovascular Medicine Section Chief, added that it's critical for the Greenwich community to have a facility nearby where they can receive exceptional cardiovascular care. "The importance of this new facility cannot be understated."
West Putnam Medical Center also houses the Yale New Haven Children's Hospital Pediatric Specialty Center and Greenwich Hospital's Pediatric Outpatient Center, which both opened last year. The YNHCH Pediatric Specialty Center provides children and their families with access to nationally ranked specialties. The Greenwich Hospital Pediatric Center provides care to thousands of under-and uninsured children each year.
To learn more about West Putnam Medical Center, visit greenwichhospital.org.
Submitted by Elisabeth Reitman on April 22, 2020